Dating in Korea might be a little intimidating, especially if you're a foreigner. Communication can be difficult, and some actions may get lost in translation due to cultural differences.
You may be a bit worried because Korean culture is known to be on the conservative side, but isn't that the whole point of coming to Korea? You want to experience a new culture firsthand, and dating in Korea is an excellent way to learn more about Korean people.
Please note, however, that this guide to dating in South Korea contains generalizations based on mine and my friends' cumulative experiences, plus some snooping in Korea forums asking questions about dating. It does NOT represent every single Korean man or woman, or every potential relationship with a Korean. I've merely put together the guide that I *wish* had existed when I first moved to Korea.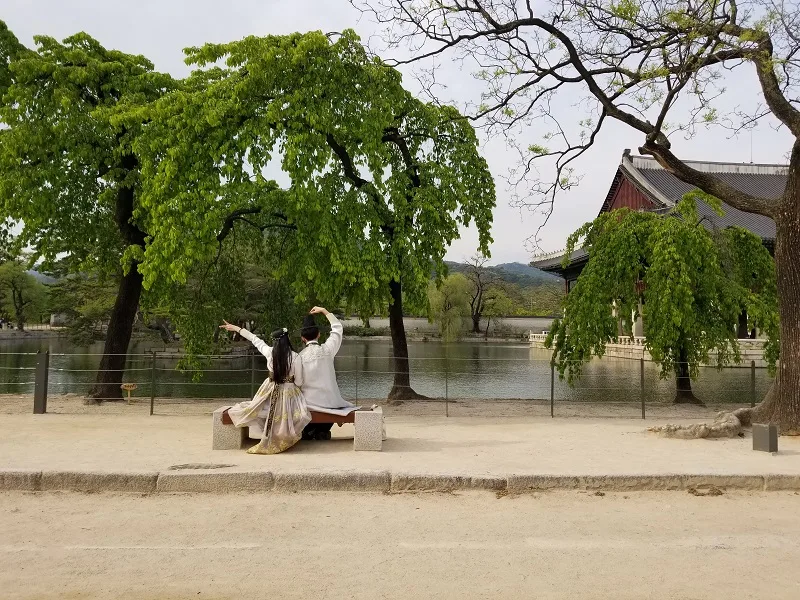 Do Koreans Date Foreigners?
First off, of course they do, but there are limitations. First, communication is really important. If you can't speak a word of Korean, then you might have less chances of dating a Korean.
Moreover, Koreans believe that talking is an important factor in any kind of relationship, so expect the date to be full of conversation. In my years living in Korea, I've observed that even my elementary students are glued to their phones 24/7, either chatting or calling someone, much less the teens and adults around me.
If a Korean reciprocates your interest, expect them to message you constantly, though exposure to the west is starting to affect how some Korean conduct courtship. Either way, they'll definitely take it personally if you ignore their texts, and they'll likely think you're not as invested in pursuing a relationship.
So if you had a good time after a date with a Korean (in Korea), it's best to send them a thank you message afterwards. Another thing to keep in mind is that some Koreans like "love-bombing" their potential love interest.
They shower you with gifts and affection to the point you might feel it is excessive, but that is just how they let you know that they really like you and would do anything to make you like them back.
While this can initially feel like a good thing, foreigners have a hard time coming to terms with Korean men or women who "ghost" after losing interest, especially if the Korean person felt it was just a "some" (fling) and not yet a "thing."
Perhaps those in their late 20s to 30s are not like this as much, but for the younger crowd, these are some common experiences shared in social media and Korean cultural exchange forums. Another thing that you will likely notice is that Koreans move fast. Like, really fast, sometimes.
If you are not a fan of "skinship" (Koreans use this term for touching someone affectionately), then on your first date you'll need to set clear boundaries as to how comfortable you are with holding hands or kissing.
Many of my friends who have tried dating a Korean shared that their dates would often ask to hold hands and would even try to kiss on the first date.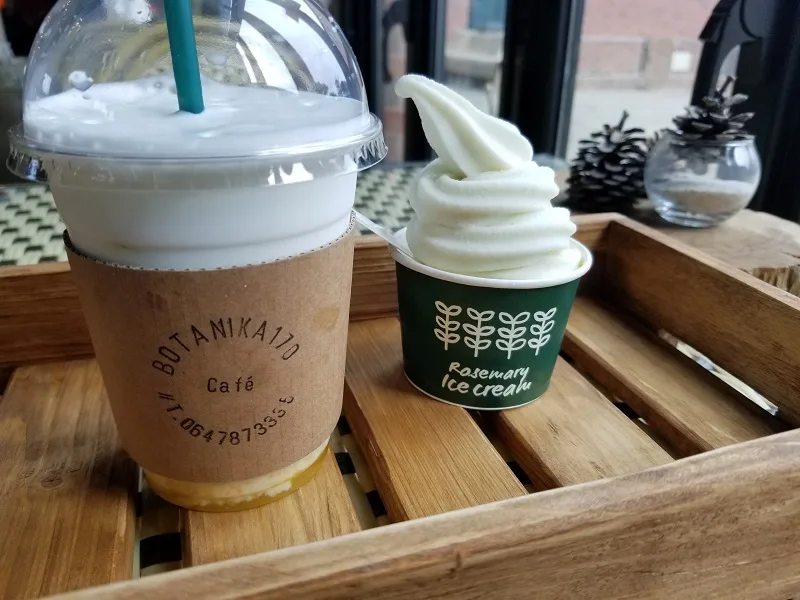 For those on Tinder (typically not looking for anything serious), it is also common to hear them ask "do you want to eat ramyeon?" (not what they mean.) or "do you want to see my cat?" (they don't have a cat.) before you part ways.
Also, this is a hard truth, but I've heard it over & over: people with darker skin may have a hard time getting a Korean's attention. There's this unspoken bias against darker skin in Korea, both for foreigners and Koreans ('skin brightening' cosmetics are very popular here).
However, Korean celebrities like Hwa Sa, Jessi, and Hyolyn are working hard to change current beauty standards. So lately you can even see cosmetics companies offering more diverse palettes, particularly in some Olive Young stores.
But would Koreans date foreigners with dark skin? Koreans looking for something serious have a tendency to be cautious when it comes to dating, and cultural and familial expectations may make them not as open about their feelings as people from other cultures.
In other words, some people will wholeheartedly welcome the option, but some have reservations, according to this video. Same goes with those from the LGBTQ+ community, but K-Pop singer Holland came out in Korea in 2018, earning a lot of shock and displeasure amongst the older and conservative crowd, but the Korean youth are very supportive.
I know most of the things I shared are downsides, but there are several upsides in the Korean dating game as well. Most Koreans are sweet and romantic – not on a K-Drama level (one can wish) but they are known for finding ways to make their partner feel loved and special.
Dating Koreans is fun, because for their friends they always seem to know what is hip and happening in Seoul, and there are always wonderful dating spots for couples, like cafés, parks, and movie theaters. Guys tend to be the ones in charge of planning the dates, but younger Koreans tend to be more open than ever to woman taking on the planning & romancing.
Regardless, Koreans make extremely good drinking buddies, and if things don't work out, they are very open to keeping the relationship by staying friends (but often you have to introduce them to your single friends in exchange, so don't stay friends if there are any lingering feelings).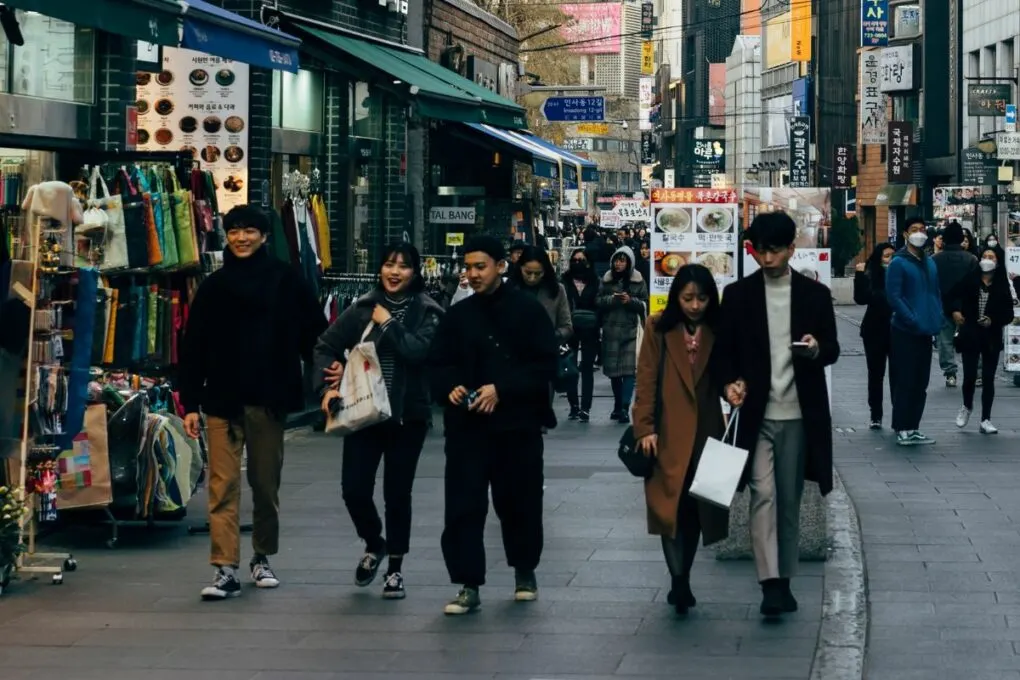 Couple Culture in Korea
"Tell us you're in Korea without telling us in Korea" challenges in Tiktok often feature couples everywhere. In fact, people joke that Seoul is the new city of love, and Namsan Tower is the new Eiffel Tower.
But while most sites tell you that PDA is Korea is milder compared to the West, post-pandemic, Korean couples are not afraid to be more daring in public – so even if there are older women giving them the side-eye, it's becoming more common to see Korean men and women hugging and pecking in public spaces (even the subway!).
This behavior is observed mostly amongst the Korean youth, however. The older crowd still believes that PDA is quite taboo, and may act less touchy with their partners.
Couples in Korea really do stand out, too because it tends to be easier to find them. All you have to do is find people wearing matching outfits— from head to toe, many couples will don similar clothes and accessories. Even on days the weather turns chilly, they somehow have the same coats, scarves, and gloves, and this gets more true the longer a couple has been together.
It's cute to see them, really, but most foreigners may shy away from this trend, and will settle for matching promise rings with a meaningful design. These are called "couple rings" which symbolize your willingness to commit to someone (usually after 100 days of dating), and there are jewelry craft shops that let you create these as a date activity.
You might also be surprised that they have a lot of couple-centric celebrations other than Valentine's Day that are not usually celebrated, like baek-il (100th day celebrations), White Day, and Pepero Day. Christmas may also be known as a family celebration in the West, but Koreans choose to spend this day with their significant others, and restaurant reservations fill up way in advance.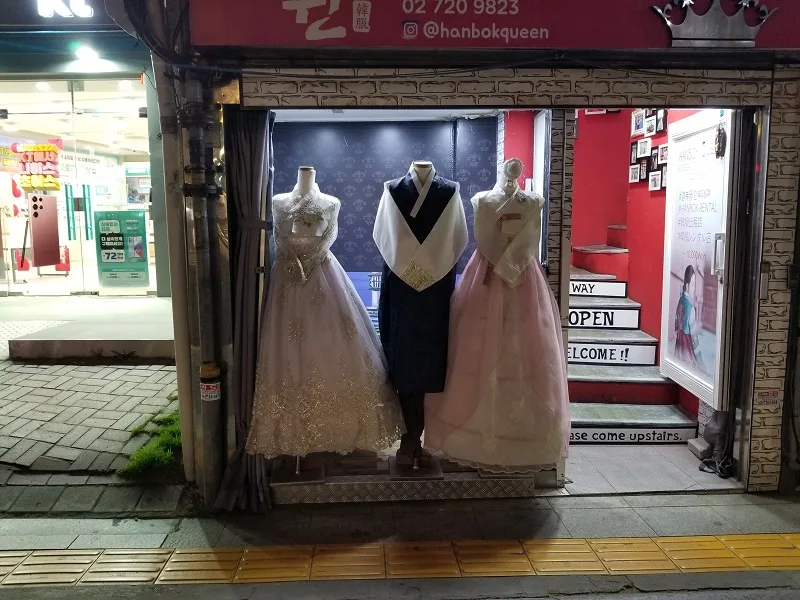 Dating in Korea
Newbies to the Korean dating scene might get worried because of the vast cultural difference and the social graces. One might wonder, "should I bow when we finally meet?" or "is it an expectation to match clothes?" While it's good to be sensitive to these things, you shouldn't really worry too much.
Koreans generally understand that you are not from the same culture, and will really be tolerant (especially if they like you), and lately, most of the people looking for love in Korea know basic English or will rely on Papago to keep the conversation going.
Plus, there are numerous ways to have fun on your date in Seoul and throughout Korea, and Koreans know where to take you because they tend to research the fanciest or best-reputed places beforehand. Appearances do matter to most Koreans, so wear something nice as a way to let them know you took the time to try to look nice on your first date.
It's also expected you be slightly more overdressed than underdressed, knowing that your date may want to take pictures. Koreans are big on selfies, and if you are not comfortable with that, most of them would appreciate it if you offer to take pictures of them, instead.
You also might find it strange, and it's less common these days, but some Koreans talk 'cutely' to the person they like. They call it aegyo, or acting cute, and there are even aegyo tutorials online to help you master this game (generally more as a party trick than for actual dating). If you find yourself cringing at the thought of acting cute, don't worry.
It's not a requirement, but it can get incredibly helpful if you are searching for ways to get their attention. Or, you can get them gifts. These gifts do not have to be grand gestures, and can be small-yet-thoughtful trinkets that signify a milestone (like a 100-day anniversary) or that you were thinking of them earlier.
If you forgot to get them something on a day that is apparently important, keep in mind that the odds are good you'll pass by one of these stations with an underground shopping center (Dongdaemun, Hoehyeon, Myeongdong, Sinbanpo, and Yeongdeungpo).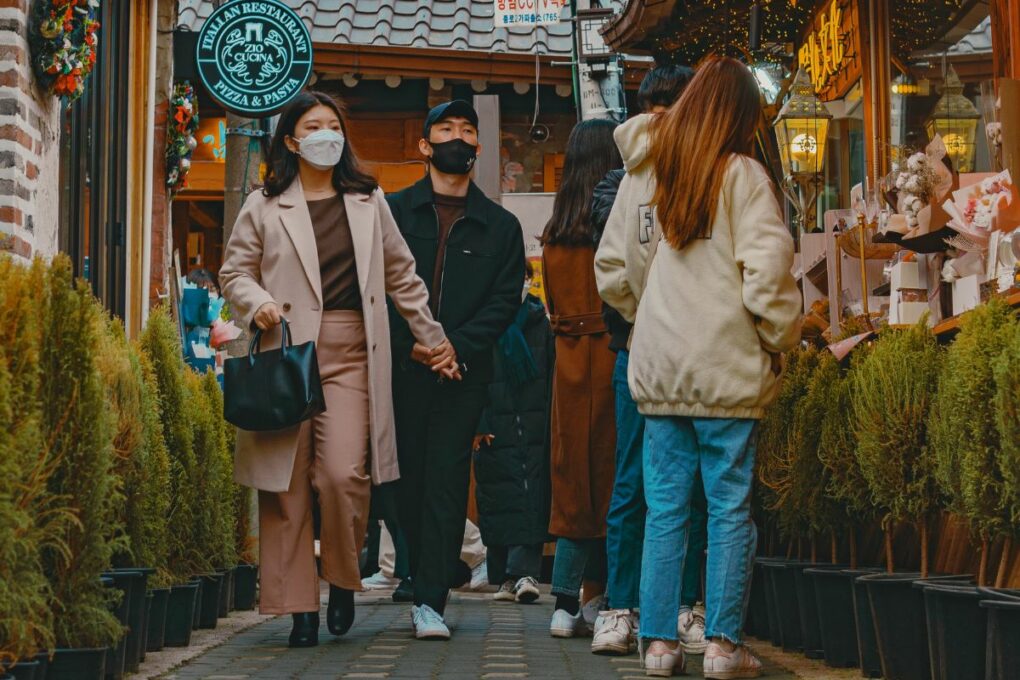 Also, one of the strangest things you will ever experience in Korea may be how they foot the bill. In most countries, it's still typical that the man pays for the first date. But in Korea, as you get closer and meet more, you begin to realize that Koreans usually have whole day excursions and it's likely that you'll jump from one place to another.
So, in cases like these, there's no such thing as "splitting the bill." Instead, one pays for the first place, then the other person pays for the next. Somehow this system actually works quite well, and people can control their spend based on what they choose to do next, though many activities can get up there, because most Koreans don't mind paying for meaningful experiences.
As for eating, note that most places in Korea are oriented towards groups, so most places will have portions large enough to share or dishes will be ordered by number of people in the group. Same goes with desserts (especially their bingsu!)
Now, for those who are curious if the Korean dating scene is LGBTQ+ friendly… in most cases it is, though it may skew a bit towards hook-up culture, and most Koreans you will meet are still probably in the closet.
If anything, the LGBTQ+ community in Korea may not be big, but they exist and are some of the warmest people around. If you're looking for a serious relationship, it may take some time, but weirdly the fastest way is to join fellowship groups (and you can find them in LGBTQ-affirming churches and Student Organizations).
They can't be that outspoken due to public discrimination. But the influx of queer dramas like Semantic Error and Color Rush may serve as a starting point for ameliorating the stigma.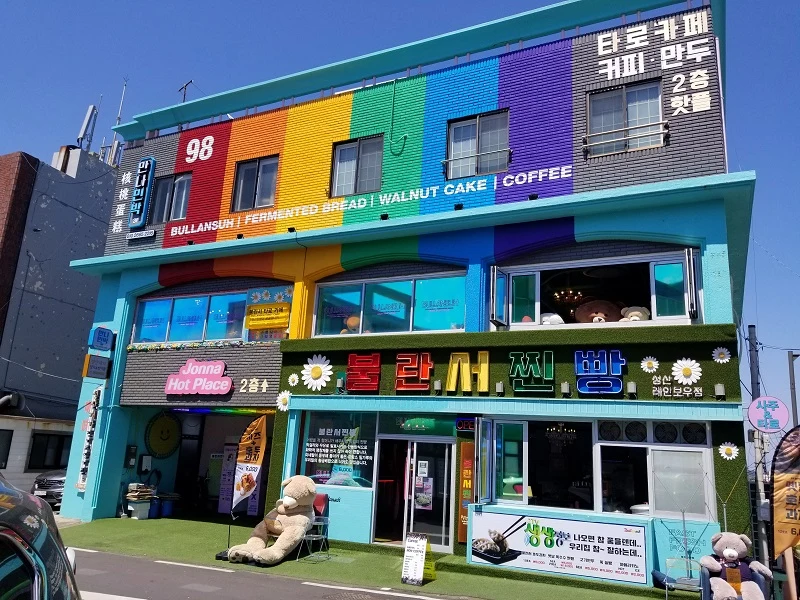 Korean Holidays of Couples & Singles
The dating culture in Korea may come as a shock to you when it comes to celebrations. South Korea has a lot of unofficial holidays dedicated to love, other than Valentine's Day.
White Day (March 14)
If you're a man who received gifts from a woman on Valentine's Day, then it's only right to get them something nice a month later. Even though it's called white day, your gifts do not necessarily have to be white, but a traditional gift is white chocolate.
Furthermore, you can also get creative beyond the usual white chocolates and flowers. So why don't you get your loved one something they have always wanted or treat them to a meal somewhere nice today? If you happen to swing by Namdaemun, you can find a lot of affordable ideas to return the love.
Pepero Day (November 11)
Around the first week of November, stalls will be filled with colorful boxes of Pepero. This is because it became a tradition in Korea many years back to give Pepero as a sign of appreciation. This celebration is not limited to lovers, but can also be a time to show your friends and family that you are grateful to have them in your lives.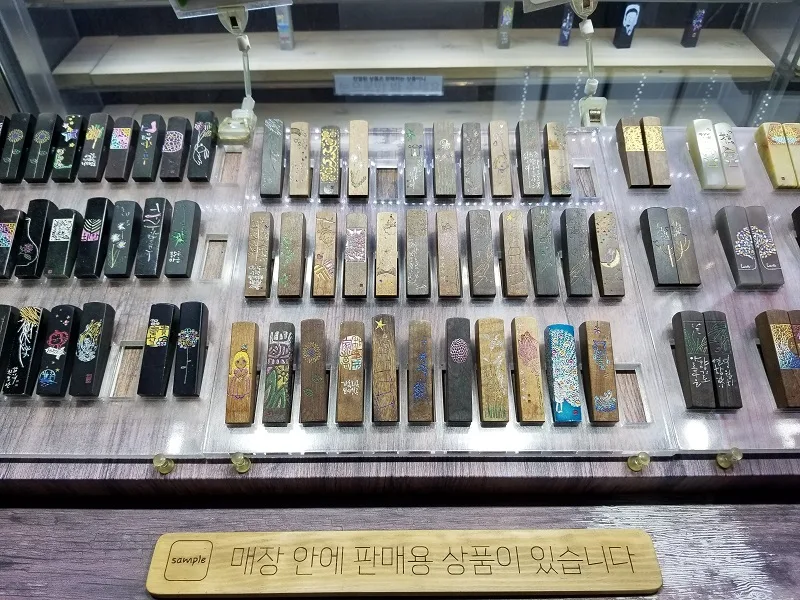 100-Days
You might think that this kind of celebration is excessive, but to Koreans, this is actually a big thing. With the crazy work schedules and the unrelenting school expectations on Korean students, people do miss their significant others and often look for ways to meet.
Making it to a hundred days of dating in itself is a feat, considering how people are driven to focus more in their lives on building a future that guarantees success and money.
Oh, and getting rings to celebrate this day is a must for many young Koreans. It's not an engagement ring (so don't be afraid of it if you think getting rings are a bit fast), but it is a wonderful way to remember your partner on days you have to be apart.
Confession Day (September 17)
At first I didn't think that this was a thing, but apparently in Korea, you use this day to finally let your crush know how you feel. It's more of a school kid thing, but if things go well, then your 100-day anniversary will exactly land on December 25, Christmas Day, which is a holiday celebrated with your partner in Korea.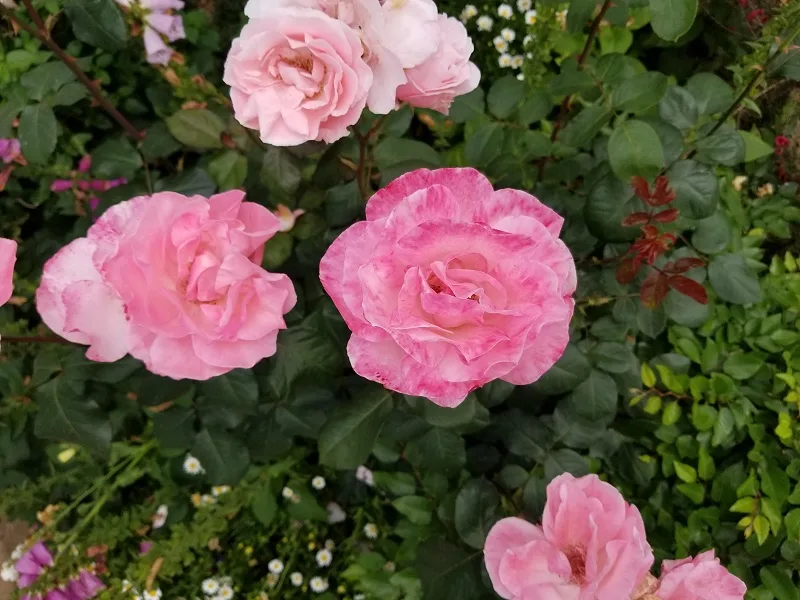 Rose Day (May 14)
Rose day is not exactly a romantic holiday, but people often exchange roses with their loved ones then, to symbolize a good transition into spring. Usually they use pink or red roses to symbolize passion or affection. It's not really an expectation, but it would certainly be an amazing gesture that would likely help you gain points from your partner.
Black Day (April 14)
If you are single, you have a special Korean holiday just for you: Black Day. Since some people did not receive anything on Valentine's Day or White Day, these singles in Korea decided to make an official day (also on the 14th) to celebrate their single status.
On this day, instead of giving others sweets and chocolates, they treat themselves to jjajangmyeon (soy sauce Korean noodles).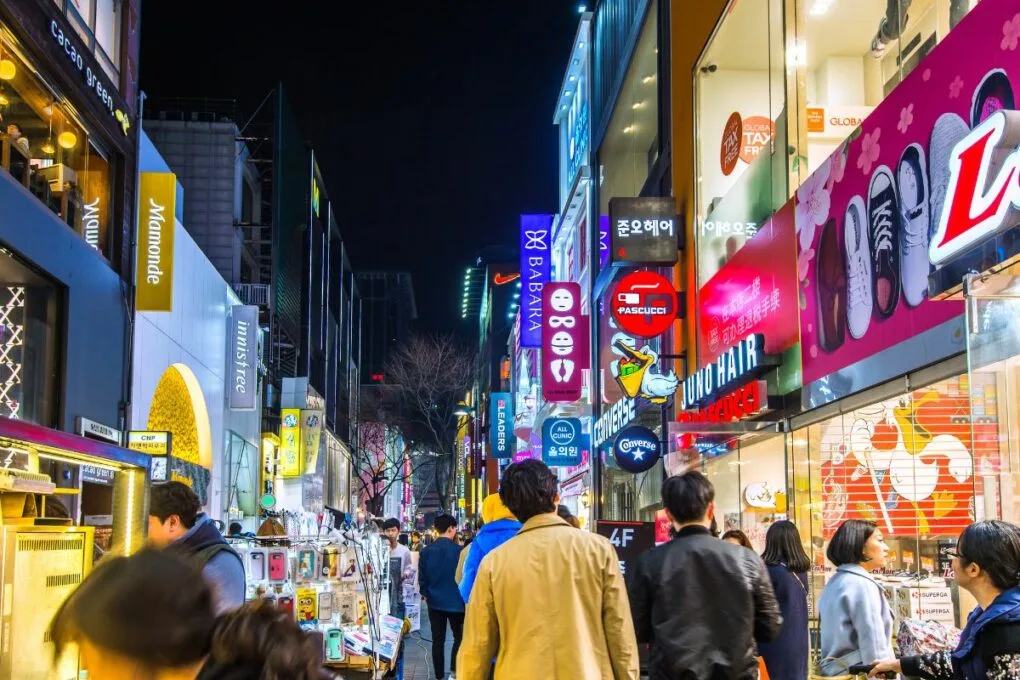 Date Ideas in Seoul
Dating in Korea, once you've found someone you're interested in, is not going to be difficult. There are actually plenty of things to do in Seoul for couples. If you're stumped because you don't know where to take your date, then these suggestions may be helpful.
Picnic at Yeouido Hangang Park
Compared to the numerous parks situated near the river, Yeouido Hangang Park is the largest and most popular spot for recreational activities throughout Seoul. By the entrance, there are even stalls that let you rent picnic mats and buy food.
You don't even have to bring cash, because these days most of these stalls accept mobile banking as payment. Another fun activity you can do in any weather is ride a tandem bike and enjoy the scenery, like Banpo Bridge.
Visit a Cat Café
If you haven't been to an animal cafe, you should take the time to check one out (but keep in mind the ethics of each cafe and do your own research beforehand). There are plenty of cafés of this kind in Seoul that let you enjoy a warm cup of coffee while being surrounded by cats of all shapes and sizes.
As you enter, you can buy treats for the cat and feed them, or you can play with them using any of the toys laying around. Be careful because these places make it incredibly hard to leave, but there is usually a time limit on your visit (though you can always buy another drink!).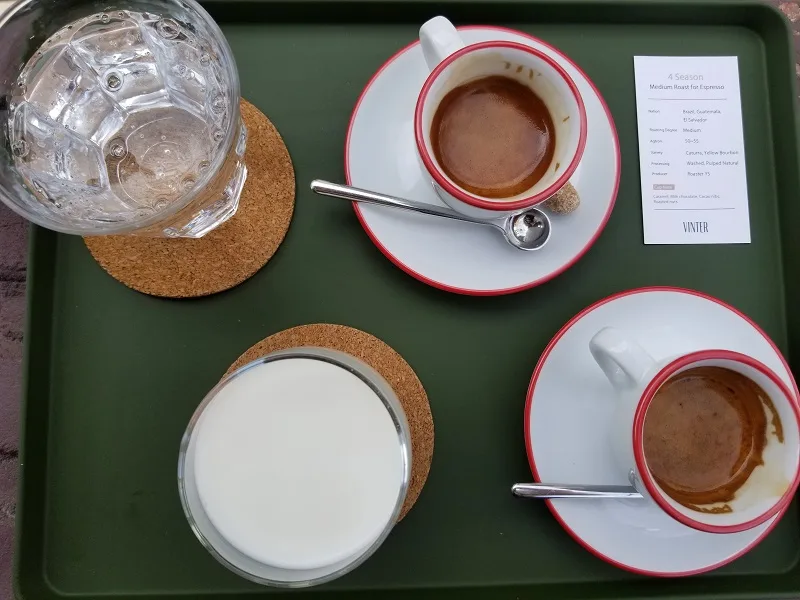 Visit a Rooftop Bar
Seoul will always find ways to boast its spectacular night views, and rooftop bars are perfect ways to soak in the sights while sipping on some wine.
Some of the best ones are in Gangnam, Myeongdong, and Itaewon. Casa Corona in Itaewon also has a dance floor, so if you feel like dancing with your date after drinking, then this is the perfect place to go.
Read comic books
Visiting a comic book café lets you choose from their wide selection of manhwas and mangas and enjoy them in a semi-private or private space while eating snacks. This is a cozy way to spend your afternoon if you would like to go somewhere for a while without having to worry about breaking the bank. Often the comics are even for sale.
Enjoy a movie together
I know this seems like a pretty pedestrian idea for a date, but the movie theaters in Korea are insane. CGV has a fine dining experience before entering the theater, where you can sit in comfortable reclining mattresses as you watch your movie.
Another theater lets you have a private space from the balcony, and it comes with a sofa seat, a mini-cooler, and even a coffee machine! These experiences don't come cheap, but they sure are memorable.
Do a day-trip/go on a hike
Having a date in Korea usually takes longer than expected (6 hours or more), and you often spot couples attending monthly cultural events or enjoying half-day tours in theme parks like Everland or Lotte World. If you're worried about the cost, foreigners often take advantage of travel site deals in Klook or Trazy to save money.
Others also know where the free Seoul attractions are, or if you're feeling up for a hike, try visiting free walking trails in Seoul for picturesque views.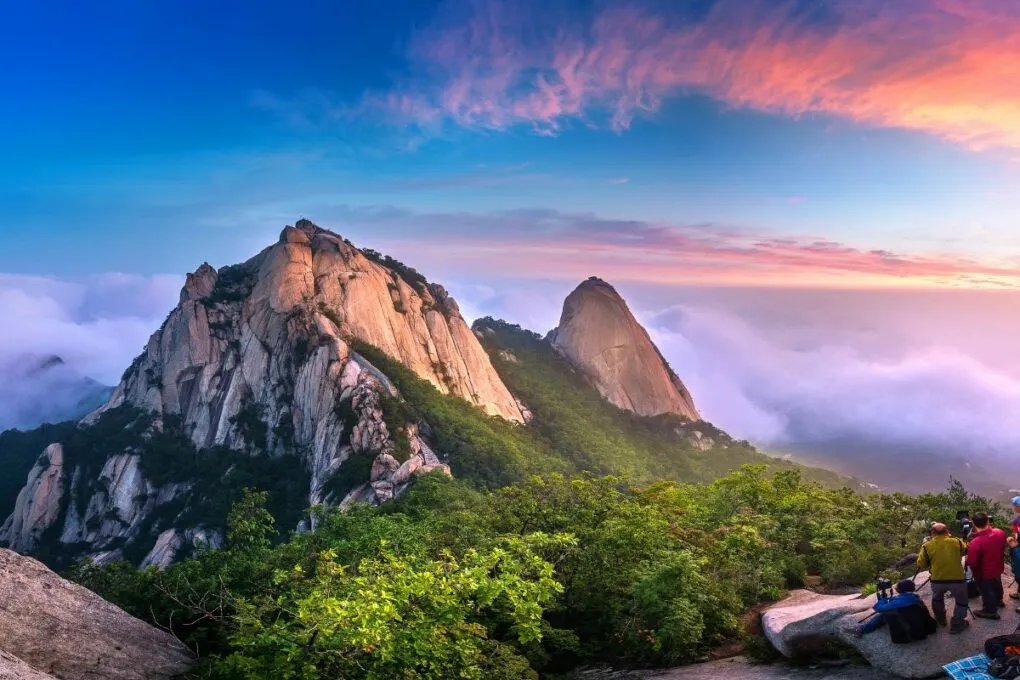 Spend the night at a motel
Thing is, most Koreans do not have their own car because their transportation system is one of the best in the world. In fact, it's actually encouraged to ride the subway and buses because it is convenient and helpful to get around, and better for the environment.
Plus, there are helpful Korean apps that let you know when the last train will be, or which night buses are still around. So let's say you're really enjoying each other, and want to spend time together after dark. In Korea, for most grown couple's, that means renting a room in a love motel.
This doesn't have to equate to anything other than hanging out, and the modern motels in Seoul will actually accommodate this by designing each room along a unique theme. For example, in some motel, they have two gaming PCs next to each other with a broad range of games, letting you play with your partner without having to go to noisy PC bangs.
Some motels also have massage chairs situated near a large-screen TV with Netflix and Disney Plus (yes, there's Disney Plus in Korea!). And, if you are willing to spend just a bit extra, you can even find a room with a jacuzzi inside.
Another perk of staying in a Korean motel is, unlike hotels in Korea, they're often fully equipped with toiletries and are situated near convenience stores, restaurants, and the subway. I'm telling you, staying in a motel is worth it, and your date will definitely be a fun night to remember (as long as you pick the right theme).
If you're not yet ready to book a room together, you can also try doing study/work dates in late-night cafés or stay overnight in a PC bang. The latter is a surprising delight, because there are some rooms that provide privacy and let you order full-course meals (with ban chan) for cheap.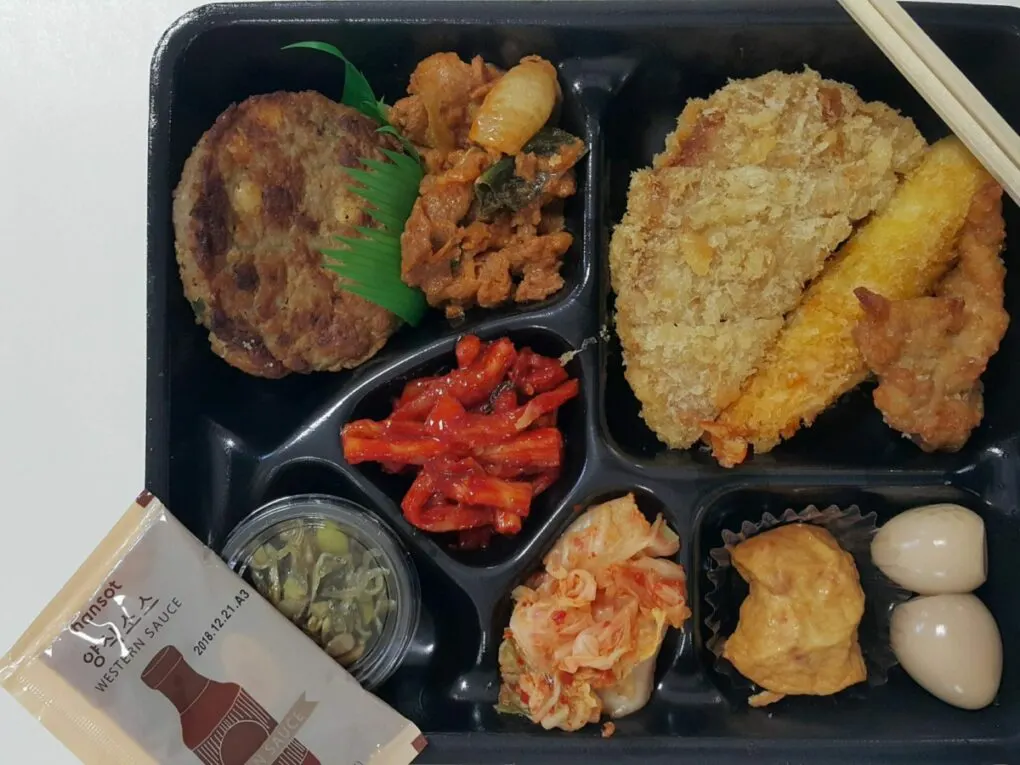 Popular Dating Apps in Korea
Koreans are always on their phones, so one of the best ways to get their attention is through a dating app. Though you could always try your hand at approaching someone in person to ask them for their number, most Koreans are wary about this method of meeting because of various scam artists who are after your money.
Some of them are also in these Korean dating apps, so you really should take your time to get to know someone before trusting them with even your basic personal information.
OkCupid (App Store, Google Play)
This app is a wonderful way to meet people in Korea based on your interests and preferences, so you don't have to worry about becoming everyone's free English tutor or meeting someone who just wants to hook up. Plus, registering with your email makes messaging completely free, so you don't have to worry about extra costs.
Tinder (App Store, Google Play)
Tinder is probably the most-advertised dating app in Korea, and people use it for all kinds of connection – whether you're seriously finding love, or just looking for friends. I've had several dates through Tinder that were casual coffee meets, restaurant hangs, and movie dates.
It's incredibly fun to use when you first get to Korea, especially if you can speak a bit of Korean. If not, you might have a problem communicating with your dates and may end up relying on Papago for even the most basic exchanges.
While I've mostly had good experiences, friends have told me over the years that Tinder is the number one hookup app in the country, so you may end up feeling dejected if you land more misses than hits. Still, it's not bad to give a shot, since its interface is very user friendly to non-Koreans.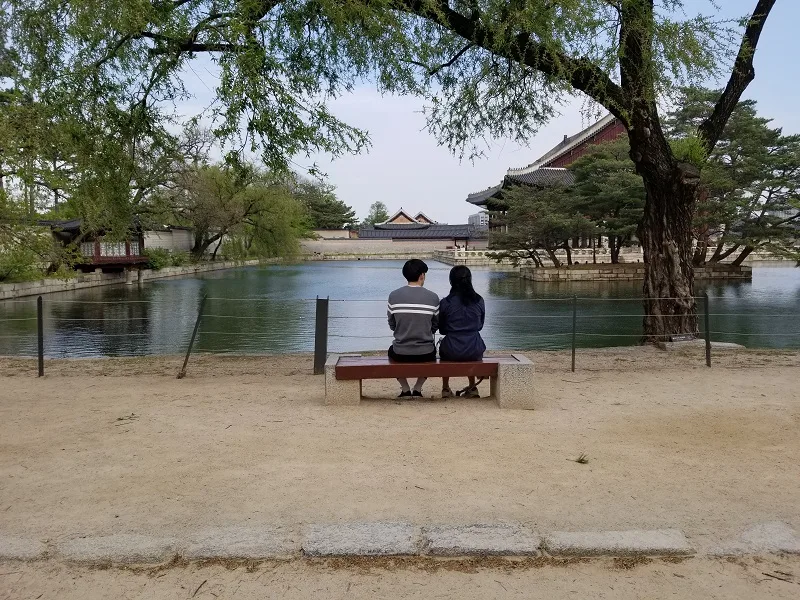 Bumble (App Store, Google Play)
Bumble is more geared towards relationship-ready people compared to Tinder. And, this particular app lets the woman have the first move. More straightforward guys may find it difficult to adjust to this app, so I've generally found more interesting people to talk to on Korean Bumble.
Moreover, you can also find legit friends and potential business partners here through in-app features like Bumble BFF and Bumble Bizz, respectively. Furthermore, this app is LGBTQ+ friendly, and most people I know prefer using Bumble over Tinder.
Noondate (App Store, Google Play)
Even though this app is specifically designed for Korean users, this South Korean dating app has a translation feature that lets you talk to locals with much more ease. Additionally, it presents two people with the same interests as you every day at noon. Choose one of them, and hopefully they'll "like" you back.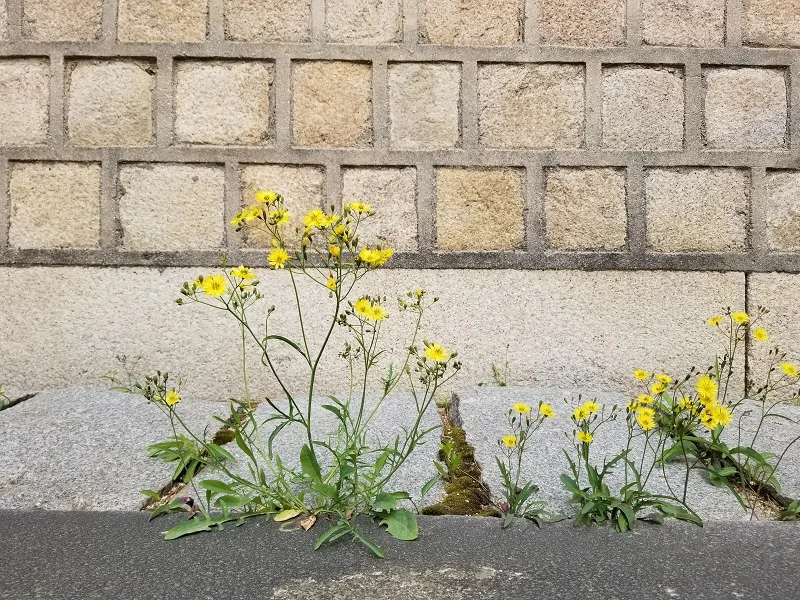 Grindr (App Store, Google Play)
Americans are probably most familiar with this app. This is another LGBTQ+ friendly app that gives you a set of matches nearby and from other parts of the world. The goal is that you will find someone whose interests highly align with yours, because no matter what distance, love will prevail.
There is also another gay dating app called Jack'D, and it works just as well as Grindr, but most of the Koreans you will meet there only speak Korean. So if you are not that confident with your Korean language skills, then you're better off using Grindr.
If any of these apps don't work for you, maybe you can try asking some of your Korean friends to introduce you to their single friends. When Koreans do this for each other it's called sogaeting, which is another way to meet new friends and potential love interests.
Another recommendation that tends to work is meeting locals through language exchange meetups in Gangnam, Itaewon, and Hongdae. There are apps that make this possible like HelloTalk and Meetup, but they'll only help you find the places; you need to do the meeting & greeting.
Also, if you have used any of the LGBTQ+-friendly apps above, note that most Koreans are still in the closet due to homophobia, so it's likely that the people on these apps are interested in hookups only. If you really want to date someone LGBTQ+ in Korea, it's best to ditch the apps and go to the areas of Seoul where they frequent.
Lastly, another piece of advice, you definitely have to be careful if you decide to go drinking with strangers in Korea through dating apps. There are many cases of assault when drunk, and Korean men have been known to use this as a defense if accused by an expat of any kind of assault or other crime.
Still, this isn't the case all the time, because there are plenty of good fish in the sea. But it definitely warrants the need to always update your friends, host family (if you have one), or a trusted person in Korea as to where you'll be.
You can also download Life360, an app that lets people monitor where you are should you ever leave your home, but be very careful who you give that permission to.