Seoul truly is an expensive destination. Whether it is a traditional or modern hotspot, its landmarks are teeming with locals and tourists alike, and exciting events often occur regularly; curious people take out their wallets just to see what's happening.
Those who come to Seoul for the food can get overwhelmed with what's on offer in stalls or restaurants, and end up way overindulging. If you're not careful, you might find your pockets empty in your first week.
Luckily, enjoying Seoul doesn't mean you have to break the bank. It is possible to be frugal in the 7th most expensive city in the world, and that goes for the tourists, as well. There are plenty of free things to do in Seoul, and below are fifteen unique options to get you started.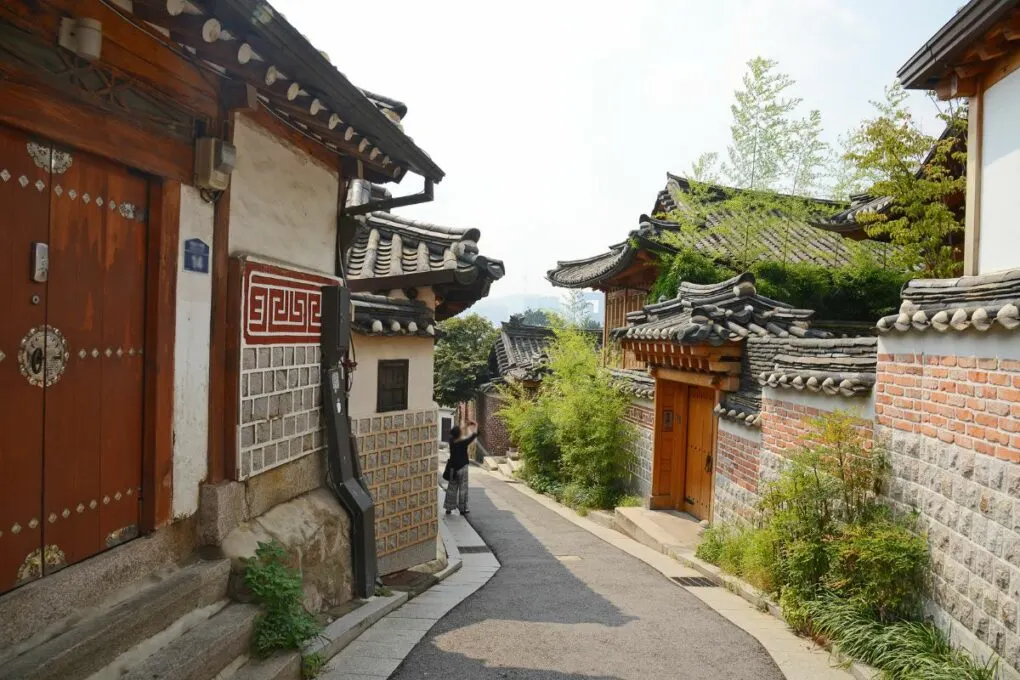 Season: Open daily, come anytime
Nearest Metro Stop: Seoul Station (Line 1), Exit 2
Estimated Time of Stay: 2-3 hours
On the way to Namdaemun Market, there's a sky garden that gives you a fantastic view of the city and the cars below, thanks to the overpass's large glass holes overlooking the road below. These footpaths are also decorated with various greenery, surrounded by concrete seats that people can use to rest.
Furthermore, at night, this artery-like structure glows neon blue to signify the futuristic vibe it exudes after its rebirth. The city's goal with the structure was to allude to Seoul's mission to revitalize more facilities in order to keep residents happy.
Ikseon-dong Hanok Street
Season: Open daily, come anytime
Nearest Metro Stop: Jongno 3 Station (Line 5), Exit 6
Estimated Time of Stay: 2-3 hours
Hipsters from all around the world love coming here to do a bit of café-hopping and shopping. Now known for being a unique destination, strange and compelling trinkets are displayed to pique people's interest, and many love using the designs as backdrops for their next Insta-worthy selfie.
If you find yourself passing by Cheongsudang, hopefully this guide will help you save enough to try their famous stone coffee!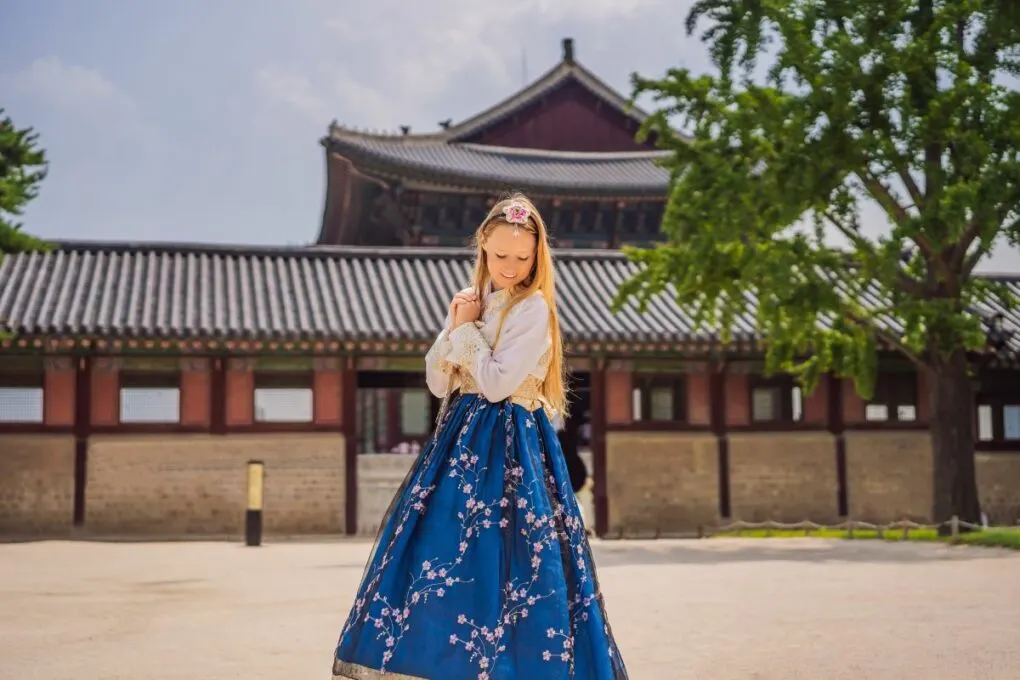 Season: Open daily, 10am-6pm, but open until 9pm on Wednesdays and Saturdays. Outdoor Exhibition Area (Garden) is open from 7am-10pm.
Nearest Metro Stop: Gyeongbokgung Station (Line 3), Exit 5
Estimated Time of Stay: 2-3 Hours
The National Museum of Korea is one of my favorite things to do in Seoul for free, especially when I'm taking friends around. The museum lets you learn more about Korean history, with the entrance located right there as soon as you leave Gyeongbokgung Station.
As you walk through the doors, teasers of what to expect greet you; you'll see masterpieces from Korea's finest hung on walls. Inside, six permanent galleries display interesting sculptures and archaeological finds, with explanations that give the reader a sense of how these things played a role in Korea's past.
Moreover, this museum provides English-language educational programs to those looking for free things to do in Seoul. The schedules of these events are provided on their website. For those in the mood to step into Korean history, Gyeongbokgung Palace is just nearby, arguably the largest and the most beautiful palace in Seoul.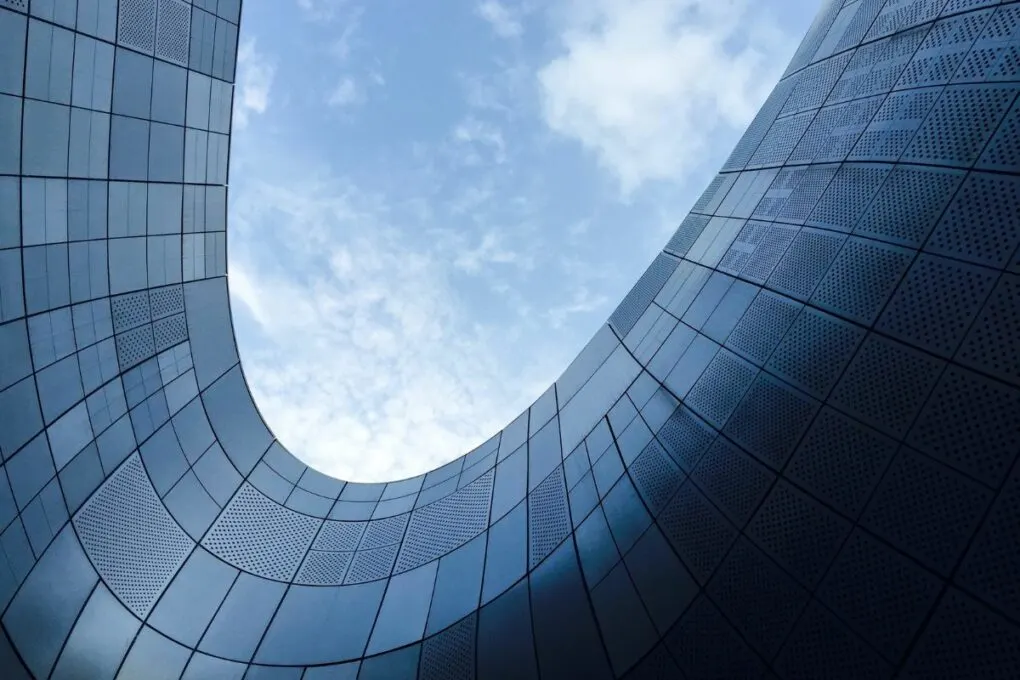 Season: Open daily (Except for Sallimteo section, which closes every 3rd Monday of the month), 10am-9pm
Nearest Metro Stop: Dongdaemun History & Culture Park Station (Line 2), Exit 1
Estimated Time of Stay: 2-3 Hours
The DDP is known for three things: to dream, design, and play. That's why people who need a creative spark come to this place to be inspired. Doubling as a museum and a library, most locals who come here use this place to study or work. P
eople with laptops can freely connect to their power source and don't have to worry about overstaying, since much of the area is actually outside (with some heated areas in the winter).
This magnificent structure houses domestic and international events alike, and is big enough to run fashion shows and indoor live performances. If you feel like doing some late-night window shopping, come back around 10pm because that's when vendors man their booths for the Dongdaemun Night Market.
The outdoor walk also gives you a clear view of the bold bronze installations and the futuristic appeal of the DDP. Photographers love to come here at night because that's when the DDP truly shines (literally).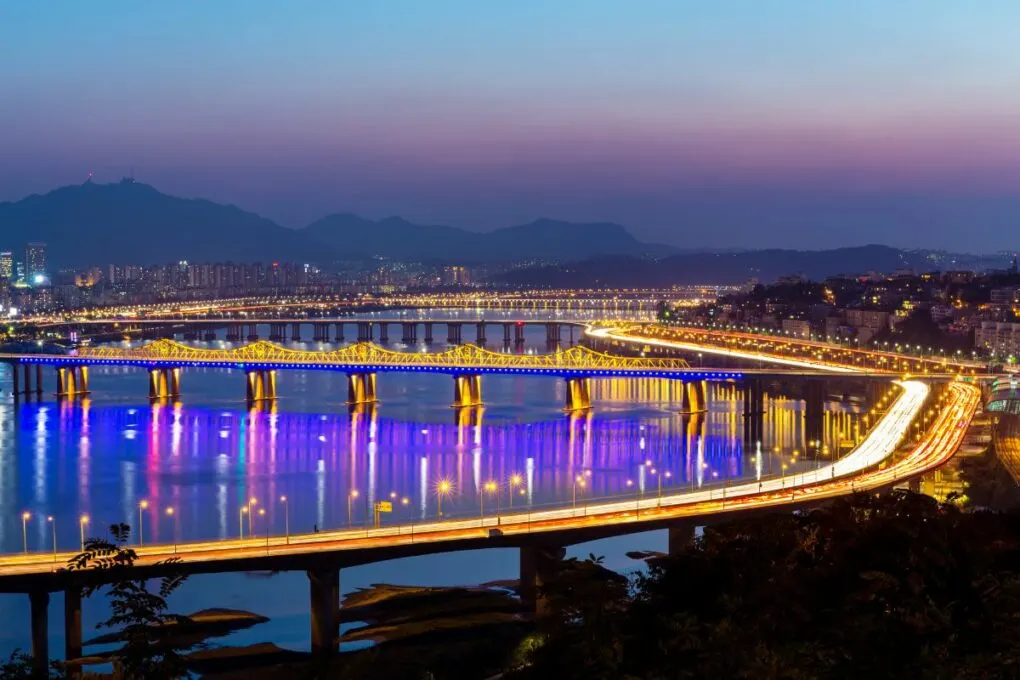 Season: Open daily, but best visited during the cherry blossom season in Spring time
Nearest Metro Stop: Yeouinaru Station (Line 5), Exit 3
Estimated Time of Stay: 3 Hours
Located near the Han River, Yeouido Hangang Park lets you enjoy a lovely stroll along the glistening waters that border the park. Rows of flower-laden trees and colorful fauna delight your eyes as you venture into the city's well-kept gardens.
Families love taking their children to the Water Light Square, a fountain wide enough to gather hundreds of people to cool themselves from the summer heat. At night the park gets riddled with talented buskers who wish to show off their talent.
Many singers take out their guitars to serenade couples and families, and up-and-coming idol groups perform dance covers to get noticed. Indeed, this is the best place to see performances in Seoul for free!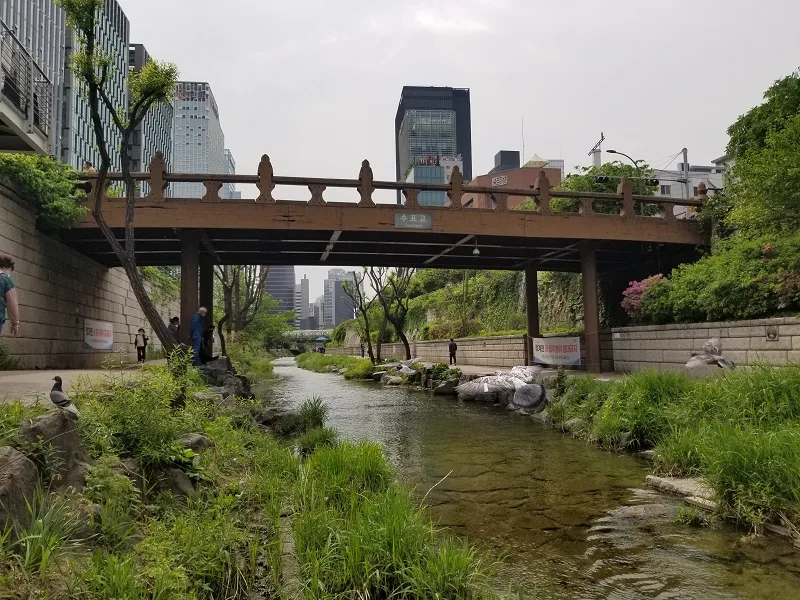 Season: Open daily, come anytime. Best seen in Autumn, or during the Lantern Festival in November
Nearest Metro Stop: Gwanghwamun Station (Line 5), Exit 5
Estimated Time of Stay: 1-2 hours
Flowing through the heart of Seoul, this stream features concrete bridges arching over a walkway that lines the stream below. A place ideal for walking and jogging, the people who come here tend to pause to admire the view of several artificial waterfalls decorating the stream.
Autumn mornings in Cheonggyecheon Stream are a must-see because the foliage lining the stream turns into a bright 5.8 km yellow stretch that the water reflects, enhancing the green of the bushes next to it.
Like DDP, this place also turns into a market at night, with street food vendors showcasing their different types of tteok, gimbap, and even hotteok. November evenings turn magical when elaborate lanterns line the streets, and the mix between the traditional and modern scenery creates a fantastic contrast that attracts thousands.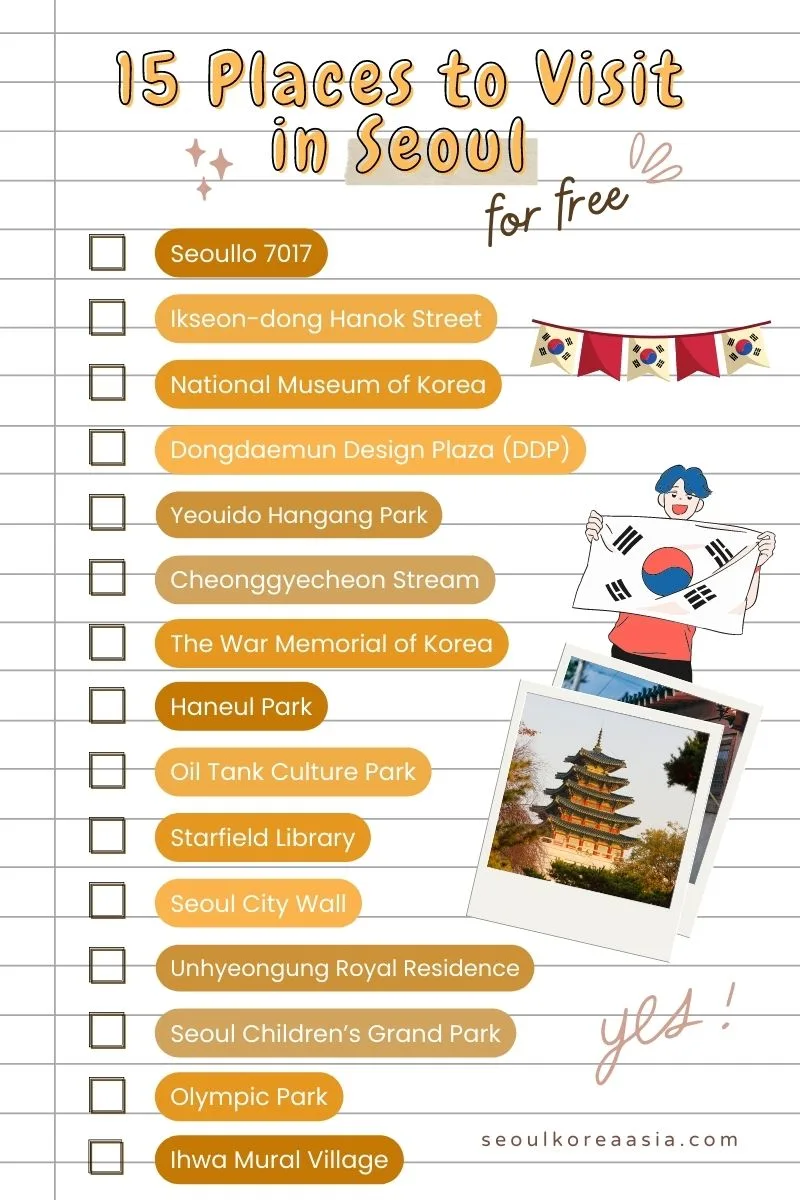 Season: Closed every Monday and certain public holidays. Open from 9:30am-6pm.
Nearest Metro Stop: Samgakji Station (Line 4)
Estimated Time of Stay: 1-2 hours
If you don't feel like cracking a book to understand why Korea split into two, this is a well-run museum that lets you have an immersive understanding of the conflict in Seoul for free.
Through the stories told by exhibits, artworks, and military equipment, visitors get a moving and educational understanding of what transpired during 'The Great War' over seventy years ago. Moreover, the museum lets you see actual tanks and airplanes used in the Korean War.
But, if you're interested in sticking around and doing a bit of sightseeing, you might catch young army recruits practicing military routines outside.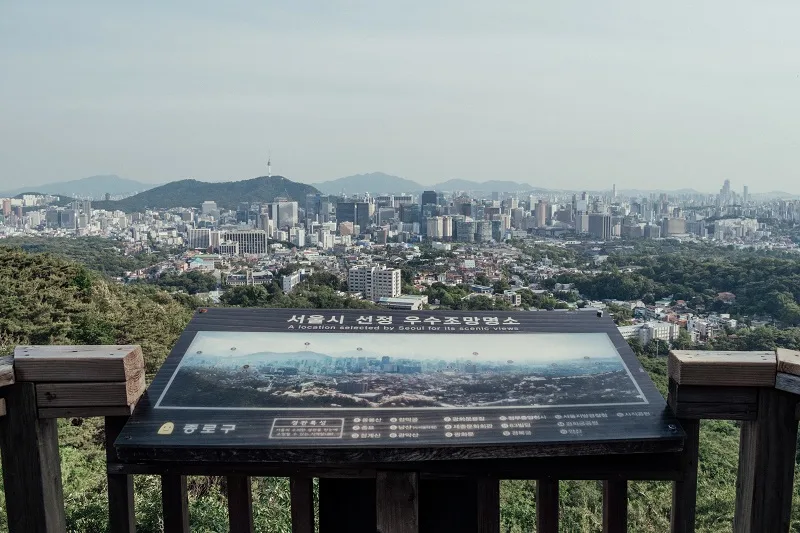 Season: Open Daily, 5am-9pm. Best visited during the peak autumn season.
Nearest Metro Stop: World Cup Stadium Station (Line 6), Exit 1
Estimated Time of Stay: 2 hours
Climbing the 291 steps of the Haneul Park Stairs is always worth it in October, because you'll be greeted by the delightful sight of pampas and pinkish-purple muhly grass in full bloom. In addition, the Kochia scoparia bushes turn into pink pompoms that make pictures pop.
But aside from flower viewing, artistic observation decks provide visitors with aesthetic views of Seoul's key attractions, like the North Seoul Tower, Bukhansan Mountain, and the Han River, which lets you admire the beauty of Seoul from afar.
Oil Tank Culture Park
Season: Open Daily, but the exhibition hall is closed on Mondays
Nearest Metro Stop: World Cup Stadium Station (Line 6), Exit 2
Estimated Time of Stay: 2 hours
This remodeled park provides an interesting view of decommissioned oil tanks, now renovated to showcase the city's Urban Regeneration Project. The oil tanks have been turned into an environmentally-friendly cultural space that people can enter and view.
The T1 Structure, for example, was used to store petroleum, but its walls were removed and changed to glass, creating a large viewing room with a panoramic view of Mt. Maebongsan. Other tanks were turned into performance halls, cultural exhibition spaces, museums, and a community center.
There's also a large viewing room of the sky and an Eco-Lounge library above the Café TANK 6. Like at DDP, you can work and study here thanks to the desks that let students or remote workers share the space for free. If you need to take a break from what you're working on, the nearby Maebonsan Walking Path can perfectly distract you with a pleasant jaunt.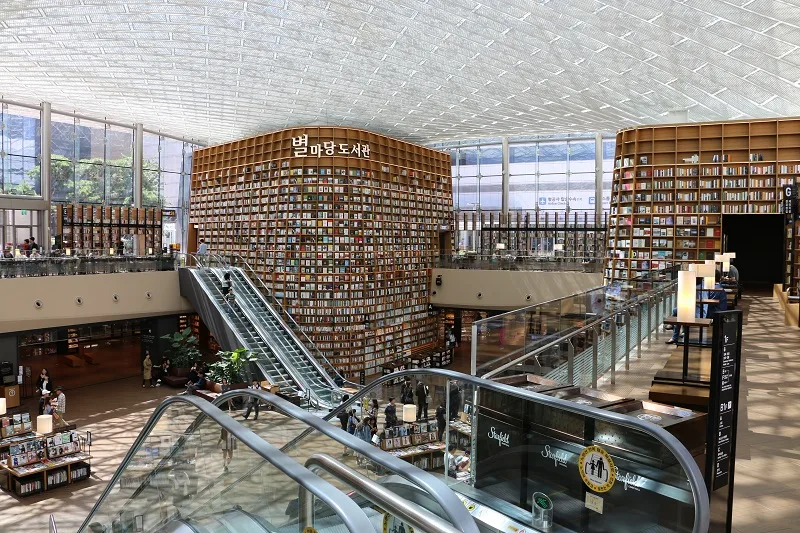 Starfield Library
Season: Open Daily, 10:30am-10pm
Nearest Metro Stop: Samseong Station (Line 2), Exit 6 OR Bogeunsa Station (Line 9), Exit 7
Estimated Time of Stay: 2 hours
If you're looking for a library that lets you study Korean & read in Seoul for free, why not go to the biggest one? The Starfield Library is one of the city's iconic landmarks, with more than 50 thousand books people can freely take to read.
Foreigners may also delight in seeing books banned in their home country, and may choose to read these on any of the free tablets or PCs. Book signing events feature big names in the literature field (like French writer Bernard Werber), with live storytelling sessions and regular poetry readings to entertain the crowd.
Season: Open daily, come anytime
Nearest Metro Stop: Gyeongbokgong Station (Line 3), Exit 3
Estimated Time of Stay: 1-2 hours
Quiet-but-busy, this tourist attraction combines modern Seoul with traditional elements as you hike along the trail. Sure, this Seoul attraction may have a lot of steps, but other than giving you an excellent workout, you also get to examine the towering walls that once protected Seoul.
This long stretch is also connected to the "Four Great Gates" in the north, south, east, and west (Sukjeongmun, Heunginjimun, Sungnyemun, and Dongeuimun). That means you can walk in either direction, leading to Bugaksan, Naksan, Namsan, and the Ingwasan mountains.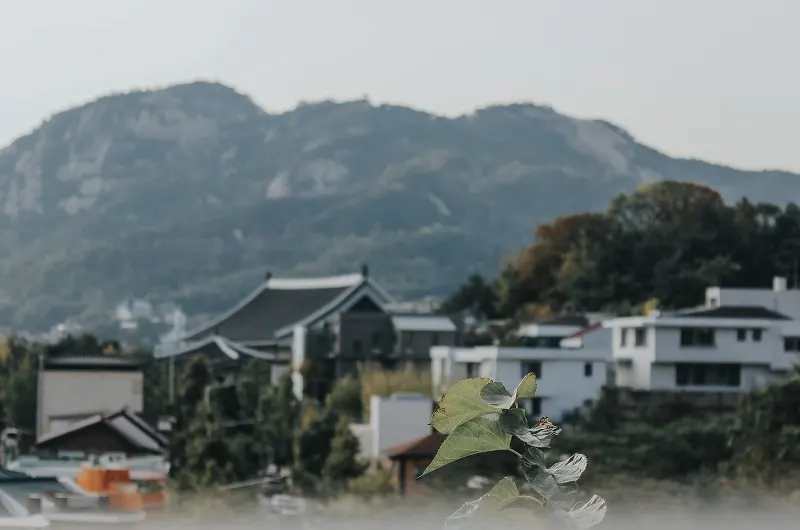 Season: From April to October, 9am-7pm; November onwards, the site closes at 6pm
Nearest Metro Stop: Anguk Station (Line 3), Exit 4
Estimated Time of Stay: 2 hours
Curious how Korean royalty used to live? This grand palace-like home is where King Gojong grew up. Before the Japanese colonization, this historical site used to be larger than what it is today. The restoration did a lot to retain and rebuild the residence back to its former glory.
Now, visitors see original structures closely, like the Norakdang Hall, where the lavish royal wedding was held, and Noandang Hall, where Heungson Daewongun (King Gojong's father) stayed for most of his life.
Events and reenactments also give the visitors a sense of firsthand what it was like to witness these things. Coming here will feel like a time-travel back to historic Seoul, for free.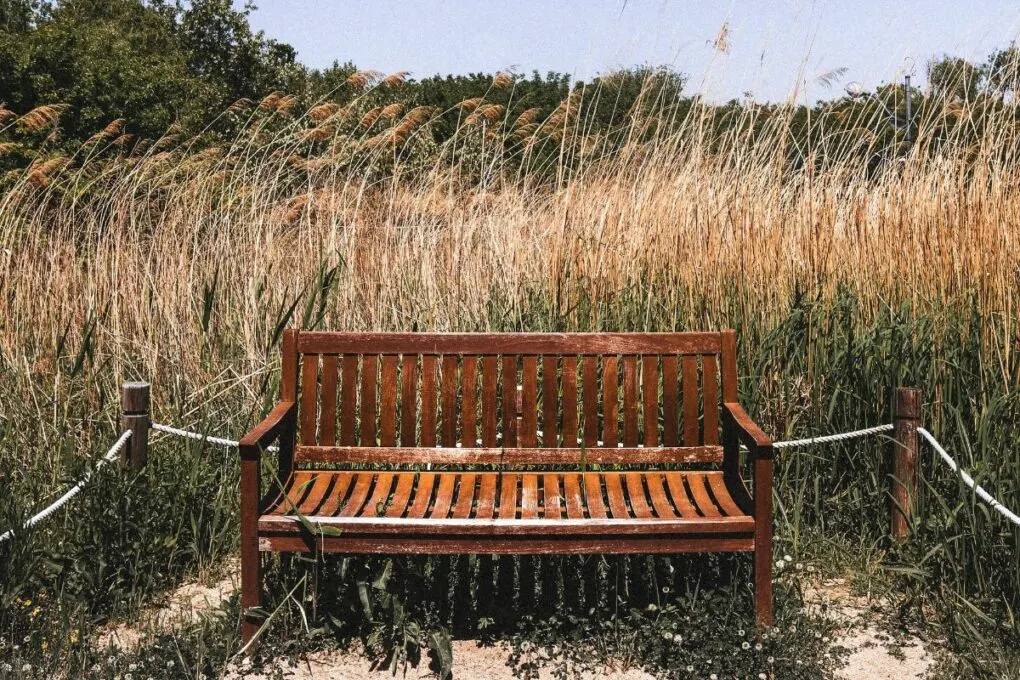 Season: Park is open from 5am-10pm; Botanical Garden & Zoo are open from 10am-5pm.
Nearest Metro Stop: Children's Grand Park Station (Line 7), Exit 1
Estimated Time of Stay: 3 hours
As the name implies, this park is entirely built for children to enjoy, but who says that adults can't entertain themselves here? What's impressive about this park is its multiple playgrounds, a small amusement park, and a zoo!
Educational programs encourage kids to have fun learning about the animals housed there, and specific activities let them pet some of the smaller creatures.
Olympic Park
Season: Open daily, come anytime
Nearest Metro Stop: Jamsil Station (Line 8)
Estimated Time of Stay: 3 hours – there's lots to see
When I came here, I instantly regretted not wearing nice shoes. This vast place is perfect for a worthwhile stroll and sightseeing, and there are plenty of things to see, like the Flag Plaza and the Olympic Flame sculpture. Initially this building was constructed to impress people from other countries, so there are a plethora of grand monuments decorating their outdoor exhibition. Green thumbs will love the large garden dedicated to roses of all colors and types, and like Haneul Park, there's a bright purple muhly grassland that's just as lively and majestic.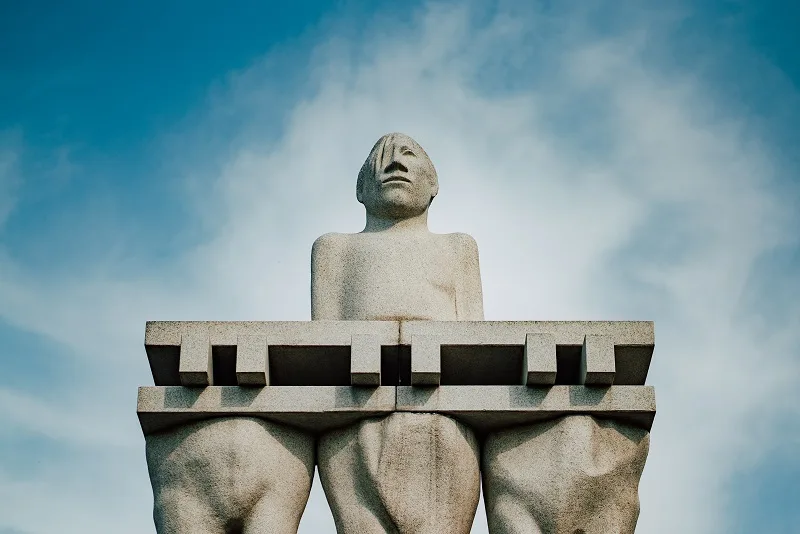 Season: Open daily, come anytime
Nearest Metro Stop: Hyehwa Station (Line 4), Exit 2
Estimated Time of Stay: 1-2 hours
Also known as a beautiful café village, people come here to pick a small coffee shop to sit in and admire the murals and street art as well as the traditional houses and storefronts. See if you can find the popular ones, like the Angel Wings and the Fish Swimming Upstream.
It takes a while to find the rest of the murals now that some have been painted over by the inhabitants, but still – this place gives you a romantic vibe in Seoul for free, where you can just sit and wait for the sunset to arrive from whatever vantage point provides the best view.
Even though Seoul is an expensive city to be in, it doesn't mean you have to spend your life's savings to enjoy the city. All you have to do is get creative in finding places that still give you things to do, sights to see, and unique glimpses into life in a beautiful country.
Finding things to do in Seoul for free is possible, and the places shown in this guide should be proof enough.