This is the guide to Asia massages that I'd always looked for online before visiting a new country, but never found. It might sound random, but whilst traveling I've always wanted to know if I could even find massages in my next destination, as I'm hunched over a computer for most of every day.
But all that searching was around 2017 and 2018, when all you'd find were some individual comparisons on Reddit. So I spent many hours researching each country while I was there, and then getting dozens of massages over the years. I did it for you! And for future me.
But I did write out all this info on massages in Asia for you all, because I know that backpacking Southeast Asia can be more tiring than it looks. Note that this guide will not be mentioning anything about so-called "happy ending" massages because that is exploitative of people who have no other choice and it has absolutely no place in this post.
This isn't a top ten list of spas in Asia or any other type of roundup, but simply a primer on what to expect from massage spots in each of the following countries. So if this guide helps you, please save it for your next trip and send it to a friend! I'll be keeping it updated as I travel back to each of these locales.
Also, as I get massages in other countries I'll add them to the post! Upcoming locales include Japan, Korea, and Cambodia— now on the the relaxing.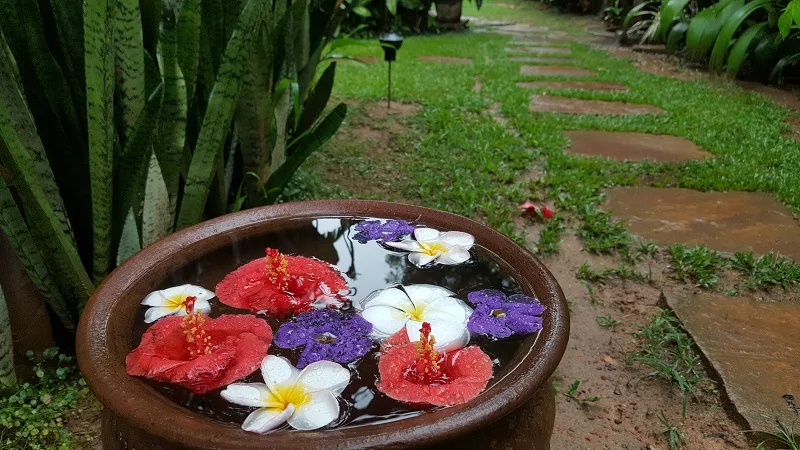 Primer on Massages In Asia
Massage therapy is an integral part of the traditional holistic system of Ayurvedic healing, which was started in modern-day India more than five thousand years ago. From India, the practice of massage as a part of medical treatment spread to ancient China and Egypt and then Ancient Greece and the Roman Empire.
Once it hit Europe, it was only a matter of time until it reached the US, where it's slowly become an expensive treatment only common in short bursts at the chiropractor.
So why are massages in Asia so cheap?
Well, the defining factors are both cultural and economic. Almost all Asian countries have some historical cultural influence from either Indian Hinduism or Chinese Buddhism; the Balinese island of Indonesia is known for Balinese massage, which is heavily influenced by Balinese Hinduism.
Many parts of South and Southeast Asia also face great poverty, and therefore often have a reliance upon tourism.
Thai massage is probably one of the most well-known types of Asian massage, closely followed by Ayurvedic and then Balinese. But did you know that Thai massage is related to both Indian and Chinese approaches, with strong influence from indigenous Thai practice?
Much of ancient India and ancient China actually converged in modern-day southeast Asia, which is why many cultural aspects are shared throughout the region. With massages in Thailand they'll always do some stretching afterwards, as the overall approach is meant to balance the flow of energy throughout the body.
Some people have noted that Thai massages are always rough on the body, but over the last few years the base level of intensity in massages in Thailand has definitely decreased. Most masseuses will also ask you what intensity you want, with whatever level of English they have (always practice patience).
Remember that from the perspective of the masseuse, the goal of the massage is to improve your energy and joint health, so you'll need to make it clear if you just want them to make your back muscles melt like butter.
Balinese massage features more of a light touch relative to Thai massage, but it's focused on the individual's needs and always includes a scented oil of some kind to ease the deep-tissue techniques.
Ayurvedic massage is more similar to Balinese, with the same Indian roots, and is focused on using both oils & herbs chosen for the client's specific needs. The practitioner's swift strokes are executed with the goal of both relaxation and nourishment.
Lastly, you should know that even though there will be no happy endings discussed here, you should still get ready to get completely nude. In many countries, especially Vietnam and Malaysia, you're expected to get completely nude and put on a pair of paper panties (you, too, men) before your massage.
But if your underwear is full-coverage, I recommend you just keep on your underwear and remove everything else. There are more massage tips below, but first let's look at the countries one-by-one.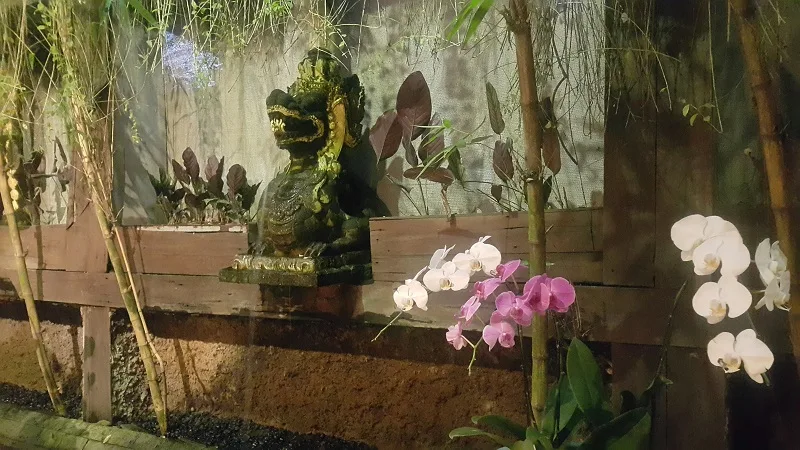 Country By Country Guide
Quick note: currently I'm not including Taiwan or Brunei due to lack of massage culture, nor Singapore, as most Singaporeans choose to travel just outside the city to Johor, Malaysia, for massages.
Massages In The Philippines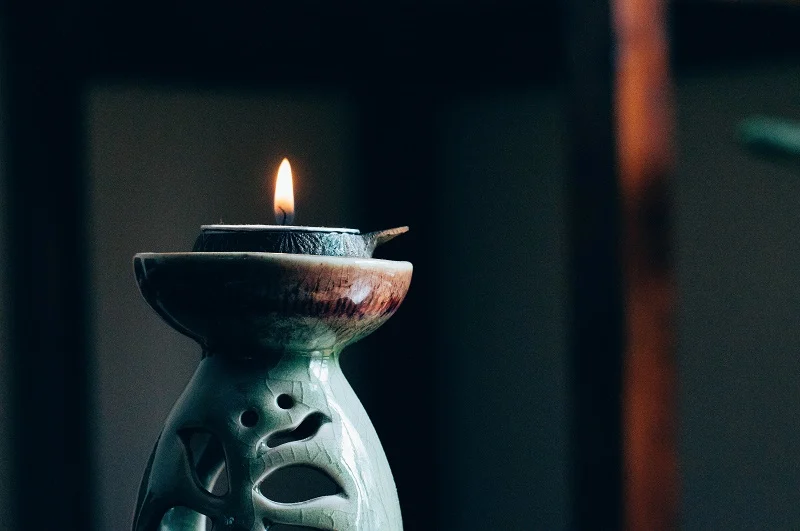 This was the first Asian country I visited on vacation, and it is still one of the best places to get a massage in Asia. With over 7000 islands and several major hubs, there are literally thousands of massage spot on the beaches and in the cities of the Philippines.
Prices are remarkably similar no matter which locale you find yourself in, as the beaches in the Philippines tend to be lined with upscale resorts which drive up the final cost. Still, massages in the Philippines are quite reasonable, if not at all private.
The beach massages are generally done on cloth-covered cots set up underneath huts, and they're offered until the late hours of the night. Prices are based on what type of massage you request, but it's usually just 50PHP (1USD) extra to go from 30 minutes to 60 minutes for a full-body massage!
Going to parlors within the cities involves a bit more formality, but unless it's a super expensive spa, you'll still just be in one huge room with all other clients, laying on a cloth-covered cot with curtains dividing the "beds" from each other.
As long as the idea of that doesn't freak you out, you'll be in for a very relaxing massage. On the beach they use coconut oil, but in spas they'll offer scented oils for just a little extra. Masseuses are always female, in my experience, but they're incredibly strong for how small they are.
Since English is an official language, there's also generally no issue in asking for more attention on a specific body part before even starting your massage. A few of the indoor spas I went to in Manila and Davao offered you a glass of water as you were finishing your treatment, but it isn't always.
In general I tend to get a massage once a day when I go to the Philippines, and I have yet to have a bad experience.
Massage Style: Deep Tissue, Aromatherapy, Swedish Massage
Massage Prices: 250-400PHP an hour ($5-8USD)
Minimum (Polite) Tip: 100PHP ($2USD)
Thanks In Tagalog (Filipino): salamat
Best Places For Massages: spas in resorts and in major domestic tourism spots, like Bohol and Boracay, but really they're everywhere
Massages In Indonesia (Bali only)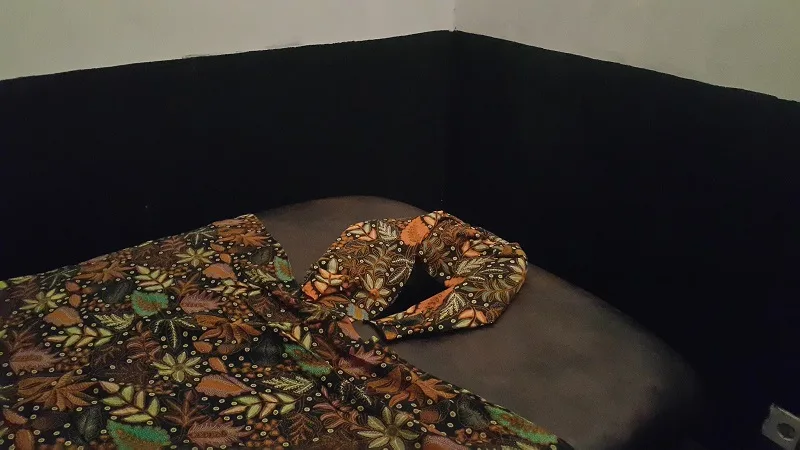 While you're getting a massage, unless something is painful or uncomfortable, people don't generally notice the exact techniques being done. But in Bali, this is partly due to the fact that Balinese massage has become so customizable; most traditional approaches have been largely lost in the touristic shuffle.
As noted above, it draws from techniques unique to Ayurvedic and Chinese approaches to holistic health, as well as traditional Balinese beliefs regarding relaxation & corporeal balance as a form of healing.
A typical Balinese massage combines light reflexology with some acupressure, aromatherapy, and deep muscle stimulation, with any parts not being worked on being covered with a sheet. Following a normal massage on Bali you'll be offered water or tea, and given some time to get dressed or even shower off any excess oil.
Some people will enjoy getting the slightly cheaper massages on the beach, but in my experience the spas are worth the slight extra expense and the increase in privacy.
Massage Style: Balinese Massage
Massage Prices: 90,000-130,000IDR ($7-10USD)
Minimum (Polite) Tip: 50,000IDR ($3.50USD)
Thanks In Bahasa Indonesia: terima kasih
Best Places For Massages: the major tourist hubs like Seminyak, Ubud, and Kuta will have the most options, but I'd recommend heading to a spa rather than the beach
Massages In Thailand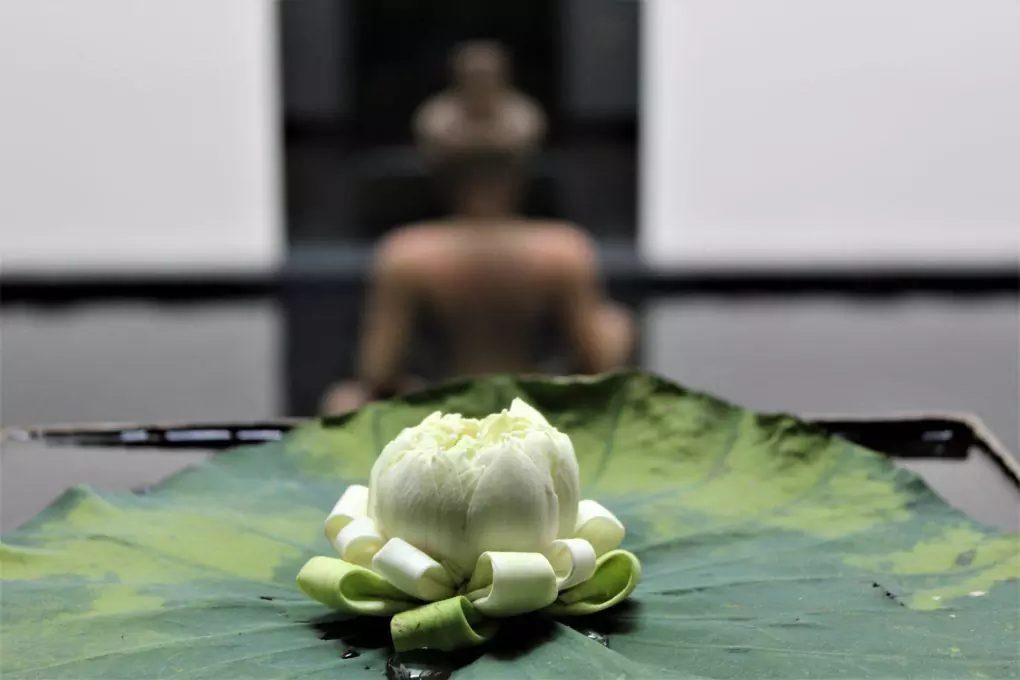 Having cumulatively spent months here, Thailand massage culture is most familiar to me of all these countries (even Korea). Thai massage has become famous around the world for being so common in every corner of the country, not to mention very popular with visitors.
Many recent blogs have actually written about getting massages in Thailand vs Vietnam or other nearby countries and noted that Thai massage was the most aggressive. But in my years of experience from Chiang Mai to Koh Samui, Thai massage has become more customizable over the last decade.
In an effort to draw in consumers, Thailand has become the destination where you can get a strong & stretching sports massage or a light-touch foot massage in the same spot— and sometimes there seem to be 10 or more in the same spot.
You can get a massage on a Thai beach, on a street corner in Bangkok, or even in a spa in the northern mountains; Thai massage is everywhere. Part of this is because there's been more overlap with the more illegal industries in recent decades, and the rest is because there's high demand from tourists and moderate demand from locals.
Almost all the masseuses here will be small, thin women, and in the south of the country most masseuses are from Myanmar. You'll experience a mix of crappy low-pressure massages and high-intensity stretching, but just say "no" to anything that makes you uncomfortable.
Feel free to motion at a particular part of the body and verbally request more attention to it, or make that request beforehand. Spas often also offer you tea or water right after the massage, though that's more common in the south.
Massage Style: Thai Massage
Massage Prices: 250-400THB ($8-13USD)
Minimum (Polite) Tip: 100THB ($3USD)
Thanks In Thai: khawp khun ka (women), khawp khun khap (men)
Best Places For Massages: major cities like Bangkok and Chiang Mai, but really they're everywhere
Massages In Malaysia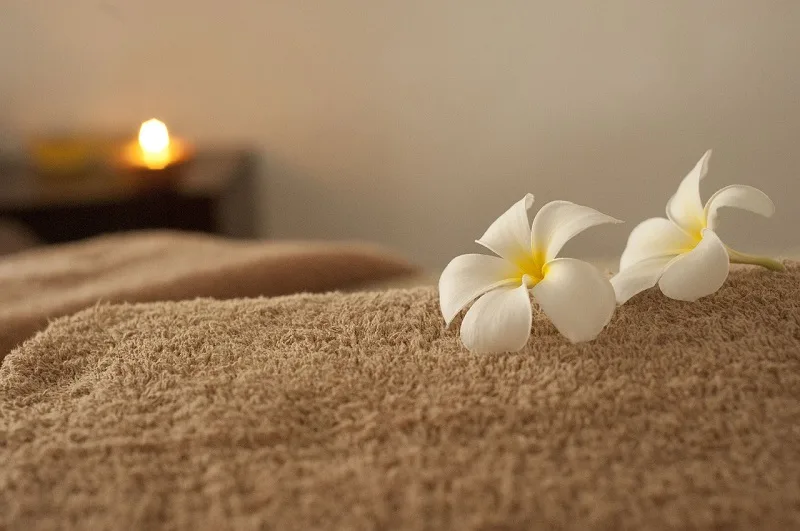 There's not exactly a history of massage in Malaysia, or at least within the indigenous Malay culture. However, Malaysia is highly influenced by its historical migration from India and China; roughly 23% of Malaysians are of Chinese heritage alone, making them the second-largest ethnic group in the country.
Additionally, Malaysia is one of the more developed countries in Asia, so higher spending power + demographics has led to the popularity of massage parlors in the bigger cities. However, most of the massage parlors in Malaysia will actually be Thai massage parlors and not only be staffed by Thai people (they are next-door neighbors, after all), but offer Thai-style massages.
We saw sport massages on offer in a couple places, but there are more limited options than in other countries & it's generally more expensive for even the simplest and shortest options. And yes, you're still expected to strip down to your underwear.
Unfortunately the Malaysian massage industry is also increasingly a hub for more illegal forms of work, so be careful about that. In Malaysia it also seems more common to find male masseurs, so if you're wary of that, don't hesitate to request a female masseuse.
Fun Fact: awhile back the government launched a national "massage style" called Urutan Malaysia which is said to combine the many heritages of the Malaysian people into a unique spa experience, but unsurprisingly it doesn't really seem to have taken off.
Massage Style: Thai Massage, Sports Massage, Aromatherapy
Massage Prices: 40-80RM ($10-18USD)
Minimum (Polite) Tip: 10RM ($2.50USD) or 25% of massage cost
Thanks In Bahasa Malay: terima kasih
Best Places For Massages: major cities on the peninsula, like Kuala Lumpur and Penang, will have the most spas for massages (there aren't as many on Borneo)
Massages In Vietnam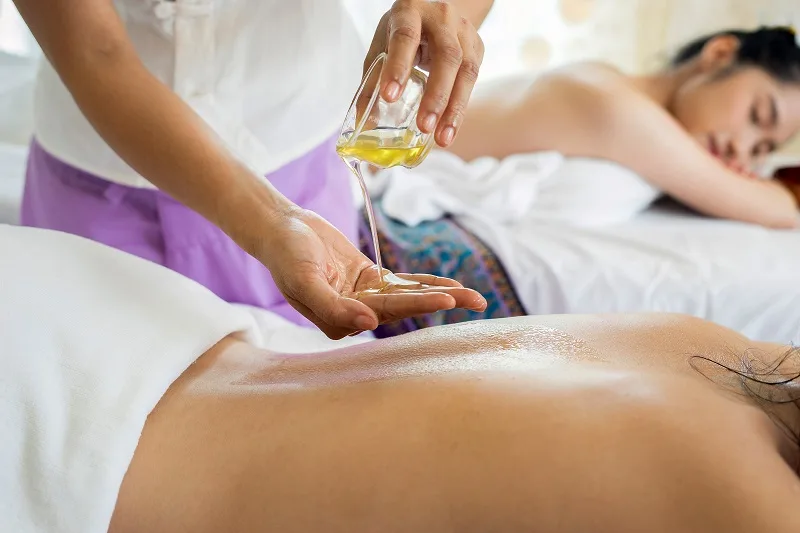 Of everywhere I've visited in Asia, the places that offered the most variety in the massage arena are definitely the Philippines, Thailand, and Vietnam. Here there are a lot of massage spots in the major cities & tourist hubs, but few on the beaches in Vietnam, which is a bit surprising considering how many tourists tend to flock opt the country's beaches.
The massage parlors in Vietnam's cities tend to specialize in foot and shoulder massages more than full body work, and you almost need to go to a spa or retreat to find a decent full-body massage.
When you find them, though, they are generally quite good; the friend I visited on my first trip took me to her favorite spa, which she'd only found after a few months of looking & weekly massages. Vietnamese massage is rooted more in Chinese approaches of tension relief through targeted pressure rather than the stretching & bending you'll find in the more familiar Thai massage.
Even if you book a foot massage or a back massage only, you can also expect some focus on areas of the body further afield.
Vietnamese massage tends to be more holistic, also including the parts of the body which may affect that area of focus. For example, most Vietnamese masseuses will loosen tension in the shoulders, calves, and hands at various points during a foot massage.
Massage Style: Deep Tissue, Swedish Massage
Massage Prices: đ250,000-450,000 ($11-19USD)
Minimum (Polite) Tip: đ50,000 ($2USD)
Thanks In Vietnamese: cảm ơn (pronounced "gam-uhn")
Best Places For Massages: major tourist cities like Saigon, Hanoi, and Hoi An will have the most spas along the main streets.
Massages In Sri Lanka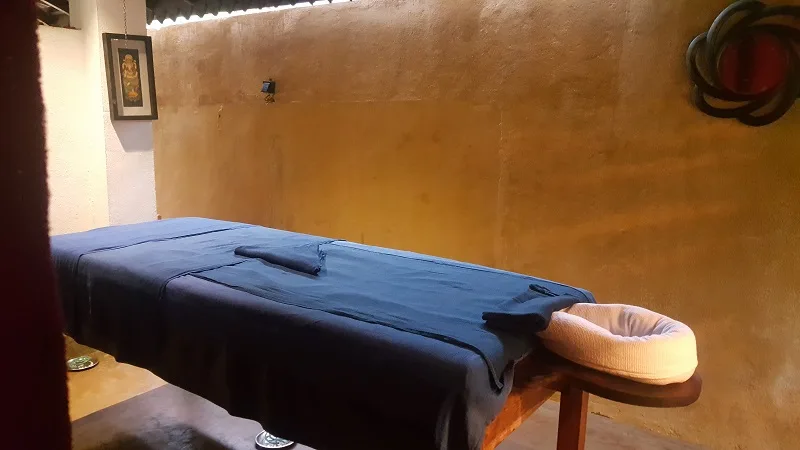 Sri Lanka is one of the countries where I'd never get a massage on the beach. They are offered there, but I read enough horror stories about inappropriate touching and way overinflating the price afterwards that I steered clear of beach massages from the start. However, there are luckily a lot more options inland. Most Sri Lankan spas are clustered in highly-touristed areas, especially along the beach but not on the beach.
There tend to be more upmarket ayurvedic centers or spas rather than the budget-type places you'd find in Thailand or Vietnam, and they're relatively less common than they are there. After one experience in Kandy, we actually learned that there are different prices for locals vs foreigners in some Sri Lankan spas, partly related to the types of treatment which locals prefer, which is more traditionally Ayurvedic.
It's quite common to find male masseurs here, and it's not uncommon for a masseur to work on a female client, so be sure to ask for a female masseuse if that would make you more comfortable (as it did I). Also, I feel the need to prepare you for the fact that Ayurvedic massage uses waaaaaay more oil than you're probably used to, very similar to what you'd experience in India. Also similar to India, I'd make sure you go to a spa or Ayurvedic center rather than somewhere you find walking along the street, so that you're sure to get a license massage practitioner.
Massage Style: Ayurvedic
Massage Prices: 3,000-5,000SLR ($15-26USD)
Minimum (Polite) Tip: 1,000SLR ($5USD)
Thanks In Sinhala: bohomȧ sthoo∙thi
Best Places For Massages: along the beach or in Ella or Kandy
Massages In India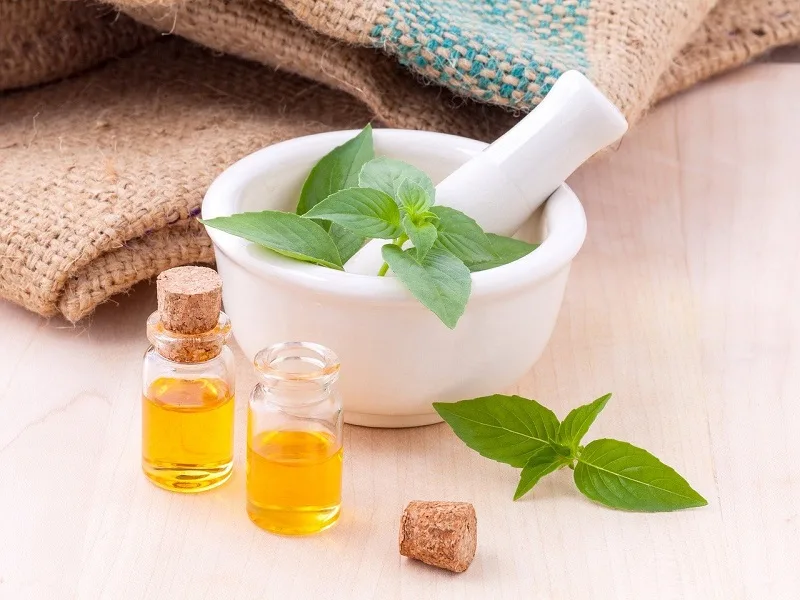 India is home to the famous Ayurvedic massage, an ancient approach to balancing the body as part of a holistic healing regiment. With Ayurveda, the focus is on the movement over and into your skin, relieving muscle tension and massaging in the herbs & oils rather than light touches to put you to sleep.
It can get a bit aggressive, so communicate beforehand the level of touching you're comfortable with, because if you don't then they will get all up in there without remorse. Especially note if you don't want any oil in your hair, because that's the first place they start!
To give you an idea of the typical Indian massage, beforehand you'll be asked to put on some paper underwear that goes between the legs and ties at the waist (though I've heard of some places where they just put it on you).
You'll be matched with a massage therapist based on gender, so men with men and women with women, because you'll be getting completely undressed and India is still quite conservative. Than you'll lay down and the massage will begin, head first.
The average massage cost in India is around Rs.2000 for one hour, though sometimes foreigners will be quoted prices in USD and charged more for it. In the major cities the average massage cost goes up to more like Rs.3000 for one hour, but the price goes down around the beaches.
Yes indeed, even though I've been told it's illegal, you can get massages on the beach in India and they are indeed much cheaper… but they're also much more hit & miss (though it's a bonus in my eyes that you don't need to take off your clothes for them).
Massage Style: Ayurvedic
Massage Prices: Rs.1000-4000 ($14-55USD)
Minimum (Polite) Tip: 500Rs. per hour or 25% massage cost
Thanks In Hindi: dhanyavaad
Best Places For Massages: always go to a spa, of which there are many in all the major cities & tourist destinations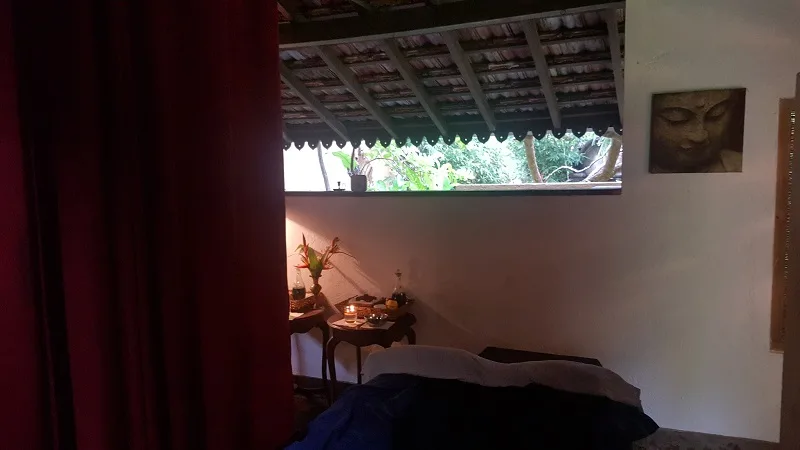 Tips For What To Do Before A Massage
As a basic courtesy, take a shower before your massage, especially if you've been walking around all day. You'll also want to shower after, unless you love being covered in oil (I often let it soak in for a few hours afterwards).
Don't be afraid to speak up if you want the masseuse to press harder or softer, and if you have any specific places you'd prefer them to work on (or avoid). They'll never know if you don't speak up, since you'll be facedown most of the time!
Scented oils are generally made using cheap scents or flavorings, even if they have uber-fancy names, so if you have sensitive skin you should be careful of oil-based massages.
If there are no lockers outside the massage area, make sure there's somewhere in the room for you to keep your bag.
ALWAYS ask to see the massage tables first if you're getting a back or full body massage, as it will be mighty uncomfortable to squish your face directly against the table for a whole hour. Look for places with holes for your face and a comfortable lining (this also goes for places like the Philippines and Thailand, where most massages are not done in separate rooms but in a communal area with a flimsy curtain dividing patrons, if anything).
Please please please don't forget to tip! Especially in southern Thailand and in Malaysia, many of the people who gave us massages were immigrants, and in my experience they often send most of their paycheck home to family. You can likely spare an extra $5 in local currency to make their night that much better, and take off some of that burden— especially if they exceeded your expectations.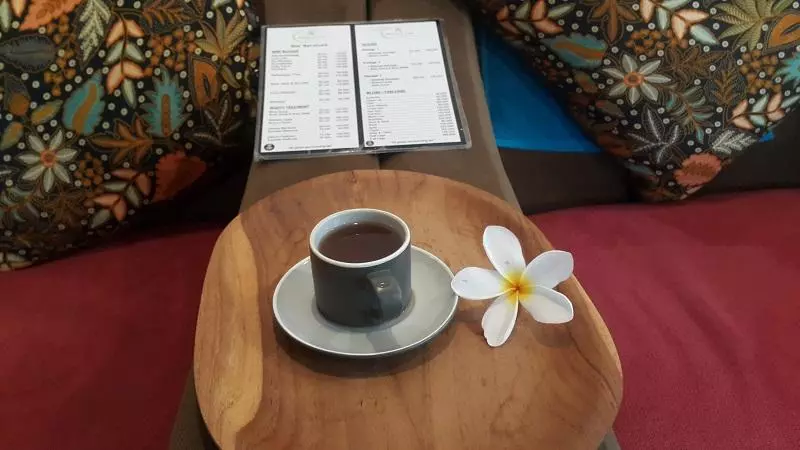 FAQ About Massages In Asia
Where is the cheapest massage in Asia? The cheapest massage in Asia is either in Vietnam or the Philippines, at just $5-6USD per hour.
Which Asian country has the most expensive massages? Of the Asian countries where you can get massages in all the major cities, Singapore in definitely the most expensive at $60USD+ per hour, and Japan is second most-expensive at ~$45USD+ per hour.
What is the difference between Balinese, Thai, and Ayurvedic massage? Thai massage is more focused on stretching the muscles and joints than the other two, while Balinese is focused on individual needs through deep-tissue massage & scented oils.
Ayurvedic is similar to Balinese, but it also incorporates herbs for deeper relaxation and nourishment.
Massage Etiquette: what should you do before a massage? What to do after a massage? The basic checklist for before a massage is to not eat for a couple hours beforehand and make sure you're freshly-showered when you arrive.
Full-coverage underwear is also your friend, ladies! Following your massage you should shower to get off the oil (if used), drink at least 3 extra glasses of water in the few hours afterwards, and avoid alcohol & caffeine since they dry out the skin. Be sure to also check out the massage tips listed above.
Do I have to get naked for a massage? You never have to get naked for anyone, but the expectation with Asian massages is that unless you're in a mall or on a beach, you'll strip down to your underwear and then lay on your stomach for the duration.
You'll be covered up with a cloth during the entire massage, with the only exposed parts being whichever one they're working on at the moment.