Trendy Korean clothes are all the rage nowadays. In Korea, the younger generations often check on the latest K-Fashion trends of K-Pop idols and K-Influencers on Instagram or Tiktok.
The main trends in Korean fashion are centered on comfort and freedom of movement. So not only are they rather simple to emulate, but they're easy to customize.
Anything that looks cozy is instant K-fashion, but if your outfit comes from a recognizable Korean fashion brand like thisisneverthat, mahagrid, and National Geographic (yes, you read that right), it's even better.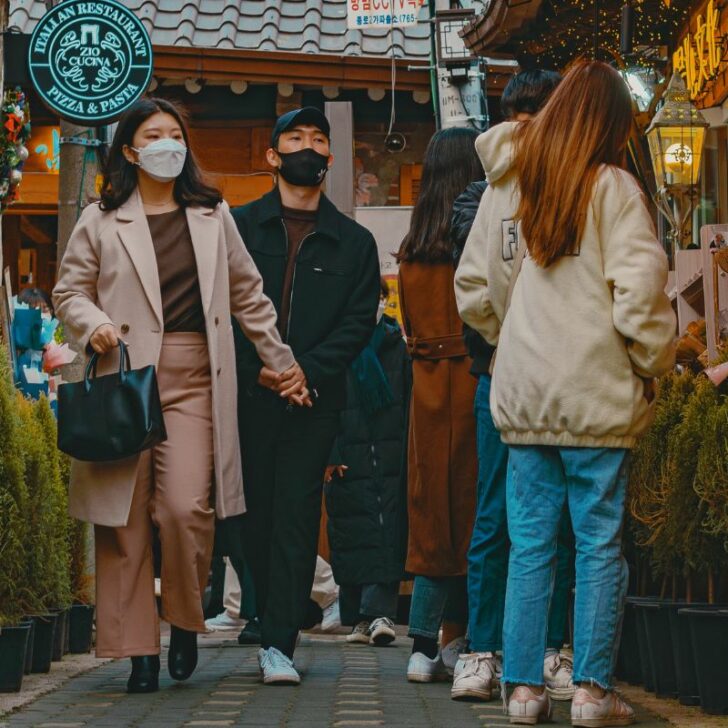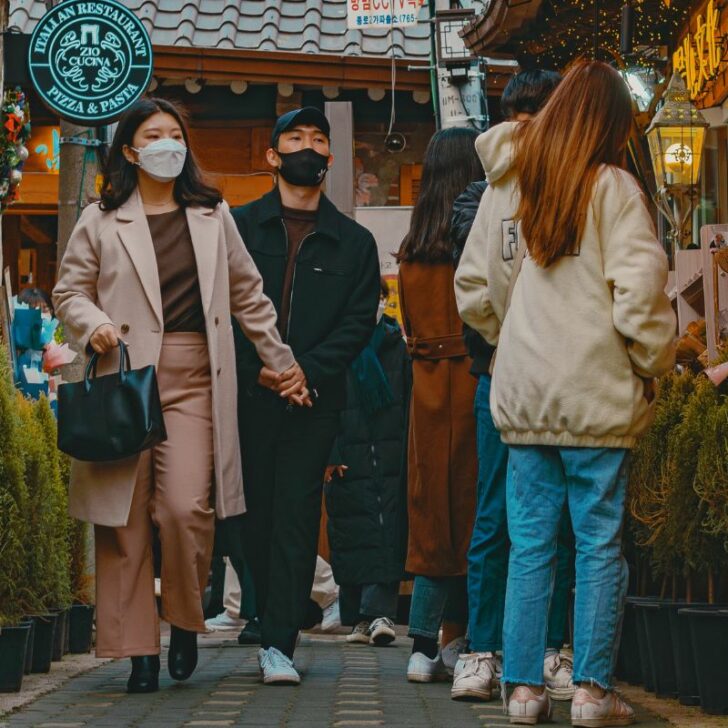 The Basics of Korean Fashion Trends
To be on top when it comes to Korean clothing trends, here are seven tips to keep in mind:
1) One basic rule you must consider regarding Korean fashion is to "never overthink it." You're good to go if your outfit is clean, minimalist, and muted. But if you choose to wear something funky and daring, don't worry too much about it!
Just enjoy what you're wearing, and in Korea, locals will admire your confidence (especially if you're a foreigner). If you hear them calling you "hip-eu" (the Koreanized word for hip), it means you have their approval.
2) Your personal color matters! If you don't know what that is, these are hues and shades that match your body well. Knowing your personal color helps you choose the clothes that look good on you, and what cosmetics and hair colors may enhance your beauty.
Each person has a "season," and if you're struggling to know what colors match you, consider booking a session in Myeongdong's Beauty Play Center. If you don't feel like seeing a specialist, you can ask your friends to do the "vein test" on you (I found it hard to do it myself).
3) Once you know what your personal color is, make sure to ask them for your recommended color palette. This way, you will always know which colors would match and clash with each other. I've noticed that Korean fashion trends tend to lean towards neutrals no matter what season, however.
4) Oversized is better than fit. Korean women love hiding their forms, not because they're embarrassed by their bodies, but because it makes them appear tinier and more appealing. You only see women in body-fit clothing if they are going to the gym, but even then, often the top is looser.
5) If you want to look taller, Koreans know just the trick: tucked-in or body-fitting shirts and high-waist pants work like a charm. This look accentuates your waist and makes your legs look longer.
6) Caps and masks are your besties. Koreans love topping their look with a ball cap, even if the event is formal. Also, although you can now walk without a mask in public, locals still wear stylish face masks in most places.
7) Layering is a must. Even on hot days, vests are paired with white t-shirts, and jackets are tied around the shoulders or the waist.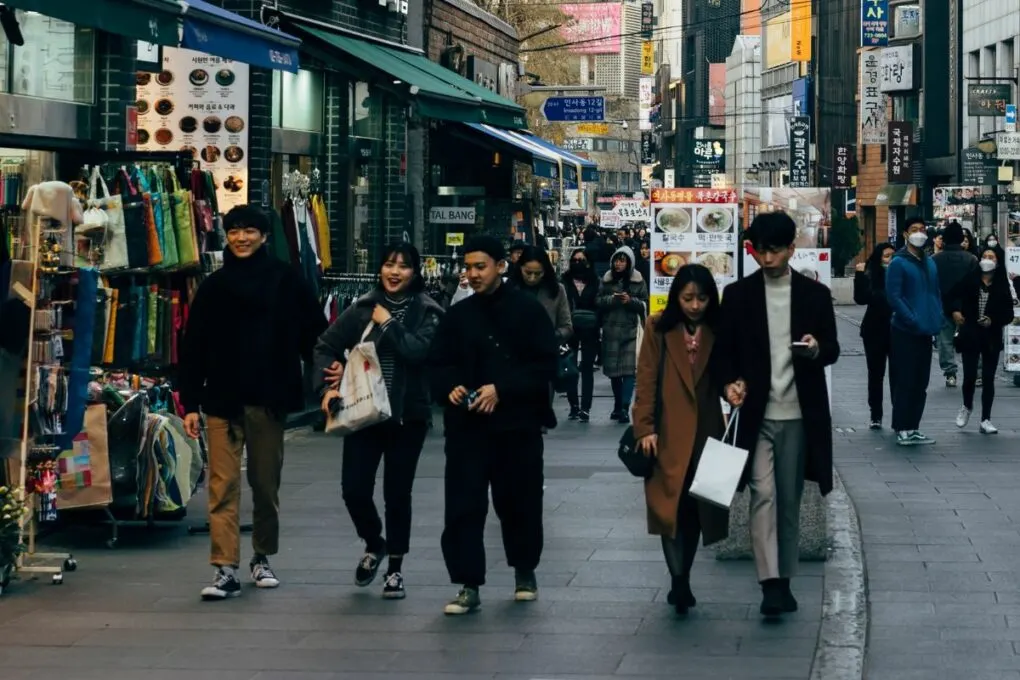 Seoul Fashion Week 2023
In 2022, Seoul Fashion Week opened its doors to the public after a 2-year hiatus due to the pandemic. Korean celebrities and the lead local fashion designers flocked to Dongdaemun Design Plaza on October 11 to 15 to showcase the latest trends and promote their favorite local brands.
Last year's theme was "2023 Spring/Summer" and features 33 Korean designers' manifestations of what the trend would look like in the following year. Common themes seen on models during the five-day stint are ruffles, frills, and drapes, which are likened to "emotional changes felt when experiencing love."
People can interpret love in multiple ways; that's why brands like Greedilous went with teenage confusion & chaos (with pieces worn mostly by drag queen Nana Youngrong Kim, symbolizing the disappearance of boundaries between genders).
At the same time, menswear designer Lee Ji-Min's outfits had daring cut-outs and mesh pieces that highlighted the human body, eroticism, and intimacy. Furthermore, most participating brands emphasized using recycled and natural materials to showcase their desire to join Korea's initiative to upcycle excess and unused scraps of cloth taken from waste facilities.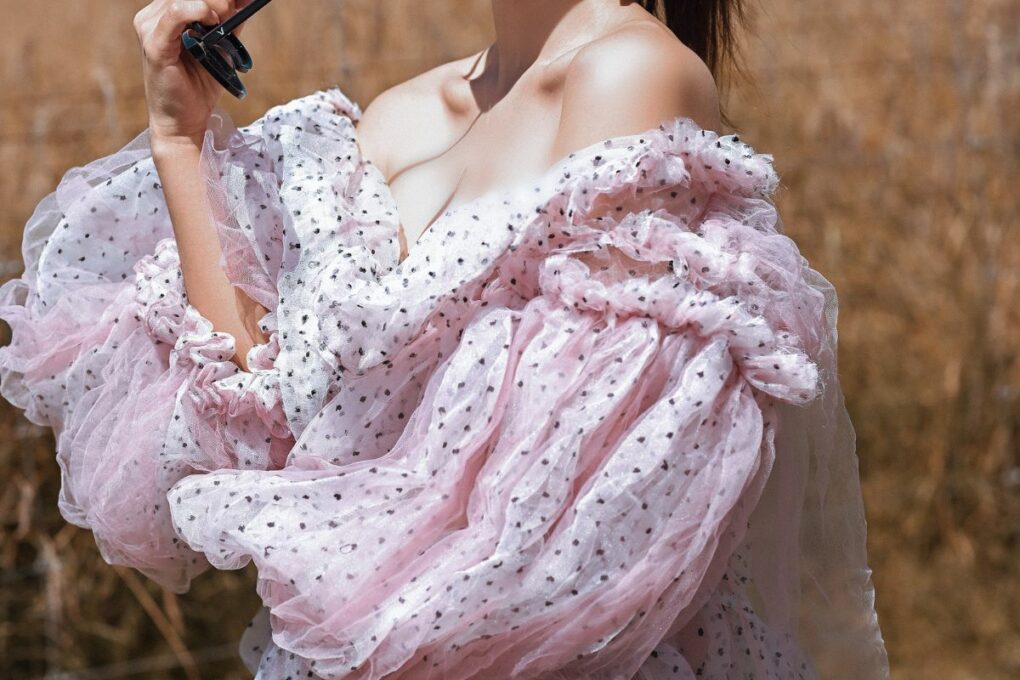 Korean Fashion for Women
Floral Sundresses + Ball Cap
This year's summer fashion turned the streets into massive flowerbeds thanks to the boom of the cold shoulder floral dresses that end slightly above the knees.
What upgrades this look is the addition of a ball cap. At first, this may seem unusual to pair this headpiece with such a pretty dress, but if Lisa from Blackpink says it is possible, then it is possible.
Fuzzy Sweaters & Plaid High-waisted Pencil Skirts
This is a cute look if you want to feel pretty and have clothes that look expensive. This particular look matches well with any handbag, and is perfect for coffee trips and shopping in Apgujeong.
This Korean style is mainly seen on young women meeting for random photoshoots in any of the self-studio photo booths seen in Hongdae or Myeongdong.
High-waisted Flare Pants + Crop Tops
Skinny jeans are out, and high-waisted flared pants are in. But what most Korean women do to lengthen their legs visually and to enhance their silhouette is pair them with a crop top. Teenagers and young adults commonly wear this particular look.
Long Sleeves + Knitted Vests
Since K-Dramas popularized vests as an office look must-have, Korean women can now often be seen sporting plain dark blue or beige sweater vests. This seemingly implies a professional feel and protects you from the fashion faux-pas of blouse buttons suddenly popping open.
This Korean fashion look is perfect if you want to do a spontaneous coffee crawl or other casual hang.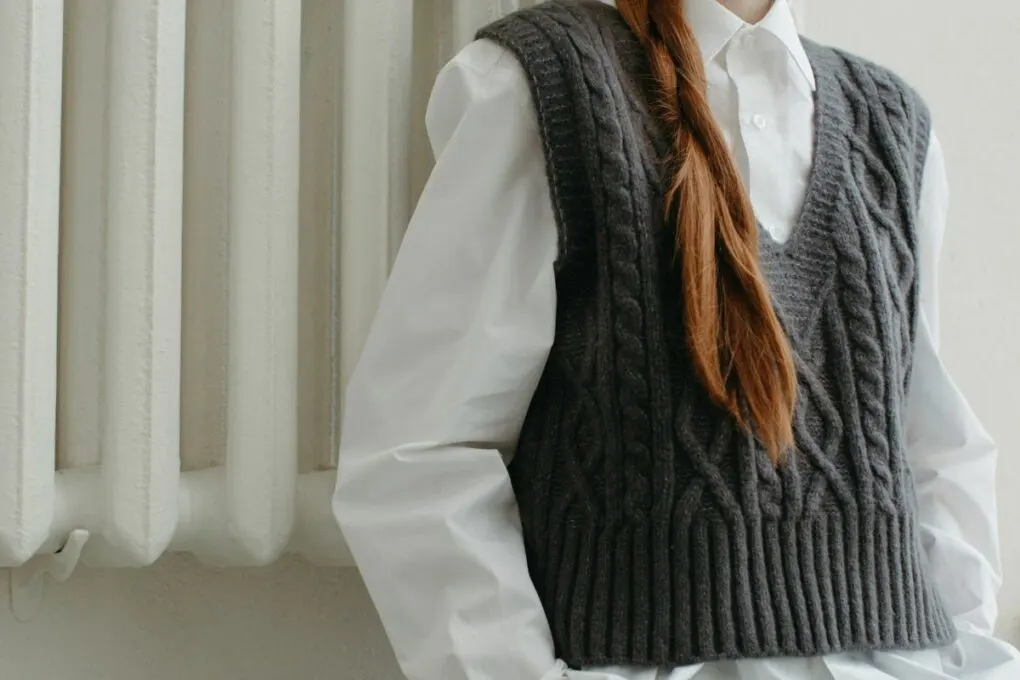 Ruffled Blouse + Half-up, Half-down Hairstyle
For the "ultimate princess look," we have IVE's Wonyoung and NMIXX's Sullyoon to thank, but this look has been popular since the beginning of 2020, thanks to IU and Seo Ye Ji often gracing the TV screens wearing this trend.
The hairstyle may not look very easy, but it's actually effortless to do (especially if you have long hair); just follow this guide.
Loose Shirts + Mini Skirt/High-waisted Shorts + Sneakers
This is a basic look that never goes out of style in Korea. Perfect for last-minute dates or casual hangouts, this could be your go-to if you don't have time to plan your outfit. No matter what, you'll still look trendy and be ready to go on long walks or an active evening of shopping.
If the weather may require you to wear something warmer, throw on a slightly oversized blazer that matches the color of your skirt or shorts, and you're good to go.
Drop Shoulder Drawstring Cropped Hoodies + Jogging Pants
Koreans are known to wear hoodies if they don't feel like glamming it up; but lately, the youth who watch survival dance competitions love copying the style of the contestants of these shows.
Moreover, some of these revealing hoodie tops take your athleisure look to the next level, especially if you have the personality for it.
Bodycons + Black Leather/Bomber Jackets + Knee-high Boots
Partygoers sometimes dress like Seoul Fashion Week attendees. In clubs and bars, women wear these pieces as a point of pride, because the point of this combo is to be noticed in a sea full of good-looking people.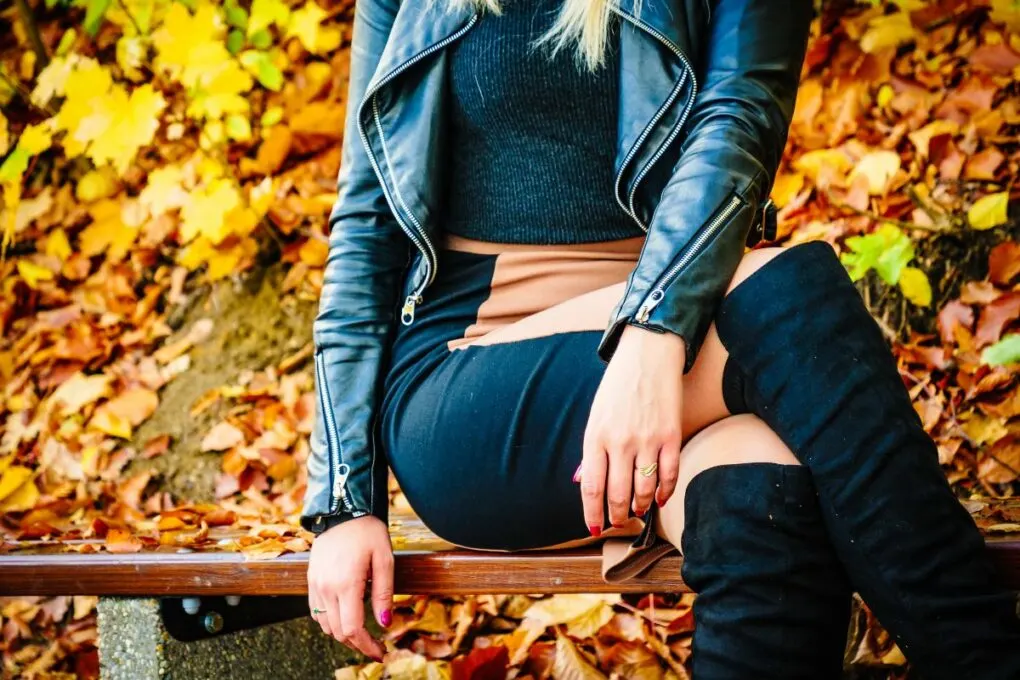 Korean Fashion for Men
Suit Jacket + Ball Cap + Jeans
Ball caps are a must-have in Korean fashion because you can pair them with almost anything, even suits. Younger men in particular love this look, especially those who use 4th-gen idols like ENHYPEN's Jungwon and Stray Kids' Hyunjin as fashion heroes.
Not many people can pull off this look, but sometimes men replace the ball cap with a beret.
Sweatpants (Joggers)
One Korean clothing trend that fits well with the Korean lifestyle is jogger pants, also known as sweatpants. Whether cargo or cotton, men now often opt for these athleisure pieces because they are perfect for casual walks and spontaneous visits to any of the many free trails in Seoul.
Bucket Hat + Oversized Shirt or Long-sleeved Top
Another Korean clothing trend that boomed this year is the bucket hat paired with oversized shirts or long-sleeved tops. It may look funny initially, but idols often opt to wear these instead of beanies to hide their new hair color; apparently, it's a thing to keep the fans guessing what their next hair color will be.
Without realizing it, this style became a crowd favorite amongst those who want to look good without much extra effort. Moreover, most men pair this look with a tote bag to emphasize the casual vibe.
Outfits in Soft Pastel Shades
Lately, men are beginning to embrace colors on the lighter side of the spectrum, in shades of pastel. It's becoming increasingly common to see them in light pink and baby blue suits, polos, or sweaters, usually paired with light-colored jeans and loafers.
This look became famous thanks to BTS' love for pastel colors in their recent music videos.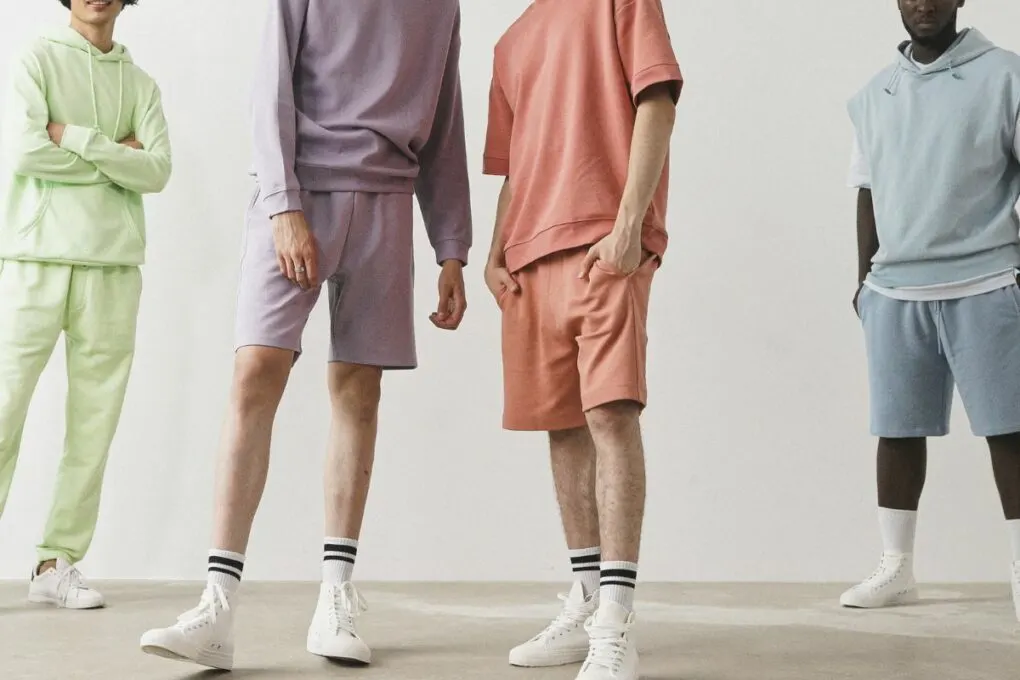 Checkered Outer + Turtleneck
When it comes to trendy Korean clothes, plaid pieces are a must-have. We've seen many locals rock the casual plaid and white tee looks, but a newer (and classier) version has dominated, thanks to BTS' RM. Most men who wear this look are out and about, usually checking out one of the free museums in Seoul.
Combat Boots
Also known as the performer boots of male K-Pop idols, these shoes can keep up with the rough choreography demanded by their high-energy songs. Aside from their durability, this look works with any kind of street fashion. Plus, it reinforces the vibe of your overall look if you're trying to appear rebellious or posh.
Denim Jackets + White Tee
Lately, men have been ditching leather jackets for denim. It can make anybody look cool and chic, but locals mostly wear them for comfort.
Add wire-framed sunglasses or dark-tinted shades to emulate a retro style, which is hot amongst Korean male youth nowadays). You can also wear a white tee and layer it with something checkered before donning a denim jacket for a lovely Korean spring fashion look.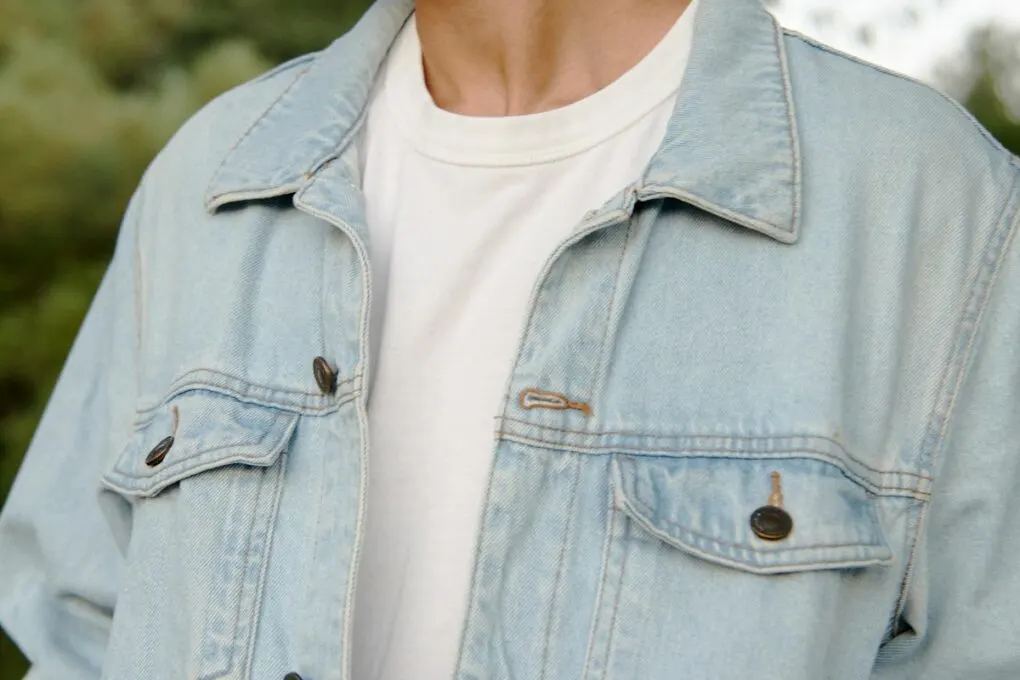 Korean Fashion in Each Season
Korean Fall Fashion Trends
The fall season can be cold as it gradually turns into winter. One way to stay warm is to wear loose trousers, oversized pullovers, or thick cardigans. On days that unusually feel nippy, Koreans are spotted wearing knee-high socks that go well with ankle boots or walking shoes.
Since the fall weather is not as treacherous as the Korean winter, you can spot some people wearing ripped jeans, light dresses, and skirts.
Korean Winter Fashion Trends
In Korea, don't be surprised at the striking uniformity of long black, padded jackets during the morning commute. This look is so popular among the youth that celebrities with a super-large following (like BIGBANG's G-Dragon and BTS) wear and advertise this trend.
When I first moved to Korea in 2016, this trend was just starting, so it's been popular for a while. If you don't want to conform with the locals, you may want to try wearing knitted scarves and colorful socks to add a splash of brightness to your winter look. Plus, capes with turtlenecks are making a comeback.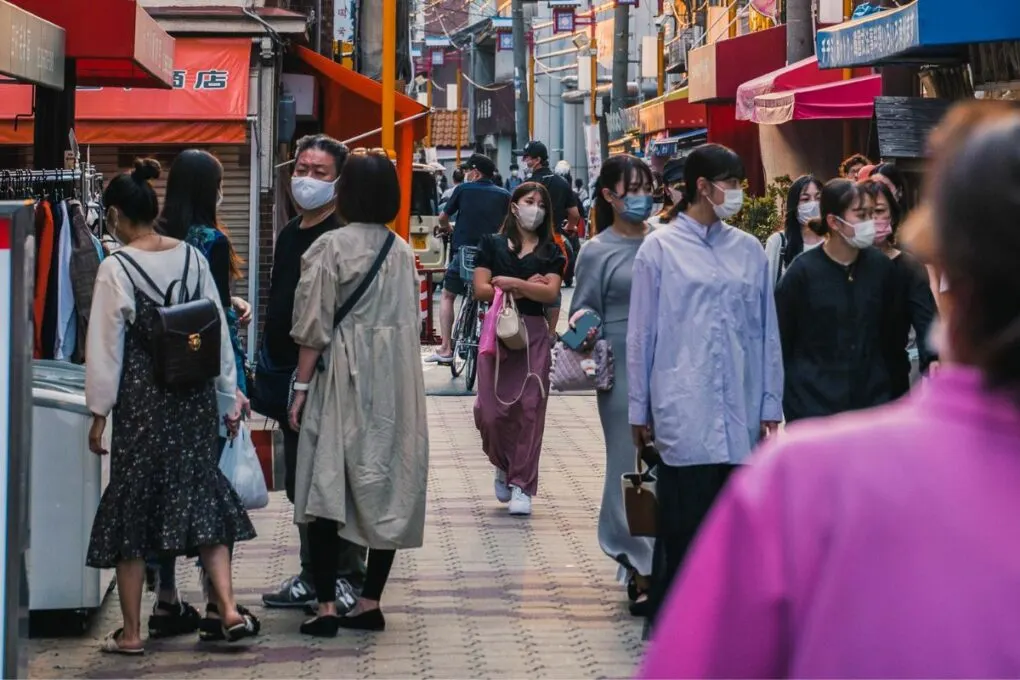 Korean Spring Fashion Trends
Spring in Korea is the perfect time to wear faded colors and pastels. Around this time, people start opting for preppy casual looks that appear breezy and light, like the blazer and shorts combo. Denim jackets paired with minimalist statement shirts and caps are the go-to pieces for a stroll under the cherry blossoms.
Korean Summer Fashion Trends
In the summer, we often spot women wearing floral dresses or oversized button-downs. Knit cardigans also channel a cozy look; although this isn't the recommended outer for the sweltering Korean summer, some locals would rather suffer in the name of fashion.
On the other hand, men can sometimes pull off floral tops, but most choose to wear a button-down polo with shorts.