There are dozens of types of Korean instant noodles, each one with a different but similar ingredients list, texture, and delectable flavor profile. When I lived in Korea, I tried many of these myself, and every winter I'd have a carton of raw eggs in my office fridge, to add one to my steaming hot cup of ramyun.
Below are the best Korean instant ramen brands and types you can find in the US, Korea, the UK, and everywhere in between.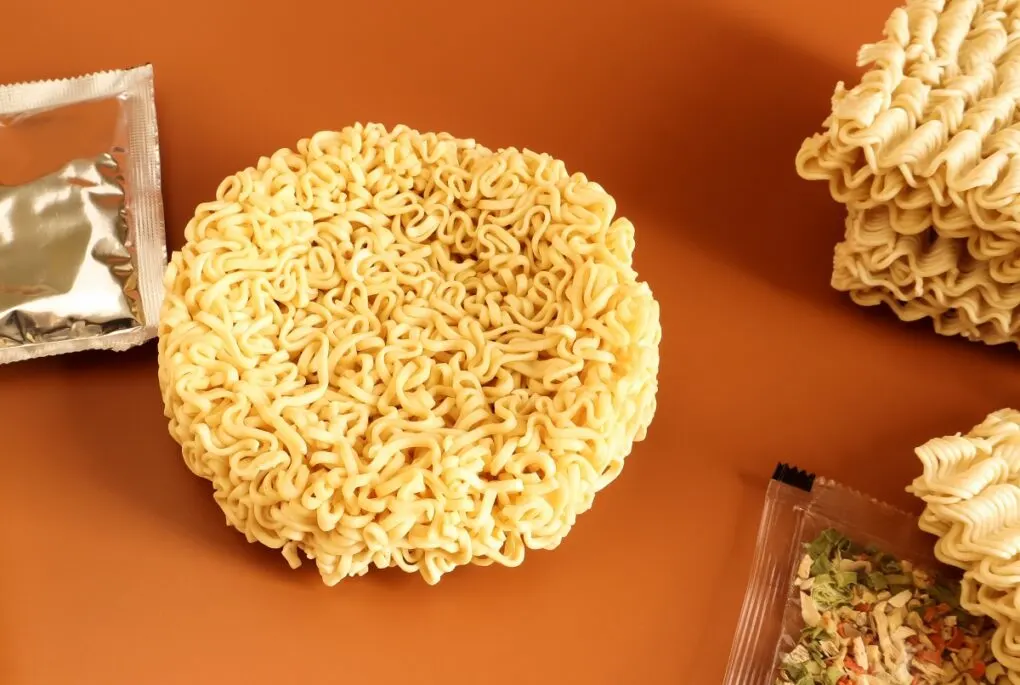 Korean Ramen vs. Japanese Ramen
It would be a big mistake to think that Japanese ramen and Korean ramyun are one and the same. While it may be true that both of these dishes spring from the same culinary roots (and are sometimes used interchangeably), there are key characteristics that differentiate the two.
In Japan they make ramen from scratch, arduously creating the noodles from hand-made dough before putting them into the broth. Eventually they're topped with a soft-boiled egg, usually marinated in soy sauce and mirin.
Koreans, on the other hand, refer to their ramyeon as 'instant spicy noodles,' and sometimes include an egg or a slice of cheese, if they're feeling creative.
Even though the latter sounds less fancy, it still tastes phenomenal. So much so that people who hate spicy stuff still go to lengths to tolerate the heat. It seems the public can't get enough of Korean spicy noodles, so here's a list of local favorites you should try.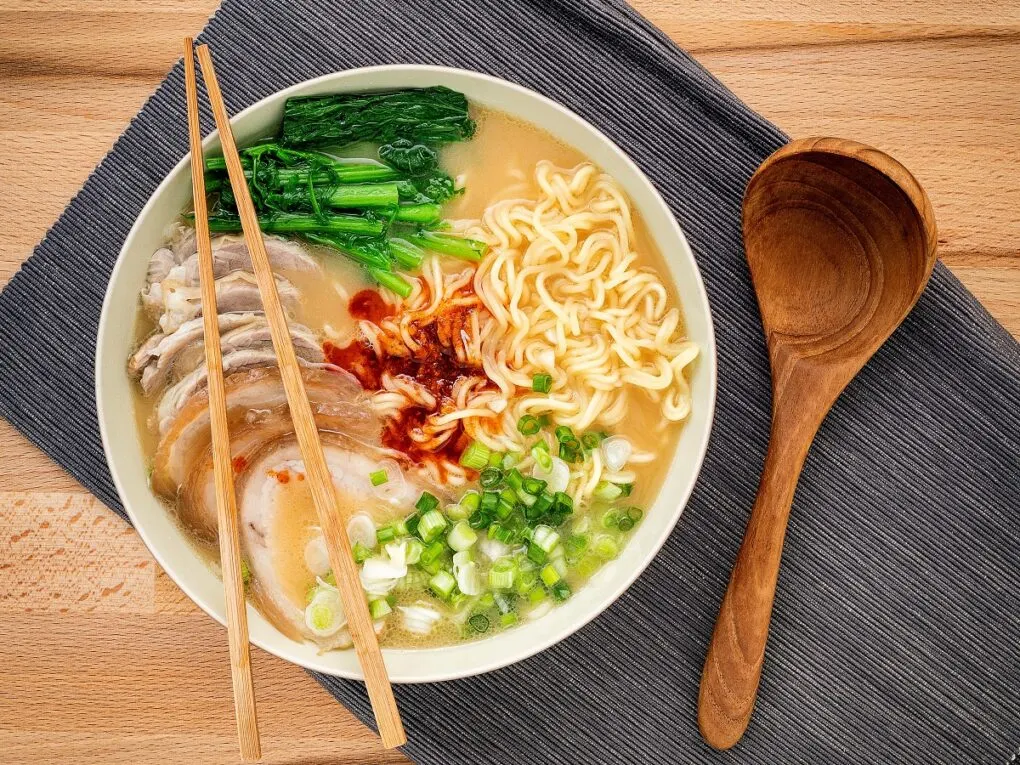 Overview: 5 Best Korean Noodles (Ramen)
Best Korean Spicy Noodles: Paldo Namja Ramen
Up for a spicy food challenge? If so, this particular instant ramen promises a strongly spicy and garlicky punch. Even though the noodles are slightly thinner than the average, the 'manly' broth makes up for it (namja means 'man' in Korean).
Best Cheese Ramen: Samyang Buldak Cheese Hot Chicken Ramen
What makes this cheese ramen outstanding is the hot and spicy chicken, which add a more complex flavor that keeps you eating bite after bite. Even though this is from Samyang, a brand notorious for its spicy noodles, this ramyun is a good introduction to their heat if your tongue isn't strong enough for higher Scoville levels.
Best Seafood Ramen: Nongshim Neoguri Spicy Seafood with Udon Noodles
A dish with a broth that meshes garlic with some of your favorite seafood flavors. It's like a delicious bowl of spicy odeng (fish cakes) with noodles, though it always benefits from a raw egg when you add the boiling water.
Best Korean Kimchi Noodles: Samyang Kimchi Ramyun
Unlike other kimchi-flavored Korean noodles in the convenience store, this one has somehow retained the tangy kimchi flavor people look for. It doesn't taste like the fresh-pulled noodles you can find in bowls in Korea, but it always hits the spot
Best Vegan Ramen: Nongshim Soon Veggie Noodle Soup
This is the comforting cup of vegetable soup you never knew you needed. A bit strong, but not too overpowering, this is a Korean noodle soup that's mild and vegan-friendly. Plus, it's not spicy at all.
Korean Ramen Culture
Just like any other kinds of foods found in Korea, ramyun is notoriously spicy. When mukbang challenges dominated Youtube, people were quickly acquainted with Shin, Jin, and Samyang, which are very popular ramyun brands.
Even though the spice level of some of these is definitely not for the weak, the savory flavors make up for it. According to an incredibly detailed scholarly article about Korean ramen culture, these noodles came originally from the Japanese.
They were used to fill the bellies of the poor if they couldn't afford rice during the shortage in the 1960s and 70s. As the years progressed, ramen was no longer a symbol of the impoverished. As of today, ramen is considered to be many things.
It's commonly used as a replacement for Korean hangover soup, especially after a fun night out in Seoul. I used to use it as a source of comfort when the Korean winter became too much.
Sometimes I'd even find myself in my office with no students for the day, and I'd dig around in my drawers to find something to use as chopsticks (popsicle sticks are still a classic). Ramen also takes about 8 minutes to cook, so Koreans see it as a "last resort dish."
Considering that their lifestyle is always in a hurry (see ppali ppali culture) and most citizens are deprived of sleep, this last resort dish is turned to quite often. Ramen can also be a tool of seduction, often used to invite potential love interests to "eat ramyun" after getting to know each other well.
Now, there are multiple 24-hour ramyeon convenience stores in Korea for people who want their ramen when they want it.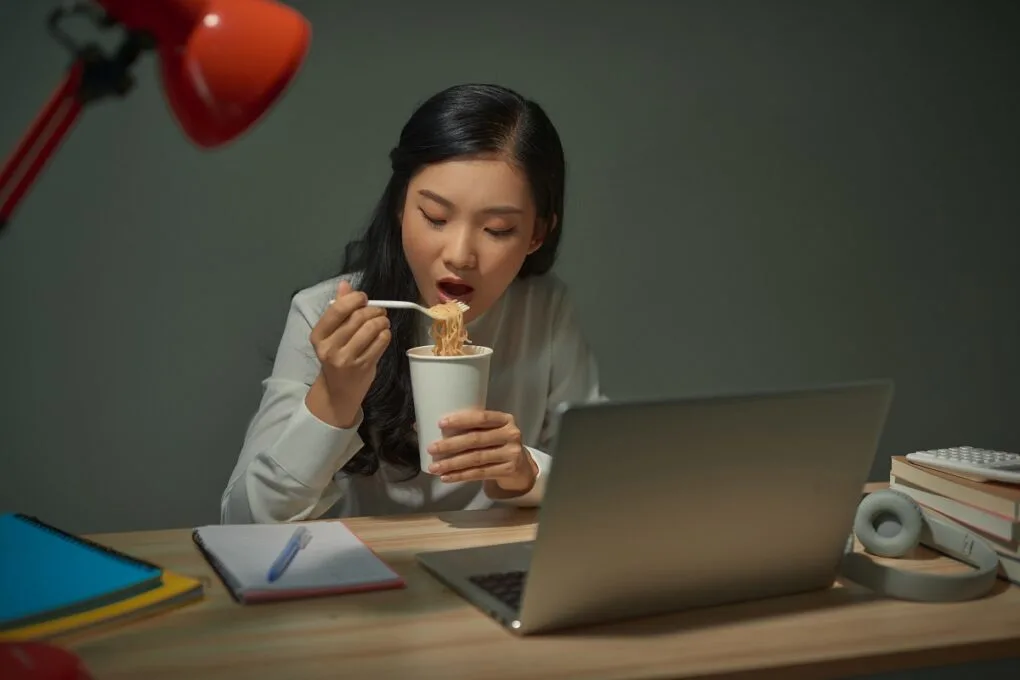 How to Prepare Korean Ramen (8 Hacks)
There are plenty of ways to taste the best ramens in Korea, but nothing beats the ramyun you can make in convenience stores. The beauty about them is that they have everything you need to make yourself a low-budget full-course meal – and Koreans take advantage of that by creating simple hacks that mostly cost less than ₩10,000 ($8).
If you live overseas and still want to try these recipes at home, use a Korean copper pot to add to the experience. Koreans prefer using these for ramyun because they heat up faster than a regular pot.
Omori Budaejjigae Ramyun
Back when resources were scarce (especially rice and meat), people had to be creative with what they could afford. Budaejjigae, also known as "army base stew," combines Korean flavors (kimchi and gochujang) with ingredients from US military bases (like spam, sausages, and pork n beans) to make a delicious Korean-American dish.
Add noodles to this crowd favorite and you have a carbohydrate-loaded dish powerful enough to last you throughout the day. Try adding a slice of American cheese and a bowl of microwave rice to make this meal more typically Korean.
Kewpie Mayo Ramen Hack
This viral tiktok ramen hack definitely changed the way people cook instant noodles. Using any instant ramen of your choice, cook the noodles in a pot for three minutes. In a separate bowl, crack an egg, then mix in Kewpie mayo, grated or minced garlic, and the ramen seasoning, and mix everything.
Then, after the noodles are cooked, pour a bit of the ramen broth into the bowl, and drain the rest. Mix the noodles in the bowl and feel free to add chopped scallions or cheese.
Mark Set Ramen
This viral convenience store food hack is so-named because a contestant on a tteokbokki-recipe competition loved GOT7's Mark Tuan so much. Even though Mark didn't come up with this genius convenience store hack, he tried his hand at making this delicious rabokki in Weekly Idol.
There he realized how refreshing it was, just like the person it was named after; then this recipe went viral. Even people who don't like K-Pop call it the "Mark Meal."
To make this, just visit any H-Mart and find a cup of instant tteokbokki and spicy hot instant noodles. Cook the two separately and then mix them together. Add mini-sausages and top it with mozzarella cheese. This is such an easy ramen hack, but the flavor is incredible.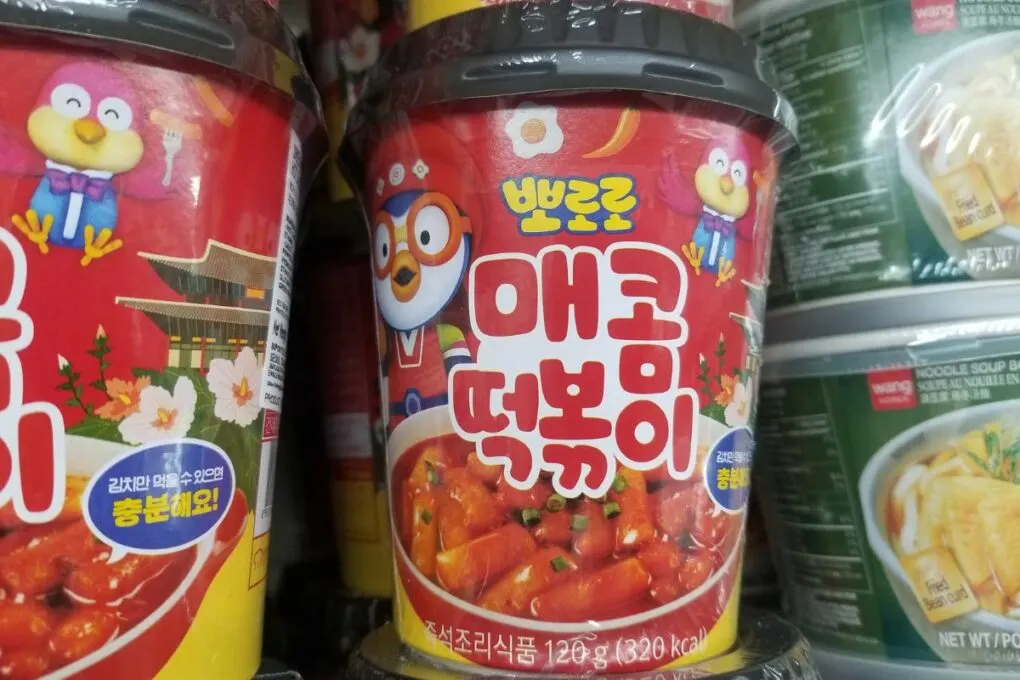 Cheesy Fire Noodle Gimbap
This recipe combines two convenience store favorites that would make a delicious lunch: buldak ramyun and triangle gimbap. After preparing your fire noodles, leave a bit of water and sprinkle some dry cheese all over the noodles.
Mash the triangle gimbap on top of the cheese and microwave the entire bowl for a minute. If you're not a big fan of spice, just switch buldak ramyun with a non-spicy cheese ramen.
Parmesan Garlic Ramen
For this recipe, cook your favorite instant ramen in a cup. While waiting for it to cook, melt some butter in a non-stick skillet over medium heat. Then sauté a couple cloves of raw garlic for a minute.
Drain the noodles, but leave a bit of water & then pour everything onto the garlic butter in the skillet. Then add a generous amount of parmesan; any type you can find. Cook until the cheese forms into sauce. This is the perfect Korean ramen for people who are not big fans of spicy food.
Canned Soup Ramen
Instead of cooking your ramen with the seasonings it came with, why don't you try boiling it in your favorite canned soup? This works great with any Italian or vegetable soup, and makes for a nice twist on your usual lunch.
Hwasa's "Gourmet" Chapaghetti
MAMAMOO's Hwasa has definitely found a way to upgrade instant chapaghetti. First, toss dried vegetables into the boiling water, followed by the ramen. Wait until the noodles are cooked before adding the seasoning, and then cook until the broth turns into a thick sauce. Once the noodles are ready, Hwasa likes adding a generous amount of truffle oil before putting an egg yolk on top.
My Favorite Desk-Warming Ramen
My favorite way to enjoy Korean instant ramen in the winter involves a plain type of ramen and a small copper pot from Daiso. To make it, beat a raw egg and pour it onto the dry noodles right before adding the boiling water.
Then once it's cooked, a couple minutes later, snip some fresh green onions and a dollop of sour cream or cream cheese over the top and stir well.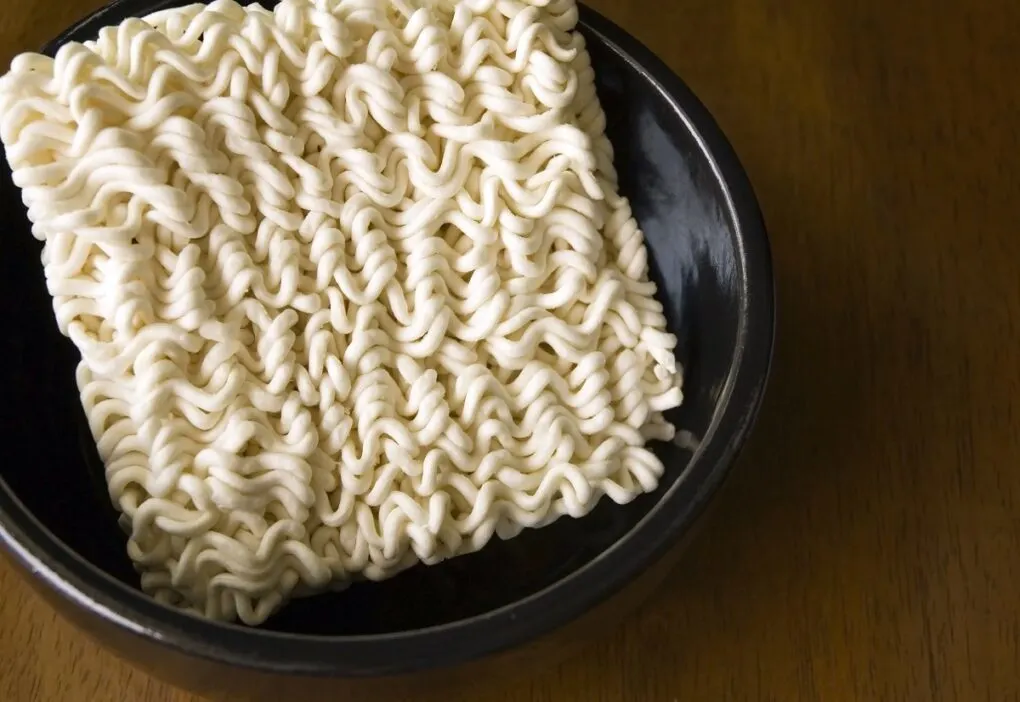 Traditional Korean Noodles
In Korean cuisine, you don't just use any kind of noodles in any dish. You have to know which ones work best with the Korean noodle dish you are trying to make.
Each type can get super particular, to the point that there are more than 20 different kinds of Korean noodles. However, this section only covers the most common ones and how they're different from instant ramen.
Dangmyeon (Sweet Potato Noodles)
Also called 'glass noodles' or 'cellophane noodles,' these almost-transparent sticks are made out of sweet potato starch. They're widely available in any Korean store, because they're used in a variety of ban chan like japchae (stir-fried vegetable) and gimmari (dried seaweed in dangmyeon).
Sometimes, you can even find dangmyeon in andong jjimdak (soy-braised chicken) and sundae (blood sausage).
Cheonsachae (Kelp Noodles)
Like glass noodles, these are transparent, made out of kelp jelly. While they're predominantly used as a decorative addition to Korean dishes, this is a gluten-free alternative to rice and pasta, and can be used to make soups and stir-fried dishes more filling.
These noodles are also used to keep the saengseon hoe (sliced raw fish) added in seafood salads moist for longer periods of time.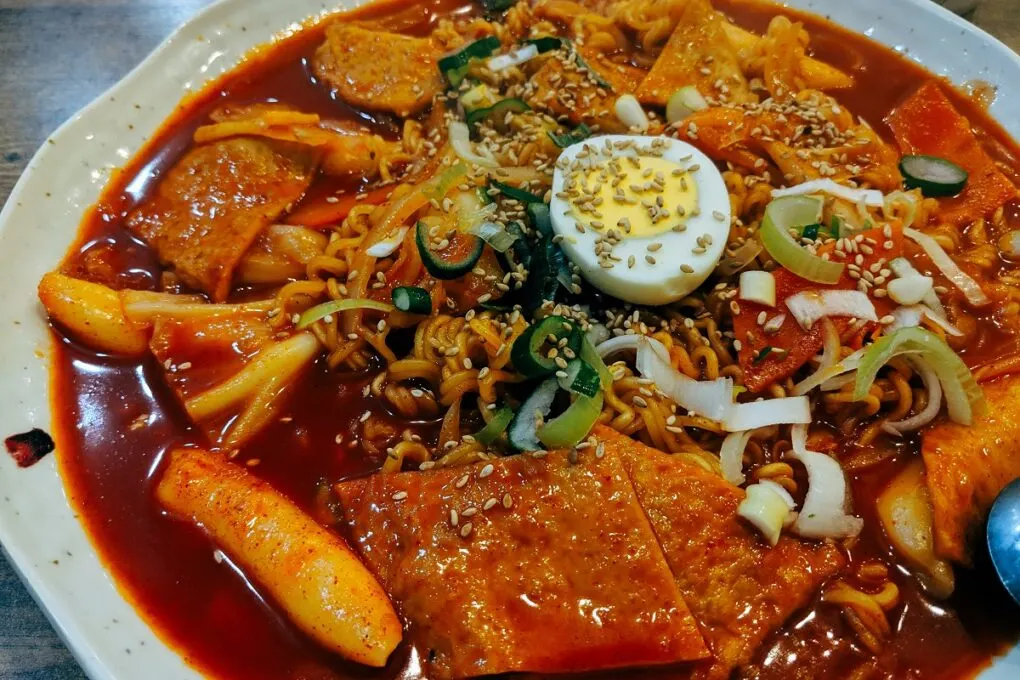 Buckwheat Noodles
These are buckwheat and often wheat flour-based noodles, used to make cold soba dishes like mul naengmyeon and bibim naengmyeon. Often they're not gluten-free in Korea because of the blend with wheat, which makes them cheaper to produce, but some restaurants still make them with pure buckwheat.
Dotori Guksu (Korean Acorn Noodles)
Dotori Guksu derives its taste from red or white acorn starch; that is why it's so rich and strong in flavor. Mixed with rice, potatoes, wheat flour, and arrowroot starch, this combination results in a chewy texture commonlythat is used in dotori naengmyeon.
Udon Noodles (Thick Wheat Noodles)
Jjajangmyeon and Jjamppong share two things in common: 1) you can get these favorites in a Korean-Chinese restaurant, and 2) they use fresh udon noodles, which are thick, wheat-based noodles that originated in Japan.
Garakguksu, on the other hand, is the Korean version of the Japanese udon noodles, and I've heard that the most refreshing bowl can be found in Daejeon Station.
Most Popular Korean Instant Noodles
Nongshim Bowl Noodle Soup Yukgaejang
Only in Korea?: No, Memart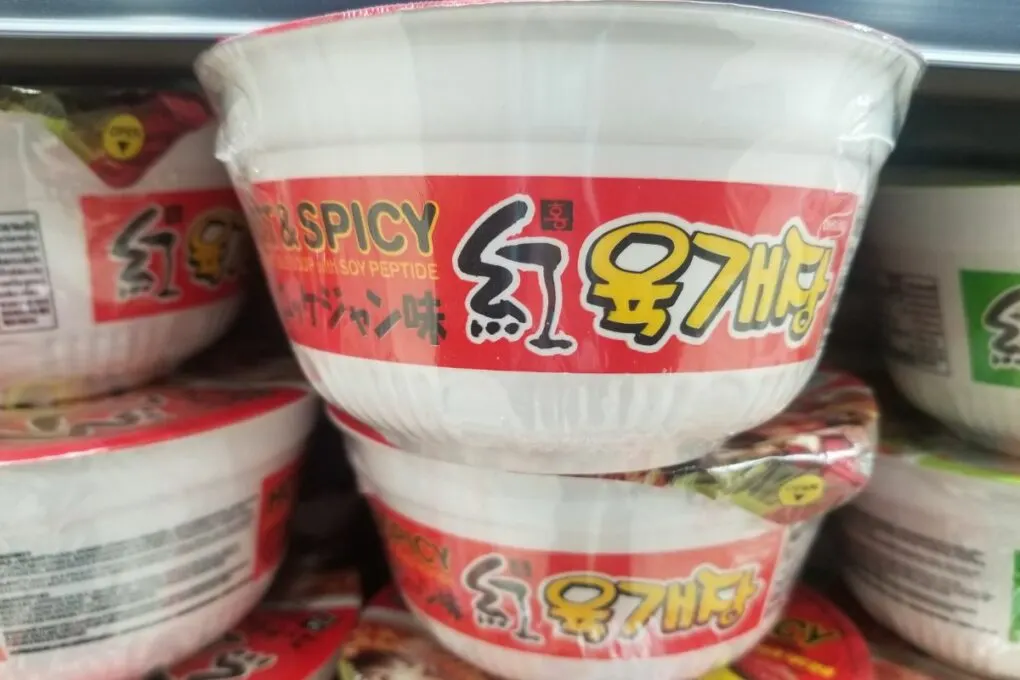 Slightly spicy, savory, and comforting, this ramyun pays tribute to the Korean traditional beef brisket stew. It's known for its earthy & umami flavors, like fernbrake and shiitake mushrooms.
The accompanying noodles are thin and chewy, and the broth is not overpowering. It's perfect for an afternoon snack if you're looking for something that's just right.
Nongshim Chapagetti Chajang Noodle
Only in Korea?: No, Amazon or H-Mart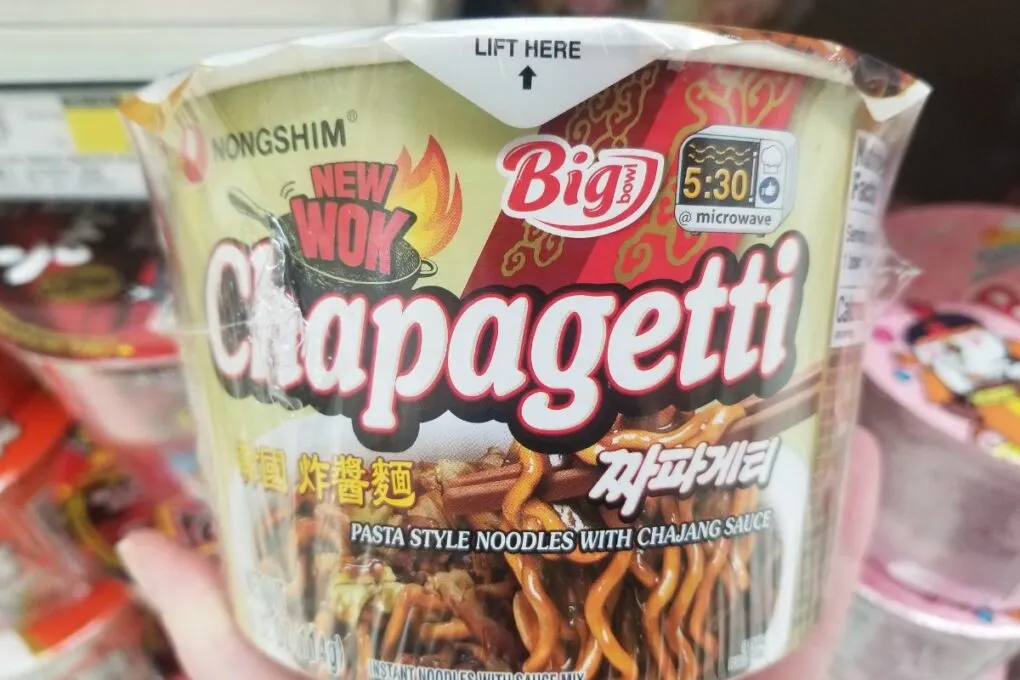 Nongshim creates one of the best ramen in Korea by copying the taste of the original jjajangmyeon noodles found in Korean-Chinese restaurants along Incheon Port. The key is in the black bean sauce.
However, Nongshim's twist is using spaghetti noodles instead of udon. If sales are anything to look at, people love it even more. Mix it with Neoguri noodles and you get the Chapaguri, another easy Korean ramen recipe that you can make at home.
Ottogi Jin Ramen
Only in Korea?: No, Amazon or H-Mart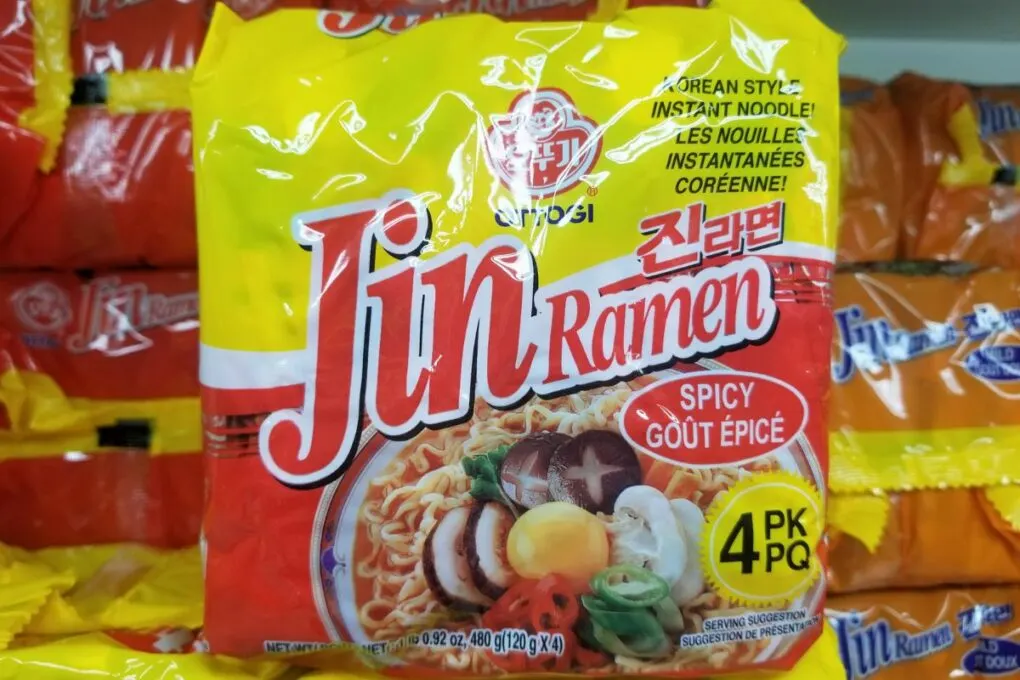 Even waaaaaay before BTS Jin promoted it, Ottogi Jin Ramen was beloved by so many. This is largely thanks to that signature umami flavor, that blends well with the rich beef bone stock and red chili pepper powder in the soup seasoning.
Ottogi Sesame Ramen
Only in Korea?: No, Amazon or H-Mart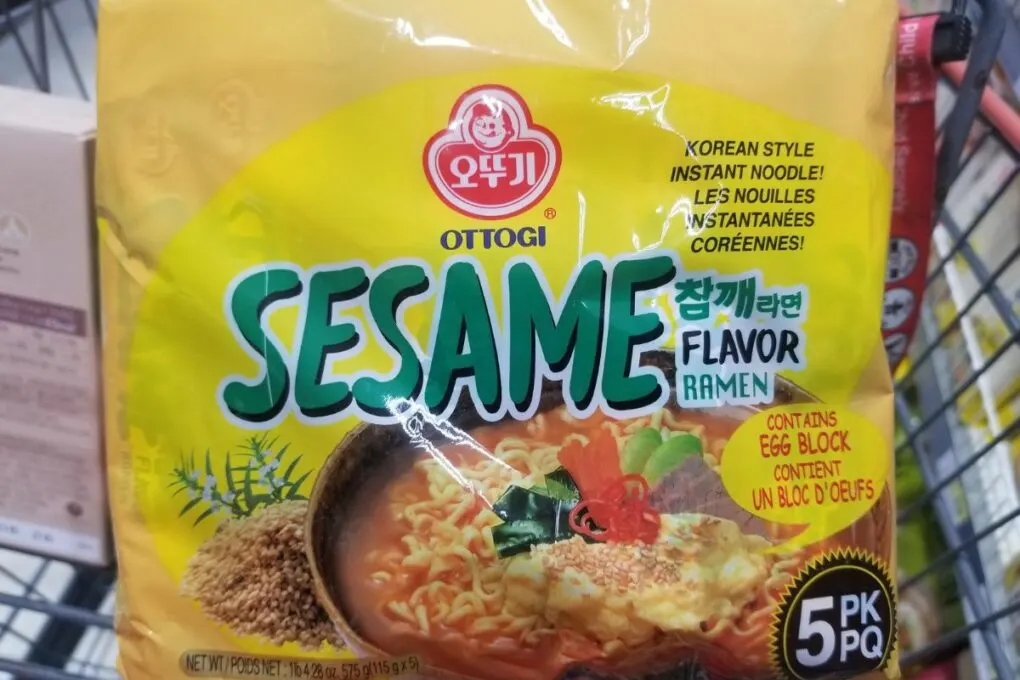 It may be a little spicy, but repeat eaters love the hints of roasted sesame, egg, seaweed, and green onion in the noodle soup. It's somewhat like an egg drop soup, the homemade kind.
Ottogi Japchae Ramen
Only in Korea?: No, Amazon
This ramen imitates a beloved ban chan made out of dangmyeon noodles. Even though the package contains everything you need, you can upgrade this instant ramen at home by adding thin slices of sukiyaki beef. Some also love to sprinkle sesame seeds on top.
Paldo Jumbo Bowl Noodle
Only in Korea?: No, H-Mart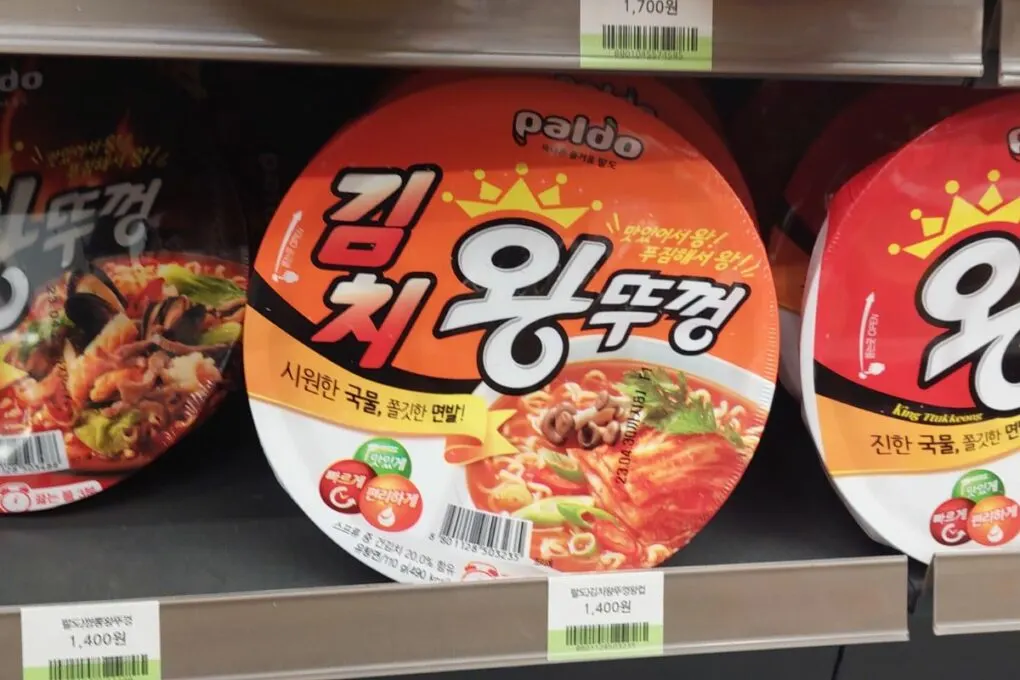 This is not only bigger than the average Korean ramyun, but it has large chunks of vegetables and meat, which are unusual in ramen. Everything smells pretty great once cooked, and just as promised, there's a bit of heat (but not too much), and the flavor is quite hearty and tangy.
Best Korean Spicy Noodles
Paldo Namja Ramen
Only in Korea?: No, Amazon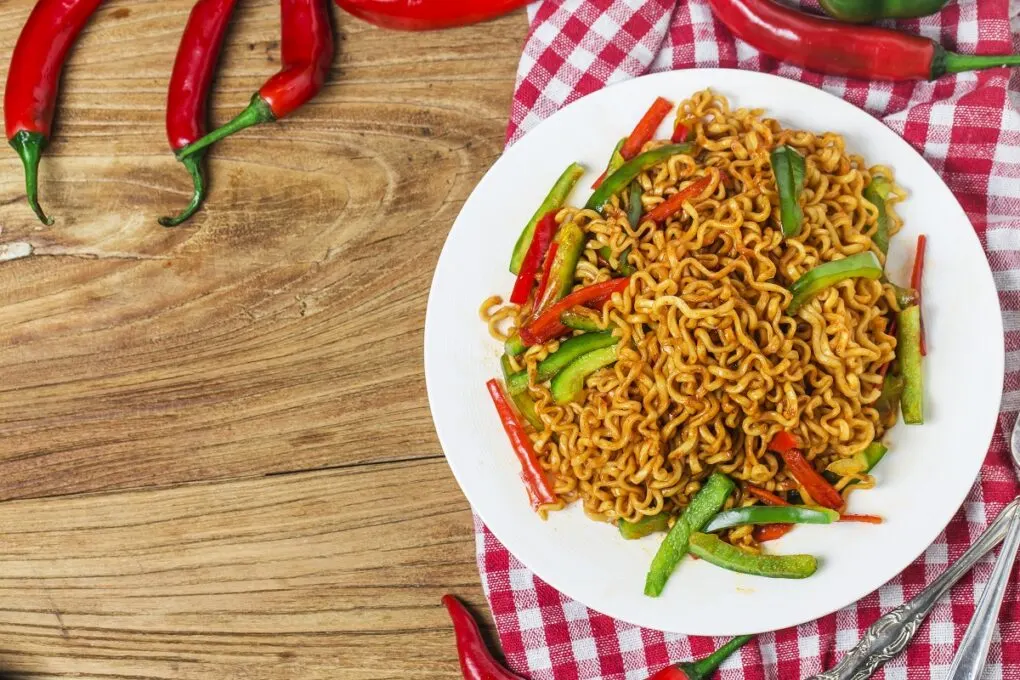 Even though Samjang is well-known for Korean spicy noodles that could make a grown man cry, this one from Paldo definitely steals the show. It is definitely the spiciest instant ramen in this list, and also the most flavorful.
The deep red broth has a strong mix of garlic, pepper, and salt undertones that intensify with each bite. If you can handle spice, you should give this ramyun a try.
Nongshim Shin Noodle Soup
Only in Korea?: No, Amazon or H-Mart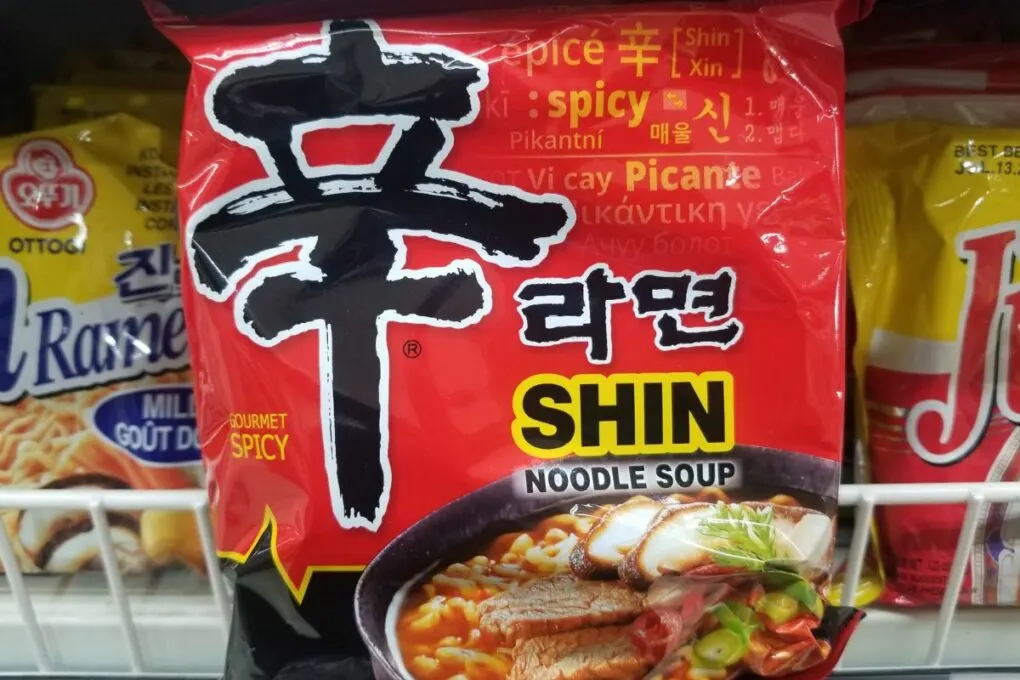 These Korean noodles have a beefy taste mixed with the world's finest peppers. In fact, this spicy Korean noodle is probably the most recognized brand in any international store, because it's globally adored for its chewy noodles and rich flavorful broth.
Plus, it has flavors like chicken and beef that keep your taste buds interested, especially the Shin Noodle Black version, which has an extra packet of beef stock soup.
Samyang Buldak Chicken Stir-Fried Ramen Noodles
Only in Korea?: No, Amazon or H-Mart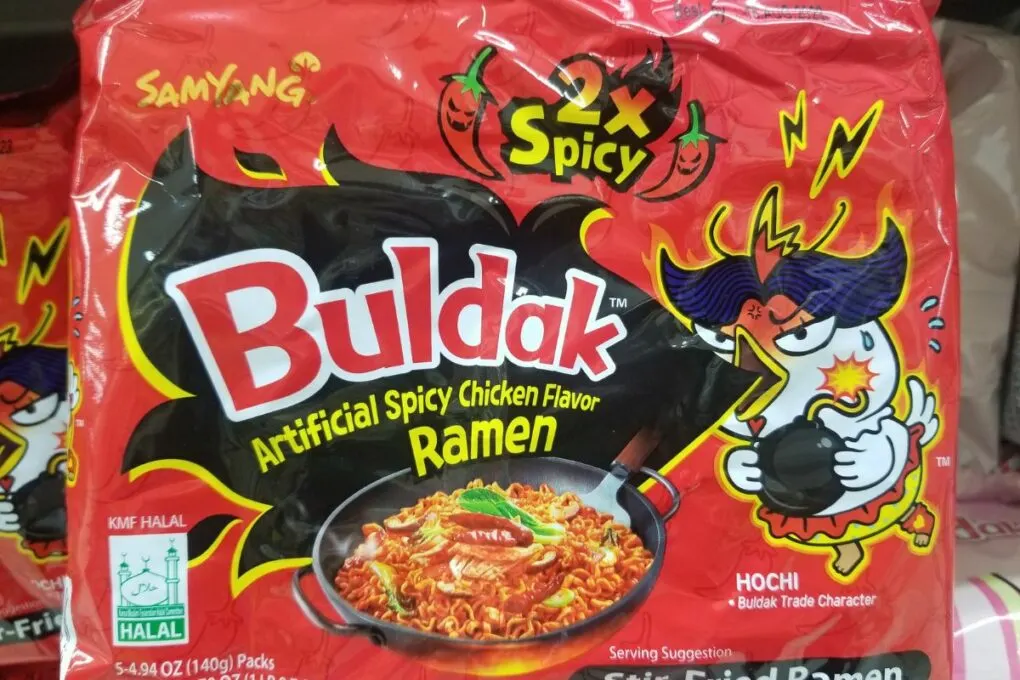 If you can't handle hot spice, you might have a hard time tasting the chicken flavor in this one. However, to reduce the spice levels, you don't have to add the entire seasoning packet (I'd start with half).
As for the noodles, you'll need a huge plate to finish everything inside this packet, because the noodles are thick and huge. Plus, the broth is a little bit sweet like BBQ sauce; try adding shredded chicken, veggies, onions, and eggs to improve and change up the flavor.
Samyang Buldak Chicken Jjajang Spicy
Only in Korea?: No, Amazon or H-Mart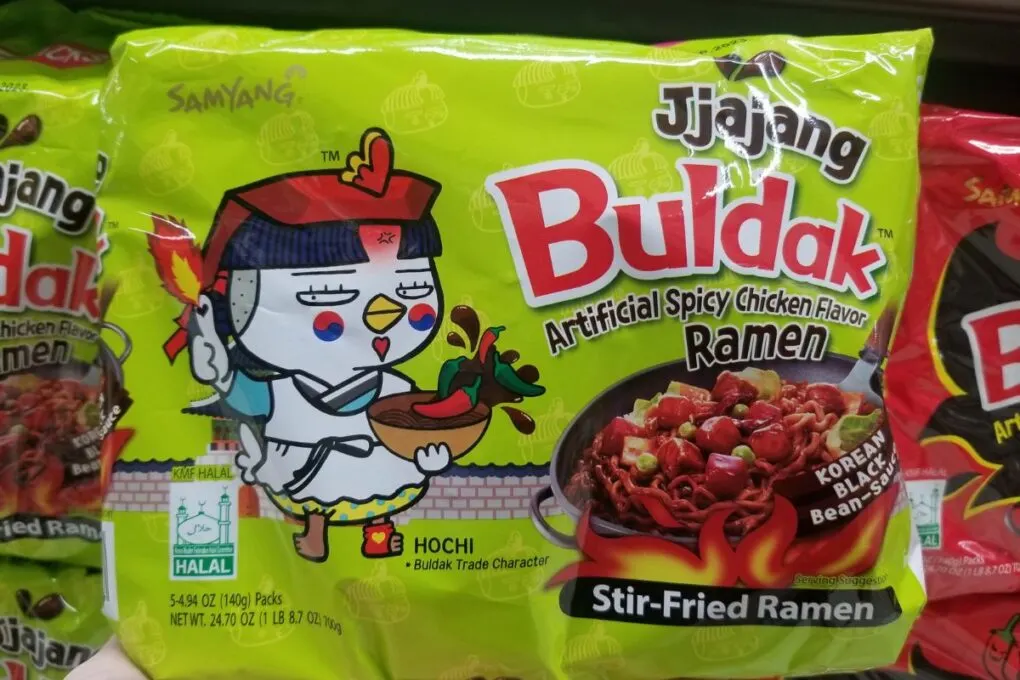 Thick and generous, the flavor of this ramen immediately attacks your taste buds (it's like eating a literal fireball). Unlike the stir-fried noodles, newbies to this type of Korean spicy noodle can't exactly taste the chicken flavor. This is because it's overwhelmed by the black bean sauce, but overall it's still an enjoyable dish.
Samyang Hot Chicken Carbonara Ramen
Only in Korea?: No, Amazon or H-Mart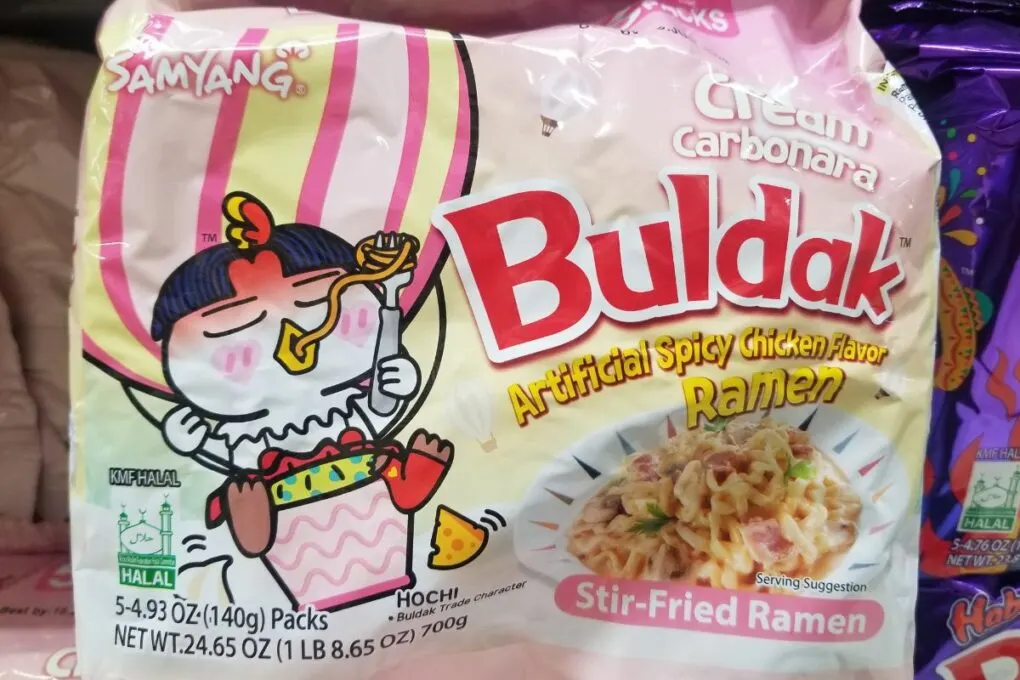 My favorite out of all the Samyang buldak series, this one mixes chives & powdered cream with the chicken flavor. Even though this addition makes the spicy taste much more mild, it's still enough to scald your tongue if you're not careful.
Midnight owls in convenience stores often crack an egg on top or mix these noodles with their favorite instant tteokbokki.
Best Korean Cheese Ramen
HeyRoo Cheese Flavor Ramen
Only in Korea?: No, StyleKorean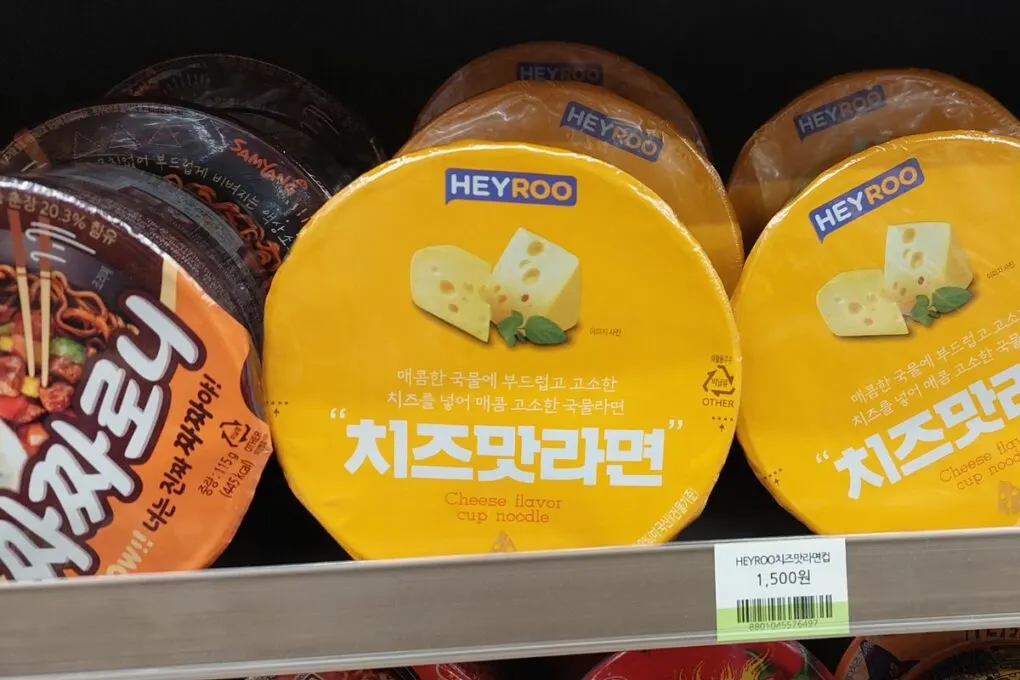 If you like Korean noodles with cheese, you'll love this one. The sauce is just nacho cheese in a sachet, similar to the ones you get at the movies.
It's pretty much a noodle version of mac and cheese, but with the distinctive flavor of chicken broth mixed together with the broth and noodles. You can add slices of ham, spam, or surimi to add some variety, though I like adding a bit of rice vinegar or candied bacon.
Samyang Buldak Cheese Hot Chicken Flavor Ramen
Only in Korea?: No, Amazon
This instant ramen is a favorite for those who want a unique blend of chicken and cheese. It might be considered overpowering by some, but that's up to you to decide. The chicken, seaweed, and sesame flavors are really strong, but there's no doubt that this particular Korean ramen is spicy.
Ottogi Cheese Ramen, Korean Style Instant Noodle
Only in Korea?: No, Amazon or H-Mart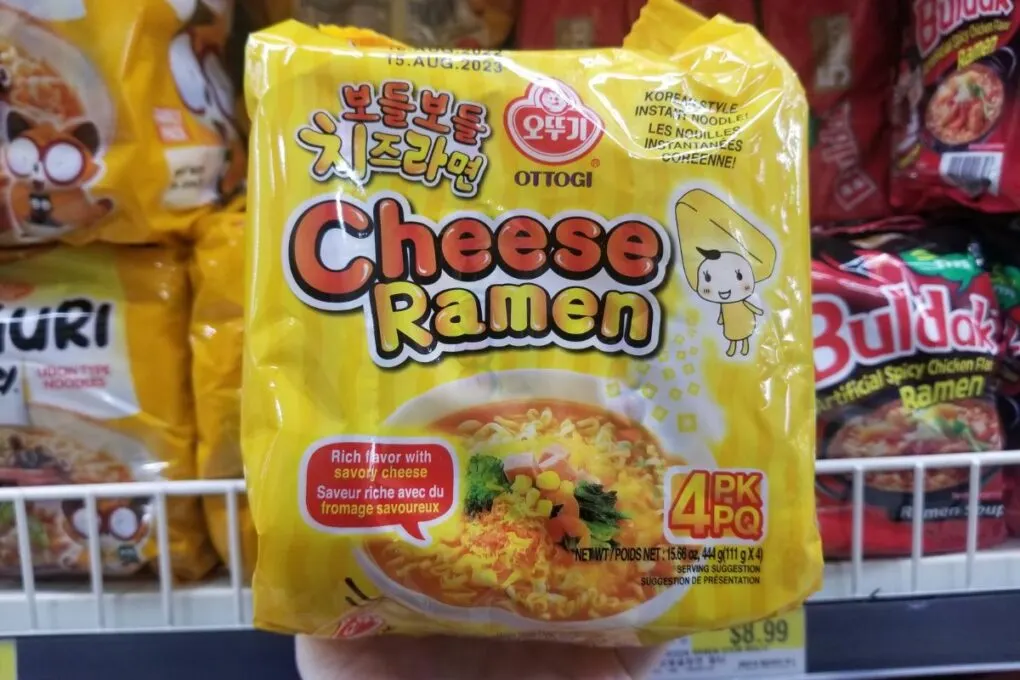 This packet form of spicy cheese ramen doesn't contain chicken or any other meat flavoring, making it a suitable choice for vegetarians. It has enough heat to be decently spicy, but not overpowering to the point where your mouth burns.
Best Seafood Ramen
Jin Jjampong Spicy Seafood Noodle
Only in Korea?: No, Amazon
These noodles are thick and firm, with small flakes of dried cuttlefish and crab that add to the chewiness of every bite. The broth is exceptional, because it does a great job of balancing the flavors of seafood, chicken, and beef bone broth.
Nongshim Neoguri Spicy Seafood
Only in Korea?: No, Amazon or H-Mart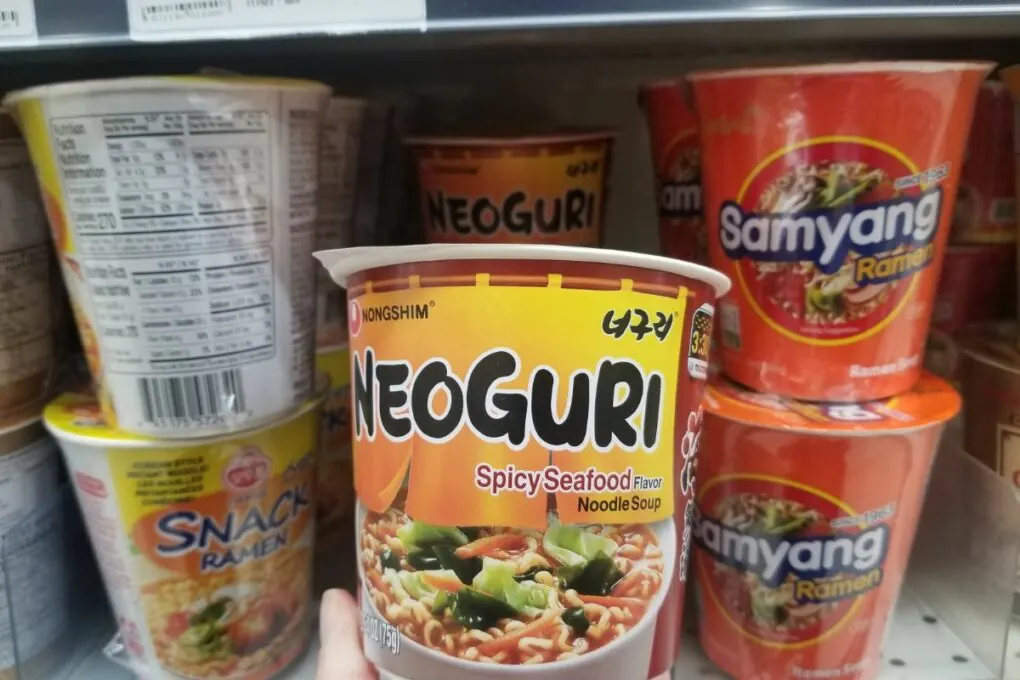 Neoguri is the perfect ramen version of a clam chowder. Using udon noodles, the whole bowl is a filling meal that can be shared with a friend. It's a bit spicy too, making it the perfect ramyun to beat the winter cold. A way to make this meal interesting is to mix odeng into the broth.
Best Vegan Ramen
Nongshim Soon Veggie Noodle Soup
Only in Korea?: No, Amazon or H-Mart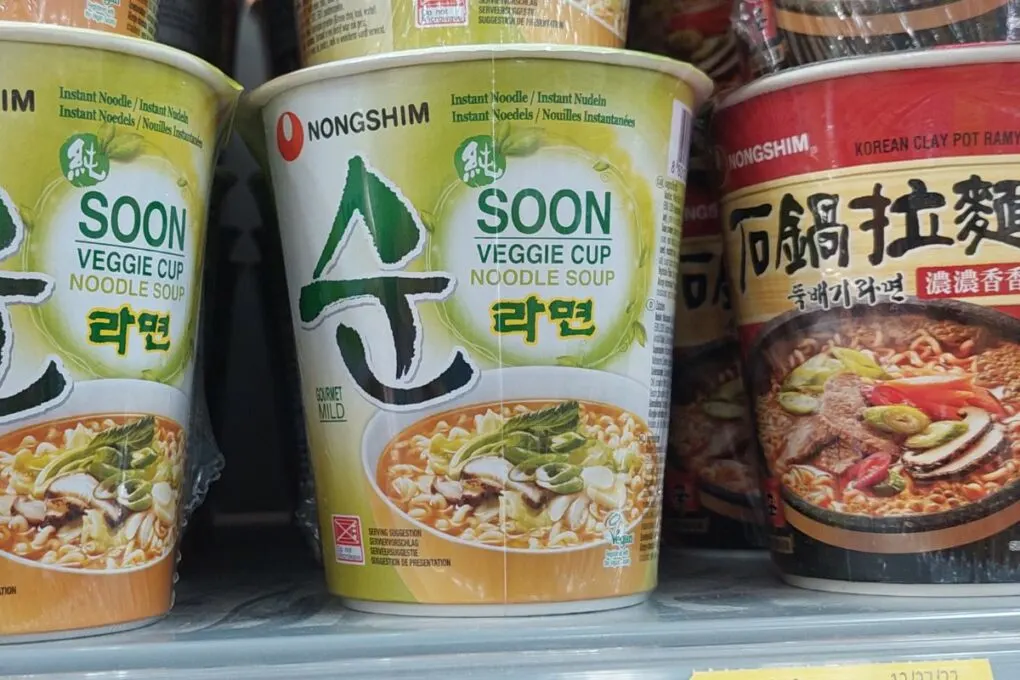 Even though some people hate the taste of vegetables, they often cannot resist the comforting flavor of the broth that comes with these noodles. This isn't a spicy Korean ramyun, either, which delights people who cannot handle spicy food.
Samyang Kimchi Ramyeon
Only in Korea?: No, Amazon
Samyang never disappoints when it comes to spicy ramyun. This satisfying low-heat kimchi broth pairs well with the noodles. Although it lacks the savory pickle taste kimchi is known for, it's still a local favorite.
Ottogi Kimchi Ramen
Only in Korea?: No, H-Mart or H-Mart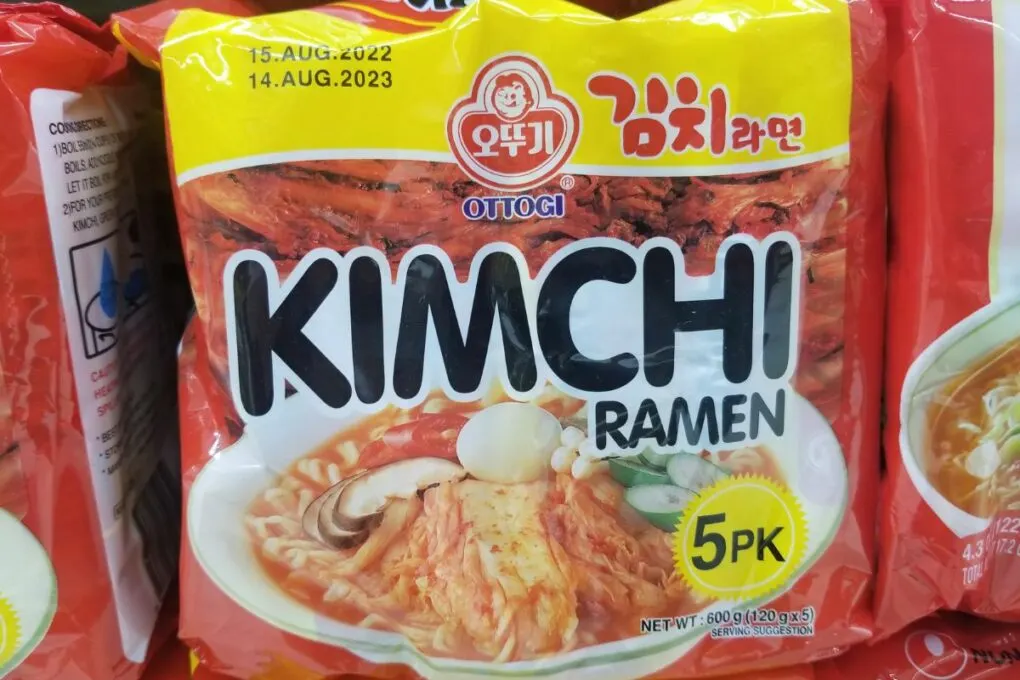 Kimchi can be used to enhance anything, and these noodles thankfully use it to flavor their ramyun. The broth tastes like fresh kimchi, with bits of cabbage floating around to add to the taste. What would make this ramyun better is adding thinly sliced shiitake mushrooms and garlic, though a snip of chives never hurt anyone.
Paldo Ilpoom Jjajangmen
Only in Korea?: No, Amazon
Most of the best ramen in Korea contain an umami element. In this one it's the savory black bean sauce, carefully mixed with bits of diced vegetables. Even though this is a vegan ramen, there are moments when the flavoring tastes a bit meaty because of the soy pieces floating on top.
Paldo Bibimmen Ramyeon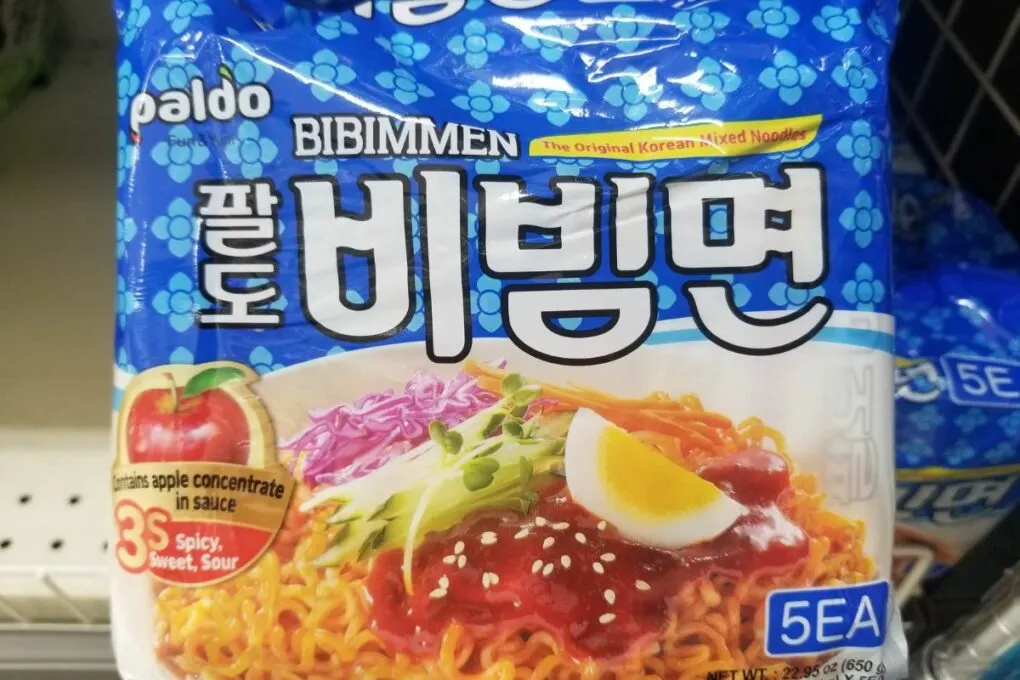 Only in Korea?: No, Amazon or H-Mart
This gochujang-flavored vegan ramyun with fermented bibimjang has a pleasantly sweet and spicy flavor, making it the perfect treat to have on a hot summer day. Unlike my gochujang pasta sauce, this is much more spicy than creamy!