There are plenty of iconic landmarks in Seoul, but perhaps the most famous of them is the Han River, a popular destination that locals often recommend because of its beautiful scenery and historical value. Indeed, there are plenty of things to do near Han River, and you can do all of them when visiting Yeouido Hangang Park. The name is actually a reference to the River— Yeouido is the name of the neighborhood, while 'Hangang' translates to 'Han River' in Korean.
During the day, the park is a vast and bright space that displays a fantastic view of the Seoul cityscape and the Han River. Multiple trees hold beautiful white flowers that tower over you as you enjoy the light breeze of the wind, and families & couples often picnic here on the weekends. In April, Yeouido Hangang Park's Flower Festival enhances the river's allure by showcasing the vibrant hues of the cherry blossom trees, azaleas, forsythias, and spireas.
Moreover, thanks to the Hangang Renaissance Project, Seoulites can now frolic in the Water Light Square, a fountain that lets people play in the water during the day. On the other hand, Yeouido Hangang Park at night has a Floating Stage that presents a synergetic display of colorful water fountains and light beams. This stage also is the location of memorable weekly events like the Wednesday Jazz Night, the Saturday Waterlight Concert, and the Sunday Traditional Korean Music Performance. Sometimes they hold magic shows and other theatrical performances to dazzle and wow the crowd.
Other activities in Yeouido Hangang Park tend to be more warm weather-friendly, but they're a perfect getaway from the stressful and chaotic vibe of the city. Residents tend to picnic, bike, and even cruise the night away, so read on to learn how you can get in on the fun.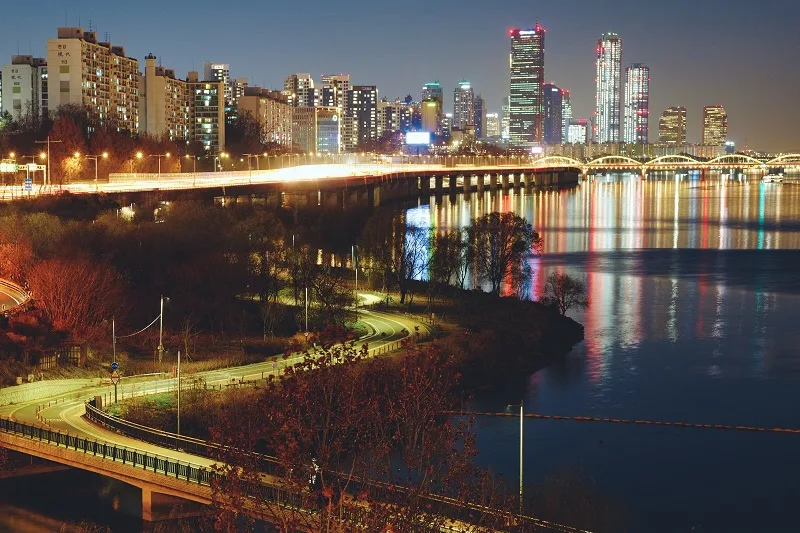 How to Get to Yeouido Hangang Park
Before riding any form of transportation in Korea, it is best to download the Subway Korea, Kakao Maps, or Naver Maps first. These are helpful apps that Koreans use to navigate their transportation system. Sure, you can do without them (there are helpful posters plastered in bus stations and subway waiting areas), but you'll need to know how to read and understand some Korean to interpret most things.
If you wish to take a taxi, Korea has an app that works exactly like Uber. Download Kakao T if you want a hassle-free experience moving from one place to another, but keep in mind that most taxi drivers will still not speak much English.
Via Taxi
From Seoul Station, find the taxi stand near Exit 3. According to the station staff, the drivers designated there are foreigner-friendly because they can speak English. It takes around 10 minutes to get to Yeouido Hangang Park by taxi, so expect the fare to be approximately ₩7,500 to ₩8,000.
Via Subway
To get to Yeouido Hangang Park via subway, ride Line 1 to Singil Station and transfer to Line 5. When you get to Yeouinaru Station, find Exit 3 and walk all the way to Yeouido Hangang Park.
Via Bus
From Seoul Station, walk to the bus station that says "Seoul Medical Healthcare High School – Seoul Station West Stop" (서울의료보건고등학교.서울역서부 정류장) and ride bus 261. Get off at "Yeouido Middle School" (여의도중학교). Cross the road and walk straight to Yeouido Hangang Park.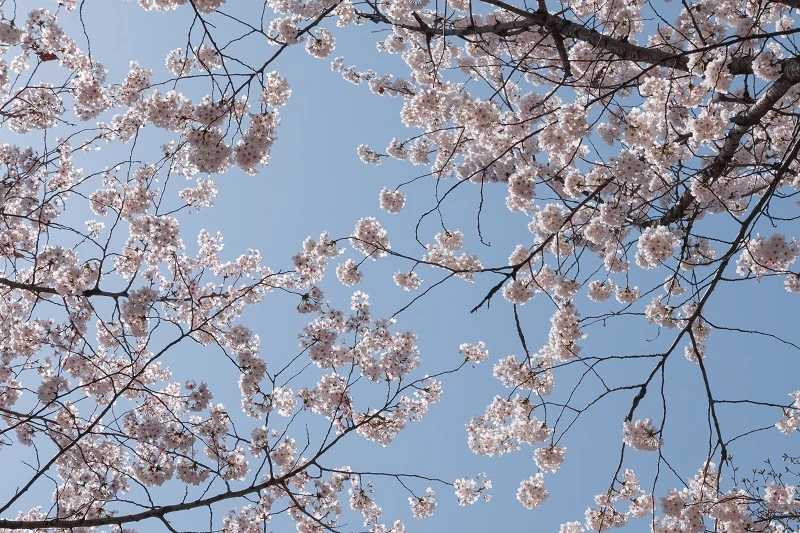 Things to Do at Yeouido Hangang Park
Aside from taking selfies by the iconic 'I SEOUL U' sign that greets you by the entrance, but will soon be no more, there are plenty of things to do at Yeouido Hangang Park. The point of the space is to give you the chance to unwind and de-stress, much like the many other public spaces that Seoul maintains.
You'll never run out of things to do here, if you're looking for a relaxing afternoon. That's why most locals take their tourist friends here if they're looking for fun. Below is a list of the things you can do at Yeouido Hangang Park.
Bike around the park
Yeouido Hangang Park is a large area. Due to this, some people opt to bike around to cover more ground. As soon as you enter the park, a bike rental shop lets you borrow bikes for ₩3000 for the first hour, with an additional ₩500 every 15 minutes after that. All sorts of bikes are available, and couples love taking the tandems for a spin.
Picnic with your friends
Before heading straight into the park, there's a stall that lets you borrow a large mat for ₩5,000 to ₩10,000. The price difference lies in the inclusions of the set. Some sets include a table, a fan, and even wet tissues. You may also purchase a light to illuminate your picnic set-up because some parts of the park can get pretty dark.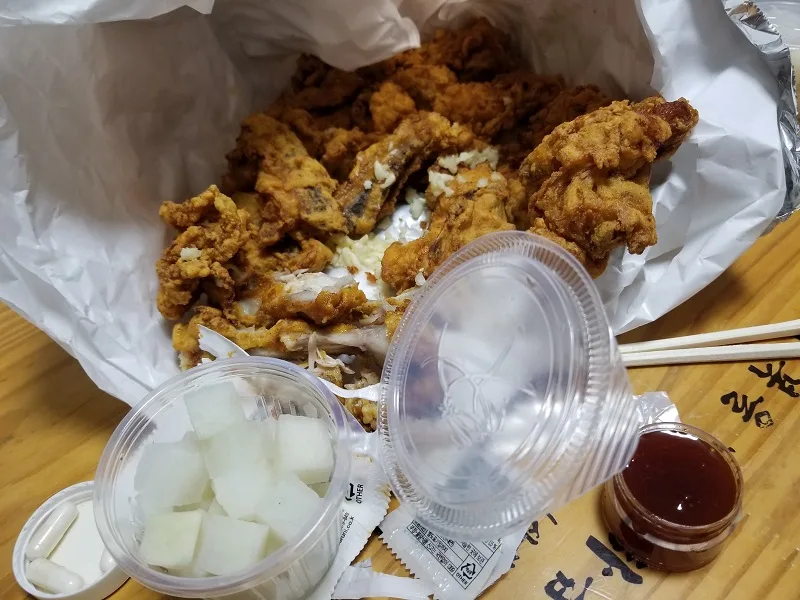 Eat delicious food
As soon as you arrive at the park, the delightful aroma of street food entices people to stop by to buy something to eat. Delicious tteok and ddak skewer stalls line the stairs as you descend to the park. My favorite has to be the roast chicken served by the nice elderly couple by the entrance.
Listen to buskers perform
At night, Yeouido Hangang Park turns into a haven for music lovers. Buskers perform for free, and they dance, sing, or even do little comedy bits to keep you and your friends entertained. Sometimes, these busking events are organized by nearby multi-art schools to showcase their talented students, and you get to see seasoned performers judge these events. This is also the best spot to notice up-and-coming stars, especially recently-debuted idol groups promoting themselves.
Frolic in the Mulbit Gwangjang and Piano Waterway
Also known as the "Water Light Square," the Mulbit Gwangjang is a large square fountain that lets people splash and play with water. No matter the age, people love beating the summer heat by coming to this part of the park. This large water installation also extends along the Piano Waterway, a long strip that parallels the Han River. This scenic installation transforms Yeouido Hangang Park into a glistening attraction at night, because it mirrors the sparkle of the city lights near the river.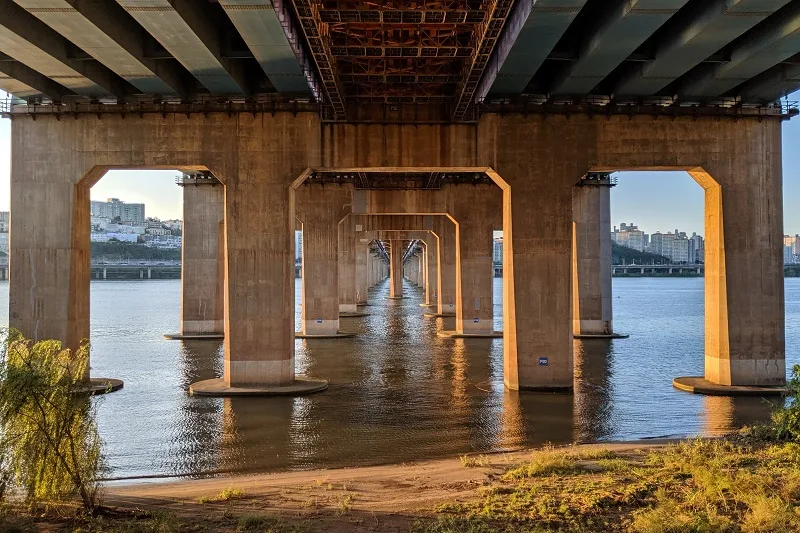 Ride the Han River cruise ship
Riding the Moonlight Han River Cruise is undoubtedly a romantic way to enjoy Yeouido Hangang Park at night. For just ₩28,500 you get to have an unforgettable experience under the twinkling stars as your cruise passes by the Banpo Bridge. A live band serenades you while you clink wine glasses with your date or peer over the edge with your friends.
Lately Koreans are learning to treat themselves luxuriously, largely as a way to beat the stress of everyday life. It's becoming common to see people enjoying the night view alone, and there are now two other options to let them do that. One is the Sunset Cruise (₩20,800), which is a 40-minute ride that enables you to see the magnificent orange sky as the sun slowly descends, and the other is the Starlight Cruise (₩24,600), which lets you admire the evening cityscape for 70 minutes. If you want to reserve passes for the cruise, visit their website for more details.
Shop at the Yeouido Night Market
Every year from May to October, Seoul hosts the Bamdokkaebi Night Market in various locations, but locals often say that the best night market among these is the Yeouido Night Market. Famously known as the "global market," the Yeouido Night Market displays food and products from other countries, gradually exposing locals to the different tastes of foreign cuisine. Tourists and foreigners living in Korea come to this event to reminisce and recall the comforting taste of home.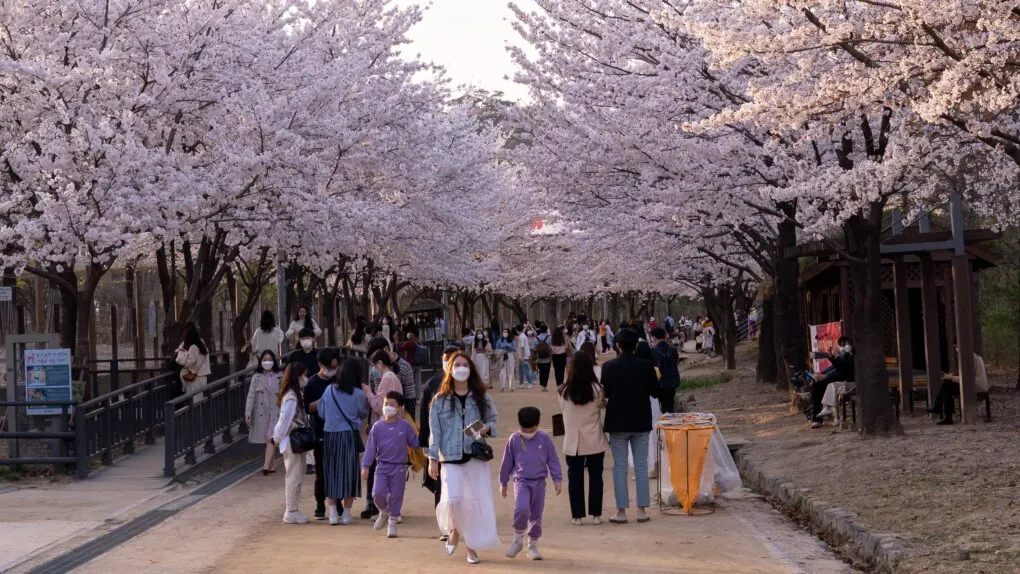 Yeouido Hangang Park Cherry Blossoms
During the first week of April, thousands of visitors flock to Yeouido Hangang Park to witness the spectacular rows of cherry blossom trees bloom beautifully. This event is called the Yeouido Spring Flower Festival, and people love taking pictures of the fluffy pink flowers as they sway in the calm spring wind. The best spot for taking selfies with the blooms is along the trail that starts near the southern edge of Yeouido Hangang Park. You get to see a delightful mix of pink, green, and yellow flowers as you walk along the quiet road to the KBS Annex Building.
Suppose you're into cheerful and lively performances; in that case, the Various Integrative Artistic Festival (VIAF) is held at Yeouido Hangang Park this season. For two weeks, you can catch them doing traditional dance performances, theatrical shows, and street magic. During this festival, Yeouido Hangang Park becomes exceptionally splendid at night because floor lights and lamp posts illuminate the cherry blossom trails, turning the trees into an enchanted glowing pink and purple forest. This scenery looks especially lovely with the glistening Han River in the backdrop.
If you find yourself in Seoul during the springtime, always include Yeouido Hangang Park in your must-see list. Whether you're biking along the Han River trail or just sitting under the cool shade of the gorgeous cherry blossom trees, this park offers various activities that will surely give you a peaceful, relaxing rest.