When most people think about Seoul, it's usually about the futuristic architecture, modern buildings, and vast technological innovations. While most of these buildings appear plain at first glance, you'll slowly notice how Seoul injects creativity into them, proving that masterpieces do not need to reside within museum walls. This extends to creations like the Banpo Bridge Rainbow Fountain light show.
Sadly, most of these large-scale installations have caused environmental concerns, and local government laws have limited their allowed size. As a result, magnificently-sized works are required to prove that they are environmentally friendly in order to be allowed a permit. This includes Banpo Bridge, hailed by the Guinness World Record as the world's longest bridge fountain, with 10,000 LED nozzles that shoot 190 tons of water per minute.
Aside from beautifying one of Seoul's major attractions, this bridge aims to highlight its eco-friendliness by publicizing that the water blasting out of the fountains actually comes from the river itself. From April to November, four to five 20-minute shows wow the crowd each night, giving viewers a dazzling light performance. If you want to come to see it in person, keep reading this guide to discover how!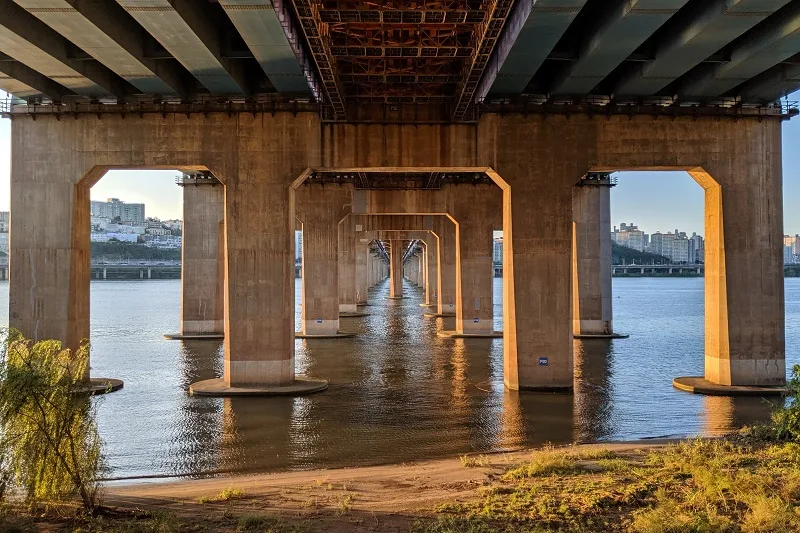 How to Get to Banpo Bridge
The best thing about Banpo Bridge is that it's free to visit, so there's no need to shell out money for admission fees. That's the beauty of Seoul, in my opinion; even though it's an expensive city to live in, there are plenty things you get to enjoy for free, in exchange.
The only thing you'll need to pay for is transportation, so here are some of the ways you can get to Banpo Bridge.
Banpo Bridge Via Taxi
Usually I wouldn't recommend taking a taxi to Banpo Bridge, because it's cheaper to ride the subway or the bus from Seoul Station. However if you must take one, the taxis are situated outside the terminal on Exit 3. These are often foreigner-friendly cab drivers that can speak English, but be prepared with a translation app. It takes about 25 minutes to get to the bridge from the station, so expect the fare to be approximately ₩9,000 to ₩9,500.
The following methods may get complicated for those unfamiliar with how Korea's transportation system works, so before getting on the subway or bus, download Korea, Kakao Maps, or Naver Maps first. Luckily all these apps come with an English version, but you'll still have to type most locations in Hangul (the Korean alphabet).
Banpo Bridge Via Subway
To get to Banpo Park via subway, from Seoul Station, ride Line 4 to Dongjak Station and transfer to Line 9 to Sinbanpo Station and use Exit 1. Walk straight until the first corner and turn right. Then it takes about 17-minutes, but just go straight until you reach the Han River.
Banpo Bridge Via Subway-Bus
From Seoul Station, ride Line 4 to Samgakji Station. Walk to Line 6 Samgakji Station and find Exit 13. There's a 10-minute walk to the War Memorial Station (전쟁기념관 정류장 (03185), then ride bus 740 to Banpo Hangang Park – Sevit Island (반포한강공원.세빛섬).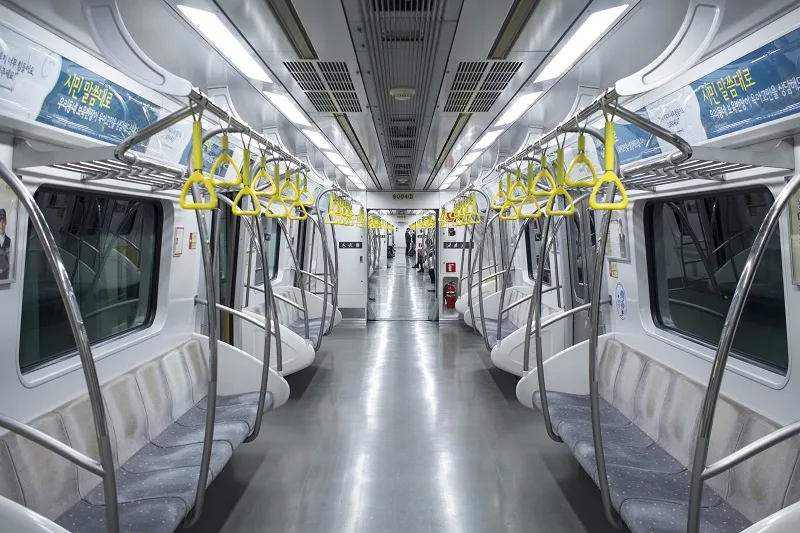 Where to Watch Banpo Bridge Light Up
During the day, this large park is an excellent perch from which to observe how the locals spend time with their loved ones. You see people bike, jog, and even play badminton with their friends. Families can rent a mat by the entrance, and set it up on the wide staircase facing the bridge, usually for an afternoon of drinking coffee or beer & eating chicken.
Tourists and locals tend to buy street food from nearby stalls to have a picnic while waiting for the 20-minute light show, which usually starts at 7:30pm. Don't worry if you miss the first show, because there are still three to four shows left, with the last show ending at 9pm. And this is not a show you want to miss.
The Banpo Bridge Moonlight Rainbow Fountain is a night show like no other. It truly is a spectacle, wherein you can watch the fountains shift from one color to another as solemn music starts to play. When I came to see the bridge, I fell in love with the fountain view using the city as the backdrop—a romantic night scene with a clear sky, calm waters, and a cool breeze. This landmark truly owns its reputation as Seoul's most beautiful bridge.
If the bleachers near Banpo Bridge appear to be crowded, don't fret. There are other places where you can watch the bridge light up and take great pictures. Here are three suggestions for where to watch Banpo Bridge light up.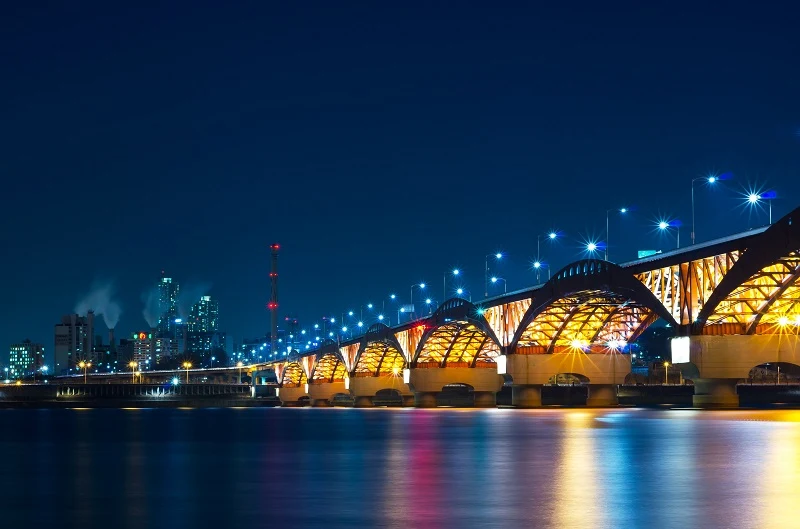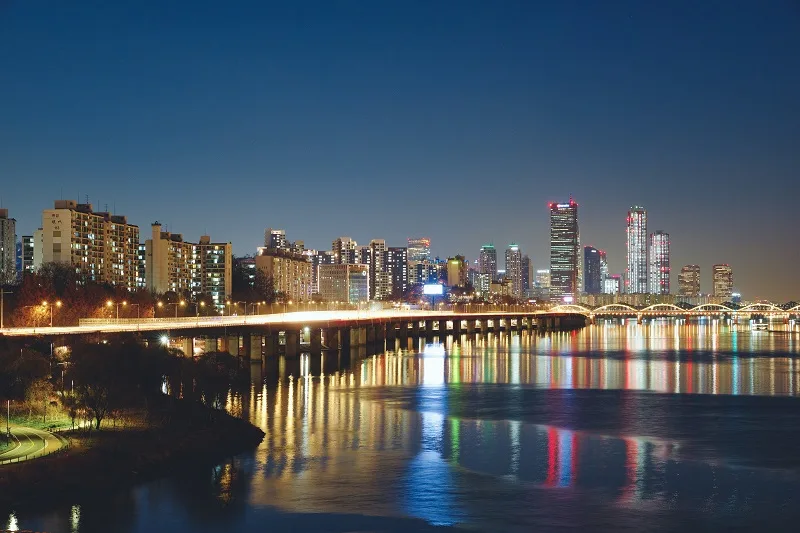 Drink a leisurely beer while waiting for the sun to set.
Below one of the Some Sevit islands, the Beer Garden is a bar that faces Banpo Hangang Park behind the rainbow bridge. It doesn't have the closest view of the rainbow light show, but the venue does let you enjoy the beautiful scenery and the sunset while waiting for the show to start. Plus, those who seek the taste of Maisel's Weisse, a "true Bavarian specialty wheat beer" can have it here.
Sip coffee while admiring the view.
If you want to see the entire Banpo Bridge from an elevated area, there's a lovelycafé to hang out in on the fifth floor of the Dongjak Bridge Observation Deck, a place called Gorum Café. To get there, from Seoul Station, ride Line 4 to Dongjak Station. Find Exit 1 towards Gorum Café, and walk up to the 5th floor; that's where the best seats are.
Get up close & personal by taking a Han River Cruise.
Those who want a close view of the fountain (without getting their clothes wet, of course) can choose to ride the Moonlight Cruise from Yeouido Hangang Park to Banpo Bridge. This cruise is precisely timed to ensure you won't miss the show.
The only way to catch this ride is to come to Yeouido Hangang Park first, so if you want to see the rainbow show happen through the cruise, reserve a ticket through the SeoulPass website. Adults can purchase a ticket at a price of ₩28,400, but children can ride for just ₩19,855.
To get to the departure point, from Seoul Station, ride Line 1 to Singil Station and then transfer to Line 5. Get off at Yeouinaru Station, and from there you can just cross the road to Yeouido Hangang Park. If you plan on seeing Banpo Bridge up close through this route, we also have a guide about Yeouido Hangang Park to give you an idea of what other things are in store for you there.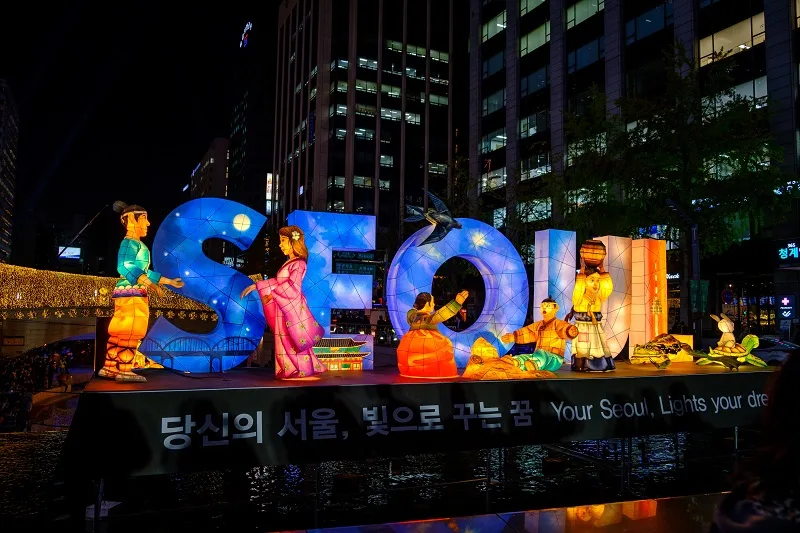 Things to Do near Banpo Bridge
While waiting for the light show, consider wandering around the area for awhile, because the surrounding park is just as impressive. And who knows— you might just come home with pictures good enough to share!
Take panoramic pictures by the bridge connecting the park to the Some Sevit floating islands.
If you follow the shuttles coming to the park, you'll notice that these cars head straight towards the Some Sevit buildings or the ridiculously huge floating structures that house restaurants, cafes, shops, and even a nightclub.
As you closely approach these futuristic buildings, there's a bridge that lets you snap panoramic shots of Banpo bridge. Photographers and influencers often crowd this spot as soon as the sun starts to go down, as the shift in light turns everything golden. It truly is a sight to see, and this area is one of the top reasons why people come to Banpo Park.
Another light show transpires near here once the sun goes down. You'll be pleasantly surprised to see that these Some Sevit Islands are also gigantic floating lanterns, displaying vibrant colors that are highly noticeable from afar.
Explore the Some Sevit floating islands.
The three floating islands are supposed to be flowers from two different stages of life. The smallest one is called the Some Solvit, which is supposed to look like a seed. The building adjacent to it, or the Some Chavit, is a building that resembles a flower bud. The most prominent building is the Some Gavit, which takes the form of a blooming flower at its peak.
I've never personally had the chance to enter these islands. Still, according to the signs outside the building, the Some Solvit has water sports facilities and an outdoor patio where people can rest and take a break from the hustle and bustle near the hotspots. In Some Chavit, 3D technology enhances the restaurants and shops' themes. Lastly, the Some Gavit is a multi-functional facility that serves as an arena for cultural performances, conferences, and exhibitions. If you wish to know more about these islands, visit their website for more details.
Ride the Tubester.
From March to November, depending on the season and the weather, the 'Tubesters' are party boats that let up to six people each float around Banpo Bridge. Riders can play games while eating snacks as they enjoy the ride since these boats also have a round table in the middle. Schedules of the Tubester run from 3pm to midnight, and your entire group can rent this boat for 30 minutes (₩35,000) or go for a full hour (₩55,000).
Eat and shop at the Bamdokkaebi Night Market.
Since Koreans love to come out at night, vendors take advantage of that by staying out late. Seoul has many night markets, and the bamdokkaebi night markets have become famous, taking place at six popular sites, rotating depending on the season. One of those sites is at Banpo Bridge, and this Seoul night market happens every Friday and Saturday evening, from 6pm to 11pm.
Pizza shacks, flame-grilled skewer stalls, tempura, and prawn cracker carts line the paths near the rainbow bridge, and if you're lucky, you might chance upon a firework display shown in the distance.
Banpo Bridge is one of the best places to go if you're looking for something to do in Seoul for free. Its night view is also one of Seoul's most incredible views, making it a worthy addition to your must-see list. Not only will you get to see a fantastic fountain show, but you'll also see the longest LED-lit bridge in the world, hopefully 'lighting' up your evening that might more.