Pepero is a ubiquitous Korean snack. The typically chocolate-dipped biscuit stick is not just popular to have as a treat, but also to be given as a gift. The 11th of November is Pepero day in South Korea, where boxes of Pepero are shared amongst family, friends, and even lovers.
While the celebration of Pepero Day may not be common in your part of the world, that doesn't mean that you can't celebrate it. If you're looking to show appreciation for someone in your life, you can present them with a gift of chocolate treats on Pepero Day.
It's easy to jump on the bandwagon using this delicious sweet treat— but first let's dig a little deeper as to how Pepero day in Korea came about and what celebrating it entails.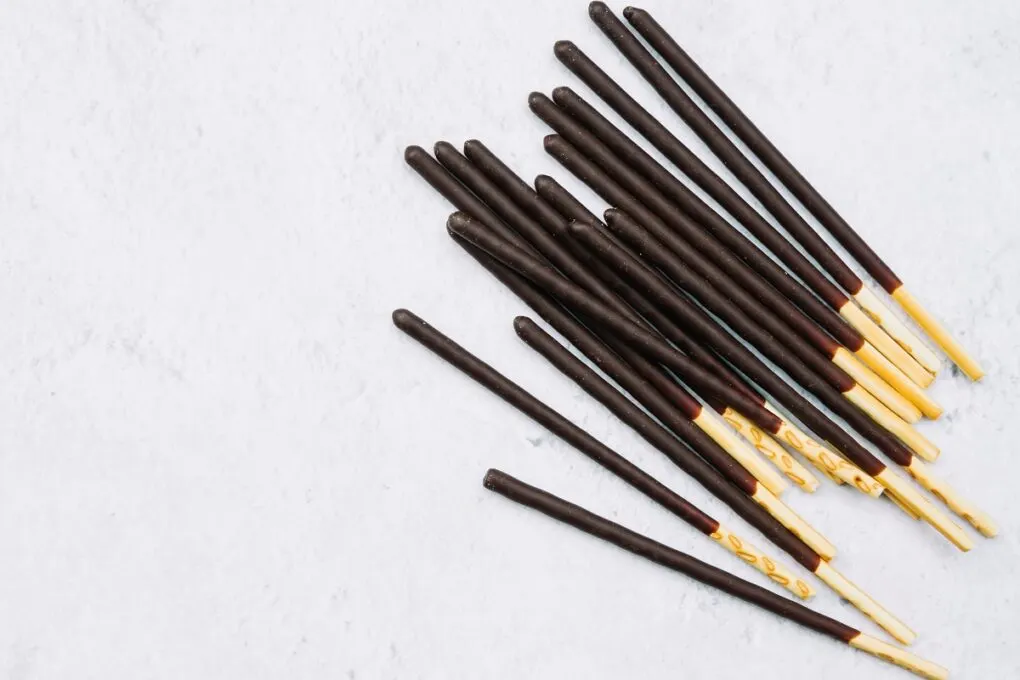 Pepero vs. Pocky in History
Looking at the history of Pepero versus Pocky, another biscuit stick brand, Pocky is hands-down the OG biscuit stick. Pocky was first released by Ezaki Glico, a Japanese confectionery company, in 1966, which is a full 17 years before the introduction of Pepero (first sold in 1983).
However when it comes to taste, the consensus is much more divided, in no small part due to the vexed history between the two nations. The variety of flavors of Pepero and Pocky are quite comparable, however with over a dozen options for each. The price tag is also similar, at just a couple bucks a pop.
Back in the day, Pocky actually filed a complaint against the manufacturers of Pepero for releasing an almost identical product. This complaint was never settled, however, so both continue to be sold to this day. We can't blame them, either, because it really is quite difficult to distinguish the two biscuits at first glance.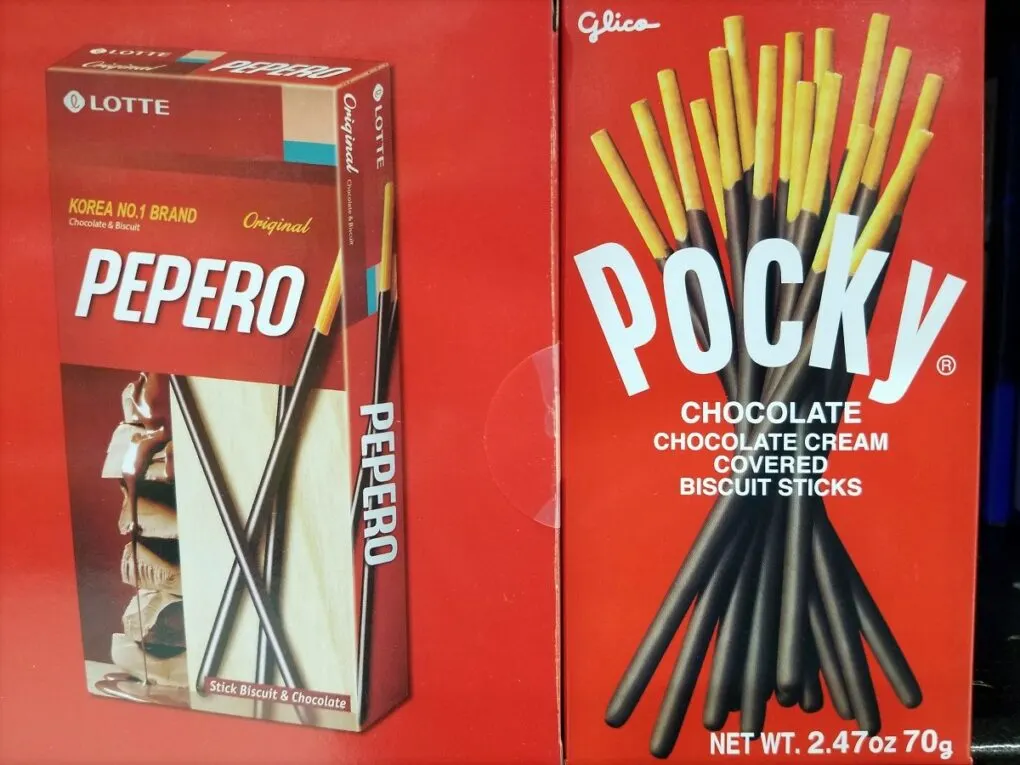 Celebrating Pepero Day in South Korea
Korean Pepero Day is a quirky and unique holiday where locals gift, share, and eat Pepero— those popular long, thin chocolate-covered biscuits.
It began as a simple marketing ploy for Lotte Corporation, the makers of Pepero, but has since grown into a nationwide phenomenon rivaling Valentine's Day for chocolate gift-giving and Easter for chocolate consumption in Korea.
Lotte Corporation, one of Korea's largest conglomerates, has permeated Korean culture. The Lotte logo can be seen everywhere in even the smallest towns in Korea. The company dabbles in everything from food and beverage to electronics, hotels, and even amusement parks.
Other versions of Pepero Day can be seen elsewhere in East Asia. In Japan, November 11th is known as Pocky Day, and in China, it's known as Singles Day. The celebration is starting to gain ground in other countries in the past few years too; however, for the record, Pepero Day started before Pocky Day.
Korean snack shops purportedly claim that Pepero day is their highest-grossing day of the year, higher even than Valentine's and White Day. You can easily buy Pepero at any supermarket or online shop in Korea, but globally, you'll likely be able to find it in large online marketplaces like Amazon or specialty Korean sites.
But even if you can't find it in your area, the good news is that Pepero is aiming to expand its global reach. With their current slogan "let's get closer together," Pepero is telling us that soon enough we won't have to search far and wide to nab a box of Pepero.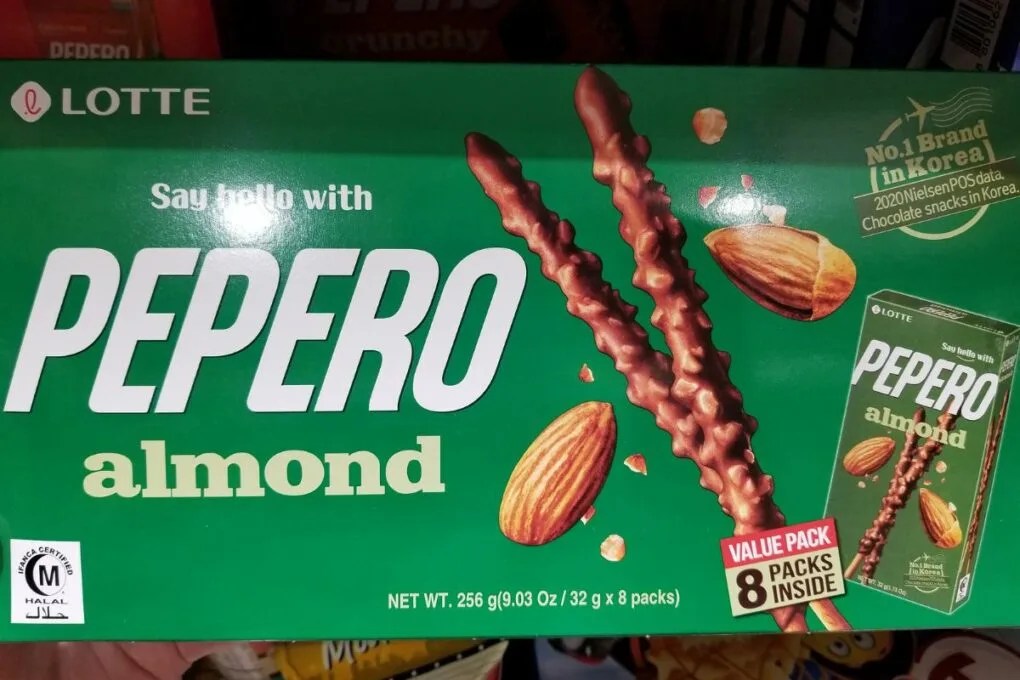 Best Pepero to Buy
There are many more Pepero varieties than the original chocolate-dipped kind. Wikipedia lists the current array of Pepero flavors as:
Strawberry
Almond
Green Tea
White Chocolate Cookie
Black Chocolate Cookie
Tiramisu
Cheese
Melon
Peanut
Black Chocolate
Blueberry Yogurt
Cherry doubled-dipped
Mint Chocolate
Yakult yogurt
White Chocolate doubled-dipped
Black Chocolate doubled-dipped
Strawberry doubled-dipped
Nude Cheddar Cheese
Dark Chocolate
Peanut Butter
Latte
Peanuts and Pretzel
Dalgona
Phew! Below are our top three favorites, though Pepero ice cream is always a crowd pleaser.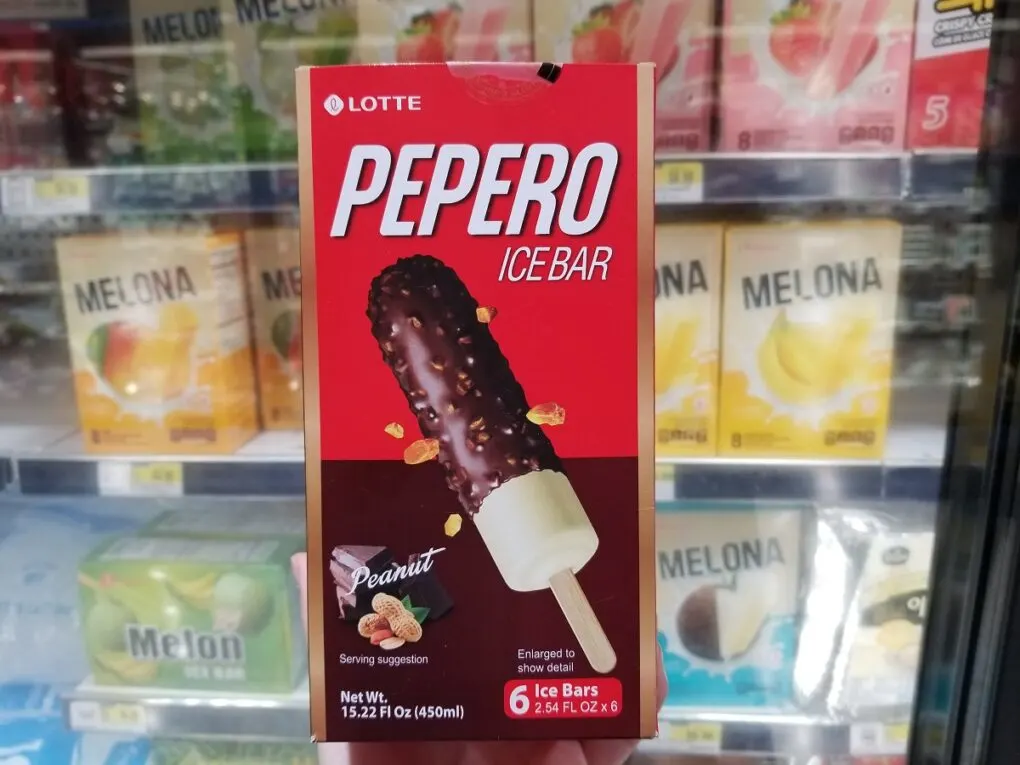 Chocolate
Finding limited-edition flavors and seasonal varieties is the ultimate reward for Pepero fans, but in Korea and around the world, the classic is king. The chocolate flavor is best described as perfection in simplicity; there are no nuts, no added flavors, just pure (semi-sweet milk) chocolate.
White Chocolate Cookie
Little chocolate cookie crumbs stay suspended in the creamy coating of this popular Pepero flavor. The white chocolate coating is smooth and velvety, and exceedingly easy to sink your teeth into.
Unlike most white chocolate-coated treats, the flavor is not overly sweet, either. Like the other Pepero flavors, the crushed cookies are generously piled on to provide a textural and tasteful contrast to the milky cream on the outside. Props to this flavor for delivering on the promise of both creaminess and crunch.
Almond
One of the few Pepero flavors that contain nuts is the Pepero Almond. It's a particularly crunchy Korean snack, loaded with almond bits over a classic Pepero chocolate-dipped biscuit stick.
Because of the more filling almonds, it's incredibly satisfying as a mid-day treat that can tide you over between street food treats. Unfortunately, there are fewer biscuit sticks in the Pepero Almond packs because the almond bits make them bulkier.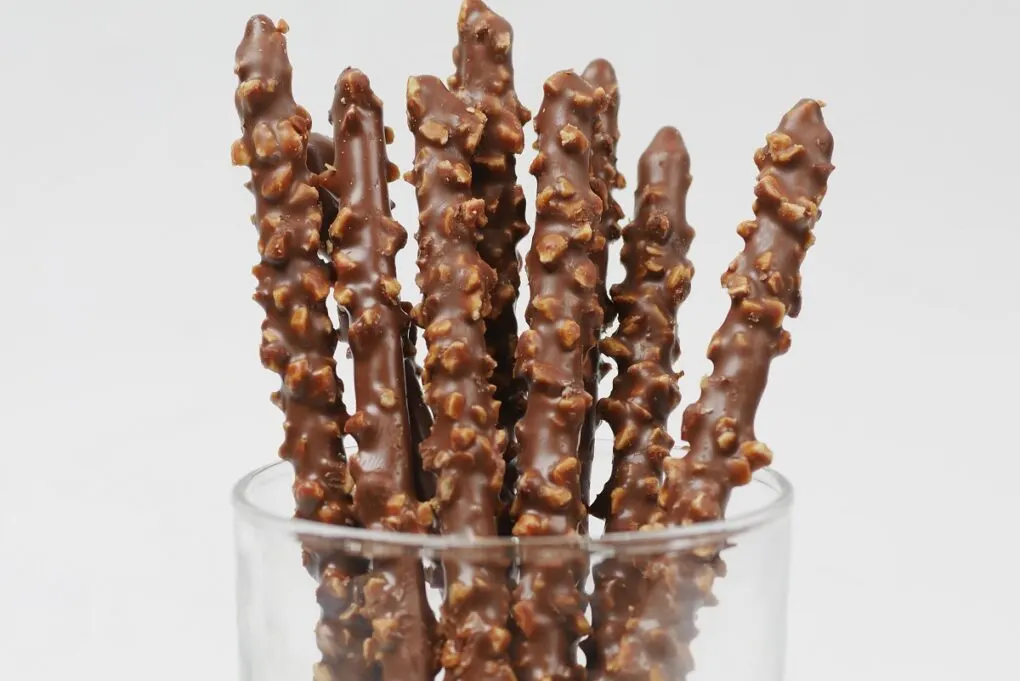 National Pepero Day FAQ
What is Pepero Day in Korea?
Every 11th of November is Pepero Day in Korea. It entails giving or exchanging Pepero snacks, meant to show affection for friends and loved ones.
Many people believe this commercial holiday began as a marketing ploy devised by Lotte Corporation, but it's been around for so long that younger generations of Koreans don't mind that much. Because Pepero biscuits resemble the number "1," it's easy to associate them with the shortened date of November 11th: 11/11.
Is Pepero Day romantic?
Pepero Day in Korea can indeed be romantic. You can use the holiday to confess your feelings to someone, and people do this so often that they make packages of Pepero with pre-written love notes. If you've had a crush on someone for a long time but haven't worked up the courage to tell them, Pepero Day is the perfect opportunity.
Purchase a box of Pepero for that special someone and express your feelings. Alternatively, you can go the whole nine yards and declare your undying love and affection with an ostentatious display (and a ton of Pepero) on Pepero Day.
Or if you don't have that special someone in your life right now, curl up on the couch, treat yourself to a good meal, watch a K-drama (preferably a rom-com! ), and snack on Pepero that you've given yourself. We all deserve to be loved and cared for!
Is Pepero Day for singles?
Pepero Day isn't just for those with significant others. It's actually a day when Koreans show people around them that they are appreciated. Students can give Pepero to teachers, managers shower team members with Pepero for reaching team goals, family members buy each other Pepero, and so many more.
Which is better, Pepero or Pocky?
While Pocky and Pepero are similar in appearance, range of flavors, and taste, Pepero tends to win consumers over more than Pocky. Its velvety milk chocolate-dipped butter biscuits generally shine against Pocky's strong (almost dark) chocolate-dipped sticks.
The best Pepero in Korea is still the classic chocolate-dipped biscuit.