Hailed as one of Seoul's ultimate shopping hotspots, expect to see plenty of people when visiting Myeongdong market. The area is home to countless shops with just about anything you can think of, similar to the famous Dongdaemun Market.
So you can bet that this is the perfect place to bring back interesting souvenirs from Korea. It's often said that you can get plenty of deals in Myeongdong; huge discounts are always available when purchasing in bulk, because it's become so commonplace here.
Since people visit Myeongdong late at night, traditional street food stalls are abundant and tend to close late (some are even open 24 hours). This guide will outline everything you can expect coming to this vibrant shopping district, including helpful tips for shopping in Myeongdong.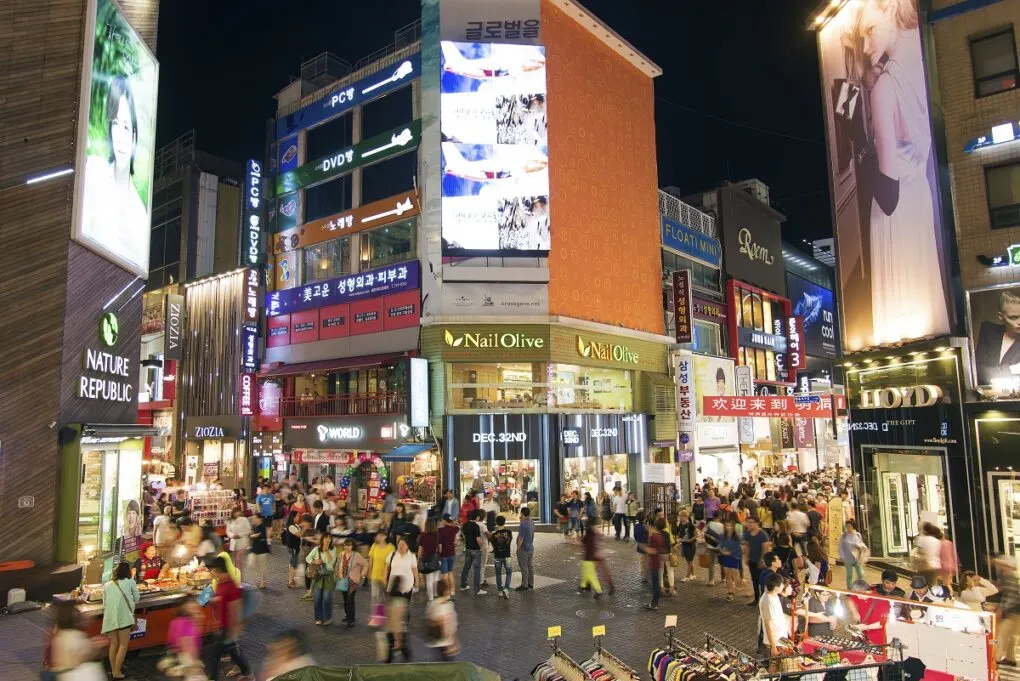 How to Get to Myeongdong Shopping District
From Seoul Station, take Line 4 in the direction of Hoehyeon Station, and get off Myeongdong Station. Exit 6 will lead you directly to the entrance to the shopping district.
You can also take the bus by using a Korean navigation app to find the Seoul West Station (서울역서부 정류장까지) bus terminal. Wait for bus N16; the trip takes about 18 minutes before it reaches your stop of 'Myeongdong Station Entrance' (명동입구 정류장(02149)).
If you need help getting around or figuring out where to visit next, I recommend grabbing a map from the information desk by the entrance. Doing so will help you navigate where to head next, and more easily spot the shops you want to visit.
Moreover, talking to the people handing these maps out gives them the opportunity to tell you about upcoming events in the area.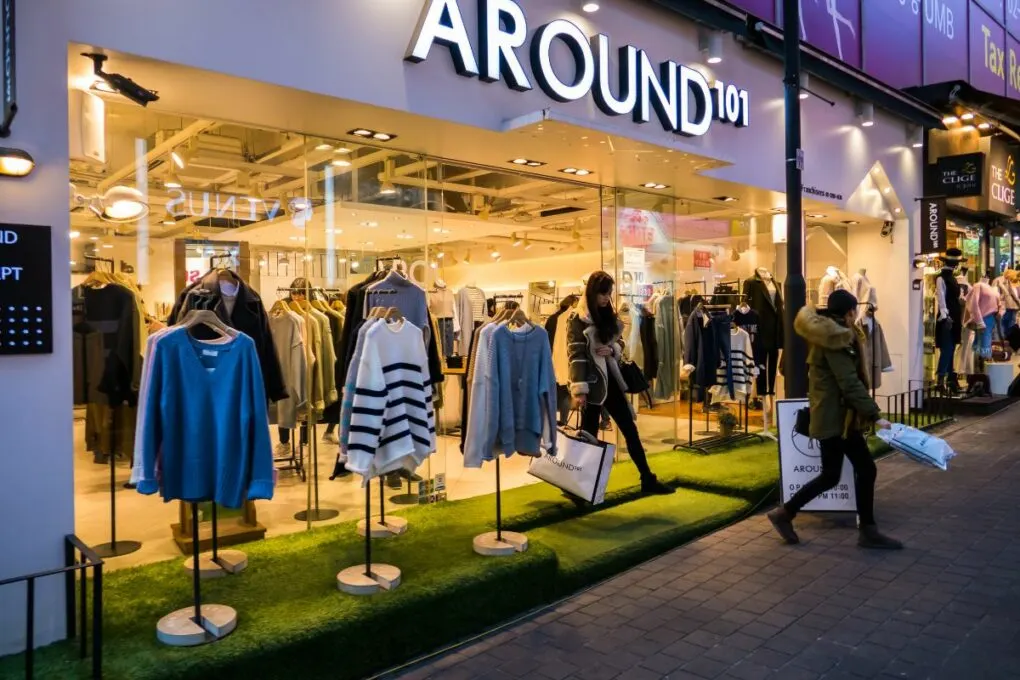 Where to Shop in Myeongdong
If you need to find clothes, accessories, or beauty and skincare products, Myeongdong Night Market has all of these, especially the latter.
One of the perks of every Myeongdong health & beauty shop is the abundance of testers, which used to be given out freely, but are now given generously only when purchasing something. It's fair, but still a blow. These range from small serum packets to large masks, and may even be small lipsticks or makeup cushions.
Myeongdong Underground Shopping Center
The first thing you'll notice after reaching the entrance to Myeongdong Station are the rows of stalls selling a wide range of products. While it may be tempting to stay in this area to get your shopping fix, definitely also check out the plethora of stalls located outside (where the events are usually held).
LOHB
Found inside Lotte Young Plaza, this drugstore beauty shop contains a lot of K-beauty products that have become very popular on Tiktok and Instagram, and are therefore in high demand. Plus, like any Olive Young or Lalavla outlet, LOHB provides beauty bundles for cheap.
If you want to splurge just a little bit on skincare, look for CHICOR, another beauty shop which offers plenty of high-end global beauty products you can try for free before you purchase.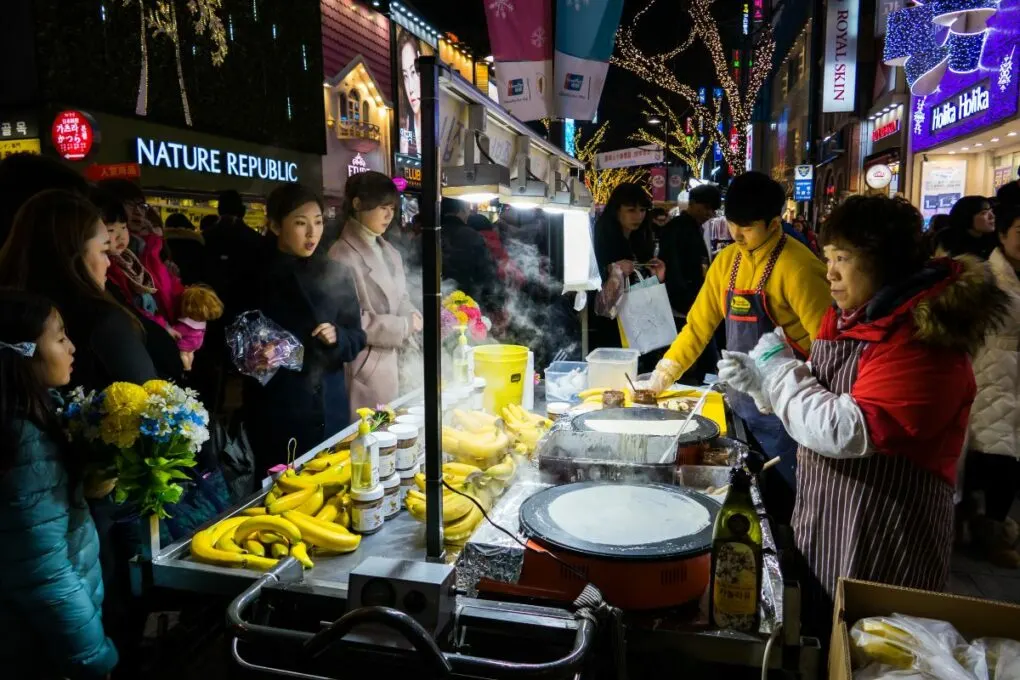 Stylenanda Pink Hotel
Here you'll find yourself surrounded by pink walls, floors, and everything. Pink-lovers will adore the entire shop, including its unique pool café. It may be called a hotel, but this complex is also home to a fashion and cosmetics shop.
After your shopping spree there, you can climb to the 5th floor café to try their famous cotton candy cappuccino, without ever needing to reserve a room.
Top Ten
If you're looking for the Korean version of Uniqlo, visit Top Ten. Simple & fashionable, most of the clothes here rival those from Uniqlo. It's mostly geared towards the youth, but older people can still rock any of the outfits available here, especially with how Korean fashion is evolving.
Moreover, Top Ten frequently run "1+1" sales, especially when the winter season is coming.
Line Friends Flagship Store
LINE FRIENDS is a huge toy store that has partnerships with some of the famous K-Pop bands in Korea (like BTS and Treasure). Some of the characters there may be familiar to you too, especially if you already use the LINE app to communicate.
There is also a giant bear by the entrance that tends to be very popular with kids.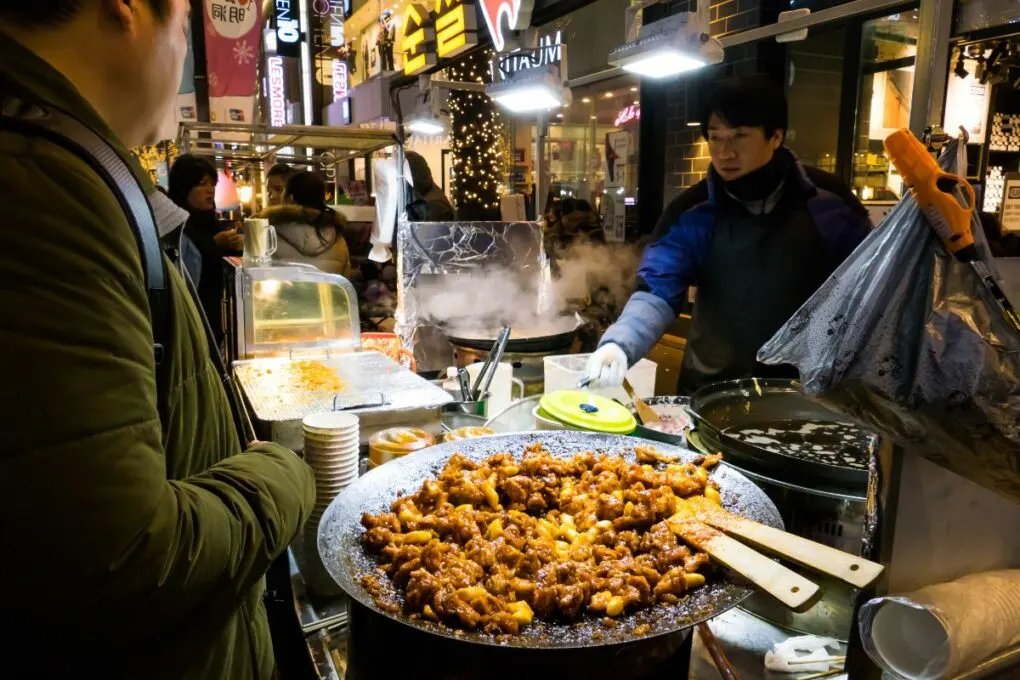 Best Street Foods in Myeongdong
Hweori Gamja
Season: no particular season
Cost: ₩3500-₩4500
Location: Myeongdong Street Food Row
Also known as "tornado potato", these potato skewers are a traditional version of a spiral-shaped potato chip. They're rarely found in places other than Myeongdong Market or town festivals (which is why this is a must-try if you spot it).
You can choose to eat this snack plain, or you could have the sajangnim heavily sprinkle it with a powder of your choice— you can try it with cheese, onion, barbecue, or salt.
Yangnyeom Tongdak
Season: no particular season
Cost: ₩5000-₩7000, depending on the size of the cup
Location: all over, but if you can find Two Two Chicken, get it from here!
Chicken lovers have to try this dish! The color may be deep red due to the generous use of gochujang, but it is definitely not spicy. Savory and bite-sized, this Korean chicken dish is the perfect snack if you're looking for something filling and delicious.
If you are craving a full meal but you don't have enough time to cook, you can buy rice from a convenience store, microwave it there, and then top it with yangnyeom tongdak.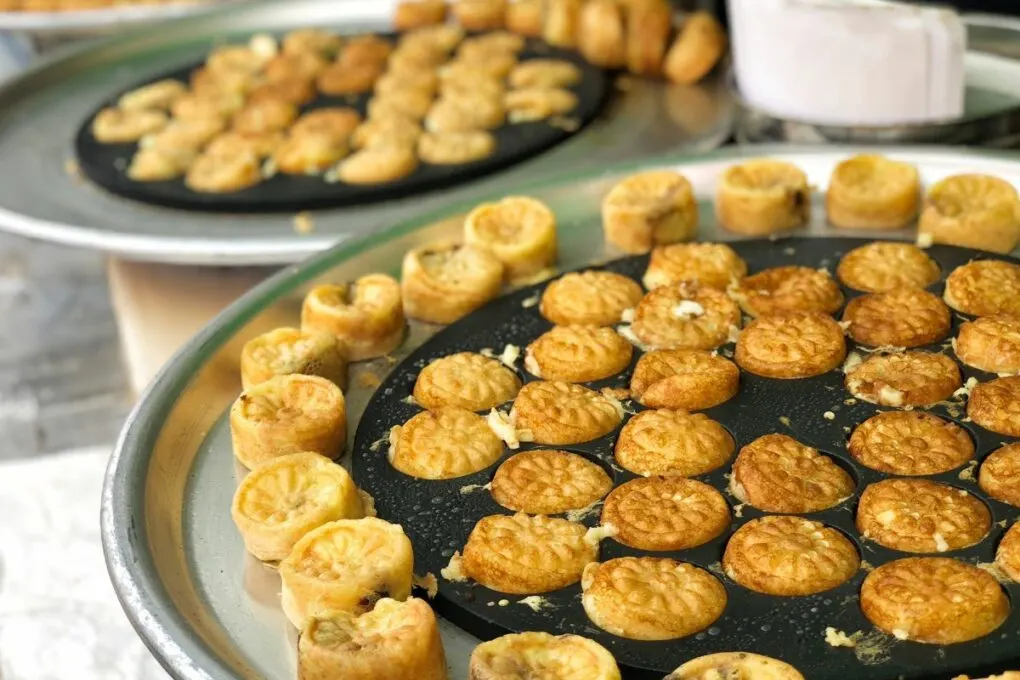 Gyeranbbang
Season: fall & winter
Cost: ₩1000-₩3000
Location: all over Myeongdong
This Korean version of an egg sandwich is served piping hot, with generous amounts of cheese and sesame seeds on top. Because it's served so hot it will take a while to cool down, making it the perfect snack to eat during the winter season.
To make it taste ten times better, I spread mayonnaise or tomato sauce on top, but to each their own.
Bbopkki (Dalgona Candy)
Season: winter
Cost: ₩1000-₩3000
Location: all over
Also known as a "Korean retro candy" (because it was popular in the 50's, 60's, and 70's), this cute candy comes in all sizes & shapes, providing a sugary explosion after one bite. You may know it better by the name dalgona candy.
Although its aftertaste can be bitter, many Korean people still seek this candy for a quick pick-me-up after a bad day. In Myeongdong market, some of the vendors even award an extra bbopkki if you manage to eat around the shape without shattering the cookie.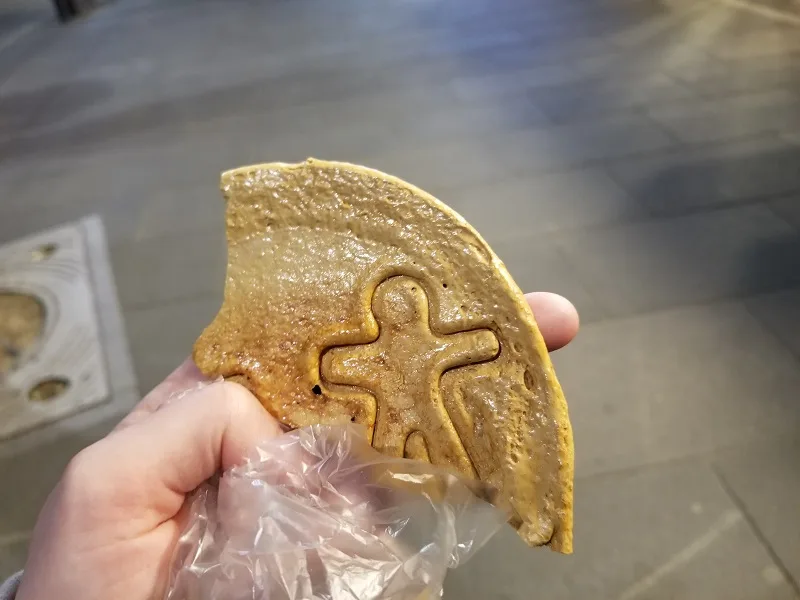 Dakbal
Season: no particular season
Cost: ₩8000
Location: all over
Probably the most original of all the Myeongdong street foods covered here, 'dakbal' literally translates to "chicken foot." That's because that's what it is, deep fried and then dipped in really spicy sauce (the spicier, the better). Often eaten as anju, people snack on chicken feet mindlessly while doing karaoke or chatting over K-BBQ.
Grilled Lobsters & Grilled Giant Mussels
Even though the price is very high for street food, the stall selling these goodies almost always has a long line of hungry customers willing to wait for this special dish. These seafood dishes are meaty and overloaded with butter and cheese, making it a perfect reward after a grueling day at work— or a very long walk around Seoul.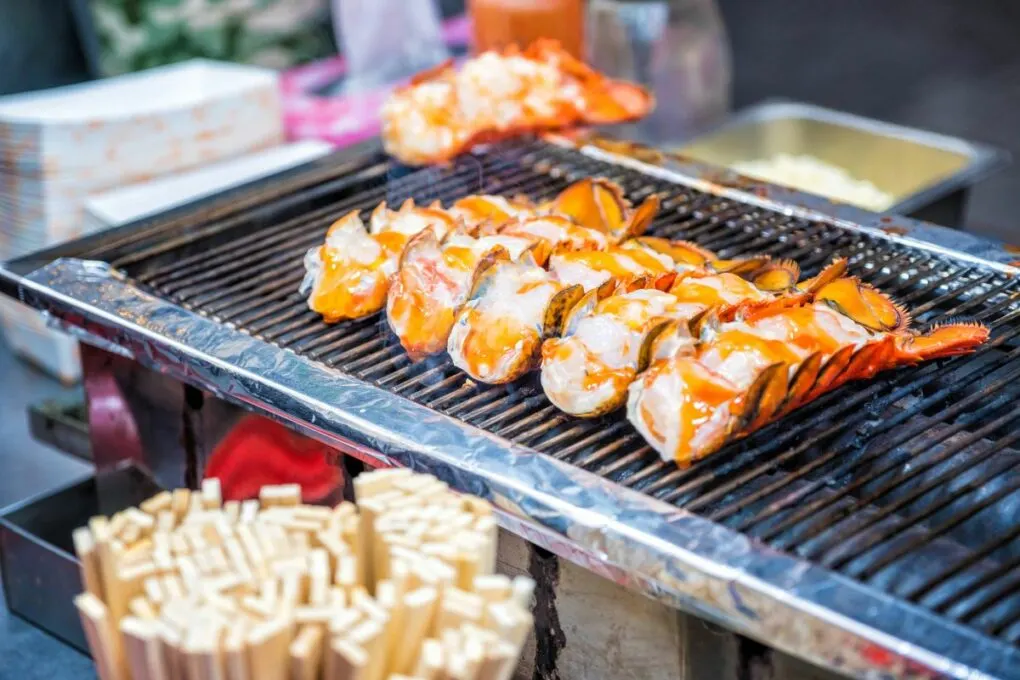 Things to Do in Myeongdong (Not Just Shopping)
Visit Myeongdong Cathedral
You don't have to be religious to visit this church. The building boasts a European feel, and looks quite fetching when the skies are blue. A fascinating fact about this place is that it's where the Roman Catholic Church in Korea began, and is also where the remains of many notable bishops, priests, and martyrs are housed.
Eat street food at Kwanchenru Street
Out of all Myeongdong street food places, this one houses a number of stalls that cook an assortment of beloved Korean Chinese Food like jjajangmyeon, jjambbong, and kkanpunggi. Moreover, this is also the unofficial best place to get souvenirs for your family and friends.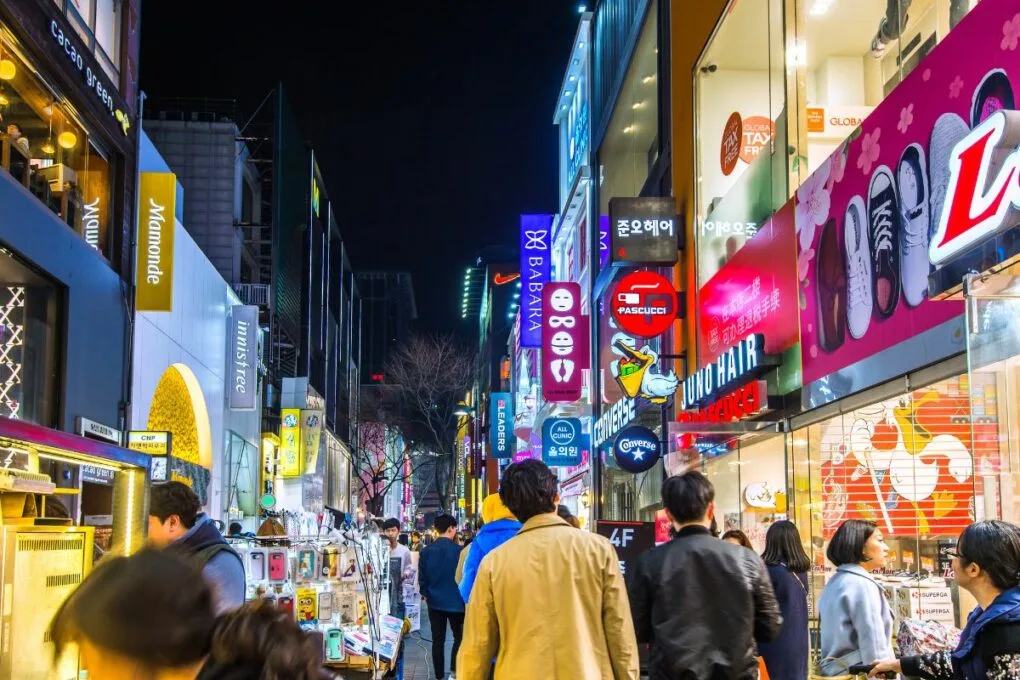 Visit a comedy theater
If you happen to be in Myeongdong Market, one of the top recommended activities in Seoul is to swing by Myeongdong NANTA Theater. Every week they hold an interactive comedy show that makes people laugh uncontrollably; I saw the show as part of my work orientation in Korea, and it's fantastic.
You don't even have to be a local to understand the whole thing, because their energetic and exaggerated acting gives you enough context to know what is going on.
Get to know the culture more – Seoul Global Culture Center
Another way to appreciate Korean culture is to immerse yourself in it. Seoul Global Culture Center offers a range of free activities you can do with friends who want to know what it is like to wear a hanbok, to try a Korean instrument, or to eat food unique to their culture.
Sometimes free lessons taught by experts in the field are promoted, and all you need is interest and a bit of time.
Exchange money – best rates in Seoul
One sage piece of advice to travelers is that if you need to have your money exchanged, don't do it in the airport – do it in the Myeongdong neighborhood of Seoul. Most of the forex shops here are guaranteed to have an English speaker, and the best part is that most of the booths are open 24 hours.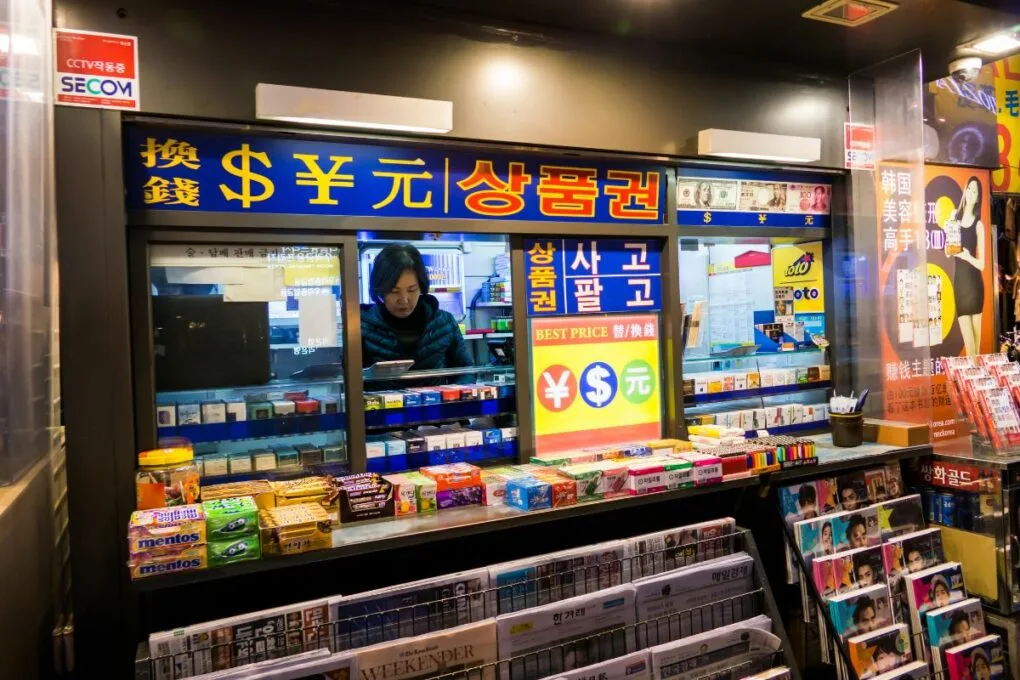 Make your own foundation (Laneige Showroom Myeongdong)
One of the problems people often have is finding the right match for their skin foundation in Korea. Unfortunately it's true that the ones found in stores tend to have limited shades, especially for darker skin tones.
To fix this problem, the Laneige Showroom (located in the heart of Myeongdong) has created a robot that can make the perfect foundation that not only finds the right shade for you, but also addresses your skin concerns.
Stay in a Myeongdong Love Motel
The thing about Myeongdong hotels is that, well, many of them are love hotels with interesting themes and high-end facilities for cheap. Please don't be thrown by the colloquial use of 'love' in Korean.
While we know what love hotels tend to be used for when Koreans use them, some travelers prefer to stay in them because they offer more than a regular hotel in Korea (like a jacuzzi in your room). Korean love motels also have everything a guest would have to pay for extra in a regular hotel, making it the ultimate discount hack for those who are brave enough to stay in one.
Myeongdong market is known for being stocked in the latest clothes, skincare, and all the other Korean-borne items you could ever want, but it is so much more than that. It is a large place, and just one day is not enough to enjoy everything it has to offer.
Whether your goal is to explore notable landmarks or to try local street food, trust that Myeongdong has everything a tourist could ever need.