Spring in Korea is always the most-awaited time of the year. Around this time, the winter cold is slowly leaving, and the cheer of the Seoul cherry blossoms signals the warm beginning of a new year. Unlike other seasons, spring weather is moderately pleasant, with light showers here and there.
It's just the perfect balance of atmosphere that encourages people to come out of their homes and enjoy Korea to the fullest. Just be mindful of Korea's existing yellow dust problem by installing an app that lets you track the air quality before you go on any of the day trips below.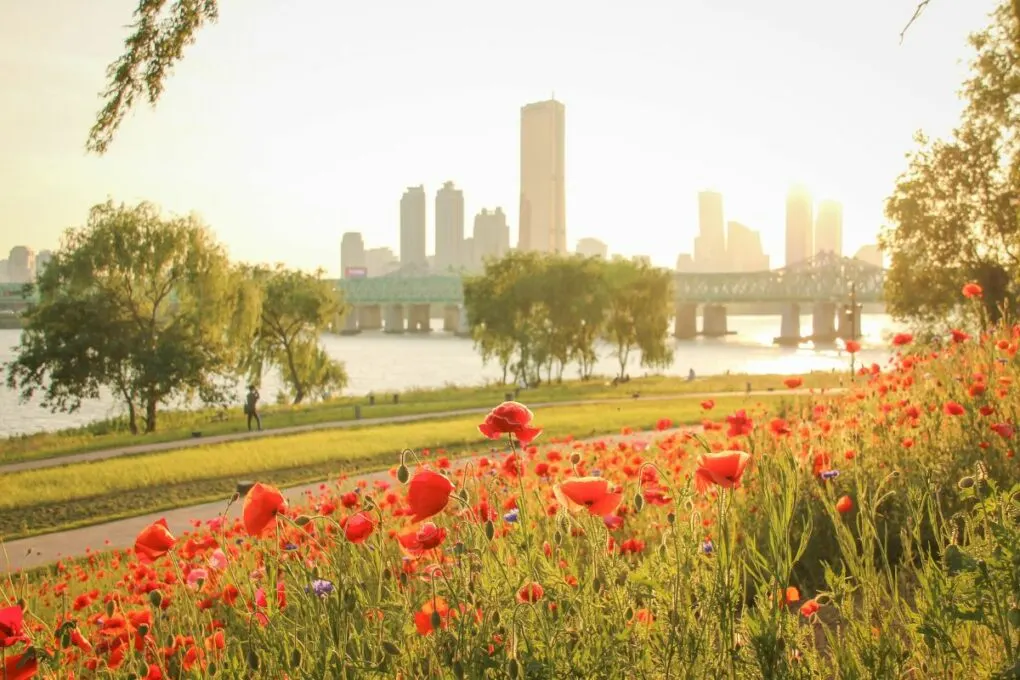 Where to Visit in Korea in Spring
While it is true that people's ultimate goal during spring in Korea is usually cherry blossom selfies, there are plenty of other things to do during this season. Here are five suggestions to help you get started:
Namsan Mountain Trail (Subway Line 4, Hoehyeon Station; Exit 1)
The best thing about the Korean spring is that it's the perfect weather for hiking, an activity locals really love to do during their spare time. The Namsan Dulle-gil has five trails that offer a spectacular view of colorful trees and bushes that have taken over the cityscape.
You can also take beautiful shots of Namsan Tower with the beautiful sky as the backdrop.
Cheonggyecheon Stream (Subway Line 1 or 2; City Hall Station; Exit 4)
This spot is an ecological park near Gyeongbokgung Palace, Jongmyo Shrine, Gwangjang Market, and the multiple shopping destinations in Dongdaemun. Here, you will find "Hadong Plum Street," a short trail of red plum blossoms featured in the famous Korean movie Goblin.
While it's a peaceful spot during the day, at night, it is a marvelous display of water and light that illuminates Palseokdam Pond, where you can try your luck at the wishing well.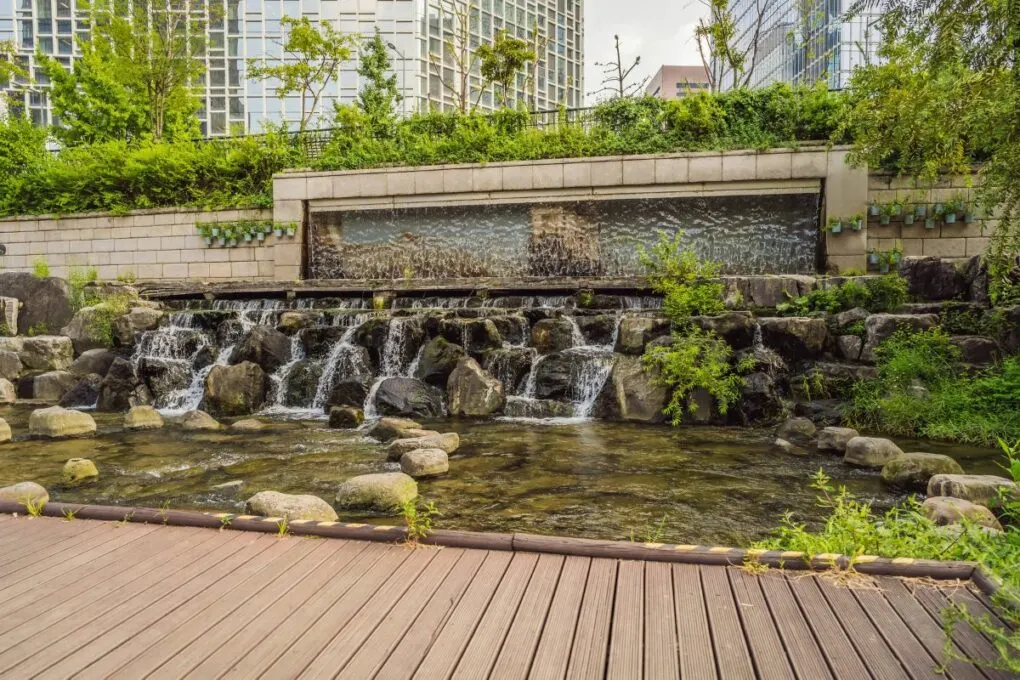 Bongeunsa Temple (Subway Line 9, Bongeunsa Station; Exit 1)
This temple is a Buddhist religious site tucked inside the busy district of Gangnam. Some come to see the red plum blossom trees blooming or take a breather after a trip to the COEX Mall.
Full of relics from a thousand years ago, regardless of what brought you there, exploring this site reveals many interesting cultural gems that provide some background on the history of Korea.
Olympic Park (Subway Line 5, Olympic Park Station; Exit 3)
Because this park is full of bright fields of red poppies, yellow cosmos, and various-colored roses, this massive park is the perfect destination to take that beautiful spring selfie. Somewhere in this park, you can even find the famous "Lone Tree" just beyond the abundant bushes of cornelian dogwoods.
Changdeokgung Palace (Subway Line 3, Anguk Station; Exit 3)
Seoul has five grand palaces built during the Joseon Period. This palace, in particular, is well-preserved and considered the most beautiful palace in Korea, standing out from the rest because it blends in well with the forest. Moreover, the walls have little to no decoration, gingin more focus to nature.
Overall, coming here provides a tranquil spring experience, especially if you stumble upon the secret garden.
Suncheon Bay National Garden (전라남도 순천시 국가정원1호길 47; Book a KTX)
This incredibly large stretch of land houses more than 790,000 trees and 3.15 million flowers of various kinds, in addition to the infamous wetlands. Coming here feels like visiting an entirely different time.
If you have a drone and you take a picture from above, the architecture looks futuristic, although other fields in the checkerboard grounds have retained that beautiful countryside vibe.
Famous attractions include the beautiful stretch of tulips and royal azaleas during spring, and the colorful dream bridge. As for food, they have plenty of restaurants to choose from, or you can have a picnic anywhere under the shade of trees.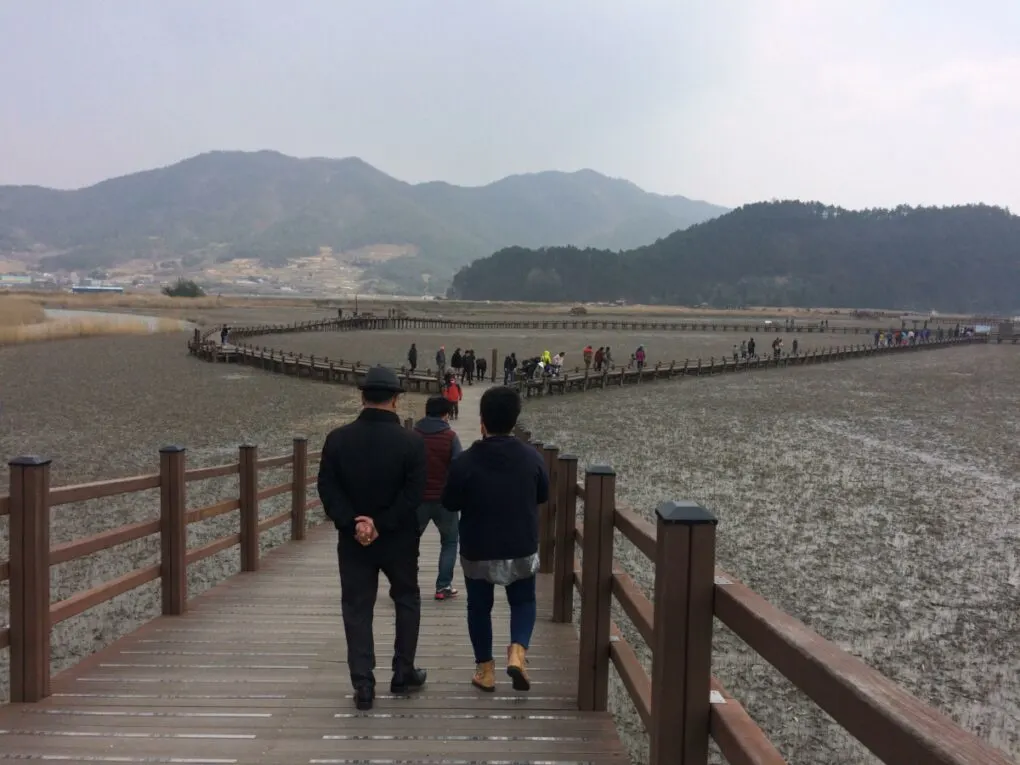 Unique Spring Activities in Korea
Spring in Korea is a delightful time; many people enjoy outdoor group activities after a very long winter. Below is a list of the best ways to maximize your time in the country:
Read Books in the Forest Library
Near Samcheong Park entrance lies a hanok library with a prime view of Bugaksan Mountain and the nearby cherry blossoms in full bloom. With over 60,000 books in storage, alternating between Korean and Japanese publications, visitors will never run out of choices.
Other than the book collections, galleries exhibit poetry, landscape painting, and bits of calligraphy.
Go Kite Surfing in Jeju
The high winds, gentle waves, and pleasant weather make Jeju an ideal place for kitesurfing and windsurfing. These sports attract locals and tourists alike, since water sports are common on any of the beautiful beaches in Korea.
Perhaps the most notable is Hyeopjae Beach, a scenic destination with gorgeous locations like the Hyeopjae Lava Tube and the Hwangnyongsa.
Join the Moonlight Tour of Changdeokgung Palace
A moonlight tour of a royal palace in Seoul is a romantic way to remember your spring trip to Korea. This tour lets you admire Changdeokgung's splendid Secret Garden under the starry sky. At the end, folk performers showcase their expertise in traditional instruments, songs, and dance.
Do Everything in Yeouido Hangang Park
No matter what time of day it is, this green space is continuously bustling with people from all walks of life. Situated near the Han River, Yeouido Hangang Park provides numerous forms of free entertainment, like a large splash fountain, wide bike trails, and sports facilities.
At night, buskers serenade those who choose to picnic under the pretty cherry blossoms. Others opt to ride the midnight cruise to see Banpo Bridge light up with rainbow colors across the river.
Seek Refuge in the Yeonhui Forest Shelter
Somewhere deep in Ansan Mountain is a tranquil spot with a wide view of bright-colored tulips. Here, you can let your mind rest and wander for hours as you sit on the public benches overlooking the vast gardens and the cherry blossoms.
Should you decide to go for a light trek on any of their trails, you can pass by paths filled with metasequoia, acacia, and spruce trees.
Have a Spring Picnic at Cheonho Park
On warm spring days, people bring their picnic baskets and lay their mats at Cheonho Park, one of Seoul's best cherry blossom spots. Unlike other parks in Korea, this one is small but charming. There's even a musical fountain that produces a mini-show during set times.
Witness the Symbol of Seoul
Forsythias mean expectation, hope, and achievement, making it the best tree to represent Seoul. Many of these trees are in full bloom across Eungbongsan Mountain. With over 200,000 forsythia trees covering this small landform, people can reach the top within 30 minutes.
At the top there's an observatory that lets you see the mountain better, and photographers within the vicinity can take pictures of you and your loved ones as you enjoy the bright, yellow-green trail.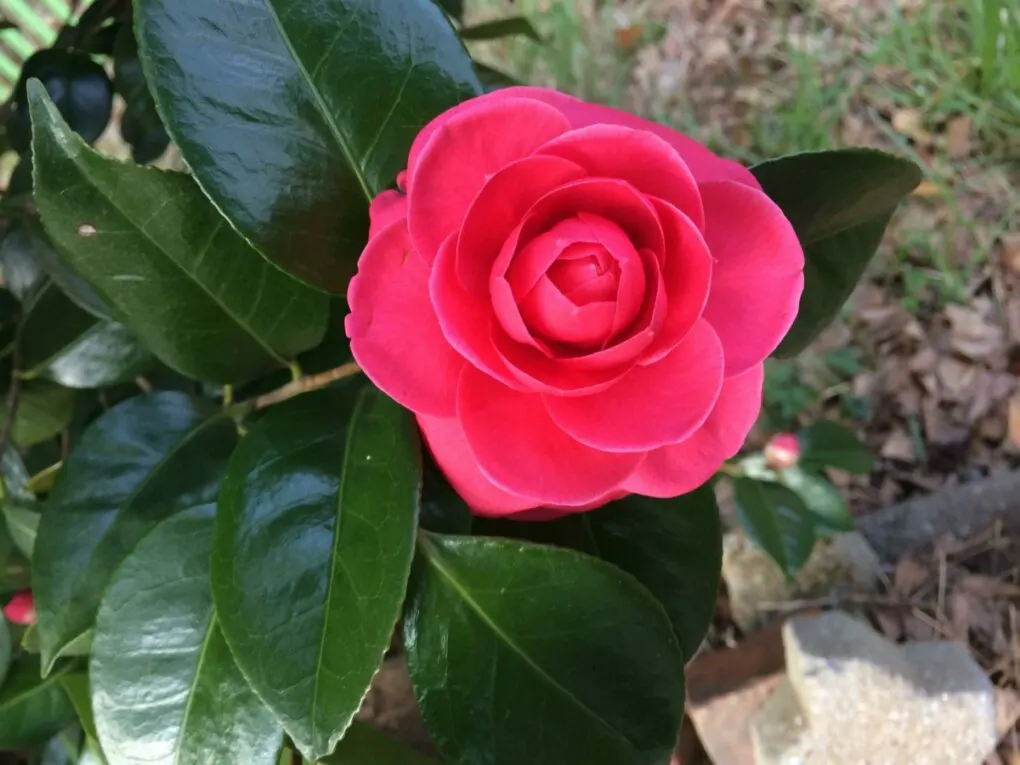 Springtime Holidays & Festivals in Korean
Rose Festival
The Jungnangcheon, also known as the first tributary of the Han River, is a stream that comes from a valley in Suraksan, Gyeonggi-do. This stream connects to the lovely Cheonggyecheon Stream, well-known for its festival decorations.
A famous biking hotspot during the day, this public space turns into an alluring rose garden of all kinds every spring. From late March to early April, this festival provides chances to check out the beautiful roses grown throughout Seoul.
Visitors can also enjoy outdoor events like the traditional hanbok experience, or a romantic stroll & selfies inside the sweet rose tunnel.
Royal Azalea Festival
As soon as spring comes, people flock to Gangdong-gu District's Cheonho Park to see azaleas around the merry musical fountain. The air turns sweet and fragrant when the flowers are in full bloom, enhancing the visual impact. Furthermore, the trail passes by the outdoor stage, the sports facilities, and the Haegong Public Library.
Yeouido Spring Flower Festival
Perhaps the biggest spring festival in Seoul, this cherry blossom festival holds more than 1500 trees within its vicinity, turning it into beautiful shades of light pinks and white as you pass by.
While walking, you also get to watch people perform traditional dances and songs. It's nice to arrive without an itinerary, because there are plenty of things to do in Yeouido Park.
Jeju's Fire Festival
It's unusual to want to visit a volcanic cone during early spring in Korea, but this festival in Saebyeol Oreum is an event worth visiting. Here, people get to carry torches and watch fireworks paint the night sky red. Various programs featuring local performers and a long line of delicious food trucks are there for you and your family to enjoy.
Street Arts Caravan
Every April marks the Street Arts Caravan Season Festival in Dongdaemun Design Plaza. This event celebrates local artists with daring and thought-provoking pieces of work, each one with hopes to dazzle and intrigue passers-by and tourists. This event is a melting pot for experiments in street and contemporary art.
Lantern Festival
This bright spring ground plays host to an abundance of light pink cherry trees and forsythia. These trees line Yangjaecheon Stream, where the locals host a breathtaking night lantern festival. The annual event has plenty of outdoor busking performances, an art flea market, multiple experience programs, and a firework show.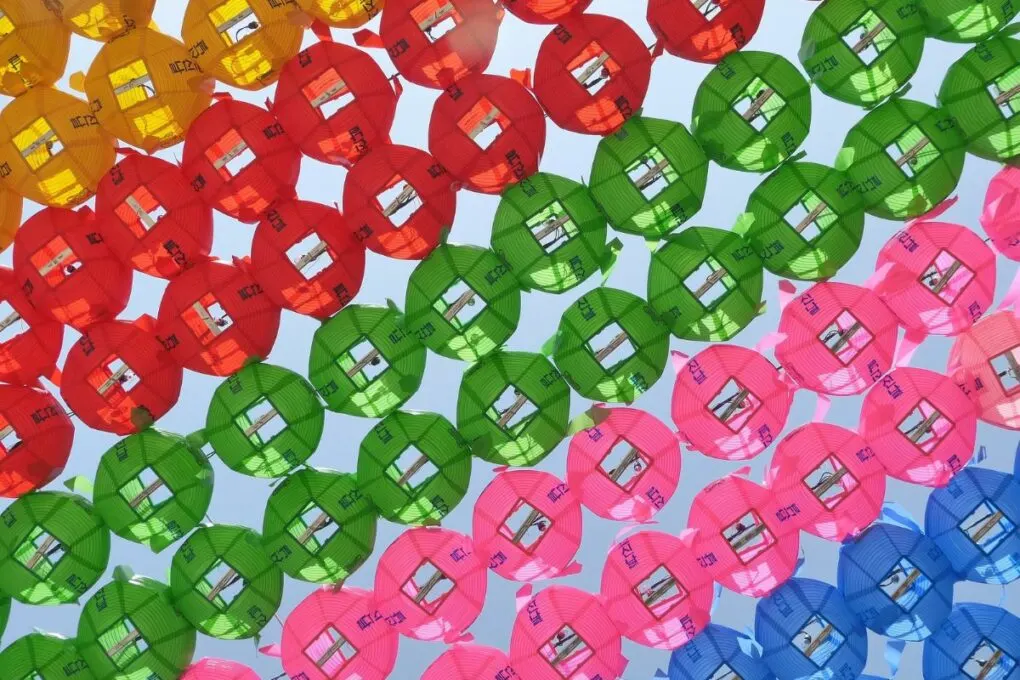 Seasonal Spring Foods in Korea
The spring season in Korea is a time to enjoy the fruits of the harvest after a long, cold winter. If you come to Korea at this time, make it a point to try some of the dishes made from these local bounties below:
Damselfish (jaridom)
On Jeju they believe that damselfish is more savory during spring. People travel for miles to try this delicious local seafood dish. For just ₩20,000-₩30,000, you can eat this griddled salt-sprinkled dish in almost any restaurant in Seogwipo.
You can also try asking for the Jarimulhoe or the cold soup version of this dish. Moreover, however you order it, the soup comes with raw soybean paste with vinegar & prickly ash leaves.
Strawberries
Korean strawberries are a must on this list. Since their peak season is sometime around the beginning of spring in Korea, people often also go strawberry-picking for fun.
The little strawberries gathered can be used to make cakes or jam, as the early harvest berries tend to have the most concentrated flavor. Furthermore, these strawberries are sweeter than the ones grown in other parts of the world.
Bibimbap
Whenever spring rolls in, people try their hand at making the legendary spring cabbage bibimbap recipe. This type of cabbage is known to be the best during March to May, and you can chew on them raw. People love how it gradually gets sweet after every bite.
To make this unique bibimbap, you put heaps of cabbage on a large bowl of heated white rice, and mix it with other vegetables, chili powder, sesame oil, and soy sauce. It's so fun and easy to make, and just as the rumors say, I do declare that this dish tastes better than most meat I've had here!
Namul
A Korean table always has namul, but what exactly is it? A namul is a bowl of seasoned vegetables and herbs, flavored with pepper powder, chopped spring onion, garlic, salt, soy sauce, and sesame or perilla oil. Then this is paired with any soup.
Even though namul is widely available no matter the season, the vegetables used in this dish are in their best state during spring in Korea. Like kimchi, this dish has plenty of varieties, so some namul have dominant notes of squash, mushrooms, bean sprouts, and various types of seaweed, depending on their base.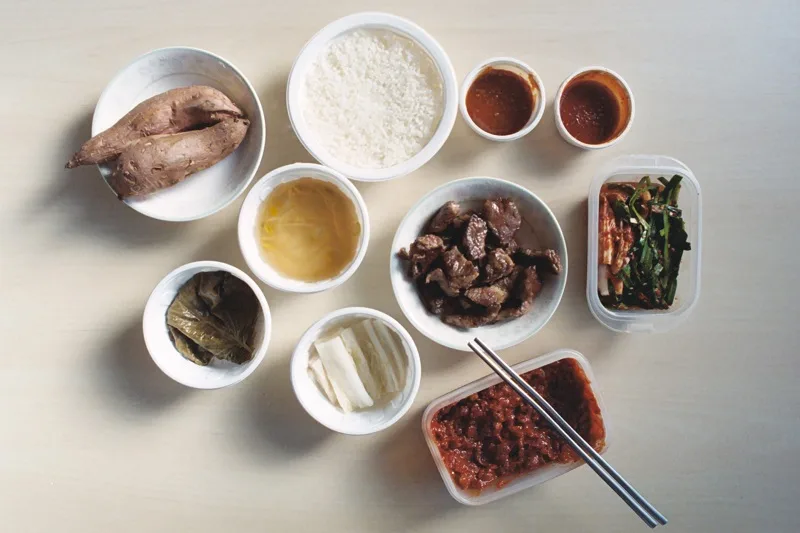 Daegu-jjim (Steamed King Crabs)
Even though the best time to eat King Crabs is late March, it is never too late to try it during spring, especially if you are near the Korean east coast. A delicacy meant for the Joseon royal family, people feel like royalty with the way Korean cooks gratuitously put butter in this dish.
You can visit the Yeongdeok Crab Village in Gyeongsangbuk-do, a restaurant near a fishing site and a picturesque beach that offers a relaxing view of the spring sea alongside their fresh crab.
Jukkumi Shabu-Shabu (Octopus Shabu-Shabu)
Jukkumi, or octopus, is delicious in spring because that's when its head contains a large white sack full of octopus eggs. When eaten, this delicious aminal has a mild but savory taste. Boil it in shabu-shabu vegetable soup and add kkalguksu noodles for a nourishing meal.
Other dishes may also marinate jukkumi in spicy gochujang sauce and then serve them together with samgyeopsal; it depends on where in Korea you are as to which dish you'll be able to find.
Samgyetang (Ginseng Chicken Soup)
Samgyetang is a mild soup based around a whole chicken stuffed with rice, garlic, and ginseng, and then garnished with shredded spring onions, sunflower seeds, and black sesame seeds. Some people who want to reinforce the taste opt to mix kimchi and salt in with the chicken, but both are traditionally served on the side.
While this is generally known as a Korean summer dish, those who eat it in spring will still feel refreshed and revived, especially after a long trek in the woods. Some seasonal variations on the dish include a spring onion-heavy version, and one with black garlic (sweet fermented garlic).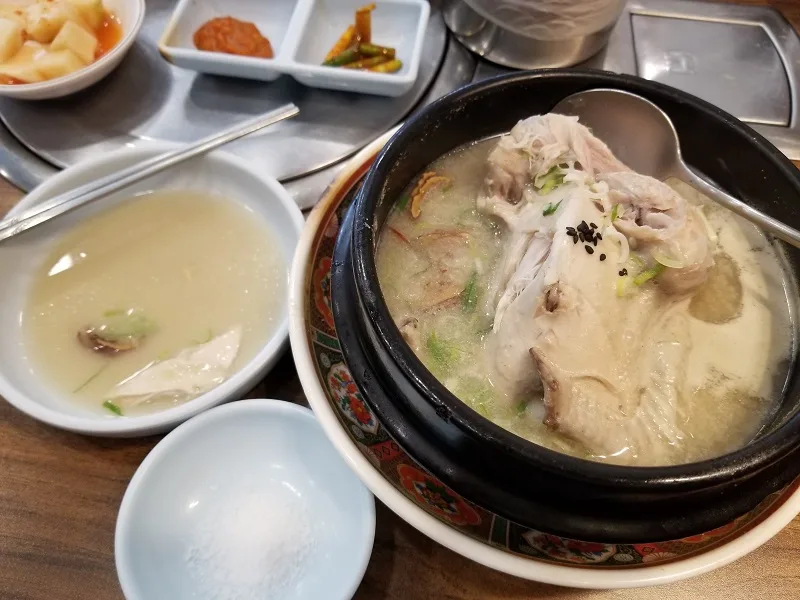 Tips for Visiting Korea in Spring
Download helpful apps for Korea to make your experience easier.
People who come to Seoul as visitors may have trouble navigating transportation or communication. To make things easier, this list of helpful apps can help you break the language barrier as long as your phone has juice.
Always bring a light jacket and wear walking shoes.
Prepare to hike in Korea, because most spring destinations have long trails and multiple elevated pathways. Even if you stay in the city, the terrain is quite hilly and the countryside tends to be mountainous.
Walking is very appealing to locals since most are trekking enthusiasts, but if you are the opposite, at least bring a light jacket in case the weather gets brisk, and wear comfortable shoes at all times.
Beware of yellow dust!
Yellow dust is a serious problem in Korea, and even if the weather seems pleasant come spring in Seoul, it's not a good idea to leave the house without checking the air pollution levels.
You don't want to risk getting lung irritation, coughing, sneezing, or even shortness of breath from the very atmosphere. If you have to go out on a 'bad air day,' be sure to wear a proper mask.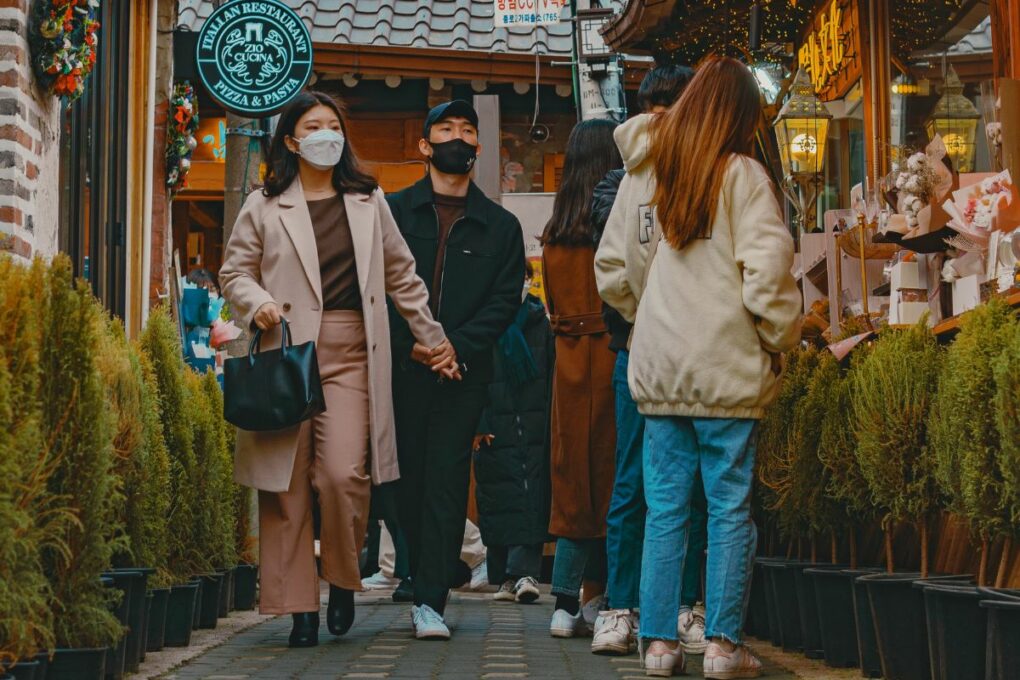 Do not neglect the cities outside of Seoul.
Seoul is not the only location in Korea with beautiful cherry blossoms. Whenever spring rolls in, locals strongly recommend visiting the southern areas of Korea first before moving on to Seoul ,since cherry blossoms bloom from the bottom to the top of the peninsula.
Daejeon and Gangneung are reportedly two cities with cherry blossom trees that bloom before Seoul's.
Follow-up: do not shake the cherry blossom trees!
Do not shake the cherry trees, because once they bloom, they don't return to grow in that spot until next year. Some people shake trees to create the "falling petals" effect in their selfies, but this takes the fun away from people who haven't seen the trees yet, so please try to be considerate.
Gear up if you plan to hike.
Hiking trails in Korea are no joke, and beginner trails should not be underestimated. If you find yourself in Bukhansan National Park, which is arguably the best hiking spot in Seoul, make sure to equip yourself first before embarking on a journey that will surely test your endurance.
Do not underestimate the sun.
Even if the weather is cool, never forget to wear sunscreen before you go out. Korea's sun is known to be relentless, and some people later discover that they have sunburn even if the sky looks a bit cloudy. You can either buy sunscreen using any of these shopping apps or check out the nearest Olive Young.