Changdeokgung Palace is not the biggest palace in Seoul, but it's notorious for its unassuming beauty, intriguing both locals and foreigners. Like all palaces in Seoul, the operating hours at Changdeokgung depend on the season you decide to come, but they generally run from 9:00 AM to 5:30 PM (closed on Mondays).
Entrance costs ₩10,000 for adults and ₩5,000 for children, and grants you access to all parts of the palace, including the Secret Garden tour (which is available in 3 different languages: English, Japanese, and Korean).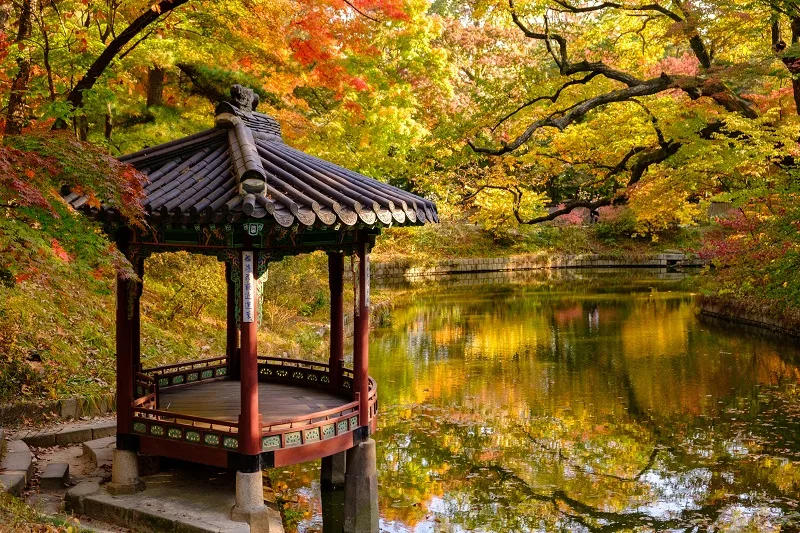 Fast Facts About Changdeokgung
Most palaces in Seoul were made to impress, but Changdeokgung isn't like that at all. In fact, the first thing you'll notice is that it more so blends in with the natural topography. Walking the grounds feels like a refuge from the city, which is exactly what it was built for.
Some aristocratic residences, like Nakseonjae Hall, are unique compared to other buildings because they have no dancheong, or multi-colored patterns on the building's surface. The designs inside are distinct from the usual Korean traditional designs you see on temples and other palaces.
A fascinating fact about this palace is that it's home to a beautiful (not-so) secret garden in Seoul, also known as Huwon. Here you'll see a lot of maroon pavilions overlooking ponds, perfect for, well, pondering the important stuff.
No matter what the season, the garden is absolutely breathtaking. It's even lovely during the winter! How to get to Changdeokgung secret garden, however, requires you pay extra for access, but wearing a hanbok reduces your overall entrance fee.
Fun Fact: if you wear a hanbok, you can enter any of the five Grand Seoul Palaces of Seoul for free!
How to Get to Changdeokgung Palace
If you're planning to visit Changdeokgung, you should be well prepared. The trip takes just 20 minutes from Seoul Station to Anguk Station, leaving from Exit 3.
It is quite a walk (and is about similar to the distance if you use Exit 7 from Jongno-3 Station), but there are plenty of hanbok rentals, cafes & restaurants you can visit before eventually arriving at Donhwamun Gate. There are also free & interesting museums nearby, like the Tteok Museum and the Seoul Museum of Korean Folk Music.
Both are good options if you really want to immerse more in Korean culture and practices before coming to the palace. For those who find walking tedious, there are shuttle buses that take you directly to the historical site.
You can find the bus stop in front of Jamong Gold Jewelry Store. To save time and effort to locate it, we recommend you install helpful apps like Naver Map or Kakao Map in your phone.
Another way to get to Changdeokgung is to ride bus 162 or 151 from the Seoul Station bus stop (서올역버스환승센터.강우규의거터 정류장(02007)), taking you to the bus station near the gate (창덕궁.우리소리박물관 정류장 (01199)).
Upon disembarking, you'll have to cross the road and walk over to the ticketing office on the far left of the gate. You can either use the ticketing machine outside the front door or get in line inside to be assisted by an English-speaking staff member.
Changdeokgung's muted design and layout give it a historically humble feel during the day. The purpose of this palace is to be one with nature, and the grounds' feminine allure is largely what entices people to come. When the sun is out, this is the perfect time to take pictures wearing a hanbok.
Thankfully there are rental shops nearby that you can visit, such as Hanboknam and Changdeokgung Su-Hanbok. You can walk in to rent, but there's also an option that lets you pick from the website in advance, and they'll have it ready for you as soon as you arrive.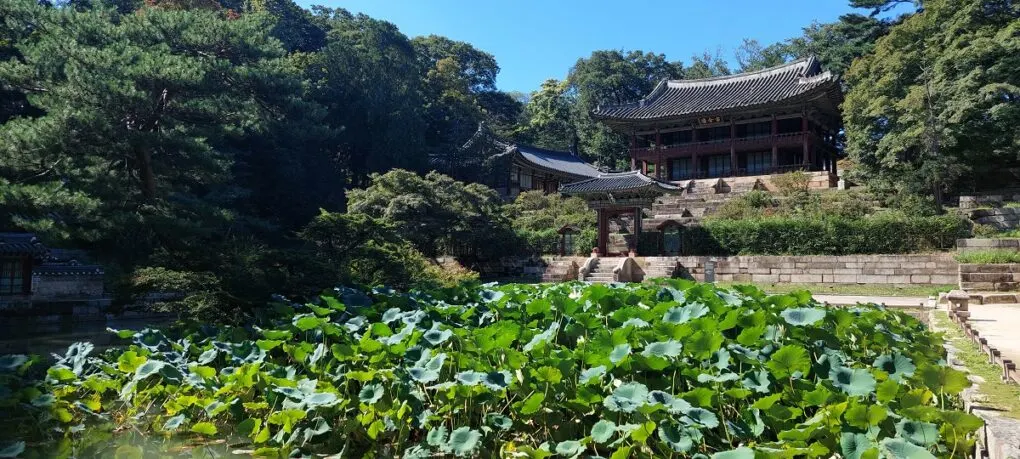 Touring Changdeokgung Palace (at Night & Daytime)
Did you know that Changdeokgung Palace is the only Joseon palace that is hailed as a UNESCO World Heritage Site? This fact alone makes it a no-brainer why it is worth a visit, but if you need specifics, this section will help you pan out your trip to Changdeokgung.
You can choose from two major tour programs at Changdeokgung. The first one showcases the important parts of the palace, such as the Injeongjeon (main hall) and the Nakseonjae Hall (King's office). As for the second part, you get to see the parts of the Secret Garden in Seoul, such as the Buyeongji pond, the entrance to the Secret Garden, and even Okryucheon Stream.
It is also possible to do both tours in one day (making it an excellent choice for a Seoul daytrip), but it is important to keep in mind that some parts can get grueling and uncomfortable due to the trail's rocky natural terrain.
If you plan to visit Changdeokgung Palace, wear comfortable shoes. Even though there are plenty of rest areas (with vending machines nearby), it takes quite a walk to get from one place to another, and some trails can get pretty steep.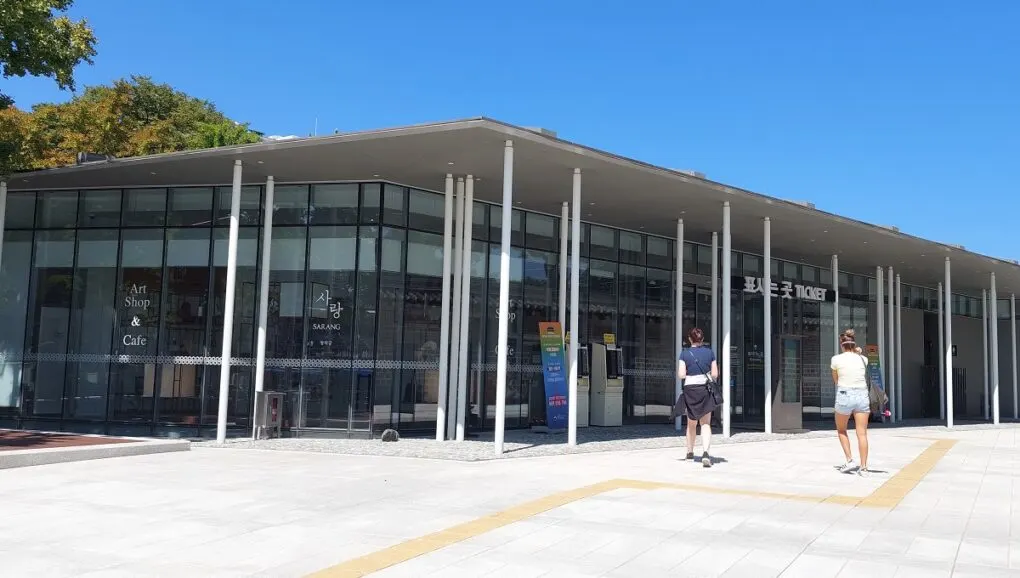 If you need to unload your bags somewhere safe, there are free lockers by the entrance. Don't worry, they are easy to use. Additionally, don't forget to bring a hat and slather on sunscreen if the weather is hot. There's little room for shade on the palace grounds, unless you enter the private chambers or inspect the workers' quarters.
While this palace is suitable for most kinds of visitors, it is absolutely perfect for couples and solo travelers that want to take long, pensive walks with no interruption. Unfortunately, it is not recommended for families with young children because there are snakes that roam in grassy areas of the forest.
At night, from late April to June, the Changdeokgung Palace hosts a special evening for people who want to visit the Secret Garden. This special tour circles the Jondeokjeong Pavilion, a hexagonal, 2-story roof pavilion near the Korean peninsula-shaped pond.
Sometimes, during random points of the night tour, there will be reenactments of the Joseon royalty taking a peaceful night stroll near the Buyeongji Pond and the Juhamnu Pavilion.
Each stop also has various traditional performances, which range from songs and dances to instrument demonstrations. Another event happens every October at Injeongjeon Hall, where they hold a reenactment of the Gwageo Siheom, or national state examinations of the Goryeo and Joseon periods.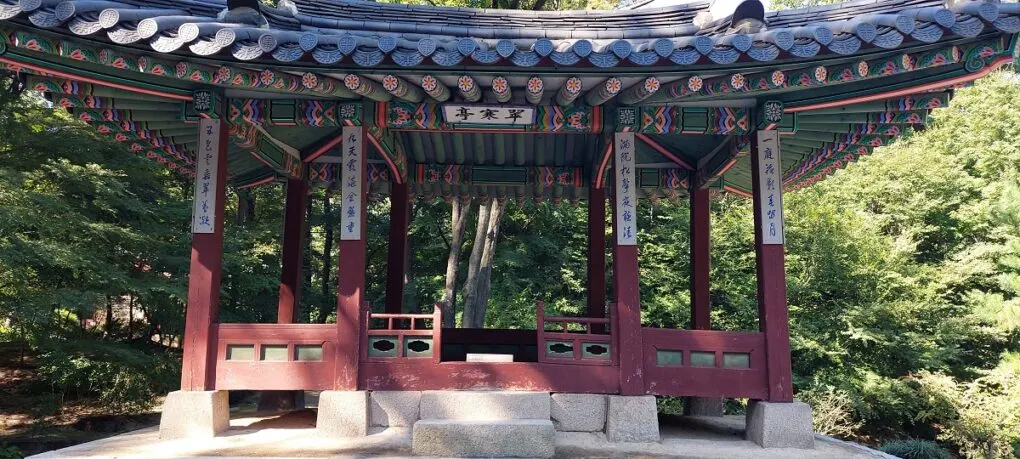 The Secret Garden at Changdeokgung Palace
This is the famous secret garden in Seoul, so you should expect flowers in the spring & summer – but it's so much more than that. Best enjoyed during spring and autumn, this vibrant garden doubles as a walking trail, which takes approximately 2 hours to complete.
People mainly come to see the Buyeongji and Juhamnu, two structures that have come to represent the Secret Garden thanks to the promotional pictures.
While here, you'll discover that the Juhamnu has two parts divided by two floors: the Gyujanggak, which served as a research institute to develop policies in support of the king's reforms, and the reading room on the second floor.
The sound of the water coming from the Buyeongji (Buyeong pond) also provides a therapeutic ambiance, which is reinforced when you stand next to Buyeongjeong Pavilion, which overlooks the pond.
Another fun fact, even though this part is reserved for the King and few of his trusted officials, there were some special cases. Aspiring state officials used to take their state exam in front of the Yeonghwadang Hall.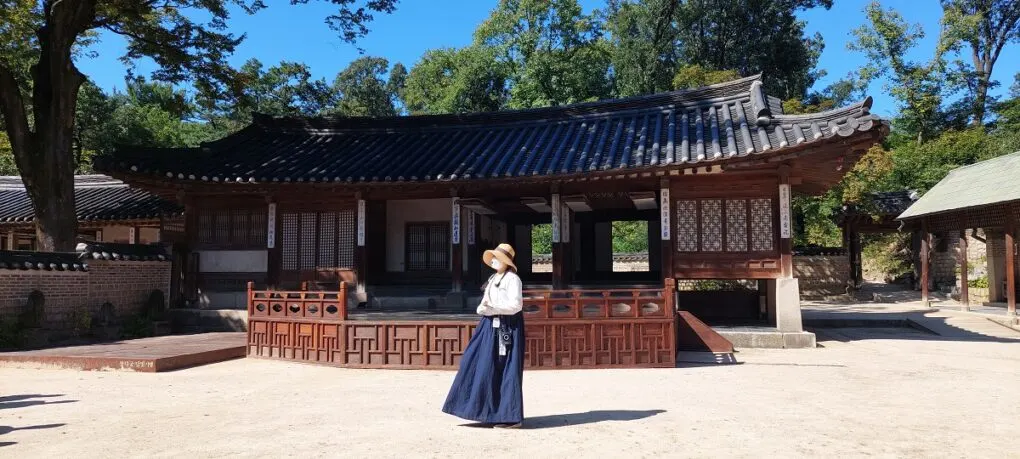 As you venture deeper, you'll be taken to Aeryeonjeong Pavilion and the Uiduhap. This is the spot where Crown Prince Hyomyeong underwent academic training and performed duties to support his father, King Sunjo.
Like Nakseonjae Hall, Uiduhap was not adorned with dancheong, probably to reinforce the mood for reading and contemplation. It is also said to be the most "modest" spot in the entire garden due to its colors mimicking the forest hues surrounding it.
After visiting the study area, you'll see the Yeongyeongdang Complex. This structure is recent compared to the other areas because it was built near the end of the Joseon Dynasty. Initially an audience hall, this is where important figures brought pledges to the King and Queen, offering food, wine, and other luxurious items.
While performances are being held, others can retire to a small library (Seonhyangjae). This library is used by some officials to take refuge from the sun as well as read books until the program ends.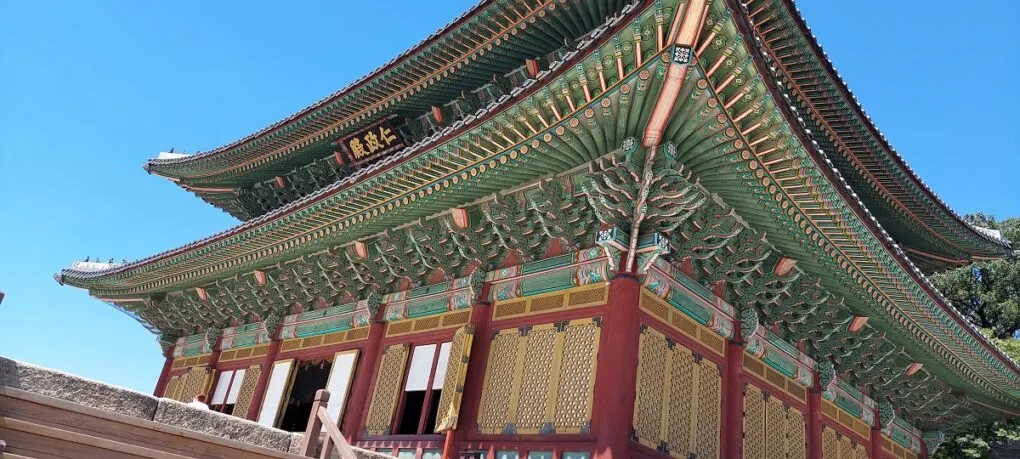 Here you can also learn how the original ondol works. The ondol is a traditional heating system that provides warmth during cold Korean winters – the underground systems trap smoke from a nearby fire to slowly warm the floor above.
Following the paths in the area reveals plenty of nature walks that lead to ponds and small waterfalls. But perhaps the most memorable one is the Ongnyucheon, which is a stream that is perfectly shaped like the letter U.
This stream is also where the King was known to play games with his top officials. He would send wine cups from the top part of the channel for his subjects to catch. If they failed to do so, they'd have to drink three times — which by Korean drinking standards isn't really a punishment.
You can also find the "Soyoam Rock" above the stream. Inscribed is a poem about the gorgeous Ongnyucheon landscape, said to be authored by King Sukjong himself.
Best Picture Spots at Changdeokgung Palace
Donhwamun Gate
This is a two-story wooden gate that not only provides passage into Changdeokgung Palace, but is also used for surveillance. You can pose on the wide stone bridge in front of the gate, which will include the billowing trees and the vibrant flowers planted near parts of the wall.
Injeongjeon (Hall of Benevolent Rule)
This is the throne hall of Changdeokgung, where they hold major state events like the coronation ceremony and the state banquets for foreign delegates. You can't enter the hall, but you can pose on the platform in front of it to show off the throne behind you.
Here, you'll see the best of Korean Architecture. The best places to appreciate this style is in the courtyard and the terraced garden that leads to Maebong Peak.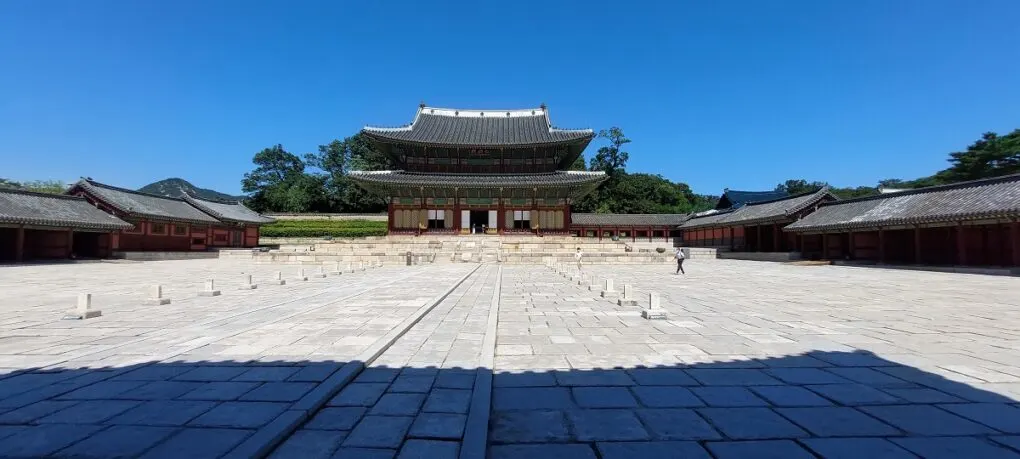 Seonjeongjeon
Inside Seonjeongjeon lies a narrow colonnaded area that once served as a royal funeral site. It's known to be the only remaining funerary building in any of the still-standing Seoul palaces. It may not be the typical "best picture spot," but it's evidence of being inside a rare historical spot.
The Staircases between the Tongmyongheon & Yanghwadang and the Yeongchunheon & Jipbokheon buildings
Since this is the area where the queen & the concubines used to stay, there is a large staircase (with a slippery stone formation before the first step) that takes you to an elevated path that showcase this vast residential ground.
If you stand on top of the staircase, facing the trail, it makes for a nice photo that includes the houses below, as well as the view of the Seoul skyscrapers and N-Seoul Tower behind you. Then you can have someone take a picture of you from below so that the nice, billowing trees of the hiking trail are included in the shot.
Gate of Eternal Youth
Within the Secret Garden lies the stone-framed gate of eternal youth. Inscribed on top of it are three Chinese characters that identify it as such. Not only that, once you pass by this gate, you will be blessed with a long life. Whether this is true or not, this is a perfect place to take a hanbok selfie because it looks like an old-timey frame.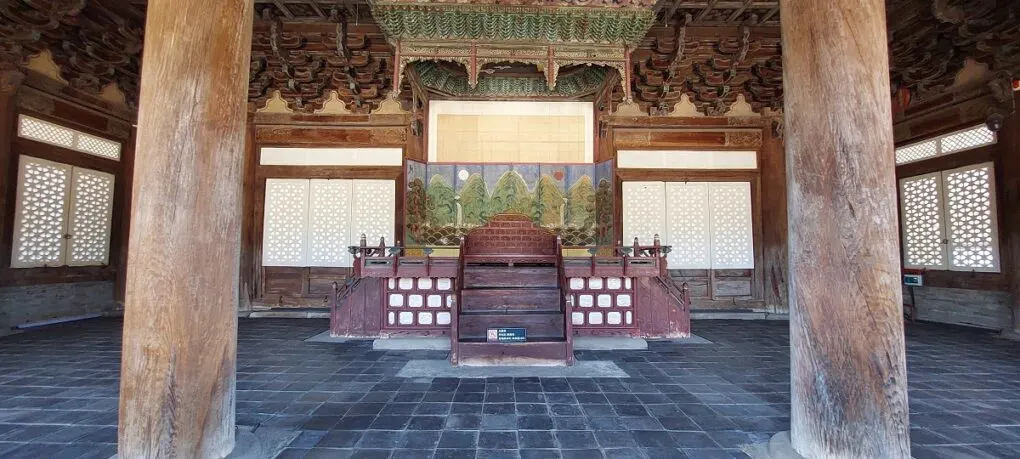 How to Rent a Hanbok Near Changdeokgung Palace
As I have mentioned earlier, the 10-minute walk that takes you to the palace has a lot of hanbok rental places. Below is a list of the ones that have a hassle-free transaction as well as good customer reviews. You can also negotiate to have these sent to you via courier, or you can just pick them up personally from the store.
My opinion is that if you plan to spend a whole day in Changdeokgung Palace, or you have plans to move from one place to another, a whole-day rental makes a lot of sense. However there are options that let you borrow hanboks for just an hour or two.
The only downside is that their websites are in Korean, so you'll have to use Papago to make the process easier.
Hanboknam
Addess: 2F Hostel Korea (호스텔코리아 창덕궁점), 85, Donhwamun-ro, Jongno-gu, Seoul 03131
A 24-hour hanbok rental for a single person can cost between ₩50,000 and ₩200,000, while rentals for couples can cost between ₩99,000 and ₩220,000. A child's hanbok ranges from ₩40,000 to ₩50,000.
If you have a Discover Seoul Pass, you can enjoy a 20% discount on any kind of hanbok, as well as use their hairstyling service. You can pay in cash on the spot or through online banking, though foreigners are just recommended to pay in cash or book in advance.
Changdeokgung Su-Hanbok
Address: 서울특별시 종로구 돈화문로 98, Donhwamun-ro, Jongno-gu, Seoul, 03134
This is a convenient hanbok rental service near Changdeokgung Palace. Aside from being the closest, there are plenty of styles you can choose from, and all you have to do is walk in; there's no need to reserve in advance.
Prices depend on the style you've chosen, but it should be similar to Hanboknam's. However if you're looking for a specific style, it wouldn't hurt to inquire directly by calling their number: 02-747-2546.
Where to Eat Near Changdeokgung Palace
If you're looking for places to eat near Changdeokgung Palace, here are three of the best locations with varying specialties:
Newijo
This restaurant opens an hour before lunch and closes around 10 PM. They take their break from 3 PM to 5 PM, so come around lunch time. The ambiance feels a lot like an outdoor hanok garden, and you get plenty of food for only ₩22,000.
The basic set menu includes fancy Korean dishes like octopus, fish, and soybean paste soup (dwaenjang); try their glutinous rice wine while you're at it. For more details, visit Newijo's website.
Italy Budae Jjigae
If you're looking for something filling, it's always a guarantee that a bowl of budae jjigae will do the trick. This is a spicy sausage stew so-named because it was a filling meal for Korean soldiers in years past, made using rations stolen from US military bases.
Now a dish enjoyed by all, locals and foreigners can enjoy this meal for just ₩9,000. If you feel like splurging, their stir-fried webfoot octopus and pork belly set is a divine combination that'll set you back just ₩30,000 . More information about their menu can be found on their website.
Baan Khun Kwan
For a more vegetarian-friendly option, this is an amazing restaurant that serves mouthwatering kao pad thai fried rice. That dish and all the rest of their food takes your tastebuds all the way to Thailand. Moreover, this is the best place to try unique spices not usually used in Korean food.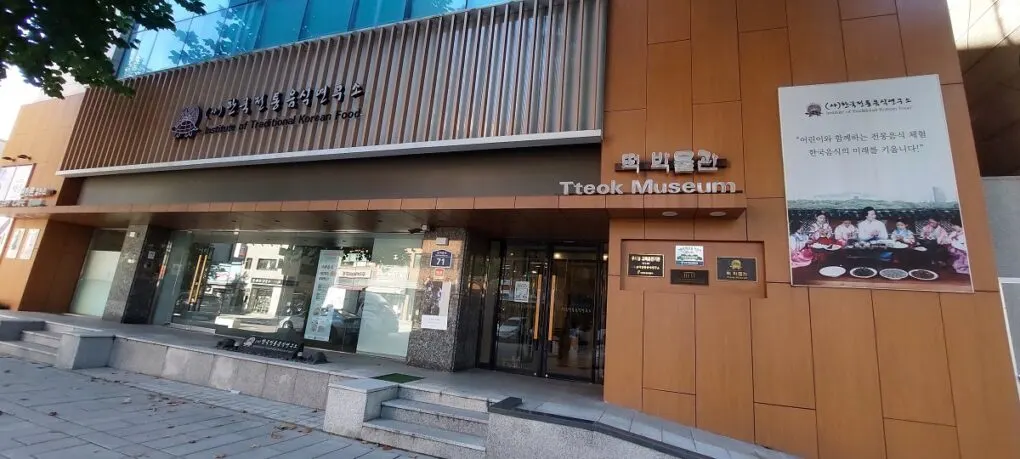 Things to Do near Changdeokgung Palace
One thing you will appreciate about Changdeokgung is that not a lot of people come to visit. This may normally be seen as a downside, but the lack of crowds just means there are no lines to do some of my favorite activities near Changdeokgung Palace.
1. Tteok Museum (Institute of Traditional Korean Food)
Next to kimchi, the food Koreans are best known for is tteokbokki. In this free museum, you can see the various kinds of tteok (rice cakes) prepared for every kind of season and occasion.
Here you'll also get to know the ingredients and tools used to make the delicious rice cakes, and learn what enhances their flavor, texture, and other fun facts about this beloved dish.
2. Find the Taesil
As you walk through the hiking trail, you eventually see this small pagoda made out of stone and may wonder what it is. The Taesil, also known as the "placenta chamber," is a stone monument that can be found anywhere in Korea.
But the one in Changdeokgung Palace is the best-preserved of all the royal Taesils. Back then, the royal family believed that putting their newborn's placenta would guarantee a fortuitous life for the child. Inside, multiple stone plates identify whose placenta is stored within.
3. Son Donhwamun Traditional Theater
This modernized hanok theater faces Changdeokgung Palace, specializing in acoustic sounds of traditional music. The inside consists of an impressive wooden theater, a studio, the gugak madang (courtyard), and a cafeteria.
When you come here, the first thing you'll notice is that this fan-shaped auditorium's structure enhances the reverberation, and the sound quality is so clear that even small movements can be heard from the back of the hall. See the upcoming performances by visiting the Son Donhwamun Traditional Theater's website.
4. Seoul Museum of Korean Folk Music
There's another petite hanok building across Changdeokgung where you can experience the traditional instruments used to create beautiful melodies used in Korean folk music. Stepping into this museum also sets the tone.
It lets you listen to songs fishermen used to sing to boost their morale as they yanked heavy nets full of fish, or even the humming of women tasked with extracting silk from silkworms in the late Joseon Period.
Inside, there's a virtual database that lets you listen to a range of 20,000 pieces of Korean folk music and learn about almost 6,000 musical instruments. It really is an admirable endeavor by the Korean government to keep their culture preserved.
5. Try to tell the time using the Angbuilgu
The Angbuilgu, or the "hemispherical sundial", used to be the most widely used astronomical scientific device in the Joseon Dynasty. It is a pot-shaped sundial, very different from the image of the sundial we are used to.
These unusually-shaped things have been around since the mid-1400s, sometime around the 16th year of King Sejong's reign. You can find one on the elevated palace trail, somewhere near the resting area connected to the large stone staircases.
Even if you're not a big fan of the Joseon Dynasty, it is still a good choice to swing by Changdeokgung on your visit to Seoul. There you can see how a palace in Seoul can still look grand without overdoing the traditional flair most Korean architecture is known for.
Plus, it's a great refuge from the overwhelming sounds of the city to enter the famous Secret Garden in Seoul.