Spring is the best time to visit Korea because of Seoul's numerous cherry blossom festivals. From the end of March to mid-April, rows of Seoul cherry blossoms will bloom, creating beautiful paths of pink and light purple.
Despite the fluctuating weather, people come from all parts of the country to take pictures, have a picnic, or watch the song & dance performances by buskers and traditional performers from day to night.
This year, however, the parks in this list canceled the festival due to the pandemic but have remained open for people to enjoy the view of cherry blossoms.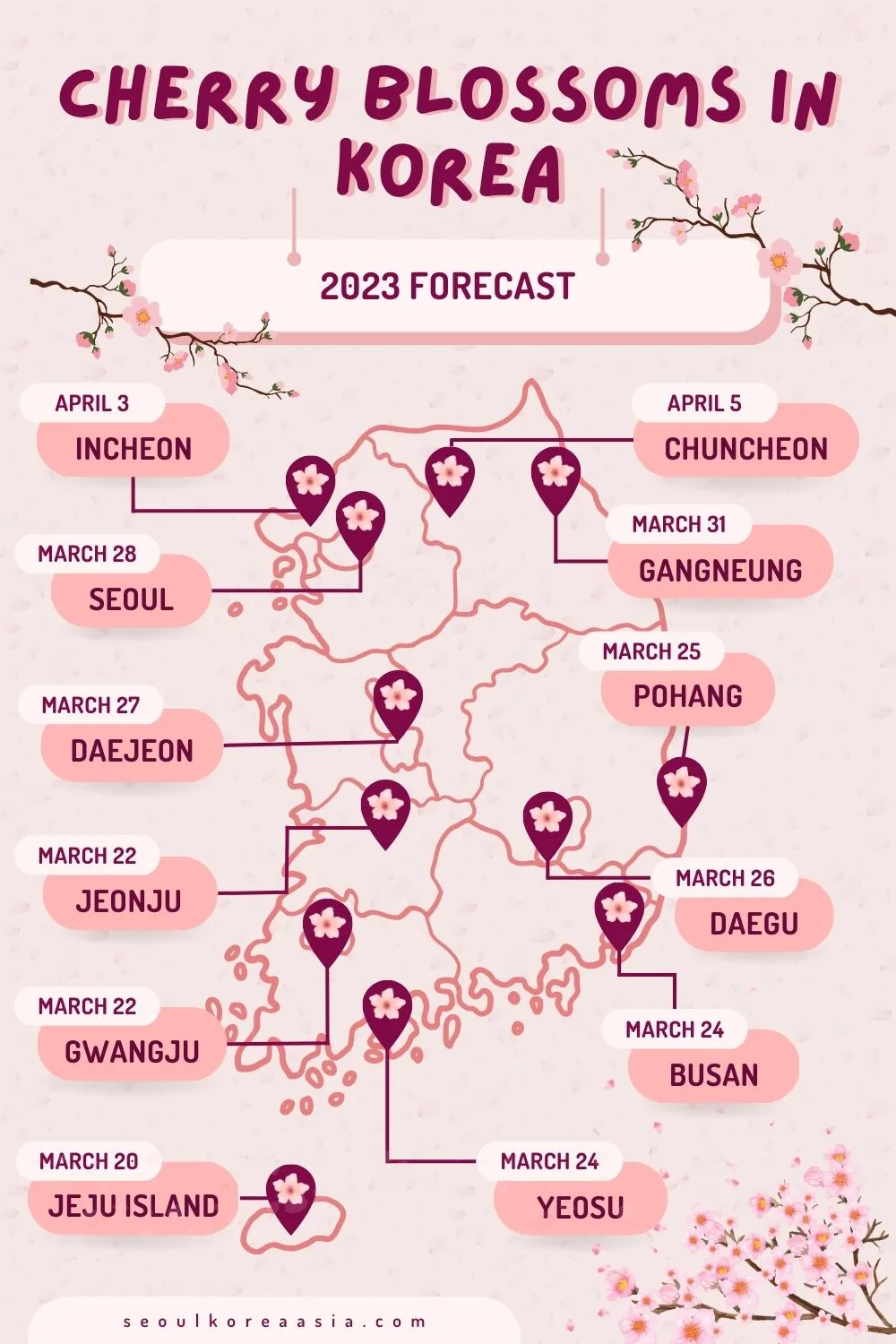 Seoul Cherry Blossom Season 2023
Every year, Seoul celebrates the cherry blossom season by heading to Yeouido Hangang Park, where the Seoul Cherry Blossom Festival is. This park has the greatest number of cherry blossom trees in Seoul (approximately 1500) lining the paths, creating a trail you can complete in an hour.
Moreover, Yeouido Park offers a wide range of activities nearby, especially in spring. It's large enough to rent a bike for a leisurely trip around the cherry blossom course, or you can choose to take a romantic cruise to appreciate the view from the Han River.
If you want to know more about what's in store for you during spring, you can also download some of the travel guide apps for Korea.
Tips for Seoul Cherry Blossom Season
I truly believe spring is the best time to visit Korea because of the cherry blossoms. Here's a short guide on how to enjoy your trip to Korea in spring to the fullest.
Check the cherry blossom forecast (see above).
There are four notable cherry blossom variations across Korea. The blooming sequence begins with the pure white maehwa (plum blossom) and the bright yellow sansuyu, followed by the delicate pink someiyoshino (Yoshino cherry tree). Then the more profound and larger flowers of the wangbot namu (King cherry tree) bloom last.
It is also important to note that flowers from southern parts of Korea bloom first. Knowing when the blossoms start each year is essential because they only last about 10 days after the first bloom. You can refer to this site to find the cherry blossom forecast each year.
Visit places outside Seoul to maximize your cherry blossom viewing experience.
As mentioned above, southern parts of Korea experience spring first, making Jeju-do or Jeollanam-do the best regions to start your cherry blossom pilgrimage.
Be sure to swing by Gurye Sansuyu Village to see the yellow blossoms brighten the Bangok Village nearby, and then you can check out the snow-like coat of maehwa in Gwangyang Maehwa Village. All the blooms across Jeju-do bloom within a few days of each other, and feature all across the island.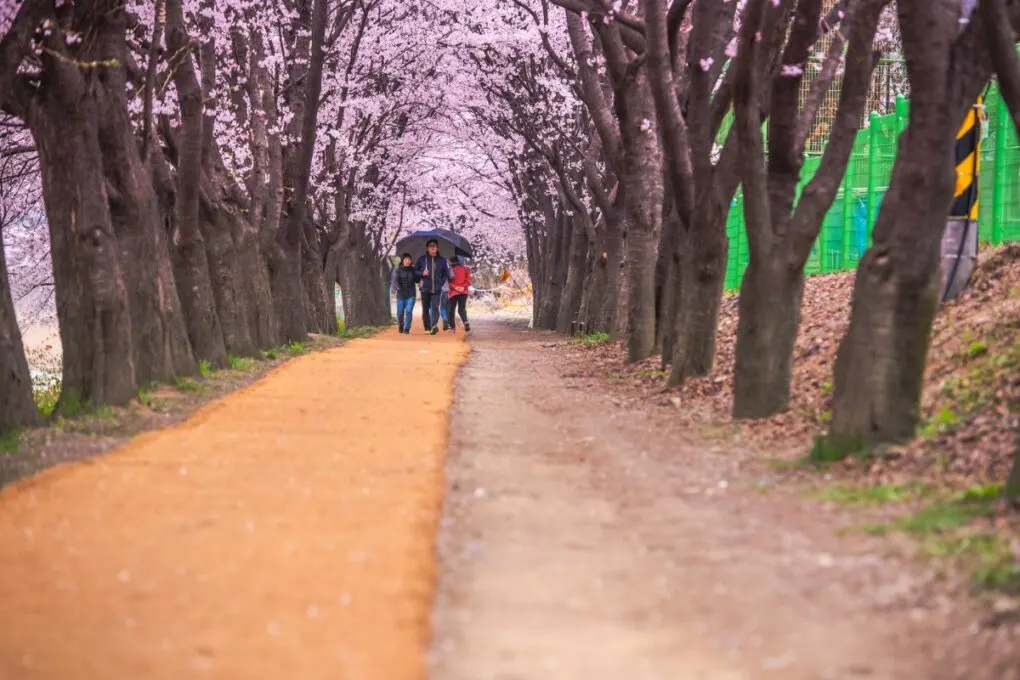 Don't just view the flowers during the day; go see them at night
Enjoying the whites and pinks should not be limited to daytime. At night, the Seoul cherry blossoms are just as beautiful because parks like Yeouido and Namsan are surrounded by skyscrapers that provide a spectacular city view.
Don't touch the trees!
Because the blossoms only last for a short time, people are asked to be careful while posing next to the trees. Some people think pulling the branches down to create a beautiful effect for their selfie is okay, but the petals are actually incredibly fragile and easily fall off.
Other people sometimes shake the trees to create a petal shower, but this completely balds the tree and ruins the fun for other people.
Bring a coat or a proper jacket to keep you warm.
The weather around this time may be warmer, but especially early in the mornings there will be times chilly enough to warrant a jacket. Also bring a shawl or wear gloves if you get cold easily! Some may want to bring an umbrella because light showers are common during this season.
Rent a hanbok.
Wearing a traditional hanbok under the cherry trees not only makes for a good picture, but also makes your Korean experience more authentic.
If you decide to visit any of the 5 palaces in Seoul to see the cherry blossoms, there are plenty of hanbok rental places nearby. The best perk? People wearing hanbok are granted free entry to the Seoul palaces.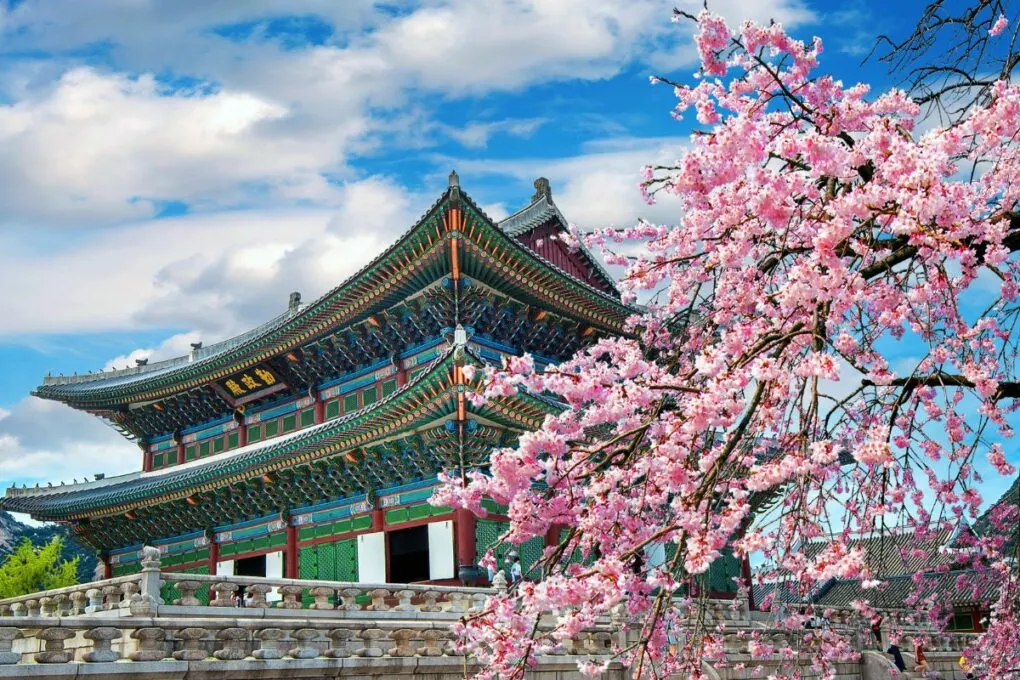 Best Cherry Blossom Festivals in Seoul
Korean winters are bitterly cold, and locals tend to bundle up and stay inside their homes eating tons of hotteok and gunbam to keep warm until March. When the weather's kinder, people come out of their hibernations to see the sun and the white-pink blossoms that always signify the start of spring.
Yeouido Cherry Blossom Festival
Neighborhood: Yeouido-dong, Yeongdeungpo-gu
Stop & Exit Number: Yeouinaru Station (Line 5, Exit 2 & 3)
Dates: First week of April
Yeouido Park is the first place that comes to mind when people mention the cherry blossom festival in Seoul. The reason is that this park holds more than a thousand cherry trees that come into full bloom all at once, making it the pinkest part of Seoul during spring.
Here, street performances and food vendors greet you on every corner as you traverse the gorgeous path that borders the Han river. Furthermore, you can do plenty of things in the park after walking through the blooms, such as biking, picnicking, and even cruising.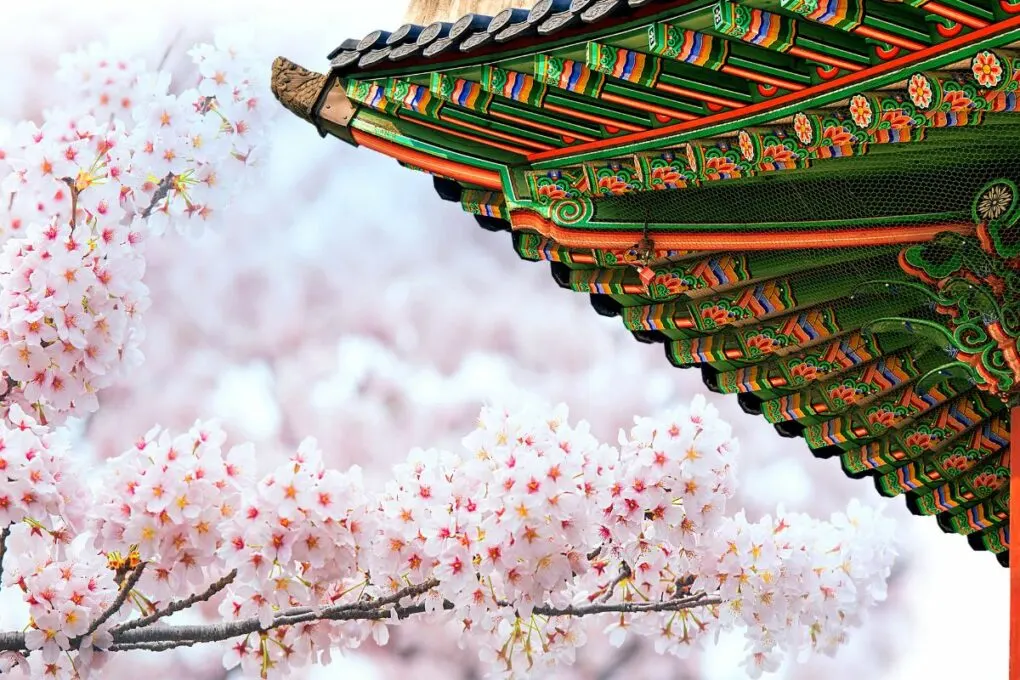 Seokchon Lake Cherry Blossom Festival
Neighborhood: Jamsil-dong, Songpa-gu
Stop & Exit Number: Jamsil Station (Line 2, Exit 2-1)
Dates: 2nd-3rd week of April
A pleasant lake full of ducks, this cherry blossom area is also near the Lotte World's Magic Island, with the Lotte World Tower Seoul Sky Observatory seen in the distance.
At a certain angle, this festival feels more of a medieval celebration, with buskers serving as modern-day minstrels, serenading passers-by as they enjoy the view of the cherry blossoms reflected on the water.
Namsan Cherry Blossom Festival
Neighborhood: Namsangongwon-gil, Jung-gu
Stop & Exit Number: Myeongdong Station (Line 4, Exit 3)
Dates: Last week of March to 1st week of April
This park may have an astonishing view of the mountain, but its cherry blossom trail is just as breathtaking. Since this park is also known as the largest in Seoul, the aforementioned trail is also the longest.
After a pleasant stroll here, you can head to the N-Seoul Tower to see the entire park from an observation deck 445 feet above the city.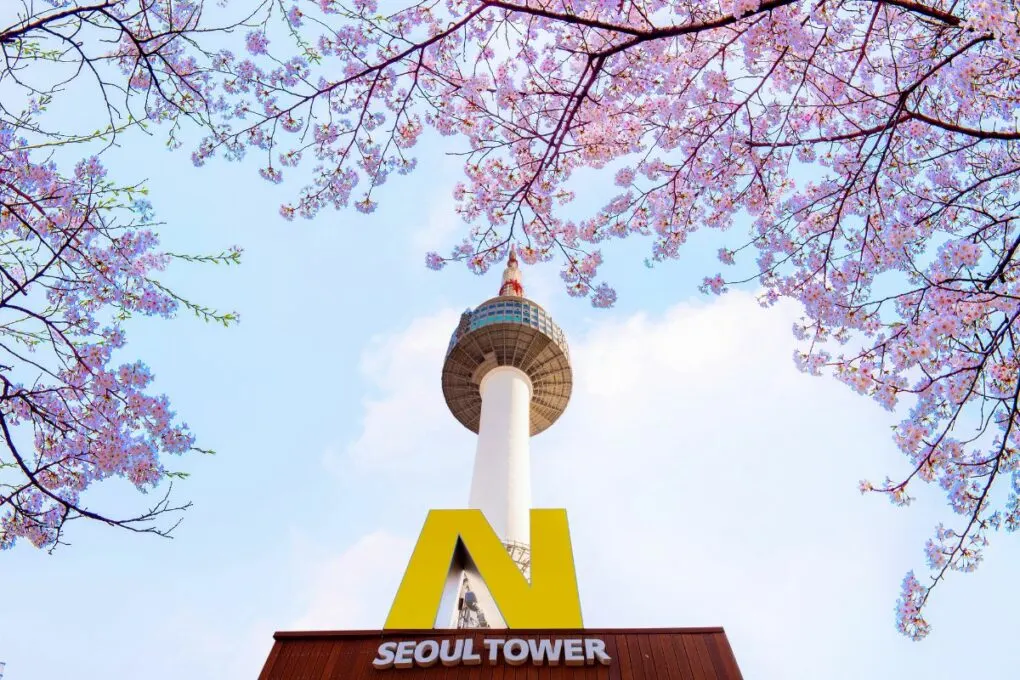 Kyunghee University Cherry Blossom Viewing
Neighborhood: Kyungheedae-ro, Dongdaemun-gu
Stop & Exit Number: Hoegi Station (Line 1, Exit 1)
Dates: middle of April
During spring, Kyunghee University turns into a gorgeous destination in Korea. While walking around, you might chance upon a beautiful pond, installation pieces from the school's art department, and a giant fountain in front of the main building.
All of these sights are made even more beautiful by the cherry blossoms in the backdrop. For the ultimate Korean student experience, try the savory haemulpajeon sold on the street carts while viewing the cherry blossoms here.
Bongeunsa Temple
Neighborhood: Gangnam-gu
Stop & Exit Number: Bongeunsa Station (Line 9, Exit 1)
Dates: mid to last week of April
This charming temple houses a great view of the cherry trees, even though it's located in the middle of the frenetic streets of Seoul. Furthermore, it's in front of Starfield CoEx Mall, a place designed to provide everything Seoul has to offer, albeit in a smaller venue.
It has a musical theater, and an aquarium, and because it's the cherry blossom season in Korea, expect CoEx to hold events along this theme.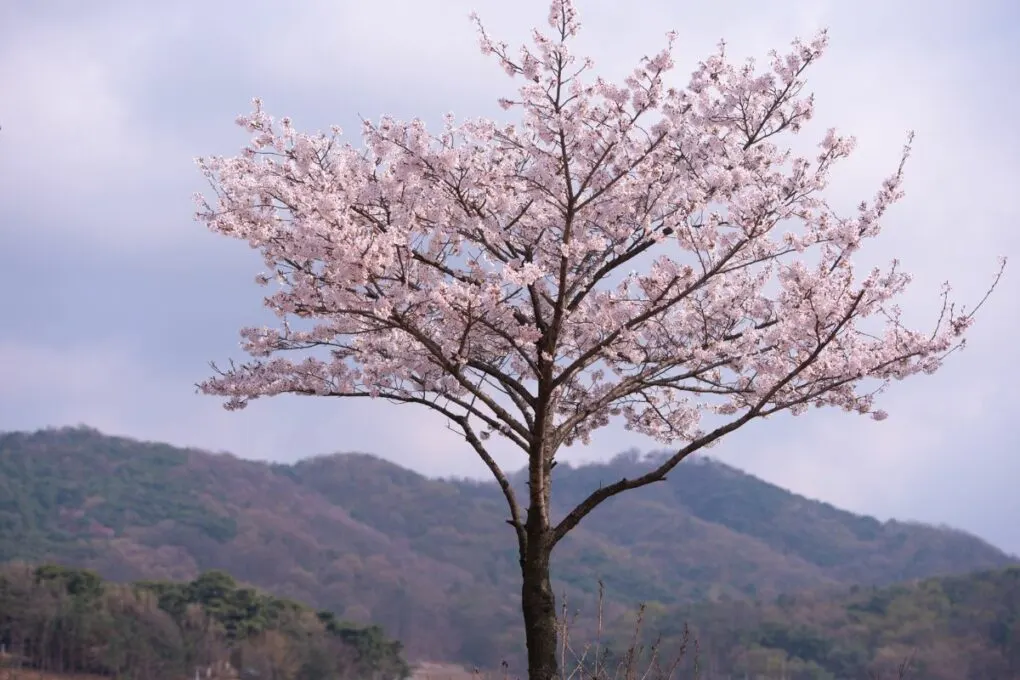 Seoul Forest Cherry Blossom Viewing
Neighborhood: Ttukseom-ro, Seongdong-gu
Stop & Exit Number: Seoul Forest Station (Suin-Bundang Line, Exit 4)
Dates: Late March to first week of April
This solemn park opens its gates to people who want to enjoy the white cherry blossoms in peace. Sure it will be crowded for the first few days, but at least compared to the other parks, the eco forest offers the chance for long periods of alone time.
This is because it's not as popular, and the trails are long and wide. Moreover, if you want to see deer up close, you can visit the corral housing these gentle creatures somewhere in the park.
Dream Forest Cherry Blossom Viewing
Neighborhood: Wolgye-ro, Gangbuk-gu
Stop & Exit Number: Miasageori Station (Line 4, Exit 1)
Dates: Late March to first week of April
This park needs to be talked about more because every spot is picturesque, and the spring foliage highlights the surrounding hanok structures bordering this park.
Since it's not as popular as the other parks, the cherry blossom path is quieter and spacious enough to let you take all the pictures you could ever want without being disrupted by other people. It also has small pagodas that are the perfect location for a hanbok selfie.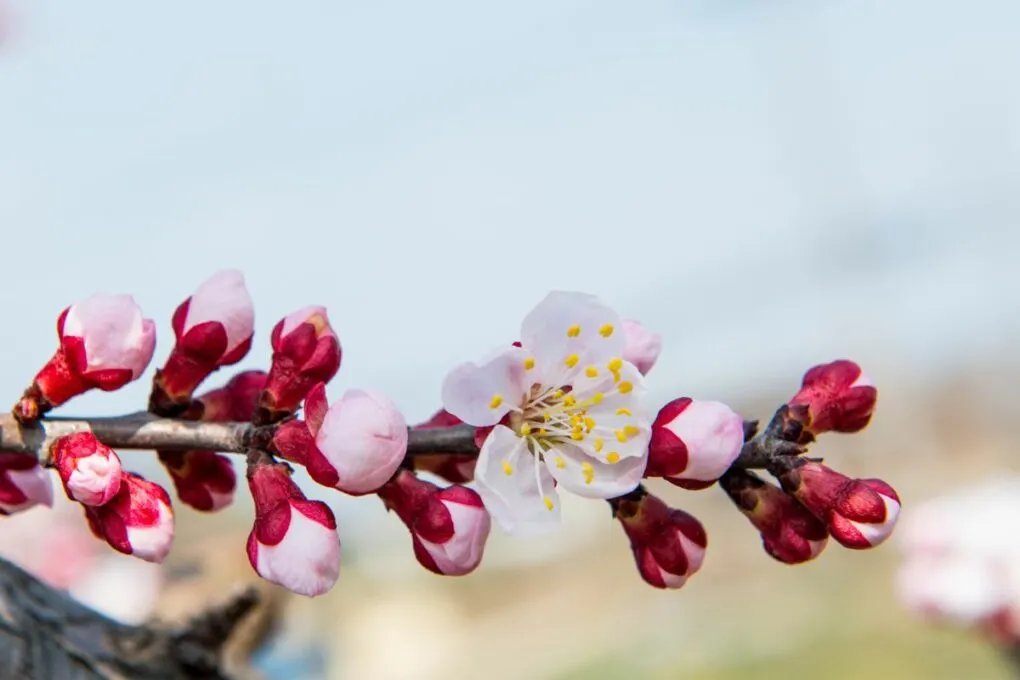 Spring is when the world starts to revive after the cold, blistering winter months. In Korea, cherry blossoms bloom during March and April, bringing back the warmth and desire to come outdoors to the people. It's a lovely sight that tends to encourage a festive mood and togetherness.