Summer in Korea can get devastatingly hot, humid, and rainy due to the East Asian monsoon patterns. Most guides would tell you that it's best to avoid the month of summer in Korea, since the weather is generally temperamental, uncomfortable, and crowded.
However I'll add one point in monsoon season's favor, as during the summer, Seoul air pollution levels drop hugely due to the rain, though it's always best to check the AirVisual app before traveling.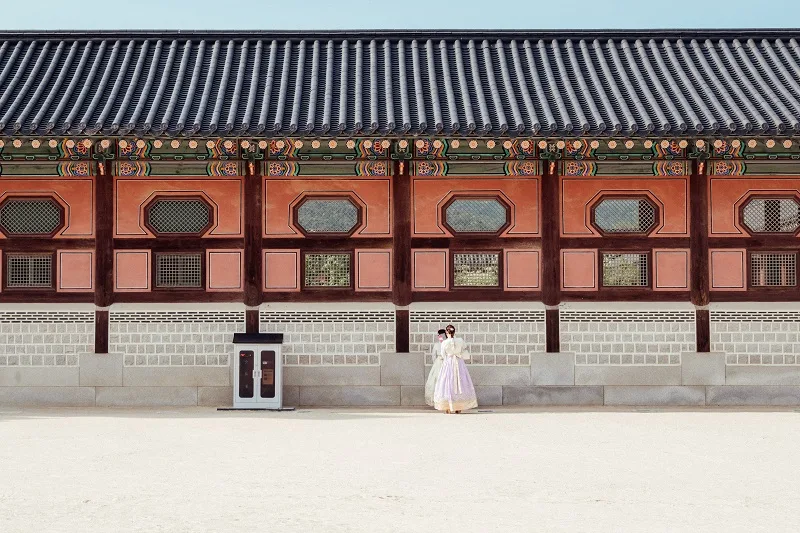 Overview of Korea in Summer: What to Expect
Even though July through September is not the best time to visit Korea, there are still plenty of ways to enjoy the summer in Korea. This includes special Korean summer foods, which are actually more often served hot than not.
Locals find the summer heat brutal; that's why most restaurants serve special seasonal dishes to help beat the heat. Foreigners might notice mere days after the summer season rolls in that signs inviting people to eat naengmyeon and makguksu are put up in most restaurants.
These are both cooked buckwheat noodle dishes with cold broth bases that help Koreans bear the heat, give relief from hunger, and restore stamina. Sometimes you'll find this broth mixed with kimchi, a variation which leaves a strong taste in your mouth, a flavor Koreans generally like.
Even if neither of these typical summer eats sounds appealing, you can still try other interesting Korean dishes, but you should definitely get patbingsu for dessert. Aside from getting the much-needed relief from food, families also cool off by visiting the large square fountain in Yeouido Hangang Park.
Every summer it basically turns into a large birdbath for people, and you don't have to worry about paying for the pleasure. This park is one of the many places that you can visit in Seoul for free.
But if you're more of a nature-loving person, you might want to find a gyegok, which is Korean for a mountain valley with a large stream or river. Locals love spending time higher up in the mountains, because the water can get refreshingly cool, and during the summer most of these streams open up to the public for swimming.
My small town in Korea was actually best known for its rafting, and people would come in every summer to either work as a guide or float down the river with one. If the summertime heat is too powerful for you to leave your lodging during the day, you can opt to wait until the weather turns bearable, when the sun sets in the evening.
Seoul at night is a particularly incredible thing to witness, even in the summertime. Places like Cheonggyecheon Stream light up, and people can enjoy colorful lights streaming by as they dip their feet into the water.
So if you're still planning to come around summertime, just remember to bring your favorite hat and a big bottle of sunscreen, and buy the cutest seonpunggi (portable battery-powered mini-fan) you can find.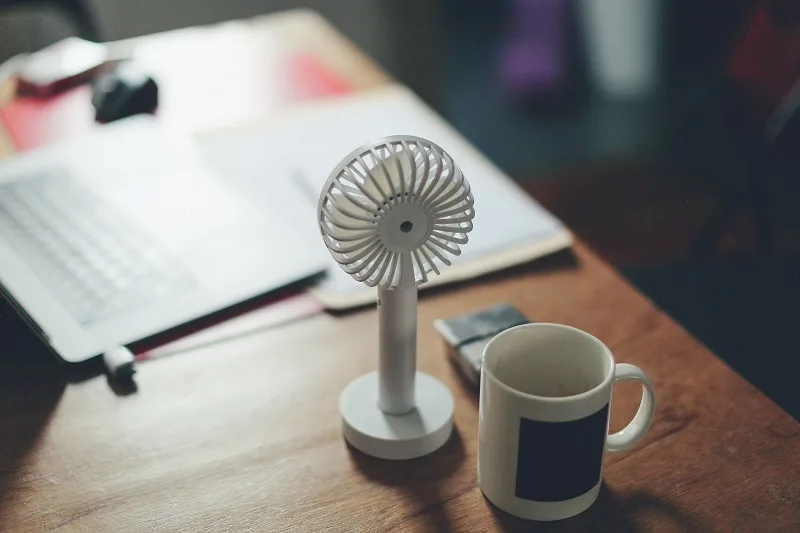 5 Places to Visit in Korea in Summer
During their summer vacations in Korea, people naturally want to leave Seoul and visit the colder and quieter regions (like Udo Island near Jeju-do). However, there are still areas in Seoul packed with locals enjoying summer break with their families, so the city certainly doesn't shut down.
The neighborhood of Hongdae, between Yonsei University and Seoul National University, is particularly popular year-round. Everywhere you go, places are packed with people who just want to relax – and evenings usually involve activities like street dining, night hiking, late-night concerts, and beach camping.
Below is a list of the five best places to visit in Korea during the summer. These activities are best enjoyed with friends and family, but you can also do any of them alone, veen if your Korean language skills aren't great.
Udo Island, Jeju Island
Also known as the ultimate summertime destination in Korea, people love coming to Udo Island to experience the quiet, windy region full of scenic cliffs and endless ocean. Unlike Seoul, it takes a while to get from one place to another on Udo; that's why people are recommended to rent a bike for an easier day trip experience.
Biking around Udo Island is fantastic because that's how you get to appreciate the peaceful sea best. In the middle of cycling, you might even want to stop by Jeonpomangdo point, to check if the island resembles a cow to you.
If you happen to catch the sunset during this time, you can also take out your phone to snap a fantastic shot of the panoramic view of the ocean. There are plenty of other sites you can see, and this guide to Udo Island features them all!
And did I mention that people from Udo are crazy about peanuts? Their peanut ice cream and peanut lattes are a must-try, and you can get these treats everywhere. The downside of coming here during summer in Korea is that it can be hot to bike around, and cars are understandably discouraged from coming over, to avoid heavy traffic on the island.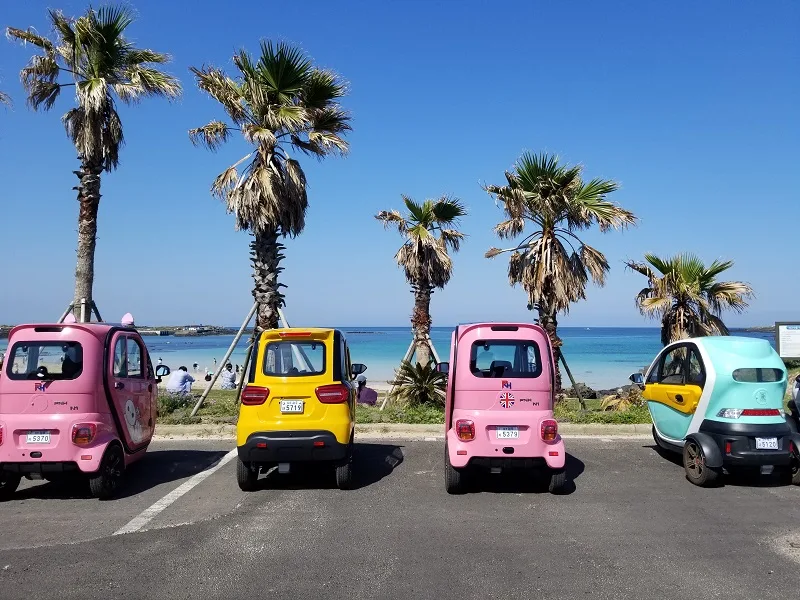 Caribbean Bay Water Park, Yongin
If you happen to be spending your summer in Korea, it would be a shame not to swing by a water park. Best for families, this water park features long slides, large pools, and crazy rides. My favorite is the Mega Storm, where six people share one tube that circles thrice around a large funnel-like structure.
Once you slip into the hole, you'll want to hang tight because it's a rapid drop back to the pool.
Ocean World Water Park, Hongcheon
Speaking of water parks, this is the most popular one in the country, according to the Korea Tourism Organization. Once you step into this place, you'll find yourself in Ancient Egypt, and this theme stretches out in all of its 4 zones.
Like Caribbean Bay, this water park has tons of slides, flume rides, and fountain sprays. It's like having fun inside an archaeological dig.
High1 Water World, Jeongseon
Another water park that caught my attention is the newest one, which claims to be the biggest in South Korea. I haven't actually been, despite the fact that it was next door to me for 3 years, but like the other two water parks featured earlier, this one has large slides and rides that look thrilling from afar.
And for an even more thrilling experience, one of their large pools features a large wave that reaches the height of 10ft. With a wave height like that, you'll feel like you're riding a tsunami!
Haeundae Beach, Busan
Busan is famous for its wonderful beaches, but Haeundae Beach sits at the top of that list. You can just lay a mat on the sand and admire the beautiful coastline while listening to buskers playing live music by the shore. Fireworks also happen most nights, streaking the sky with colors that reflect on the waves of the beach.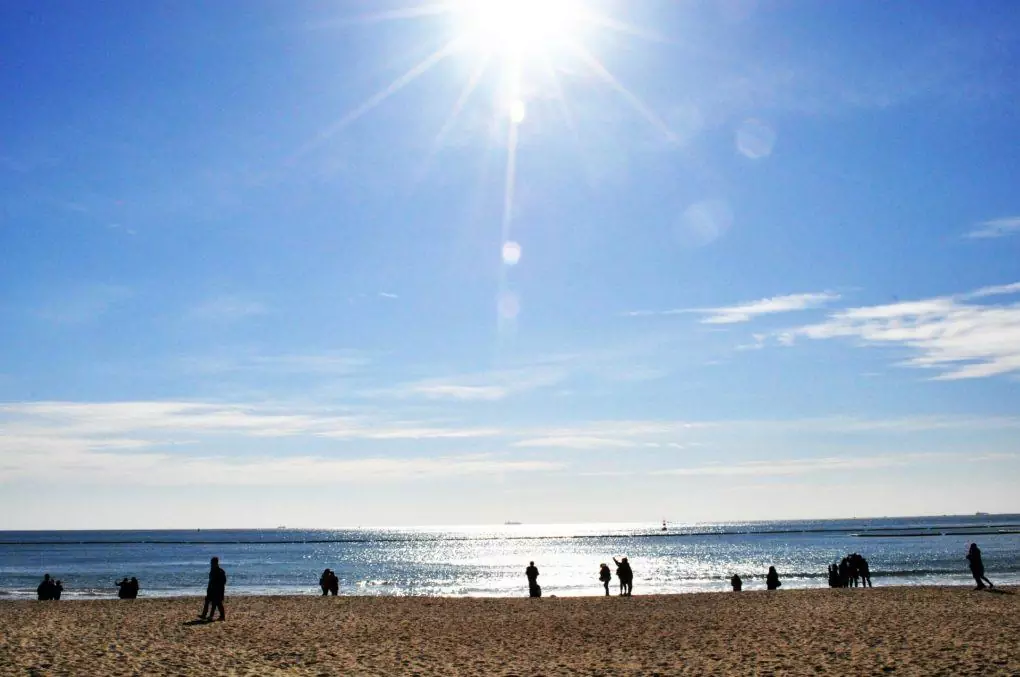 8 Unique Summer Activities in Korea
Despite the sweltering heat, tourists in Korea still try to make the most out of it by engaging in unique activities Koreans have in store for tourists. Here are 8 unique things to do during summer in Korea:
Paraglide over Yangpyeong
Be one with the wind and glide in the sky! There are so many places in Seoul that offer this kind of service (just like Busan or Daegu), but the best one has to be in Yangpyeong, where the north and south parts of the Han river meet.
People also enjoy an extended period in the air, since this is also the highest paragliding site in South Korea. It's quite pricey (₩120,000 for a 15-minute tandem paragliding), but the sights you'll see make up for it, going over lots of verdant farmland, famous for its pick-your-own fruit offerings in the summertime.
Paragliding in other parts of Korea won't be much cheaper, either, so just make sure you pick somewhere whose safety measures you trust.
Engage in Water Sports
Get physical by engaging in water sports in the Han river. I've seen plenty of people paddleboard, wakeboard, and even perform stunts on their jet skis whenever I come by in the summertime.
You don't have to be an expert to do this, though I do recommend having good balance. Newbies can even take lessons for just ₩ 35,000 at Playkok Jamsil Water Leisure Park.
Ride the Waves
If you want to ride the waves somewhere safe and supervised, Wave Park in Siheung lets you do that. All surfers ranging from beginner to advanced can have these waves customized to their liking. For ₩ 38,800, instructors are also provided to help beginners surf smoothly and confidently.
Drive an ATV
Who says that summer has to involve water? Why not take an All-Terrain Vehicle through Korea's outlands! You don't even have to be a licensed driver to run this thing, though most companies have an age minimum.
With a simple step of the pedal, you'll be trekking through the deep forest in this off-road, four-wheeler drive. Children can enjoy this activity too, though there's a closed-off course designed especially for them. To get access to the 40-minute course, you just pay ₩ 38,800 and fill out some forms.
Cool off in a café
Koreans love cafés, perhaps a tad too much. Everywhere you go, there's a nice café with enticing décor on each third block. But in Korea, people don't usually come for the coffee; they come for the experience.
One café that has come up with a unique concept to beat the Korean summer heat is Jean Frigo, an underground café hidden behind a fridge. The exterior is quite perplexing to see on a street corner, but if you open the fridge – well, you'll find yourself heading inside a cool café, both literally and figuratively.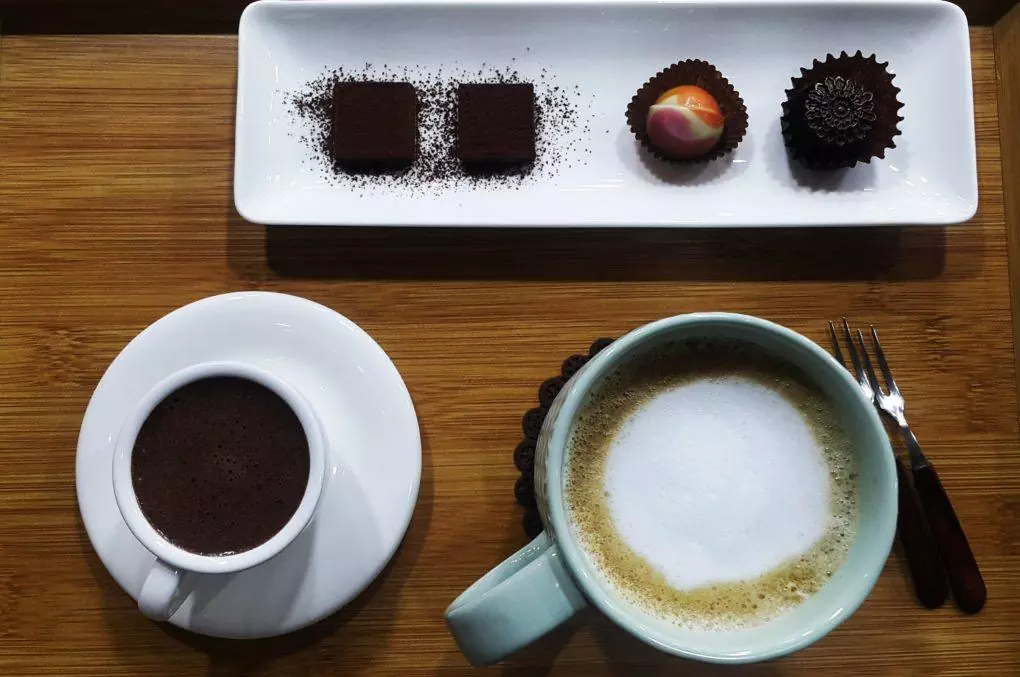 Visit a tropical island
But instead of booking a plane to Hawaii, just come to Coconut Box, a tropical-themed paradise that lets you kick off your shoes and lounge in any of their comfortable-looking cabanas and wooden huts.
You can have coffee and simple snacks here, and while waiting, you can wander around the dozens of bungalows that let you walk into Vincent van Gogh's Starry Night. There's also an area that lets you play VR games!
Treat yourself with a cold foot bath
After a long day of walking, dipping your toes into cool water might just be the fix you need to rest your weary legs. Foot baths are always amazing alternatives to jimjilbangs (Korean saunas), especially if you have no intention to stay inside for a whole day.
Tea Therapy in Bukchon Village lets you have that relaxing experience as you sip delicious tea.
Conquer the ice wall at Kolon
Climbers and thrill-seekers alike will revel in taking on this challenge. If you visit the Kolon Climbing School, you'll be surprised to know that there's another Guinness World Record located there.
Known as the "tallest ice wall in the entire world," this attraction is a 20-feet block of ice waiting to be conquered. Just prepare around ₩65,000 for the pleasure.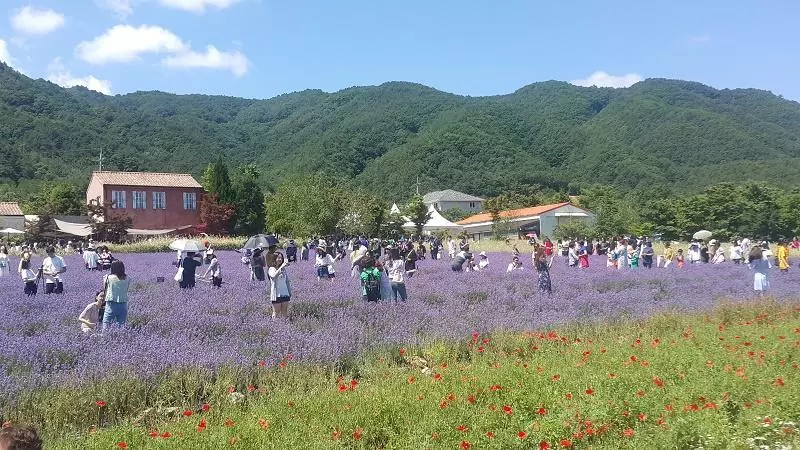 6 Summertime Holidays & Festivals in Korea
These are a selection of regional or themed festivals, holidays, and general happenings in Korea from July to September.
Attend the Mud Festival in Daechon Beach, Boryeong
Summer in South Korea is all about getting down and dirty, and Boryeong Mud Festival is a great way to get sticky and hot without worrying too much about what other people will think. This is in no small part because you won't be the only one in the mud pit.
From giant mud-slides to mud-prisons, people who love swimming through sludge will have a grand time here (not to mention the selfies!). Who knows, maybe you'll be this year's Mudflat Mini-Marathon Champion?
Get attacked by water guns during the Waterbomb Festival
Witness the hottest live performances in Korea, brought to you by your favorite K-Pop stars and DJs. All you have to do is gear up with your best water gun and blast it at people who come your way!
Throughout Waterbomb, you'll get to meet new friends you can team up with to win the craziest water battle of the South Korean summer. Don't bother trying to evade the water cannons here, because they're more powerful than the music blasting in the speakers.
Hear the bass drop at the World DJ Festival
'Innovative, mind blowing, and revolutionary'… these are the descriptions of this year's line-up. Watch the Olympic Stadium light up with fireworks as your favorite DJs from the local and international scenes drop their latest tracks.
This isn't my scene, but other English teachers always set alarms to get tickets as soon as they went on sale, so plan ahead for this one. You can hear it here first by grabbing your ticket here on the official site.
Celebrate at Seoul Festa
This annual tourist festival is a hit among foreigners, because the performances always showcase the hottest 4th-gen K-Pop stars, all simply opening for the legends of K-pop. With big names like Rain, Stray Kids and NCT Dream, people will definitely fight for tickets just to get inside Jamsil Sports Complex. Find out more details about Seoul Festa here.
Incheon Pentaport Rock Festival
Rock concerts have an energy of their own, and the one held every summer in Songdo is an adrenaline rush you can't get anywhere else. Fans of rock music can scream themselves silly as their favorite bands walk on stage, but be sure to set your alarm to buy tickets to the Incheon Pentaport Rock Festival ahead of time.
Hangang River Festival
Watch the Han River parks come alive as the destination is turned into a widespread festival enjoyed by thousands each year. 11 parks participated in the last iteration in 2019, and I recall them offering activities like famous film screenings and cultural performances that give people a taste of the best things Korea has in store for visitors.
8 Seasonal Summertime Foods in Korea
Jangeo-gui
Ever tried grilled eel? You should. There are plenty of restaurants selling this dish during the summer in Korea. The perfect source of vitamins A and E, this dish is probably the secret to Koreans' youthful look… and probably the couple culture (eel is also an aphrodisiac!) Try it with rice, and your stamina will be revitalized for the rest of the day— or so the legend goes.
Oi-muchim
This is perhaps the most famous summer Korean delicacy of them all, because the main ingredient lends a certain level of refreshment to the consumer.
It's one of the weird-tasting spicy side dishes you've probably seen tons of times before in Korean restaurants: cucumber kimchi. This crunchy banchan made of sliced cucumber marinated in strong kimchi and fish sauce helps you stay cool as a cucumber.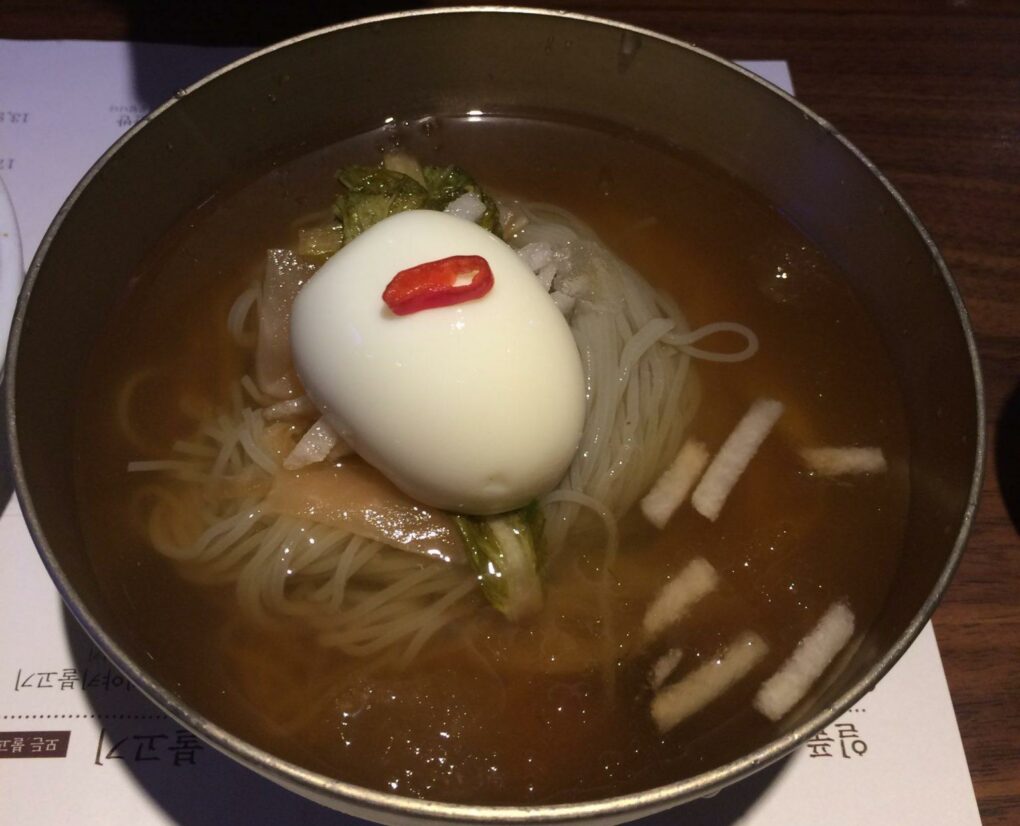 Naengmyeon
Have you ever tried cold noodles served in a bowl full of ice cubes? This famous summer staple in Korea actually translates to 'cold noodles,' and is composed of buckwheat noodles mixed with vegetables, slices of meat, and an icy beef broth.
Sometimes kimchi is added to the dish, leaving a burning sensation in your mouth that oddly relieves you from the heat, afterwards. Even though it might be an unusual mix for your tastebuds, naengmyeon pairs famously with hot grilled meats, and it's one of my favorite Korean foods for that reason alone.
Locals love it so much to the point that almost all of the restaurants put up signs to let people know they're finally serving naengmyeon when the warm weather rolls in.
Makguksu
Another cold noodle dish you should try is makguksu – or Gangwon province's own version of naengmyeon. Just like naengmyeon, these noodles are made out of buckwheat flour, then doused in a cold broth.
What sets this dish apart from the former is the concentration of the buckwheat used in the noodles, and the volume of vegetables thrown in the dish, making it chewier and tastier. Even though I lived in Gangwon-do for 3 years, I still prefer naengmyeon, thanks to the lighter flavor.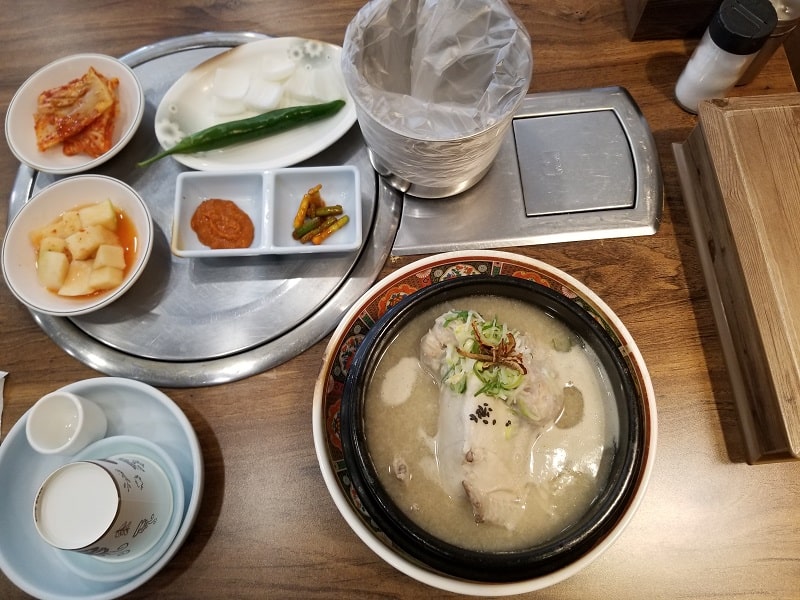 Samgyetang
Here's a dish that packs quite a protein punch, as the star is the whole young chicken sitting in soup. The visual is just as stunning as you might expect, because the chicken is actually stuffed with glutinous rice, young ginseng, jujubes, and a ginko bean.
There's actually symbolic meaning for each of the ingredients, including the toppings, as well as several variations to the flavor of the soup; my favorite is the sweet black garlic version from this famous restaurant in Seoul.
Most people go for samgyetang during the long korean summer because it loads you up with enough carbs to help you power through the heat and humidity.
Patbingsu
There is this legend in China of how the first ice cream was made out of snow, milk, and fruits. I'm not sure how Koreans got to red bean paste from fruit, but patbingsu is a Korean dessert that comes close to my mental image of that first ice cream: flaky snow-ice, condensed milk, and then a dollop of sweetened red bean paste.
Korean cafés make it too pretty to eat. But in recent years there's also been a new type of bingsu that's emerged, kwa-il bingsu (fruit bingsu), which tops the snow ice with fruit rather than bean paste. The best one I've ever tried is a watermelon version topped with vanilla ice cream; Sulbing is a good chain to visit for bingsu.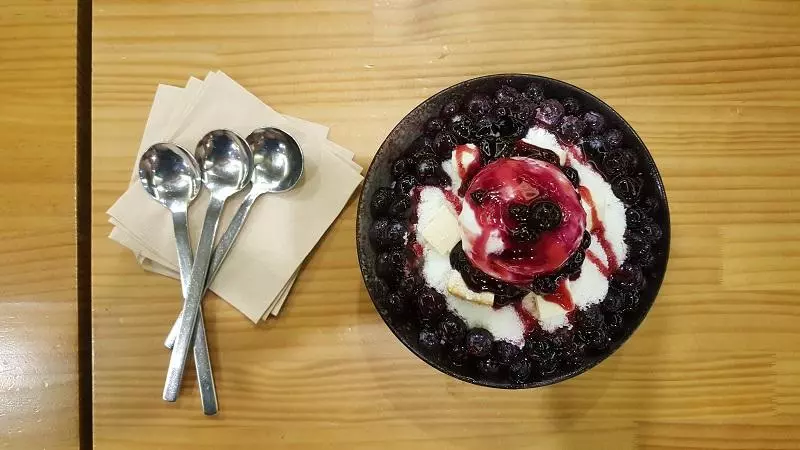 Chogye guksu
Beyond samgyetang, Koreans have another warm-weather chicken noodle soup, but this one features a chilled broth mixed with vinegar and herbs. Mustard is also used to add to its unique flavor, but it's optional & generally served on the side.
Despite this stew being an acquired taste by most accounts, once you get used to it, you'll appreciate the invigorating impact it has on you afterwards.
Summer Fruits
It is still mind-boggling how expensive fruits are in Korea, but it comes down to the land and climate. It can't support the tropical plants that bear the fruits they enjoy, but nearby countries do, and this is the season when they're imported.
Beyond that, summer is the best time for local fruits to be bought cheaply and used in patbingsu and other dishes. Three of the most popular summer fruits in Korea are cherries, watermelon, and peaches.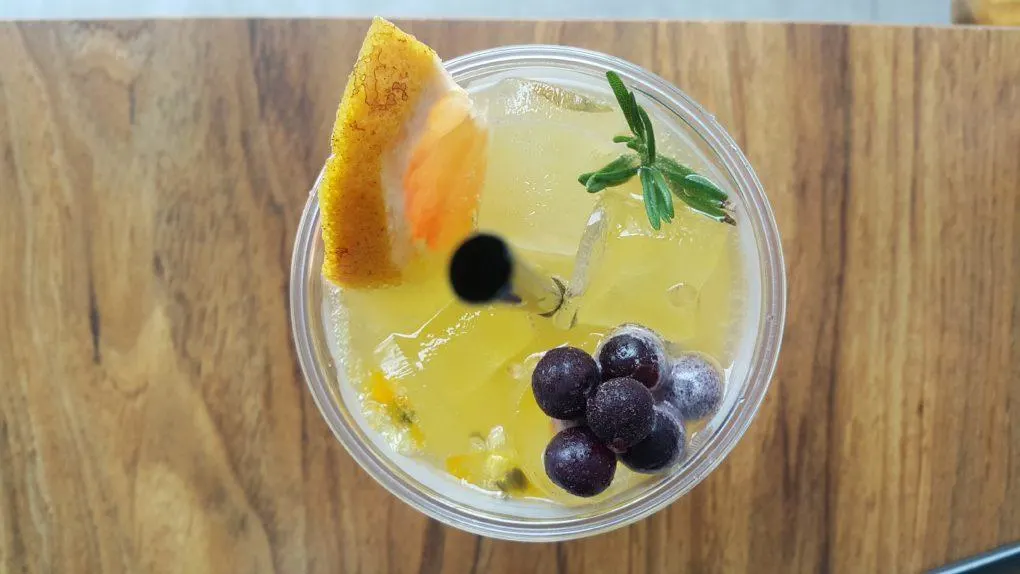 Tips for Visiting Korea in Summer
By now you should be aware that the weather here can feel like torture. So here are some quick tips to help you stay cool and comfortable during the summer in Korea.
Dress for comfort, but consider the culture. Honestly, this has to be emphasized. I've been chastised and shamed for showing shoulders in public or my top dipping below my clavicle, and I wouldn't be me if I didn't warn you. So while I'm all for wearing what you want, be mindful of what's considered appropriate in Korea.
Even though the younger generation is more accepting and supportive of 'revealing' outfits, most of the time you'll be in places crowded with people that are likely aren't. So try to cover your top half as much as you can bear, but the hypocrisy is real, so feel free to wear your shortest shorts.
Bring a reusable water bottle everywhere you go. The heat will make you want to drink water all the time, so many are tempted to grab a bottle or two from the convenience stores on every corner.
However, another way to save money is to just bring a reusable water bottle and refill it each time you encounter water fountains in public (like the mall or parks). Many of the public water fountains closed during covid, but most have since re-opened (excluding in the airport).
There will also be cafes that let you refill without having to order, but those are more the chain cafes, so keep an eye out.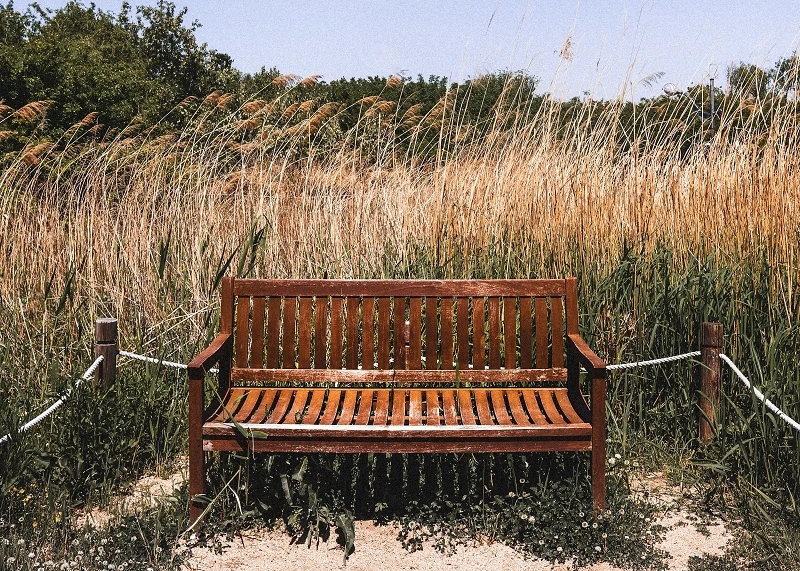 Load up on sunscreen. Very important. The heat can do damage to your skin, especially compounded by all the pollution in Korea, so neglecting to wear sunscreen is like asking the sun for a burn. No wonder they're so crazy about skincare here!
Bring a large towel. A funny thing about Korea is that large towels are just not the norm. To dry themselves they use a small, handkerchief-sized cloth, though all major hotel chains will now have regular-sized towels for guests.
Since most of the things on the lists above involve you getting wet, either by sweat or water (or mud, if you feel like participating in the mud festival), this is a worthy thing to bring when staying in a hostel. Don't listen to the other guides telling you that it will just be a bulky thing to add, as there are compact, quick-dry towels you can bring instead & thank me for later.
Download the important apps. Finally, if you don't know how to navigate around Korea, you need to sort out which apps to download in order to make your summer stay efficient and worthwhile. Plus, it lessens your chances of getting lost under the scorching sun.
Even though it is not the best time of the year to come, in my opinion, spending your summer in Korea doesn't have to be a constant challenge against the heat. Hopefully this guide has given you plenty of ideas as to how to build your Korea itinerary to make it one of the best summers you've ever had.