South Korea has a vibrant snacking culture. From crunchy to sweet, there is a snack to suit everyone's taste and vibe. In Korean dramas and variety shows, or the Instagram reels of K-influencers, you get a glimpse of how much their nation loves snacking. Just watch a few mukbang and you'll get what we mean.
My elementary school students when I was a teacher there, loved their milk packed in cute and fun boxes for breakfast, while high schoolers grab chips or biscuits while studying. Young adults with limited time catch up with friends over instant ramyeon with roasted seaweed and fresh kimchi.
But no matter what, when hunger visits just before bedtime, and there's nothing in the pantry, adults of all ages are known to go to the nearest pyeonijeom (convenience store) to satisfy the craving. For those who love drinking, there's even a word for the food you pair with alcohol: it's called anju.
Wonder if you could have a taste of the best Korean snacks even if you're not in South Korea? Check out our roundup below! Once you go on a full search of the available Korean snacks online or those that are exclusively available in Korea, you'll be surprised that what you've seen in Korean movies is just the tip of the iceberg.
And if you're interested in discovering other cultures, you might even fall in love with the history behind some of their traditional snacks.
Spicy Korean Snacks
Korea is known for its spicy dishes, with bubbling red soups and sauces that boast the distinct flavors of gochugaru.
Nongshim Fried Chicken Drumstick Hot BBQ Snack
This one is spicy Korean barbecue in a snack. These cute chips in the form of mini chicken drumsticks are crunchy and seasoned exactly like the staple Korean fried chicken in spicy BBQ flavor. It gives you a hint of sweetness that ends with a fiery kick.
They're the perfect snack for when you miss Korean-style fried chicken but don't have the time to cook your own or the money to order delivery. Or, if drinking at home is your thing, then the saltiness of this snack would be great with a bottle of beer.
Plus, if you've been a Kdrama fan for some time, you know how Koreans love to pair their chips with somaek (soju mixed with beer).
Haitai Sindangdong Tteokbokki
Tteokbokki is a well-loved Korean dish packed with the flavors of gochujang, garlic, a bit of soy sauce, and sugar. It's a street snack that Koreans can eat any time of the day, all year round. You may find tteokbokki in a restaurant, a street stall, or in the local markets.
No wonder Haitai Sindangding Tteokbokki was able to capture the love of many locals. Although, unlike actual tteokbokki, which has a soft and chewy texture, the snack version is light and crispy. But just like the real rice cakes, this snack is loaded with the spicy flavors you would expect.
It's worth noting, though, that while it has some heat, the flavor of this snack leads to the sweet side. A win-win if you love snacks that are sweet, salty, and spicy all at once!
Samyang Dried Squid in Spicy Chicken Flavor
Samyang is known for its spicy snack creations. If you love fiery snacks, you'll want to try their spicy dried squid seasoned with spicy chicken flavor. And because it's made by the brand that introduced the fire noodle collection (which actually started Youtube's Fire Noodle Challenge), expect it to have a strong kick.
But this snack is not just about the heat. One thing that makes it stand out from other Korean snacks is the umami you get as you chew on the dried squid itself. Samyang Dried Squid is close to beef jerky in texture.
So aside from being a great late night snack, this also works as a good jaw exercise. However, it might not appeal to those who prefer crispy and airy snacks.
Samyang Spicy Chicken Ramen Snack
I'd never tried uncooked ramen before, though I know it's not uncommon, so I was super apprehensive when this stuff first came onto the market.
But if you developed a bit of a ramen addiction on a trip to Korea, or even just your local H-Mart, these are the snack for you. It's spicy, smoky, crunchy and delicious, just like the original ramen it's modelled after.
Samlip's Hot & Spicy Baked Baguette Snack
The world knows how Asian cultures value rice. But as time passes and the world gets busier, more and more people see bread as a great alternative. In Korea, bread is locally known as ppang, and it's become a staple on breakfast tables and an inspiration for many Korean snacks.
These baguettes have just the right crisp, well-seasoned with spicy and savory flavors that make you want to eat them in one sitting. A very convenient snack you can eat any time of the day, these baguettes won't leave you feeling too guilty, either, as they're baked, not fried.
Because they're crispy, they also make for a great alternative to croutons.
Traditional Korean Snacks
Also known as hangwa, traditional Korean sweets are very snacksable. They don't just taste good, either; each one has its own story. Some of them even played a part in South Korea's rich history and colorful modern holidays.
Songpyeon
Sweet, chewy, and nutty treats with a traditional hint of pine tree aroma – songpyeon are bite-sized mochi desserts that usually have sweet to semi-sweet fillings. With options like dates, jujubes, red beans, soybeans, cowpeas, honey, and/or sesame seeds, these Korean mochi cookies are classically muted in flavor.
Koreans usually make their own, but frozen Songpyeon can be found in local supermarkets, especially during chuseok (Korean Thanksgiving). While many traditional Korean snacks are served during Chuseok, Songpyeon is the main star among Korean confections.
These cute little rice cakes are shaped like a half moon, perfect for Korea's Harvest Moon Festival. The colorful Korean rice cakes are steamed in pine needles for two interesting reasons. One is to prevent the rice cakes from sticking to the steamer.
Two is because Korean ancestors believed that when you steam songpyeon over a bed of pine needles, the chi of the pine tree would get absorbed by the rice cakes. As a result, the chi in the rice cakes will be passed on to the person who eats it, helping them stay healthy.
Yakgwa
Traditionally, Yakgwa is served during a jesa (ancestral rites) or during festive days such as Chuseok, marriages, and birthdays. Today you can find it anytime in traditional markets in Korea, usually advertized as 'honey cookies' in Korean.
Because this hangwa is deep-fried, expect it to be a little oily. And since the process involves submerging the fried dough in honey, it's a bit chewy and really sweet, making it the perfect match for Jeju green tea.
However, some believe that a good yakgwa is neither too sweet nor too oily, which is hard to get when buying pre-packed versions. It's also worth noting (especially if you have allergies) that there are other versions of yakgwa with ginger juice, pine nuts, toasted sesame seeds, or rice malt syrup.
Yugwa
Another traditional Korean snack, yugwa is also deep fried, but is made with sticky rice as the base. If you like crispy, airy, and sweet snacks, then yugwa is for you. Back in the Joseon Dynasty, only royals and elites could afford to eat it, as commoners couldn't afford the price of rice.
The Korean Times believes that yugwa is the most difficult Korean sweet to make. This is because it involves a delicate process of mixing the glutinous rice and flour to make a dough, and then letting it ferment (to help it expand in the frying process).
After frying, honey acts as the glue so that the sesame seeds or puffed rice cover it evenly. Yugwa is another perfect Korean snack for tea time.
Dalgona Candy
If there's another thing Korean that's not Kdrama- or Kpop-related that took social media by storm, it's probably dalgona. This crunchy honeycomb toffee got its name from a casual Korean word, dalda, which means "it's sweet!"
Because of the dalgona coffee trend in 2020, some might have mistaken 'dalgona' for a coffee flavor. But the popular Netflix series Squid Game shows what dalgona Korean candy really is, if you pay attention.
It's very sweet, a bit bitter, and mildly nutty. And because the recipe only needs a couple spoons of sugar, baking soda, and some strings (to draw some fun icons), it's a great activity to keep the kids entertained while keeping up with tradition.
Yaksik
Think about the traditional English holiday fruit cake, loaded with dried fruits and nuts, but replace the dough with sticky steamed rice. Yaksik or Yakbap is a chewy rice cake with amazing textures from both nuts and dried fruits.
They typically appear darker because of the brown sugar and honey used in the base. It's traditionally served during one of the first annual holidays in Korea: Jeongwal Daeboreum. Looking back at history, yaksik is another confection with a fascinating backstory.
It's said to have originated during the Samguk Era. On January 15, 488, the country then-known-as Silla's King Soji was warned through a letter delivered by a crow about an assassination attempt by the queen.
As a form of gratification to the crows for saving his life, King Soji made yaksik as an offering to the crows on the 15th day of the lunar calendar.
Best Korean Chips
For the days when you don't feel like eating a huge meal and just want to munch on some tasty snacks on the couch, a pack of chips is your best pick.
Calbee Honey Butter Chips
When you're used to having classic flavors like barbecue or salt & pepper, this sweet, salty, and tangy take on the classic potato chip might surprise your taste buds. Featuring the flavors of French butter and acacia honey – Calbee's Honey Butter Chips are something you won't easily find in local supermarkets.
When it was launched in 2014, it was an instant hit that birthed a nationwide honey butter craze, which was even featured in The Wallstreet Journal. Although it was first launched in Japan and was there for some time, it never got much attention and was only sold for a limited time.
Some argue that it might be because it had a better marketing strategy when it was brought to Korea. But it's also worth noting that this snack dominated the Korean market to the point that they even had to pause orders because of overwhelming demand.
Orion Turtle Chips
Known locally as kkobuk chips, the four layers of this corn snack resemble the shape of a turtle's shell, making this snack stand out with bite-sized bits with a puffy and crunchy texture.
Because it's a Korean snack, the flavor of Turtle chips isn't just salty. In fact, the most popular type is the Chocolate Churros flavor. It was only launched in 2020, but it's already gained popularity among local consumers. If you're not a fan of sweet chips, you might want to try their savory flavors, such as Corn Soup or even Shrimp.
Orion Swing Chip
If you go to South Korea for a visit, their love affair with anything potato is evident in the street food. Whether it's boiled or grilled sweet potato, or their classic savory twisted potatoes, there is no doubt that this starchy veggie has a special place in Korean hearts.
Perhaps this is the reason why Orion thought these were the perfect way to please potato lovers who also love heat.
Orion Swing Chips are crispy and fresh, made with real potatoes tossed in seasoning. It has that kick of flavor that leaves a satisfying savory finish. These are best enjoyed during the afternoon, chilling with friends, or having a beer session late at night.
Lotte Kkokkalcorn
Remember Bugles? Those cone-shaped corn chips we used to put on our fingers and pretend they were claws? Korea has them too. An undeniably fun take on snacking, these chips aren't just for sharing with friends, but also give you a real taste of fresh corn, as the name promises.
They're light, airy, sweet, and salty, making it hard to stop munching on them once you open a pack.
Nongshim Sweet Potato
From K-dramas to the real streets of Seoul, sweet potato is always a comfort food for Koreans. This is especially true during winter, as eating one when you don't have gloves is a great way to keep your hands warm!
Locally called goguma, this versatile crop is appreciated by Koreans in all its forms: boiled, grilled, fried, mixed in different dishes, and sometimes even taken as a drink. Now it can also be enjoyed as a chip, like Nongshim's Sweet Potato flavored snack.
Nongshim's initiative to turn Korea's favorite vegetable into chips is yet more proof that Koreans are serious about highlighting the flavors of childhood. Exporting these snacks is their way of sharing their culture with other nations — and that's just as sweet as a goguma.
Korean Cheetos
These are quite different from the cheetos I grew up eating in the US. While they're still a corn-based snack, they're a notoriously sweeter version, with Korean cheetos having a lot more sugar and way less salt.
It means they taste much less cheesy than we think of them, which is right in line with other Korean-American fusions (think the pizzas from Paris Baguette).
Orion Pocha Chip
A list of the best chips in Korea wouldn't be complete without talking about the signature chips made by Orion – the widely-loved Pochachip.
If you're not that adventurous when it comes to trying new flavors, it's completely fine. While Korean snack manufacturers are not afraid to jump on new flavors, they are smart enough to have flavors for those who love the classics.
Orion Pochachips feature simple flavors like salt, onion, gochugaru, and seaweed, while also daring to introduce fun flavors like kimchi fried rice or egg flavor to its market. Pocha Chips are said to be the very first real potato snack in Korea, launched in 1988.
Sweet Korean Snacks
In the old days, Koreans weren't fond of too much sweetness. An apple or pear was enough, if they wanted to have something sweet after a meal. But as time passes, Koreans are becoming more innovative and open to trying sweet snacks, some of which you might like.
Choco Pie
It's almost impossible to meet a young Korean that doesn't know what a choco pie is. In Korea, the choco pie symbolizes the word jeong. Although jeong doesn't have an exact equivalent in English, the closest definition is the feeling of human kindness between people, or your attachment to a person.
Just like how the yellow cake, the marshmallow filling, and the chocolate coating of the chocopie are bonded together, resulting in a tasty confection. Among the well-known Korean brands that offer choco pie are Orion and Lotte.
The former is more famous, but some fans of this sweet snack believe Lotte has more of the marshmallow filling.
Pepero Sticks
From one famous snack to another, Pepero is beyond just being a yummy sweet snack. In Korea, this treat is thought to help spark a sweet connection between two people. If you're trying Pepero for the first time, expect a rich, sweet chocolate coating on stick-thin, crispy biscuits.
Originally from South Korea, this snack started with simple flavors such as milk chocolate, dark chocolate, and almonds. Today, Pepero has over 20 flavors available, ranging from strawberry, cookies & cream, nude (or the reverse version, where the fillings are the inside of the sticks), to peanuts and corn.
And the most interesting part? Koreans even have Pepero Day, one of the biggest marketing holidays that happens every 11th of November or 11/11 – as the number one looks like a Pepero stick. On this day, you make your loved ones and someone you like feel special by giving a box of Pepero.
Haitai Matdongsan Peanut Crunch
Matsongdan Peanut Crunch is a classic, no-frills snack that gives you exactly what it claims to – a sweet & crunchy caramel snack with real peanut bits. If you're into nutty snacks, you'll be a fan of this.
Also known as peanut cookies, Matdongsan is another sweet treat that tends to remind Koreans of their childhood. Since it was introduced by the Hatai Company in 1975, many locals grew up enjoying this hard-to-resist snack.
Nowadays Haitai's Matdongsan is available in local supermarkets and widely recognized by non-Koreans in different parts of the world.
Choco Boy Chocolate
Choco-boy chocolate snacks are fun and adorable munchies that come in the form of mushrooms: the "stalks" are all biscuits, while the "heads" are made of chocolates.
Once you've seen these unique snacks, you'll notice that they definitely fall under the too-cute-to-eat category. As for the taste, you'll get vanilla biscuits with just the right sweetness, and the usual milk chocolate that melts in the mouth.
The crunchy contrast of the biscuits and the smooth chocolate are a perfect match. Although there's nothing special about the taste of the chocolate part, some people can't get enough of this sweet Korean snack. It's a sure winner, especially for the kids (and kids at heart).
Nongshim Banana Kick Korean Snack
These are banana-flavored corn puffs. Yes, you read it right. For young fans of this snack, it's definitely a hit. And just as the name suggests, you'll get a strong banana kick from its essence.
More than just a kid's snack, Banana Kick are best paired with milk; they're the perfect addition to your favorite dessert. You can crush some of them in your fist to top a parfait or banana split.
Savory Korean Snacks
Savory snacks are always a comfort, and Korea has a lot of seafood snacks to offer.
Bibigo Seasoned Roasted Seaweed
Seaweed is an integral part of South Korean dishes. From birthday soup to gimbap, dried seaweed is just as important as kimchi. Although seaweed sheets originated in Japan, upon their introduction, Koreans quickly found a way to create something closer to their tastes and preferences.
This gave birth to packs of roasted seaweed seasoned with salt or other savory flavorings. It is best paired with kimchi rice or ramyeon, as it's crispier and lighter than nori sheets. Bibigo, a famous Korean brand, offers many flavors of dried seaweed, such as K-BBQ and Hot Chicken.
Lobster Seasoned Almonds
Lobster, or badaggajae, is a pretty expensive seafood in South Korea, especially for those who live far from the ocean. And although there are buffets and street food spots in Myeondong which offer lobster dishes, it may cost an arm and a leg.
Thankfully there is a snack for Koreans who love savory seafood dishes: the Lobster Flavored Almond. It may not offer the exact flavors of lobster dipped in butter, but it does taste like a cajun lobster dish.
Favorips Shiitake Mushroom Snack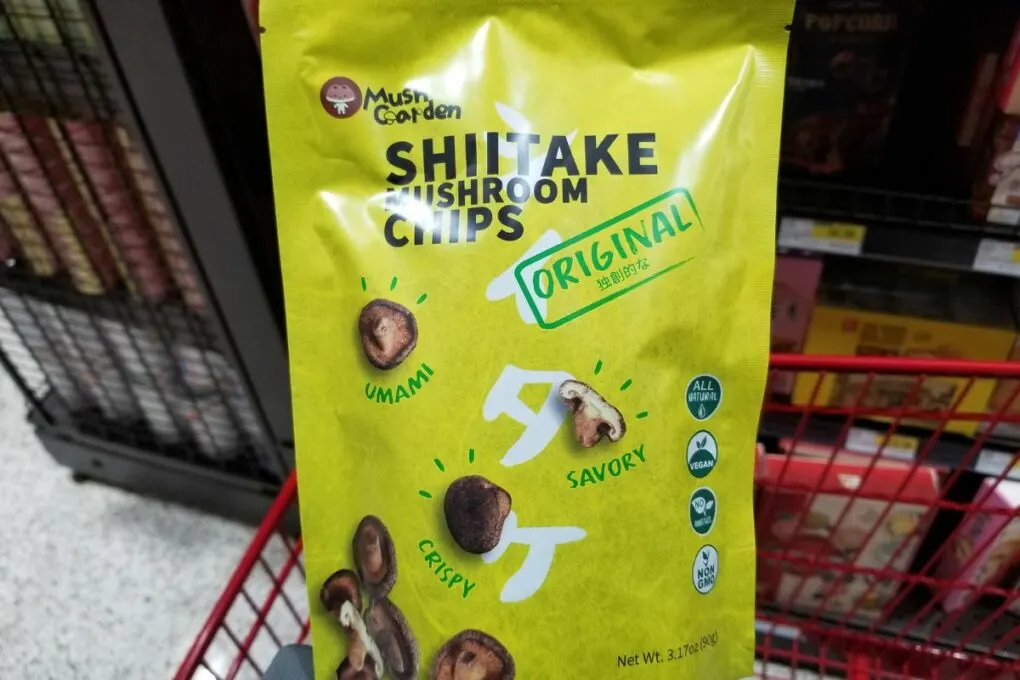 When you go through different Korean dishes, including the banchan (side dishes), you'll see how much this nation loves veggies. It's evident in Korean snacks too. If you want something savory but need a break from meats and overly-seasoned snacks, Favorip's Shiitake Mushroom snack is a great alternative.
Not only does it have the natural savoriness of mushrooms, but they're a healthier alternative to other chips. Favorips brand is gluten-free, has no MSG, and uses mushrooms grown without herbicides.
Binggrae Crab Chips Original
Some might describe this snack as a 'love at first crunch.' A baked crunchy, fluffy, and lightly-salted snack made with Korean blue crab meat, Binggrae Crab Chips are the perfect snack any time of the day. They're best paired with cold drinks, though which one is ideal varies by time of day.
This beloved Korean snack has been on the market for three decades and is still one of the most sought-after chips in Korea, so the company consistently introduces more flavors to the market.
Jeollanamdo Roasted Fish Jerky
Jeollanamdo Roasted Fish Jerky comes in a party tub, perfect for group activities such as movie marathons, board game nights, or late-night beer sessions.
Inspired by Korea's traditional pressed fish jerky or jwipo, this chip is beyond savory fish flavor, coming in the form of light and delicate crackers that melt in your mouth. The fish used to make these are even caught straight from the Korean ocean by local fishermen.