A heavy focus on manufacturing since the 1980s has transformed Korea's economy into a global industrial giant. It's continued growing ever since, and recently the world has taken notice.
Across the globe, industrial souvenirs from Korea are hard to miss since most of our electronics, automobiles, and even telecommunications come from the peninsula. But those are almost all expensive things that you can buy anywhere.
So what are the best souvenirs from Korea, that were actually made in Korea?
Locals do still create things that are unique to the regional culture, and you can spot such Korean souvenirs in any market you visit. This is due in part to the influx of tourists, who are now coming back to Korea in droves.
This is in no small part due to the conscious & careful promotion of Korean culture over the years. People want to have first-hand experiences of the country's unique history, festivals, music, and design.
A bustling metropolis, Seoul is often their first stop, as the city always has something exciting to offer. It's where you'll find Hallyu paraphernalia, K-Beauty Products, and K-Fashion. You can even take home souvenirs made in Korea, like the many discussed below.
After reading this article, you may find it challenging to come home without carrying an extra bag of goodies. Read on to find out where to shop for souvenirs in Korea!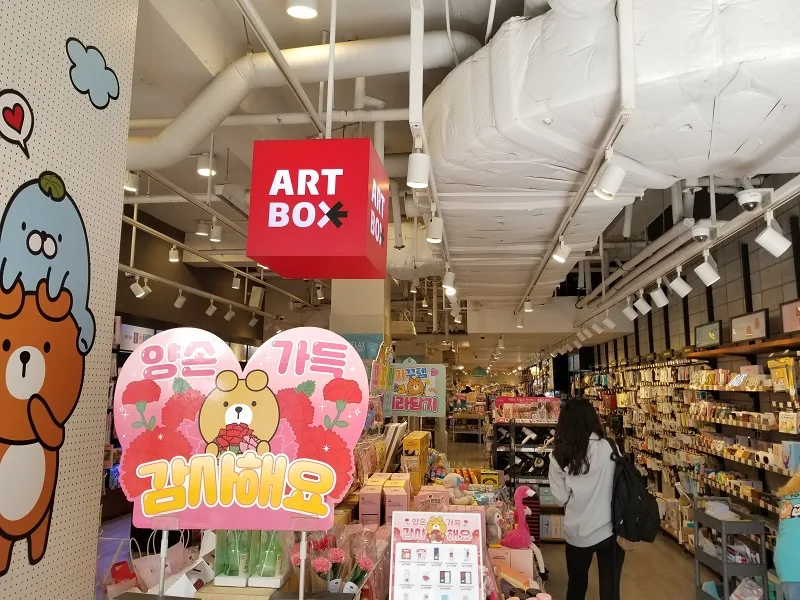 Where to Buy Souvenirs in Korea
Perhaps one of the oldest night markets in Seoul, Namdaemun Market holds a reputation for being a market that sells a variety of affordable goods. However they are best known for their traditional handicrafts, clothes, and accessories.
Locals and tourists visiting the areas around Myeong-dong, Deoksugung Palace, and Gwanghwamun Gate often wander inside, making it a cultural melting pot. For this reason, stalls around the market serve delicious local specialties like kalguksu (칼국수), jokbal (족발), and galchi jorim (갈치조림).
All of this makes Namdaemun Market the perfect place to rest your tired legs after a day-long tour of Seoul's old town.
A 700-meter long strip from Tapgol Park to the Anguk-dong rotary, Insadong street is a bustling, lively center full of tea houses, street food, and souvenir shops. Like Namdaemun Market, many places along the road sell traditional handicrafts, pottery, and antiques.
Even though the entire neighborhood is surrounded by futuristic Seoul architecture, Insadong is one of those spots that brings back the classic, historical vibe of old Korean culture.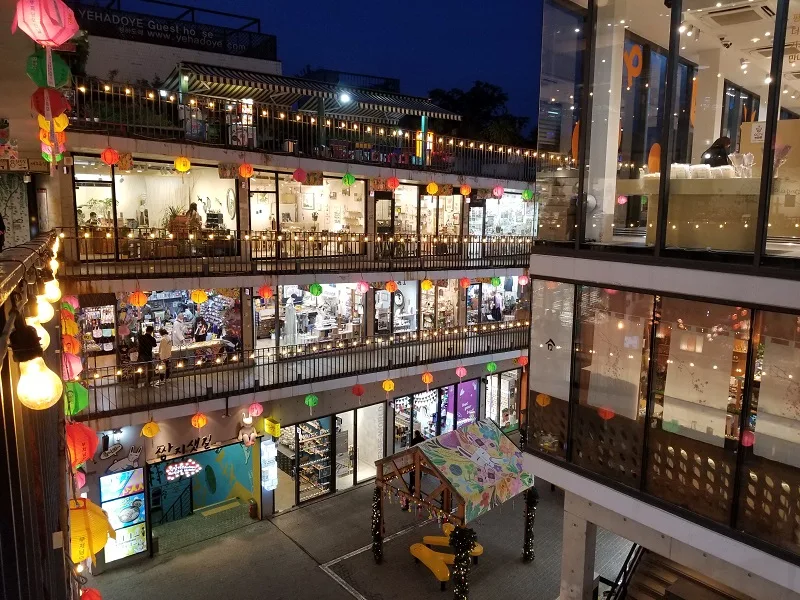 Gangnam is one of the wealthier areas in Seoul, but who says you can't come here for shopping? Apgujeong Rodeo Street is where Korean fashionistas gather, excited to observed the emerging trends and popular styles. It's also where celebrities and influencers gather, and it seems to have become an unspoken rule to dress like the wealthy here.
Even though the vibe of the place screams Crazy Rich Asians, you don't need wealth and status to enter here. While it is true that most stores sell branded items, up-and-coming designers, as well as boutique owners, still offer affordable luxury goods.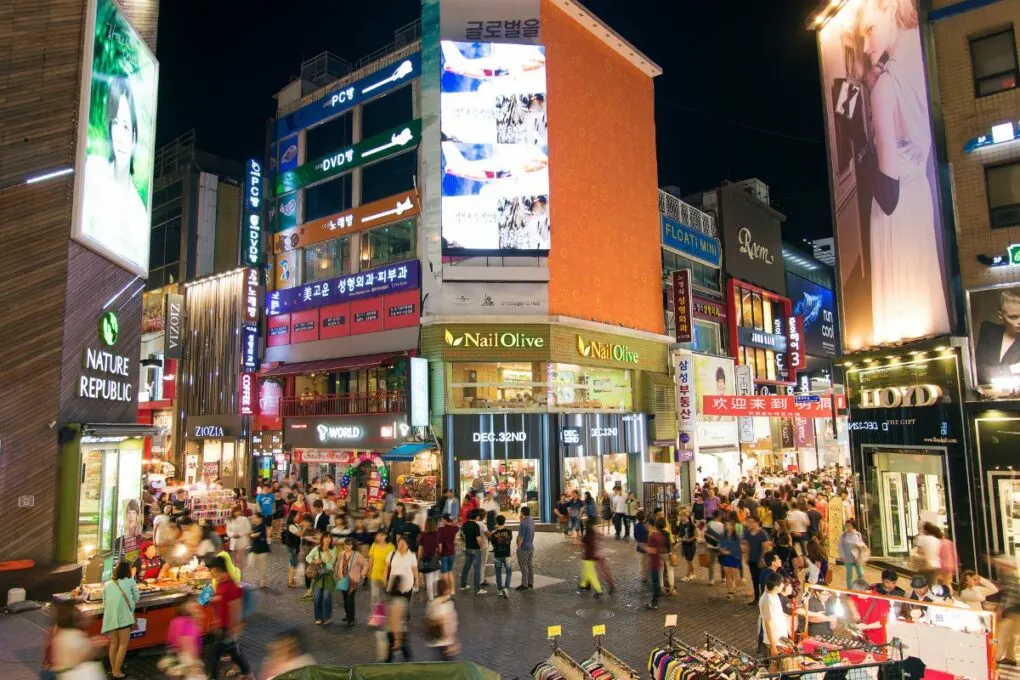 In Korea there are tons of underground shopping centers, but this one is hands down the best one in Seoul. This place has everything you need, from K-Pop merch to traditional trinkets (often made in China). These are all sold at a reasonable price, sometimes available for a bargain if you're buying in bulk.
Those who wish to purchase gifts for their loved ones can find decent options here, and the best part is that it's open 24 hours, for nonstop shopping in Seoul.
Busan Gamcheon Culture Village
Hipsters visiting Busan would love this place. Once a shanty village, this area was transformed into an unforgettable icon by local artists with eye-catching murals and quirky wall paintings. Here you'll also get to find unique souvenirs from Korea that are just as colorful as the village itself.
Walk up and down the hills to enjoy the atmosphere, and take as many pictures as you can before it closes daily at 5pm.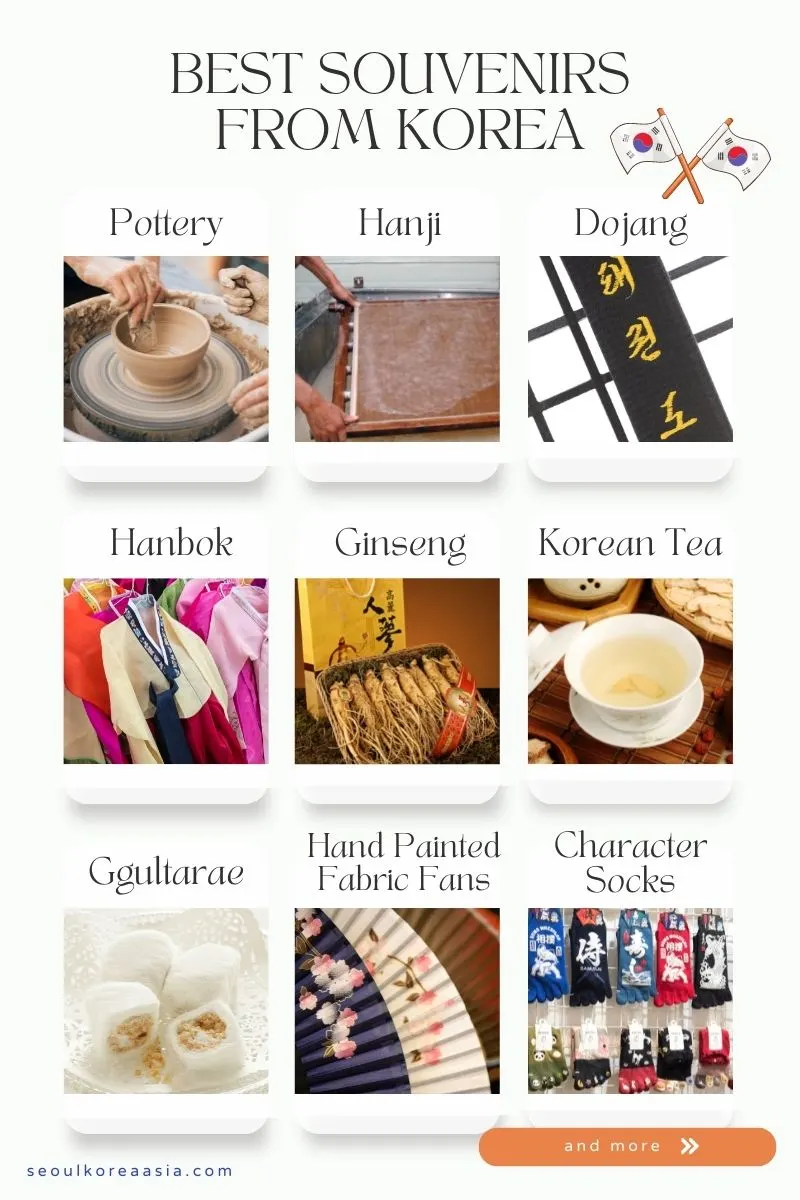 Best Souvenirs From Korea
Like China and Japan, Korea is one of the Asian countries known for creating elegant pottery. You can find rows of these delicate handicrafts in any Korean market, though always check the bottom to make sure they weren't made in China.
Moreover, there are tons of shops that teach you how to make traditional Korean pottery. Ssamziegil Experience Workshop in Insadong, for example, lets you don an apron and try your hand at making pots, vases, and jars. Who knew that getting your hands literally dirty could be therapeutic?
Hanji (Korean Paper Products)
Artsy people might go crazy seeing hanji in Korean markets, because these dainty pieces of paper are made from vibrant material that is popular domestically for scrapbooking, origami, and letter-writing.
Calligraphy shops hang these things, and you can even practice your brush-writing skills in some places. The best part is that they're perfectly affordable, each piece ranging from ₩2,500-₩3,500.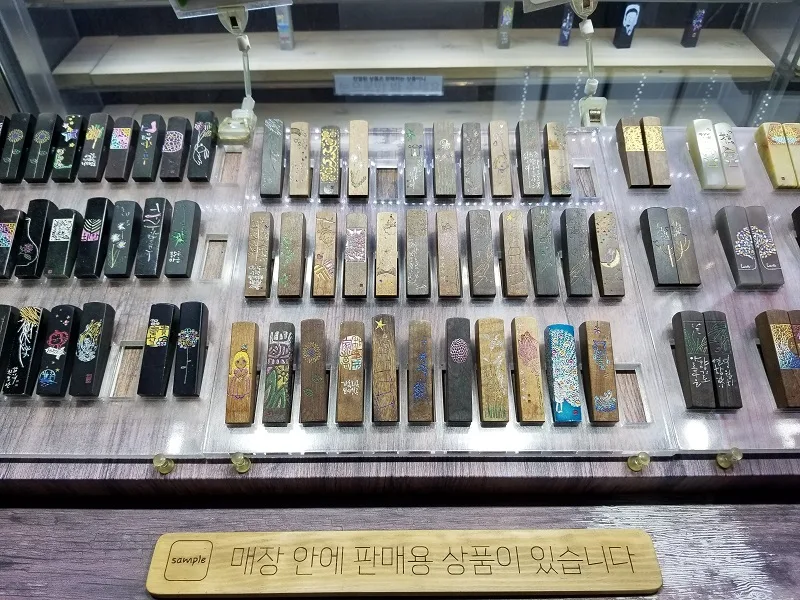 Dojangs are little personalized stamps customized with your name or signature, making this the ideal gift to give to your superior or favorite work colleagues. Koreans heavily use these stamps for signing official documents, and you can have them customized according to your liking.
It's pretty pricey (the cheapest usually costs around ₩30,000), but these things last for decades, making this a durable gift that people will surely appreciate. Most shops will even throw in a small decorative bag for your stamp, for free.
Hanbok (Korean Traditional Clothes)
Tourists visiting palaces or temples will usually notice people in these long, flowy dresses with intricate and elaborate designs. These are traditional Korean outfits known a shanboks, and the mens' outfits are generally more understated than the womens'.
Depending on the fabric quality, full hanboks are usually priced between ₩130,000 and ₩700,000. Custom-made ones can cost even more, and it takes about a week or two to create.
The further downside of keeping your own hanbok is that it can be difficult to store and clean; maintenance for these things is usually expensive. That's why people usually opt to find a modernized version of this clothing instead, called the modern hanbok.
The modern hanbok is a chic garment that honors its roots' magnificence while being smaller and more affordable. Furthermore, a lot of people appreciate the fashionable cut of the garments.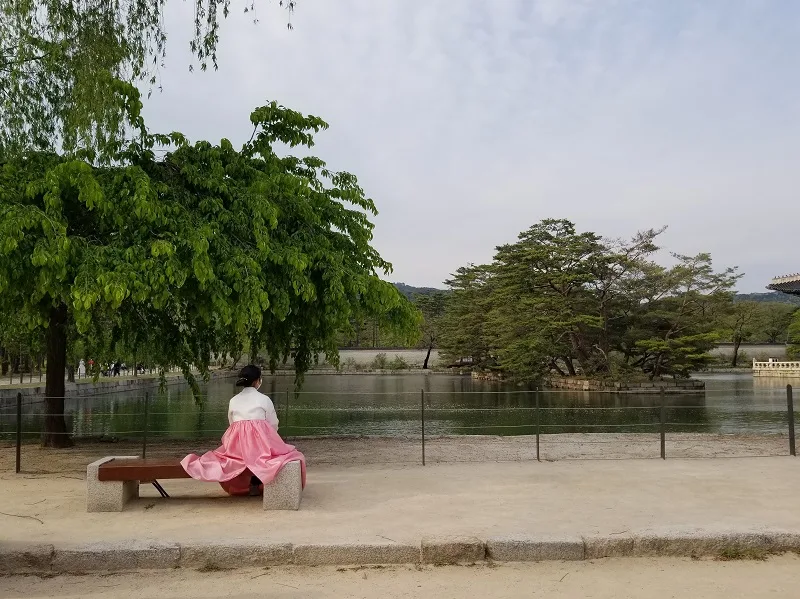 Koreans often say that they grow the highest quality ginseng in the world. After all, ginseng is known to be a skincare enthusiast's holy grail, as well as a strong stomach soother. People who regularly consume ginseng are said to end up having healthier-looking skin.
Products that contain ginseng are often treated like health supplements here, so you can find it at a variety of strengths and grades. Since locals highly regard these things, it is expected and understandable to see them sold at a considerably high price.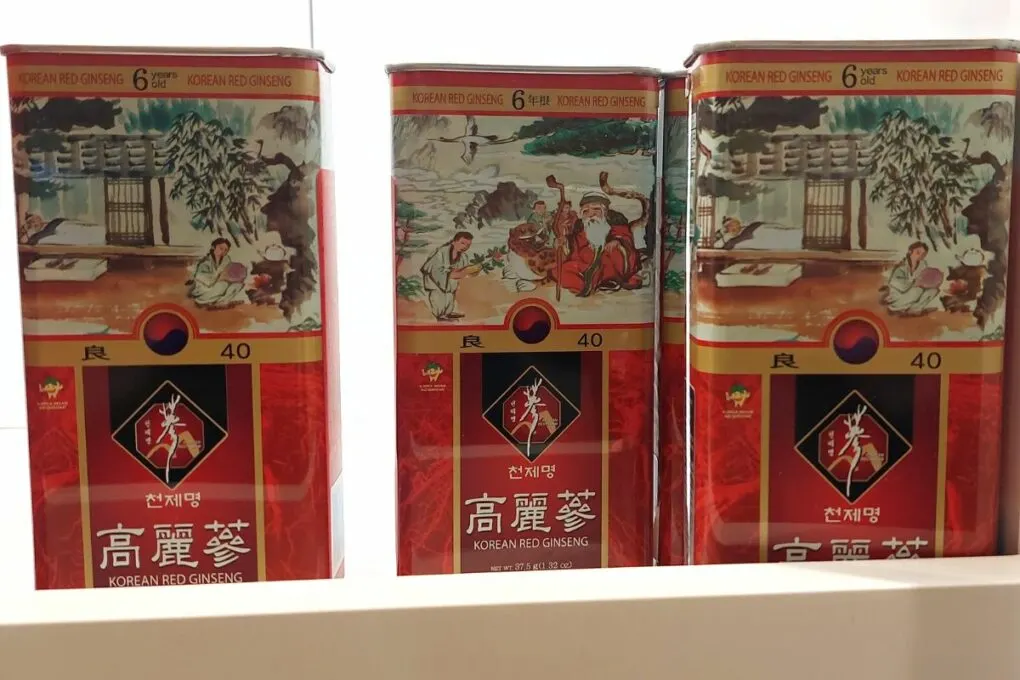 Korean Tea
Tea has played a significant role in Korean culture– so much so to the point that they hold tea ceremonies for spiritual cleansing. Koreans are also particular about health and heavily believe in the benefits of traditional teas.
Omija, or "5 flavors," is known for cleansing the kidney and the body thoroughly. Meshil, on the other hand, helps reduce fatigue and kick-start your appetite. In Insadong, you can find the O'Sulloc Tea House. They have at least a hundred varieties of high-quality tea, but their best seller is Jeju green tea.
Getting a box usually costs around ₩15,000, but their most expensive tea is priced at ₩100,000. This place also doubles as a green tea café, and their cakes taste divine. Matcha lovers would find it hard to leave after trying their double green tea cheesecake.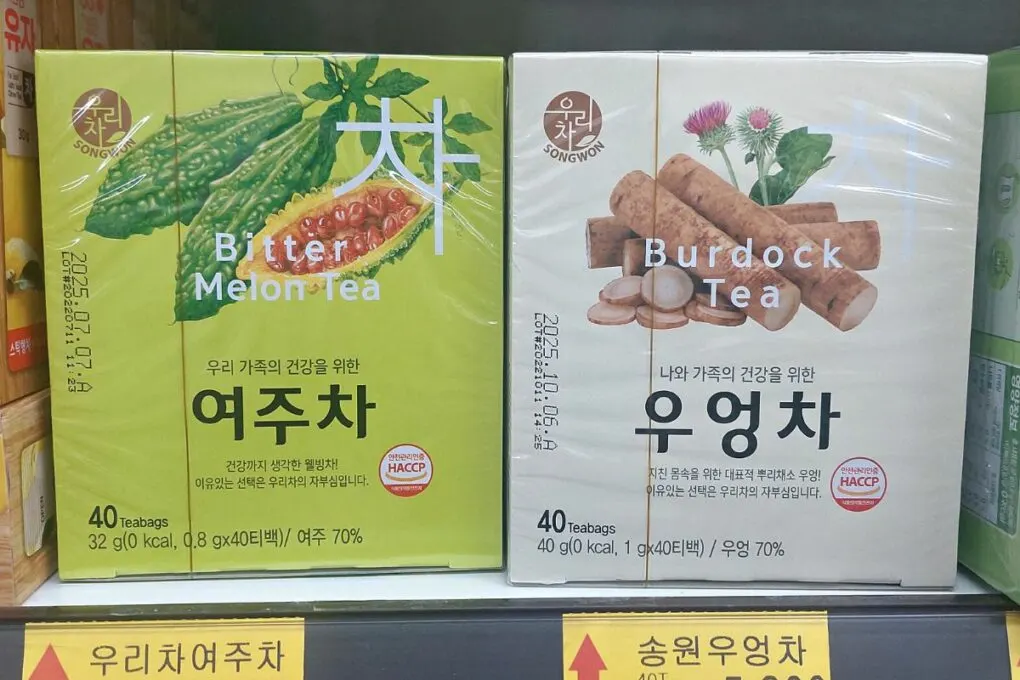 Hand Painted Fabric Fans
Folding fans can be found everywhere in Asia, but Korea takes these things to the next level because they have a creative way of designing them. You can tell that each fan is carefully hand-painted with unique designs that show off traditional Korean beauty.
In Namdaemun Market, you can get these things for ₩10,000 apiece, but in Insadong you can sometimes find them for cheaper if buying three or more.
Ggultarae (Dragon Beard Candy)
These wispy treats look like something straight out of an insect's nest, but they taste like a honeyed dessert! The one I tried in Insadong tastes a lot like chocolate, but apparently, it comes in peanut and almond flavors too.
This candy is unique to Korea, and it would be a shame if you overlooked this strange-looking treat (if you can find it). The first part of its name, ggul, actually translates to "honey." If you're looking for cool souvenirs from Korea, you don't want to miss any of the many markets and ideas listed here.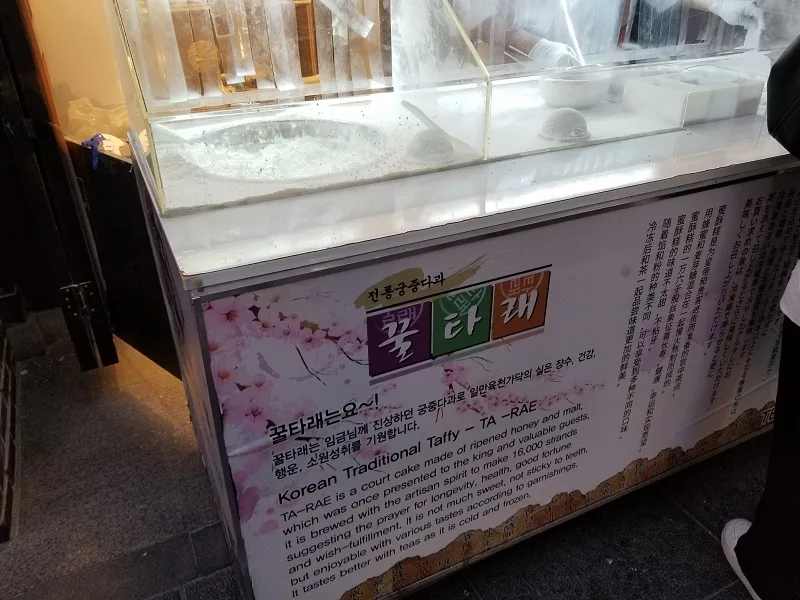 It's kind of a joke between Koreans who live abroad that their family from Korea always bring them socks as a gift, and this is why: socks are super cheap in Korea. Koreans also love funny things, and these socks are a riot.
I always liked bringing ₩1000 pairs of character socks to my friends and younger cousins when I went home to visit,as there was this truck that went around my small town in Korea sometimes, selling socks out of the back.
I'm sure the Korean celebrities might feel a bit embarrassed when they see their faces on people's feet, but to their fans, these are a thoughtful (and super cheap) alternative if you can't afford to get any official K-Pop merchandise.