Whenever fall in Korea rolls in, incredible foliage decorates the Han River parks, schools, and other public spaces. These few weeks of multicolored bliss make people come out in their best coats, many of them just aiming to capture that perfect fall selfie. This is because unfortunately, the Korean autumn is relatively short, with the season between sweltering & freezing lasting just a few weeks in October.
Coats are necessary because the weather gets nippy during the day, and if you're not used to the cold, you'll definitely feel the freeze at night. Even so, autumn in Korea is the best time to visit because it's also the peak season for outdoor music events and art festivals.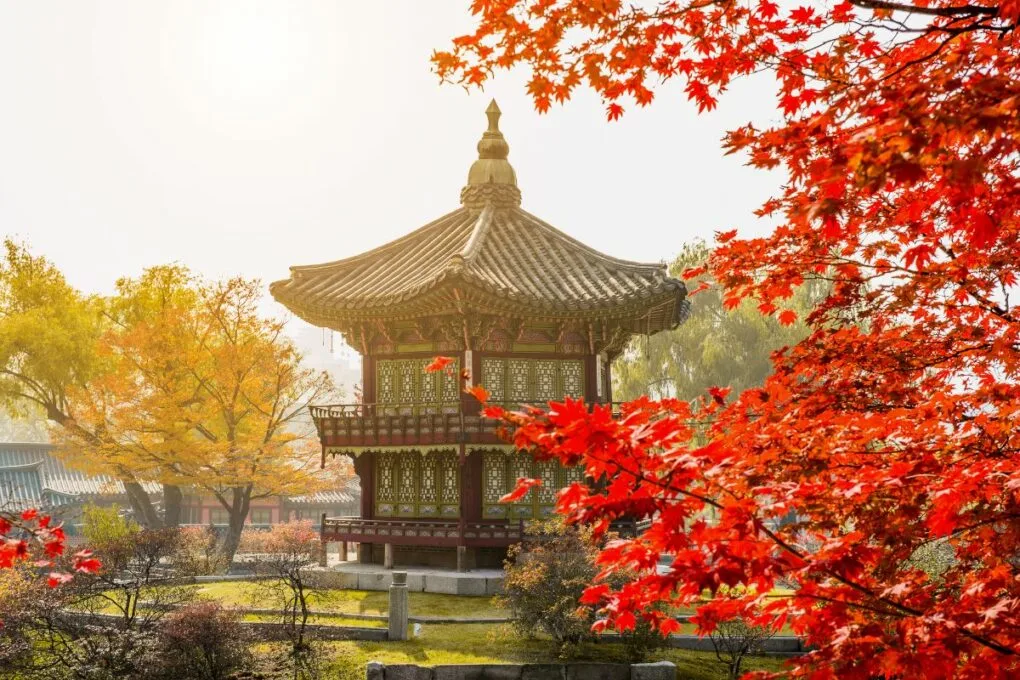 Where to Visit in Korea in Fall
Fall in Korea is generally known as the perfect season to go hiking (a national past time, albeit enjoyed mostly by the older generation). However, there are a ton of other places that are best to visit in fall without doing all the walking.
Jeonju Hanok Village
The beauty about fall in Korea is that it lets you appreciate charming villages in the south of the country even more. Something about them makes you want to just visit for a weekend, and then find a place where you can sit & sip on a warm beverage. Jeonju Hanok Village is an excellent option if you wish to have that kind of fall experience in Korea; it even won the International Slow City award back in 2010. This is an honor given to cities that have the best quality of life, and I have to agree.
Asan Gingko Tree Road
If you can't afford to head over to Nami Island in the fall, come see Asan Gingko Tree Road. It's the perfect spot if you're looking for a peaceful stroll under big trees with deep yellow leaves. Asan in general is also just great for capturing the slow feel of autumn, because you can picnic near the river and just admire the afternoon view.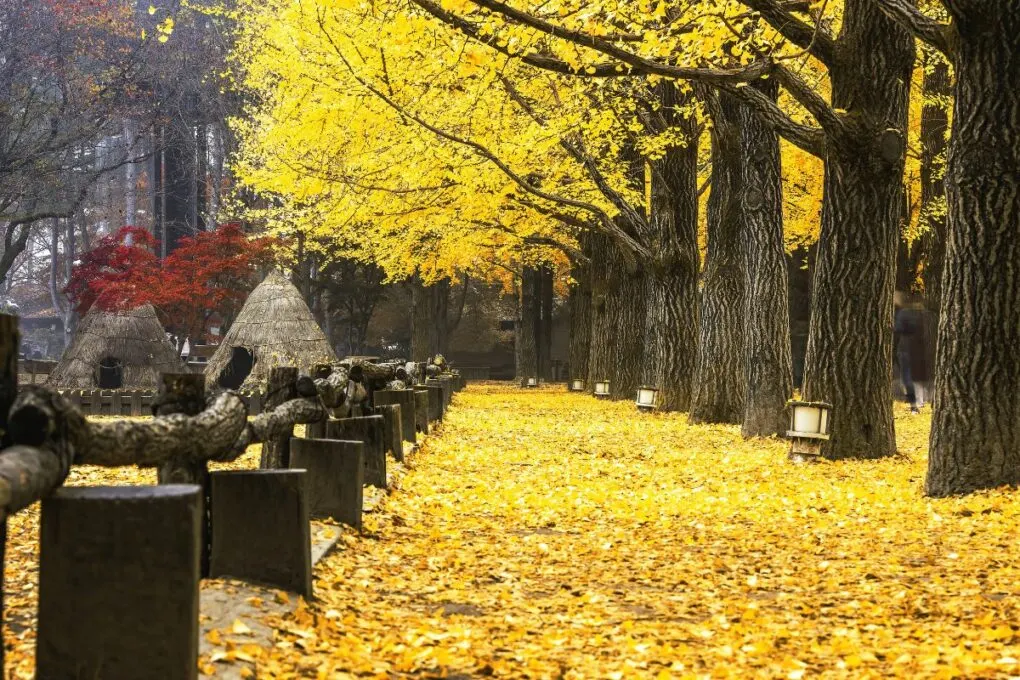 Bulguksa Temple
Autumn in Korea is the perfect time to explore palaces and temples. Bulguksa is a well-preserved UNESCO World Heritage Site located just outside of Daegu, in the south of the country. It displays the remarkable Silla-age architecture, which a series of wooden buildings and raised stone terraces. Furthermore, the fall scenery here reinforces its overall therapeutic vibe, especially if the purpose of your visit is to "know thyself."
Deoksugung Stone Wall Road
This place may be a curse for couples, because rumor has it that those who reach the end of the stone wall will eventually part ways forever. But thanks to the hit TV series "The Extraordinary Attorney Woo Young Woo," couples now come to challenge the superstition, literally going to lengths for romance. Sigh. Furthermore, the wall is the perfect backdrop for fall fashion shows (& selfies!).
Samcheongdong
Fall always has this vibe that makes you want to visit low-key areas, and just get ready to hibernate and seek peace. Enter Samcheongdong, a centuries-old part of Seoul that has picturesque views around every corner. This gorgeous village within the city is full of European themes, quirky al fresco cafés, and indie boutiques for creatives seeking inspiration. Who knows? This Seoul neighborhood might even be your new favorite hub.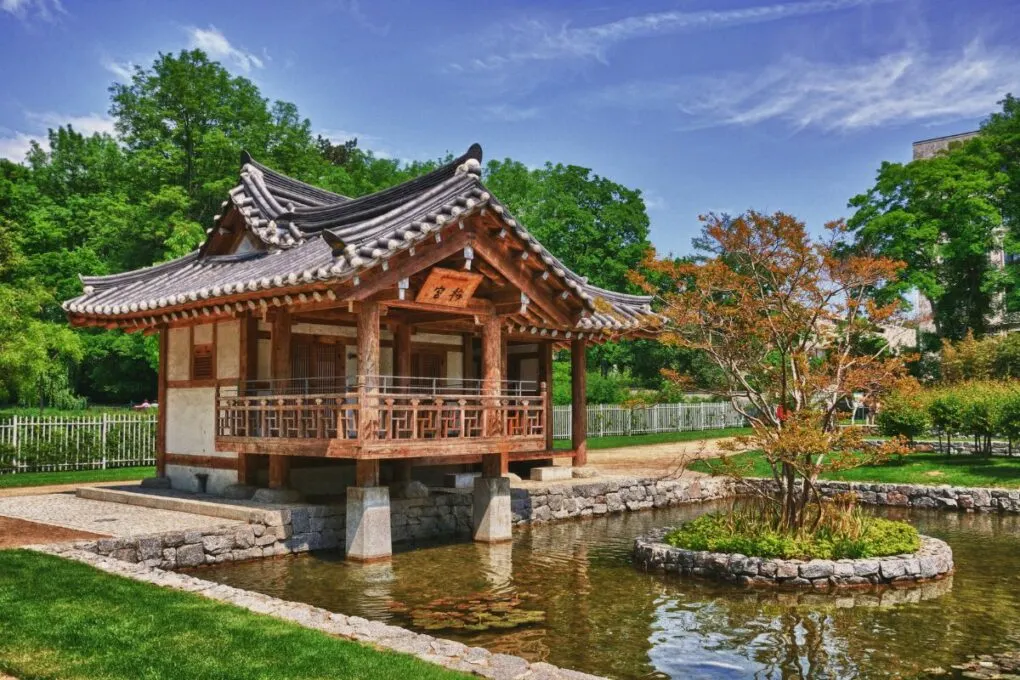 Unique Fall Activities in Korea
In Korea, fall is considered the best time to experience nature. Even though the weather can get quite chilly at times, it is particularly kind to those who love long walks in the afternoon.
Experience the Waterfalls at Naejangsan National Park
In this park, you can spot waterfalls in various locations, but the most notable one is the Sinsun Waterfall, because of the way the water falls on the large boulders framing the river above. The river also has a stone path leading to the Uhwajeong Pavilion, which is a famous photo spot in the fall thanks to the vivid red foliage in the background.
See the stars fall while camping in Gureopdo Island
Stargazing is such an underrated activity nowadays, since people prefer to stay indoors considering the changes brought about by the pandemic. However, if you miss the feel of being in nature, you can can gather up your camping equipment and head to Gureopdo Island. There you can see the magnificent sky view in an untouched paradise, like an observatory but without the telescopes.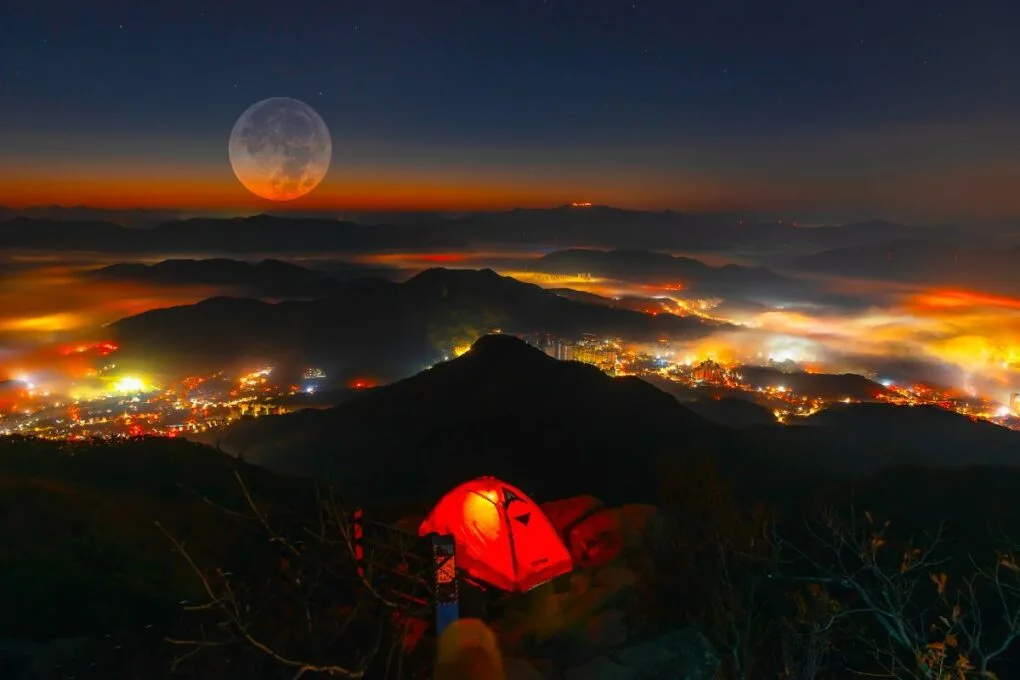 Ride the Monorail in Hwadam Botanic Garden
Elevate your botanical garden experience by riding the monorail through this large arboretum, located within Konjiam Resort in Gwangju. The twin cars serve as a way for you to take wonderful aerial shots of the foliage below,and a 20-minute full circle ride costs just ₩8,000 per person.
Explore the Blue House (Cheong Wa Dae)
If the US has the White House, Korea has the Blue House. While it used to be one of the biggest mysteries in Korea (since not a lot of people were allowed to come inside), things changed in 2022 after it was declared to be a public park. What's even more interesting about this government housing is that the building itself used be a royal villa in Hanyang during the Goryeo Dynasty.
Only the past South Korean Presidents (and few select officials) know what's really inside, adding even more to the mystery. Now, everyone who wishes to see it can book a schedule on the Cheongwadae's official website.
Find the Secret Garden in Changdeokgung Palace
Another scenic location is the Secret Garden in Changdeokgung Palace. Here, you may be surprised to note that the architecture is muted, blending well with the surrounding landscape and emphasizing the foliage all around. This therapeutic garden used to be where the royals sought refuge after a long, hard day of governing.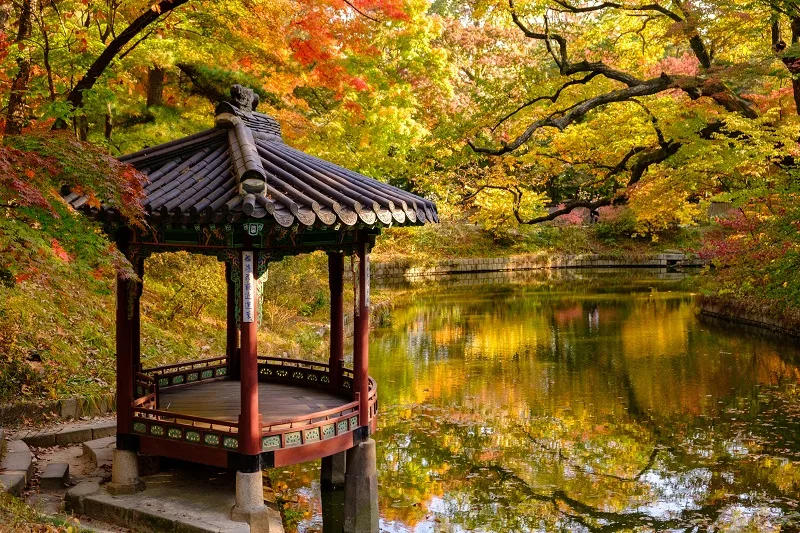 See the Cosmos at Bunhwangsa Temple
Dive into the sea of yellow and red cosmos surrounding Bunghwangsa Temple! It may not be a large landmark compared to the others, but the surrounding ponds and lakes look gorgeous with the flowers in full bloom. People also come to see the stone pagoda which used to be 9 stories high. Nowadays it's only three tiers, but it's just as majestic as ever.
Take a lovely stroll on Woljeonggyo Bridge
Also known as the largest wooden bridge in Korea, this structure overlooks a river and a sunflower field. At night, the bridge lights up, emphasizing the red and green colors of traditional Korean architecture and the foliage nearby. From afar, it looks like a huge garden lantern.
Do a hanbok photoshoot around Gyeongbokgung Palace
Out of the five palaces in Seoul, Gyeongbokgung is by far the largest and the most famous. There are also plenty of things to see here, since this palace was meant to impress and attract visitors that came to see the King back then. The autumn view is especially breathtaking near the Chwihyanggyo, a pavilion next to a large lake surrounded by fall-tinted maple trees each autumn.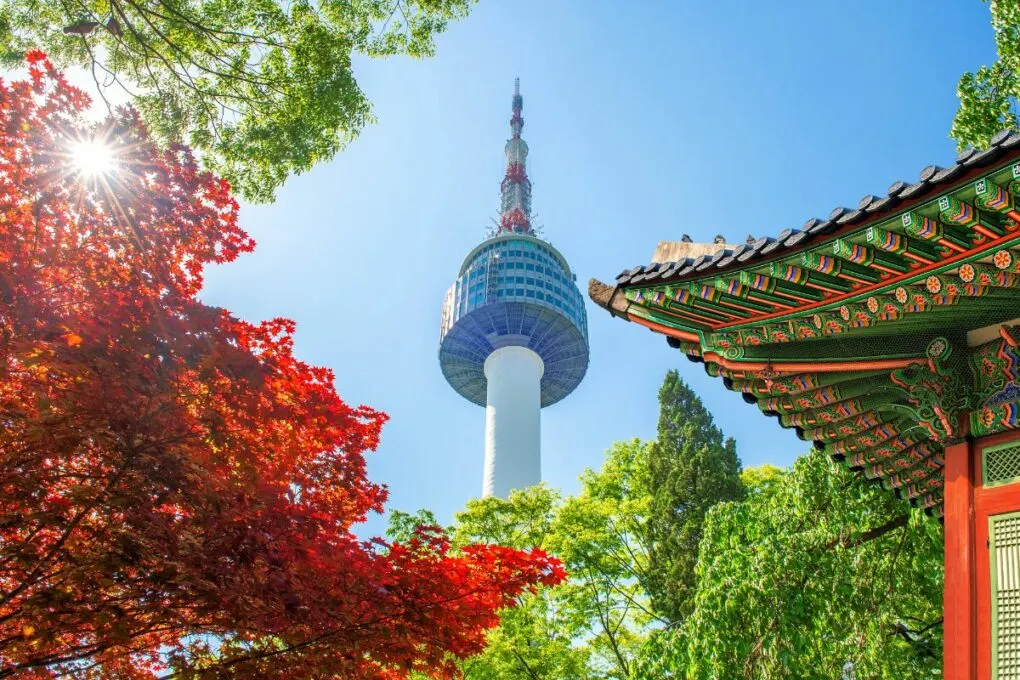 Where to See Fall Foliage in Korea
Autumn in Korea is thriving because there are plenty of mountains and national parks you can choose to visit. Honestly, it was tough deciding the places to feature in this part, but these are my personal favorite areas to experience the breathtaking fall season in Korea.
Chiaksan Mountain
This mountain hiking trail is open year-round, but local hikers recommend visiting during the fall season. That's when the foliage reinforces the beauty of the unique rock formations, waterfalls, and the nearby Guryongsa Temple. Rumor has it that the lake near said temple was home to nine dragons which were driven out after the temple was built.
Seoraksan National Park (Sokcho, Gangwon-do)
UNESCO granted this park the designation of Korea's first Biosphere Reserve in 1982. In the four decades since, the government has opened up access to the park by building a cable car over it. Thanks in no small part to that choice, each fall thousands of people come see the magnificent natural landscape of the mountain and the East Sea via the cable car. Hiking newbies would enjoy the Gwongeumseong Fortress Course, because it's not too difficult and is full of fun sights like the giant bronze Buddha and the Ulsanbawi rock formation.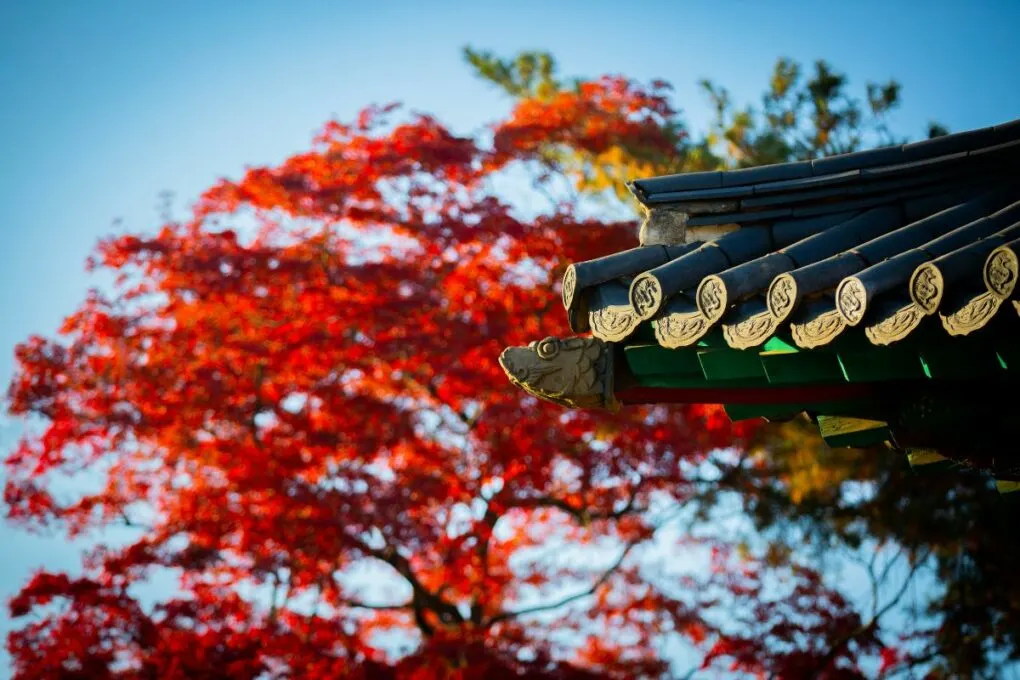 Naejangsan National Park (Jeong-eup, Jeolla-do)
Full of famous waterfalls like Dodeok Falls and Geumseon Falls, this national park is rumored to be the area where the gods have bathed. There are also lots of temples surrounded by Gulgeori and Bija trees, which serve as the homes of small animals roaming freely around the park.
Jirisan National Park (Namwon, Jeolla-do)
Stretching over three southernmost provinces, this national park is the largest one in the entire country. Here, you get to see valleys, falls, and interesting rock formations as well as temples like the Hadong Ssanggyesa and the Chilbulsa. An interesting fact about both temples is that the former is well-known as a spring destination because of its cherry blossom lane, and the tea plants from the latter are descendants of the ones planted by Bo-ok Seonsa and the seven princes.
Odaesan National Park (Pyeongchang, Gangwon-do)
Hikers rave about how beautiful this park is during the fall season, because there are plenty of scenic bridges and streams as you traverse the course. Plus, the chipmunks here are so used to seeing humans in the area that you can easily spot them everywhere. Not sure if you should pet them, though.
Hallasan Mountain
You can actually hike the tallest mountain in Korea. But wait, it's not a mountain… it's a volcano! Thankfully it's dormant, but it's also a huge symbol of pride on Jeju Island, off the south coast. Since Jeju is isolated from the mainland, this hike focuses more on the mountain's great qualities (like the crater lake on the summit) and the spectacular views of nature below than the cityscape viewed from the top.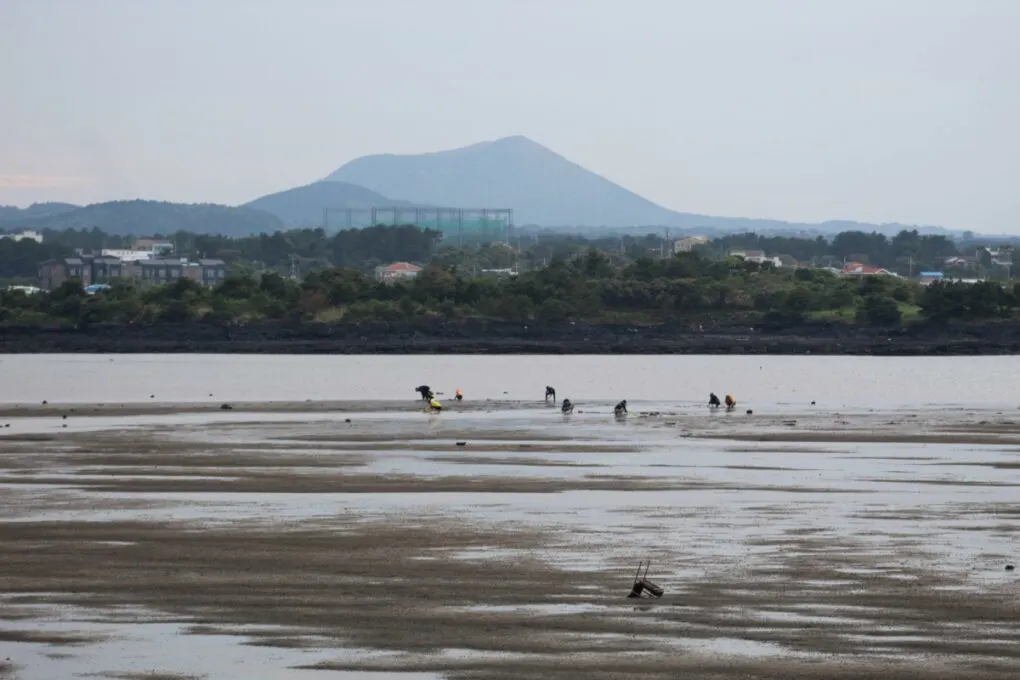 Autumn Holidays & Festivals in Korea
Fall in Korea is the best time to experience local festivals. Everywhere you go, there are events that foreigners are welcome to attend for free, which is why I always recommend bringing your passport or ARC to avail of the freebies and other tourist benefits.
Dive Into K-Pop in Korea
Fall is truly the best time for free K-Pop Festivals. Weekends from September to October often hold various performances that feature K-Pop artists, old or new, at no charge. The best part? There's always a huge chance to win a ticket; all you have to do is follow their page and check their posts regularly to see how.
Taean Autumn Flower Festival
Inhale the scents of the beautiful autumn flowers as you stand in a wide field of chrysanthemums and verbenas. This festival takes place in the gorgeous Kkotji Beach, home of the remarkable Halmibawi and Halabibawi – also known as the Grandmother and Grandfather rock formations. Moreover, you can also enjoy a wide range of delightful seafood from any of the restaurants nearby.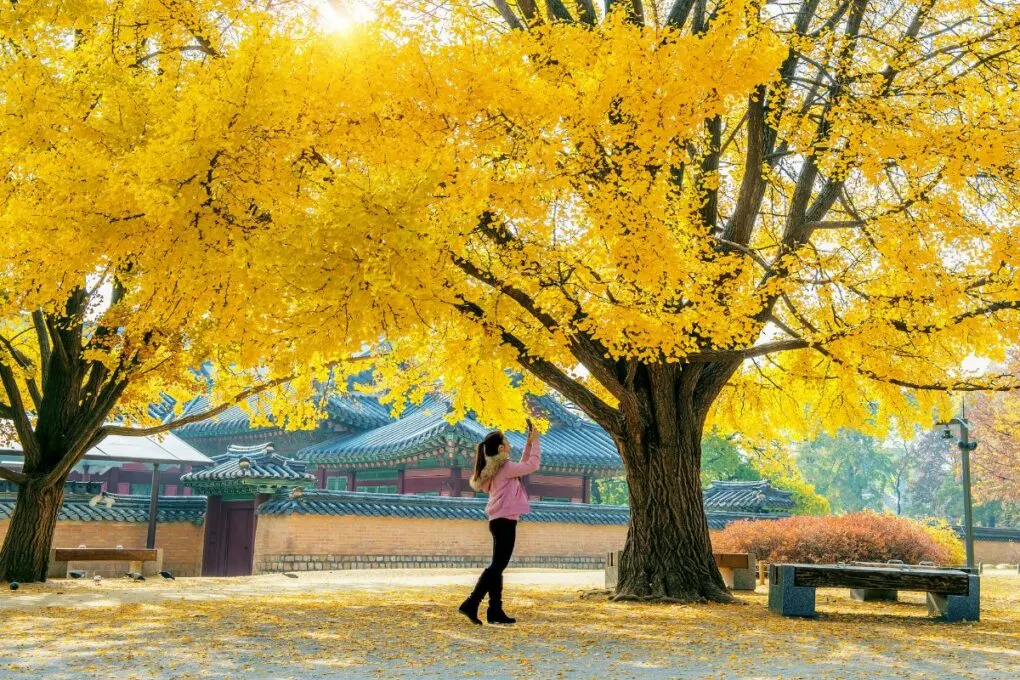 Hueree Pink Muhly Festival
Somewhere in the foot of Korea's largest mountain, a vast field of pink muhly flames the ground, creating a huge wave of blush. This bright blanket of color is the favorite backdrop of people who wish to get impressive shots of the Korean fall, especially the selfies. Furthermore, this seasonal festival also lets visitors hand-pick Jeju mandarins during the peak season in late fall.
Andong Mask Dance Festival
Discover more about Korean culture by watching a traditional dance unfold in Hahoe Village, a folk village that was recognized as a UNESCO World Heritage site. This captivating performance is enjoyed by locals and foreigners alike, because it tells stories through masks and dance. And the best part? You can wear any type of mask and dance along to the beat with the performers (from a respectful distance)!
Jarasum International Jazz Festival
Want to listen to the sounds of jazz day and night? This 3-day festival lets you do exactly that, surrounded by others who love the music just as much as you do. Various performers from all around the world serenade the crowd with sweet music, while your only responsibility is to eat and converse with people who share the same taste.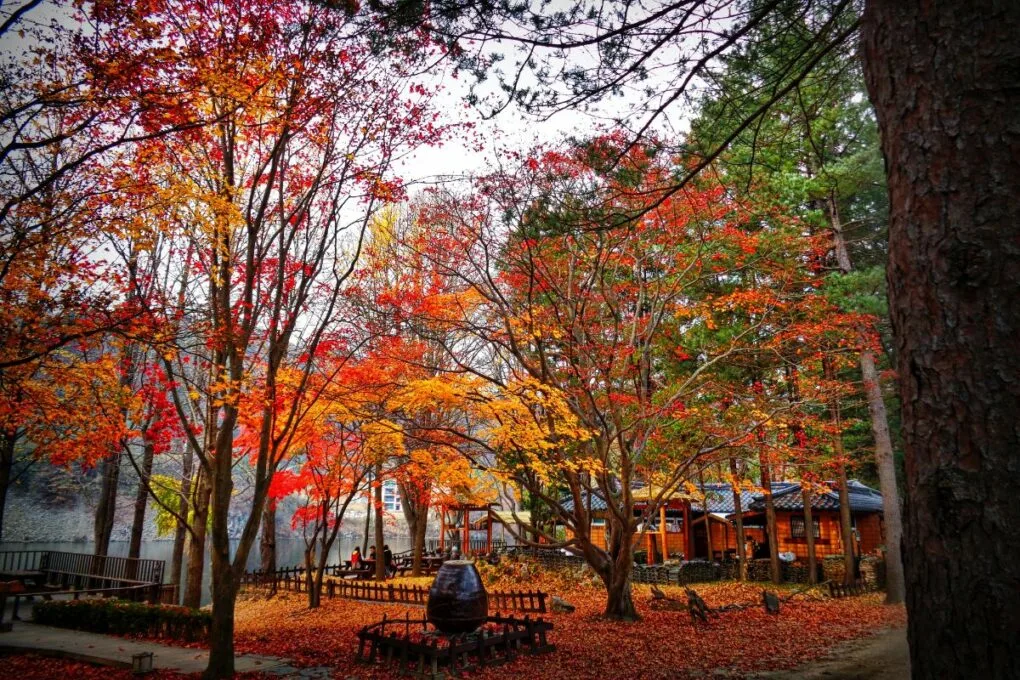 Royal Culture Festival
Visit any of the five palaces and experience the royal treatment… somehow. To celebrate their past, once a year the events that transpired on a normal day during the Joseon dynasty will be reenacted for a whole day. The Royal Guard Changing Ceremony kicks off the whole thing, followed by a musical performance by the Royal Courts Orchestra, and then at the end of the day you're able to sample the food royals used to eat.
Hanhwa Seoul International Fireworks Festival
This spectacular display of fireworks can be enjoyed by the whole family in any of the parks near the Han River. You can picnic while waiting for the show to start, and buy food from any of the stalls by the entrance. Talented buskers also use this opportunity to show off their skills by providing free entertainment along the riverside.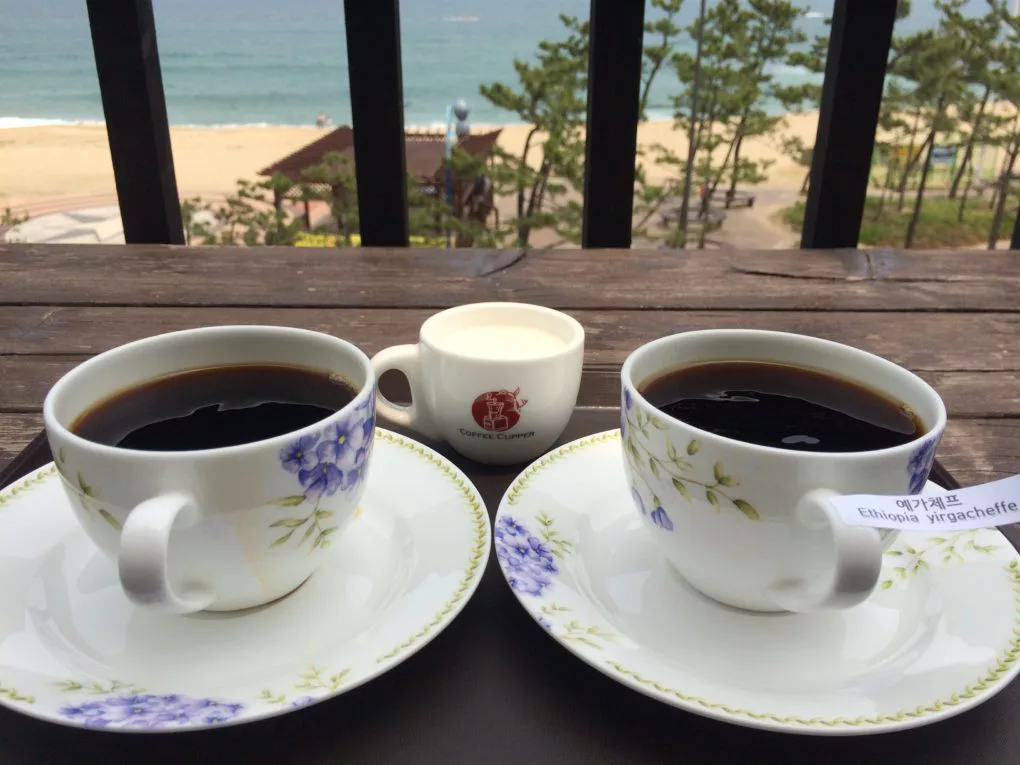 Coffee Festival in Gangneung
This is the ultimate coffee crawl for the caffeine-inclined among us. If you are not yet aware, Gangneung is littered with tons of cafés each with their own unique themes. This fragrant festival engages baristas everywhere to come out and display their best blends through competitions held throughout the month of October. Free seminars are also available to those who want to learn from the best in the game, and up their Korean coffee skills.
Korean Pear season
This isn't an official festival, but I think it deserves to be part of this list thanks to the abundance of juicy apple pears available during the fall. Korean pears are said to be the best because they're rounder and bigger than the typical ones we see at the market (in the US you can even buy them at Target, now!). Moreover, they're very sweet, which is why Korean autumn salads taste so darn good. To learn more about why Korean pears are unique, you can even visit the Pear Museum in Naju.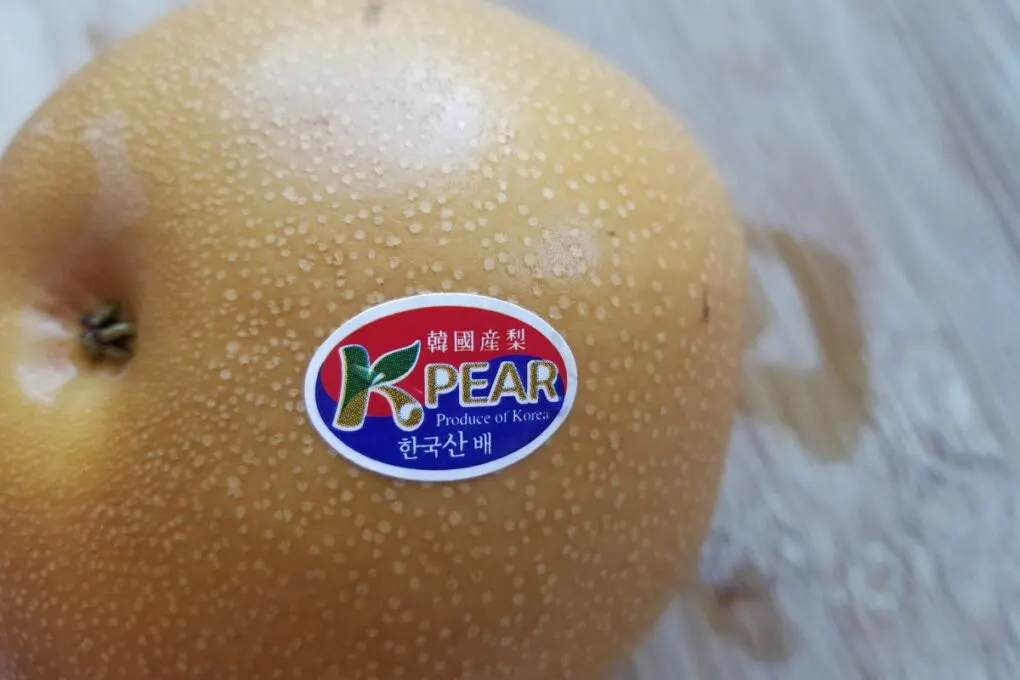 Seasonal Fall Foods in Korea
I've never understood why people crave seafood during the fall, but if you happen to find yourself near Noryangjin or other seafood markets, try some of the Korean fall delicacies listed below.
Fish Cake Soup
Odeng is a thick, fatty fish cake that you can buy from stalls commonly found outside schools or inside markets. When I taught in Korea, all my students loved buying a few odeng skewers to eat with some tteokbokki (spicy glutinous rice cakes), because it's both cheap and filling. There is also a soup version of the fish skewers, which makes for a comforting meal to warm yourself up when the season is starting to turn cold.
Blue Crab
Crab jjigae (stews) are all the rage during the Korean fall season, especially in Seoul and Busan. This is because the crabs used in these dishes are called gejang, or blue crabs filled with creamy and savory roe. Mix them with soy sauce or spicy chili for an unforgettable meal.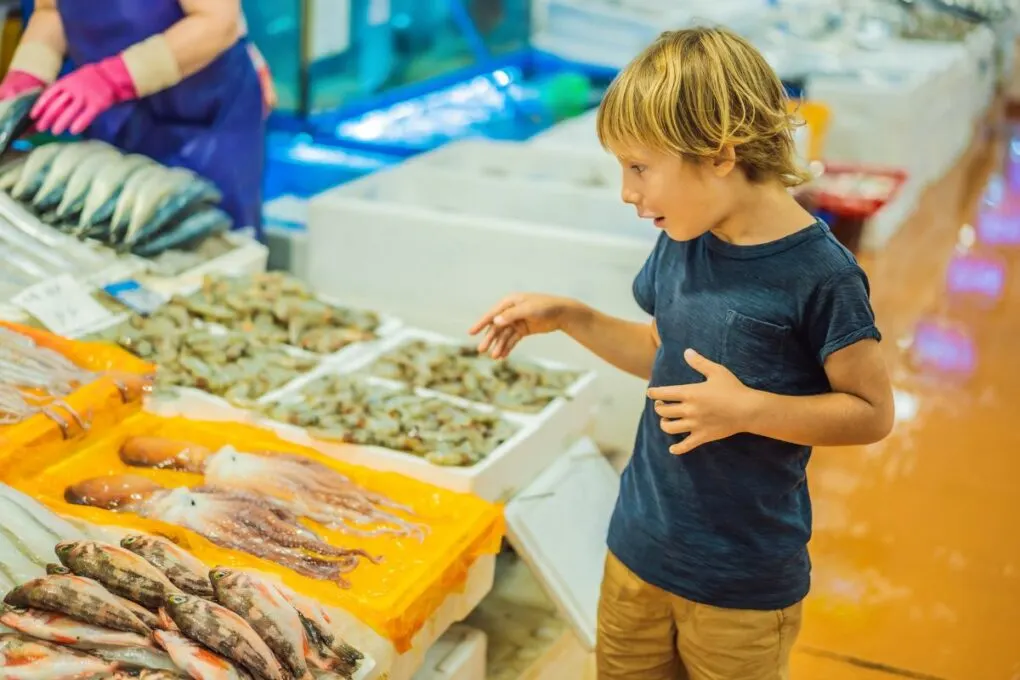 Gizzard Shad
Gizzard shards or Jeoneo may sound dangerous, but they're absolutely scrumptious when grilled up right in front of you. They're also jam-packed with nutrients needed to stay healthy in the fall. Around this time, plenty of people become more susceptible to getting sick, especially people from other countries who haven't yet experienced a Korean winter. Best served grilled, the bold and rich taste goes well with their juicy texture. In Gangneung, plenty of restaurants even serve this as sashimi.
Cutlassfish
Cutlassfish in Korea is considered a delicacy, similar to but distinct from eel. The cutlassfish on Jeju are more expensive than the ones sold in other Korean markets, because they're both bigger and are said to retain the spicy tang of gochujang better than others. Ask for galchi hansang when you're in a restaurant by the sea on Jeju Island, and you'll be treated to a full table meal with side dishes and a beautifully grilled cutlassfish.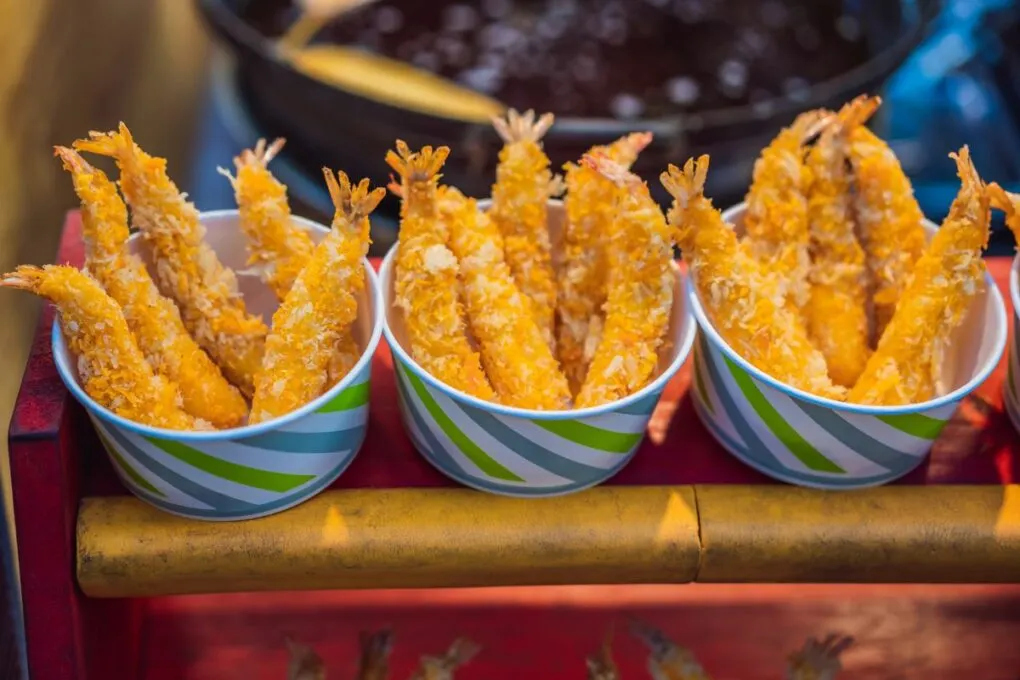 Jumbo Prawns
Prawns in Korea are fat. They're so thick it should be criminal to eat them, but somehow we manage to enjoy them just fine. Korean prawns are said to be best enjoyed on top of a bed of salt, though my family prefer them mixed with soy sauce and gochujang. Korean prawns are best bought in a port city like Busan, where they can be enjoyed steamed or deep-fried.
Persimmon
Another fall food that is meaningful to Koreans, persimmons are used in Jongka (food arrangement) ancestral rituals, many of which fall in the last few months of the year. Other than this, locals love turning this chewy fruit into jam. The abundance of persimmons during fall in Korea also makes this the favorite giveaway in restaurants within Udo and Jeju-do.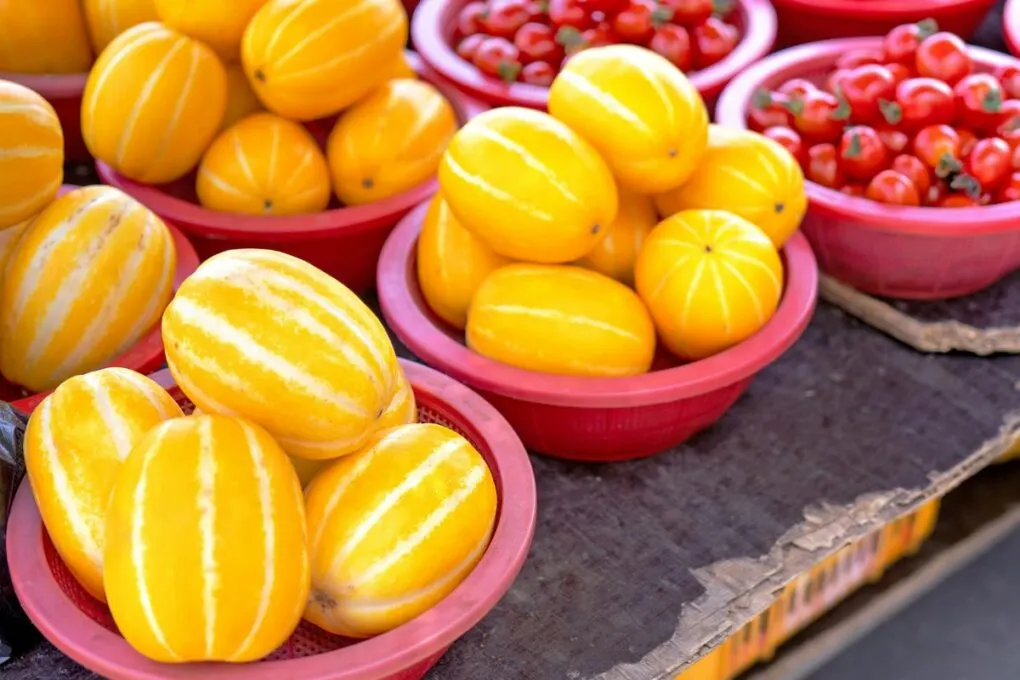 Tips for Visiting Korea in Fall
Fall should be a pleasant experience for you in Korea. To make your stay less of a stressor, follow these simple tips before planning your trip.
If you plan to hike, make sure to equip yourself with the proper gear
Hiking in Korea is way different. Their beginner trails can severely lower your stamina if you are inexperienced. Moreover, some trails can get too steep or slippery. To help with your balance, you have to equip yourself with the proper gear in Namdaemun market (this is where I've bought some fantastic summer beach camping gear, as well!).
Fall tours from Trazy and Klook have big discounts
Personally, I love utilizing these travel apps to discover tours you can only do in a particular season. These pre-planned getaways usually have big discounts around this time of year, and you end up saving a lot of money while doing more.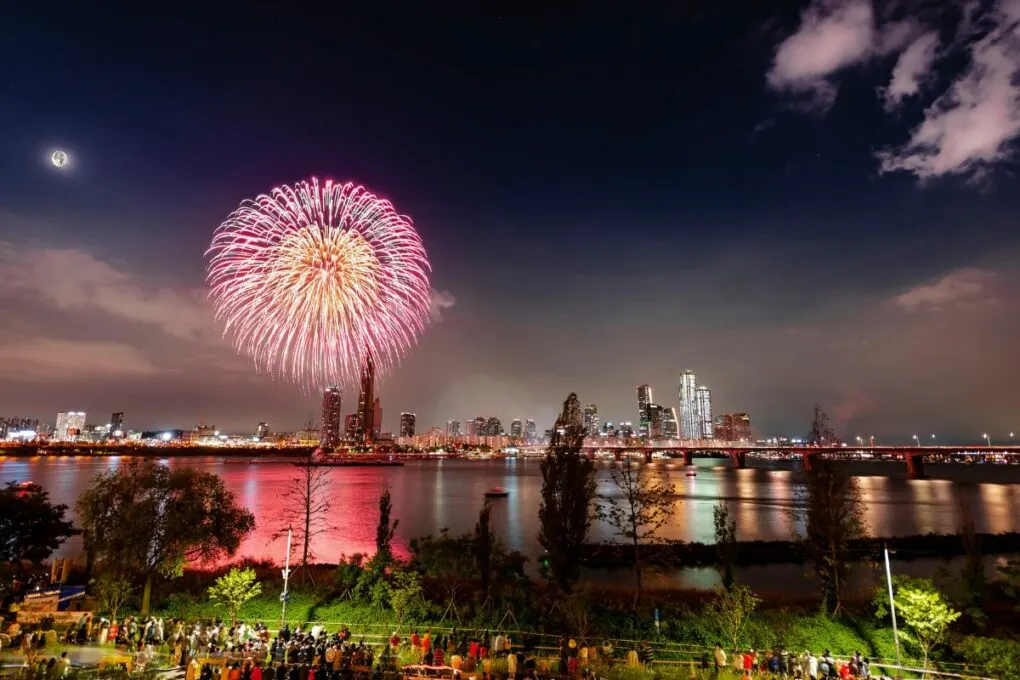 Join free festivals in Seoul
Another pro-tip is to be active on the VisitKorea website. They often raffle away tickets to a bunch of festivals and events that feature your favorite K-Stars. Moreover, in the events page, there is a list of upcoming festivals that you've likely never heard of, but which might spark your interest.
Don't rely on Google Maps
Korea has developed their own navigation apps. I highly suggest you use the English versions of those, because they're always updated with traffic patterns and location closures, and have the information you need when it comes to transportation. Moreover, these apps are foreigner-friendly and easy to use. The only downside is that some locations require you to type the address in hangul for it to show up, but that's better than it not being marked at all (I'm looking at you, Google Maps).
Learn how to ride the Intercity Buses
Yes, you will have to get in line and buy a ticket in the bus terminal. But don't fret, because it's incredibly easy. All you have to do is tell them where you want to go and what time you want to leave. They also have large monitors that you can point to, eliminating the issue with the language barrier. Honestly, this is an easier method than getting the tickets online.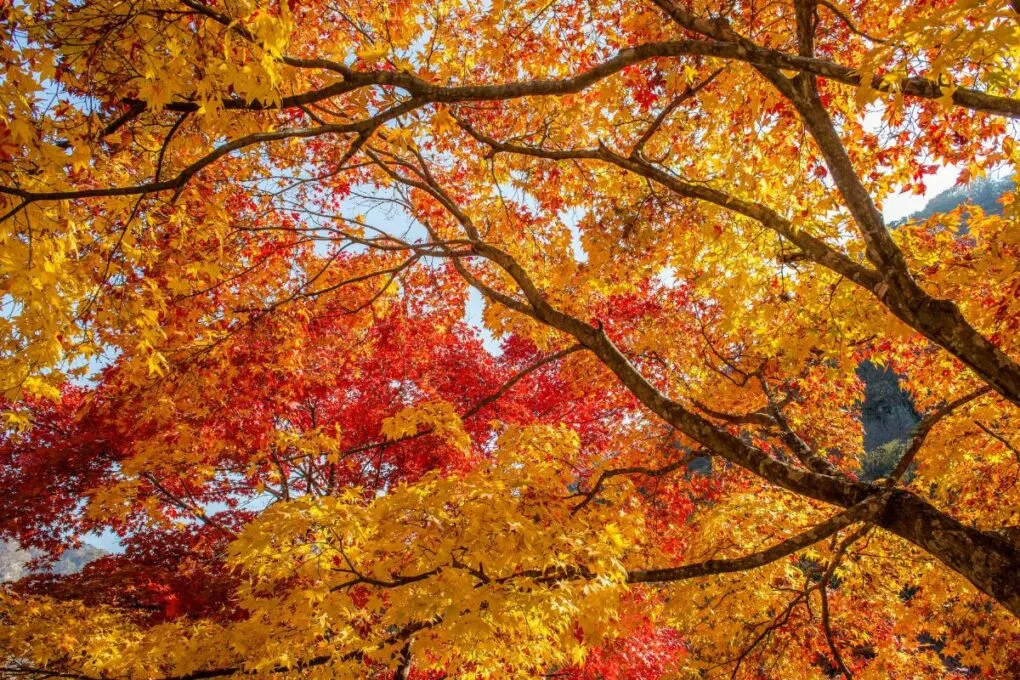 Winter is coming
While autumn may be short and sweet, it can get chilly and most days will tempt you to use a heater. The Korean winter is imminent. Keep yourself warm by finding a nearby Uniqlo, where they sell fuzzy gloves at affordable prices. Maybe pair it with a trendy coat from the fall collection? Furthermore, if you happen to live in Korea, this is the best time to prepare for the harsh winter ahead.
Get a Korea Tour Card
Korea loves tourists so much that they are willing to let you enjoy the transportation for free… as long as you have this card. It literally is called the Korea Tour Card, by the way, which is separate from the Discover Seoul Pass. This convenient card also gives you access to discounts in certain popular attractions (see list here), and while you can buy it online, there is also a mobile version that may be more convenient to get.
Fall is such a lovely season in Korea, because not only are there a lot of local holidays, but people tend to be out and about a lot more. Koreans always make it a point to go explore nature trails and take pictures with the gorgeous fall scenery in the background. Slow cities thrive around this season, and it's the perfect time to take some moments for yourself. So just take a seat and enjoy the laid-back vibe as you sip coffee or tea in a little café overlooking the city or town of your choosing.