The constant hustle and bustle of Seoul can get hectic, to the point that people yearn for a break. Somewhere on the northeast coast of Jeju lies a thriving summertime destination for the growing number of locals who take action on their wish for peace and tranquility.
Before my first trip to Udo Island, I wondered why people kept referring to somewhere down south called "cow island." Eventually I discovered that it's a reference to Udo Island, so-named because it's shaped like a cow lying down.
Quick side note: U-do is technically the complete name of the island, as 'U' means 'cow' and 'do' means 'island' in Korean. There are lots of quirky little tidbits like that about this place, such as the locals' love for peanuts, their copious tangerine trees, and the many other entertaining things to do on Udo Island.
Here is everything you need to know before you board that Udo Island ferry.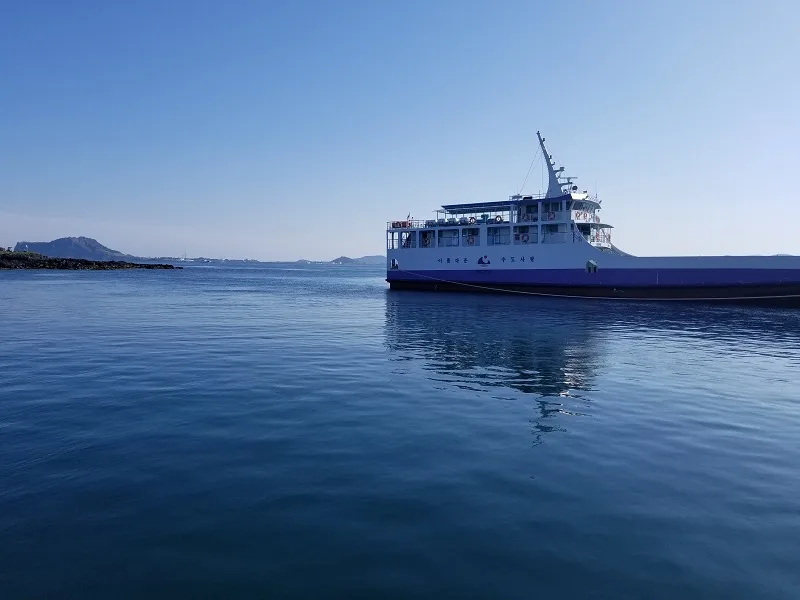 How to Take the Udo Island Ferry
To get to Udo Island, you must ride the Udo Island Ferry each way, so it's best to come to the port early in the day to get the most out of your trip. Ferry ports in Seongsan and Udo Harbors operate from 7:30am or 8am to between 5pm and 6:30pm, depending on the weather and the season.
If you are visiting Udo by bus, look for the following buses at the Jeju City Bus Terminal: 111, 112, 201, 211, and 212. Get off at Seongsan Harbor, which is a colossal white building with a round-archway entrance. If you wish to go there and board the ferry using your private car, you may do without restrictions
As for rental cars, typically these are not allowed to enter the island, but there are exceptions. To learn more about these, consult the Jeju Tourist Information Center first. If you brought your car with you and they tell you that you can't take it to Udo, there's a three-story parking structure nearby.
You can expect to pay around ₩5000 to park for the day, which is more than reasonable for Korea.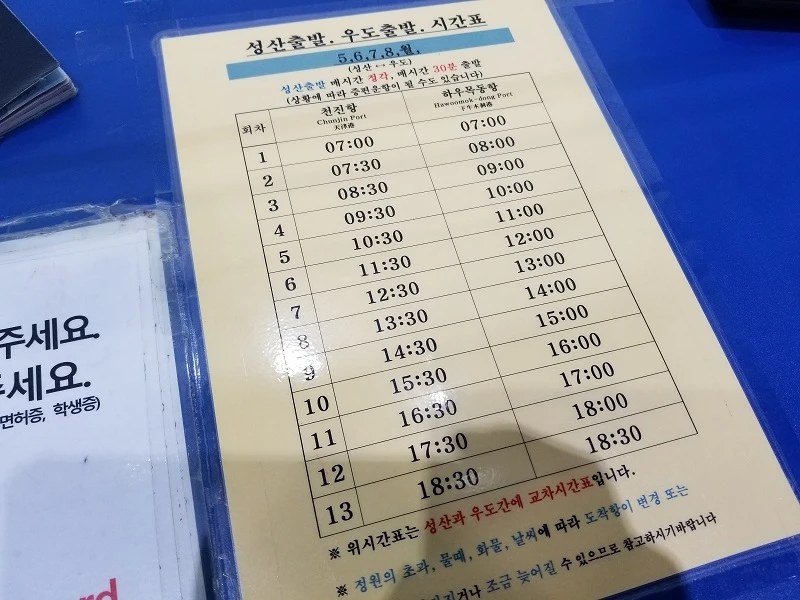 Before entering the terminal, remember to bring all the necessary documents to board the ferry. Make sure you have your passport or Korean National ID with you, especially if you are a foreigner (this is something you must always take with you wherever you go!).
As soon as you're inside the terminal, the first thing you must do is locate a booth with a yellow sign that has 승선신고서 작성대 written on it. This translates to "Boarding Declaration Form Preparation Stand."
At this desk, fill out two forms with your name, birthday, and phone number. If you know you're allowed to bring your car to the ferry, you should also include the type and model of the vehicle you are driving. Doing so grants you two tickets, one for the ferry to Udo and the other for your ferry back to Jeju.
After signing everything, just pick a line that leads to any booth; all ticketing counters can process tickets for the Udo Island Ferry. The typical entrance fee to Udo Island is ₩10000 for adults, ₩8100 for students, and ₩7000 for the elderly or those with disability. Children from ages 3-7 can enter for ₩2400 only.
Drivers should prepare to spend around ₩21,600 to ₩37,000 depending on the number of seats their vehicle has. Once you have a ticket, they'll give you a brochure with specific ferry times that depend on the season.
From here you simply follow the signs leading you down the hall opposite the purchasing desk, and then to the left. From there you will go outside where a worker will collect your ticket to board, and then you just need to take a seat on the floor inside and enjoy your 15-minute trip to Udo.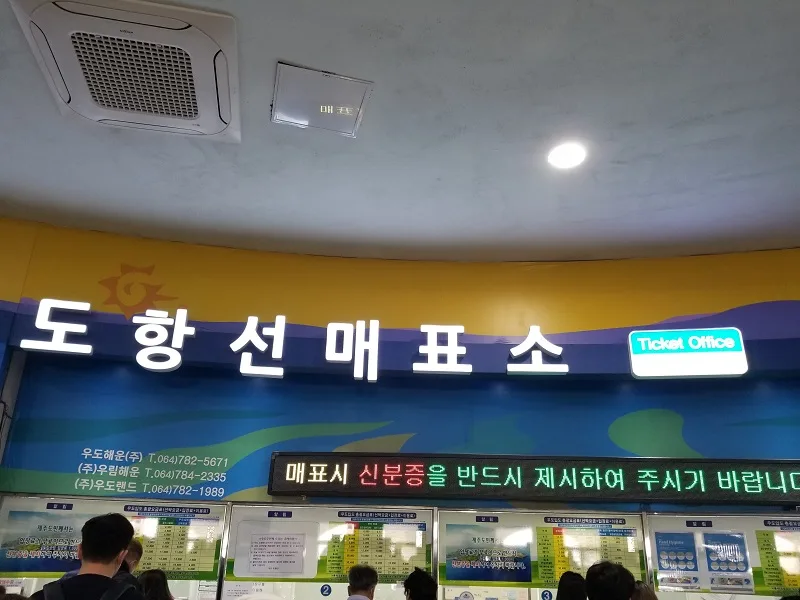 How to Get Around Udo Island
There are two piers on the island, Cheonjin Port and Haumok-dong Port. Both ports are surrounded by multiple rental shops where you can borrow electric bicycles, small cars, scooters, or even catch the public bus. I highly suggest you rent either an electric bicycle or a scooter, because the island is deceptively large, with long strips separating one place from the next.
Take note that you'll need an International Driver's License to rent cars and scooters, so if you don't have these, you're limited to a bus or an electric bike on Udo Island.
On my last visit in 2022, many shops would only rent scooters to those with a Korean license, so prepare to take an electric bike, if needed. Just turn in your ID, and you can enjoy cycling on the Jeju Olle Trail of Udo Island for as long as you want.
This trail lets you see the expansive sea view, broad plantation fields, and magnificent lighthouses.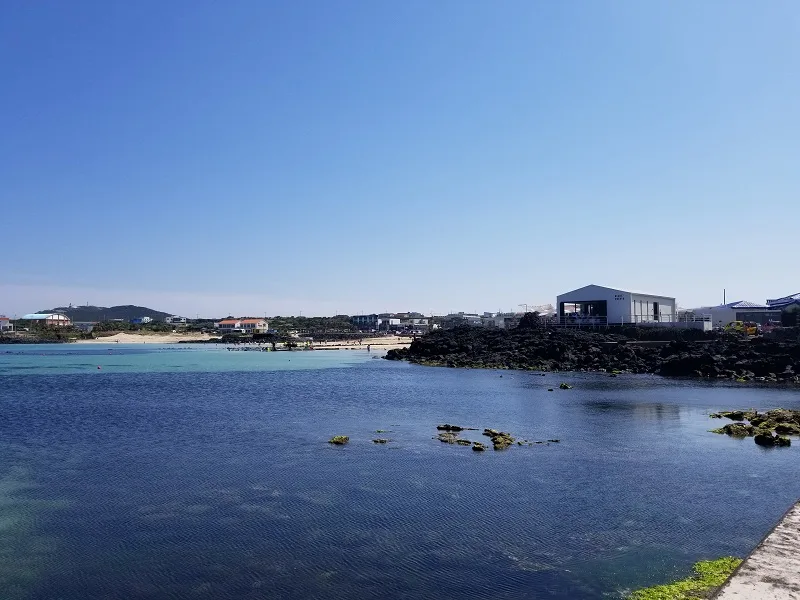 If you wish to bike or use the 2-person scooter around the island, prepare around ₩15,000 to ₩20,000. For e-cars, rental stations usually charge approximately ₩30,000. You can also check Udorent to schedule your preferred mode of transportation in advance, but prices are generally lower onsite.
If you don't want to drive, that's fine. You can just ride the Coastal Tour Bus Line (관광순환버스). For this option, you can purchase the tickets for these at Cheonjin and Haumok-dong ports. The route the bus takes will also depend on what day it is.
If it's an even-numbered day, the bus drives clockwise, but if it's an odd-numbered day, it goes the opposite way. If you wish to stop somewhere along the route, you may simply ring the bell.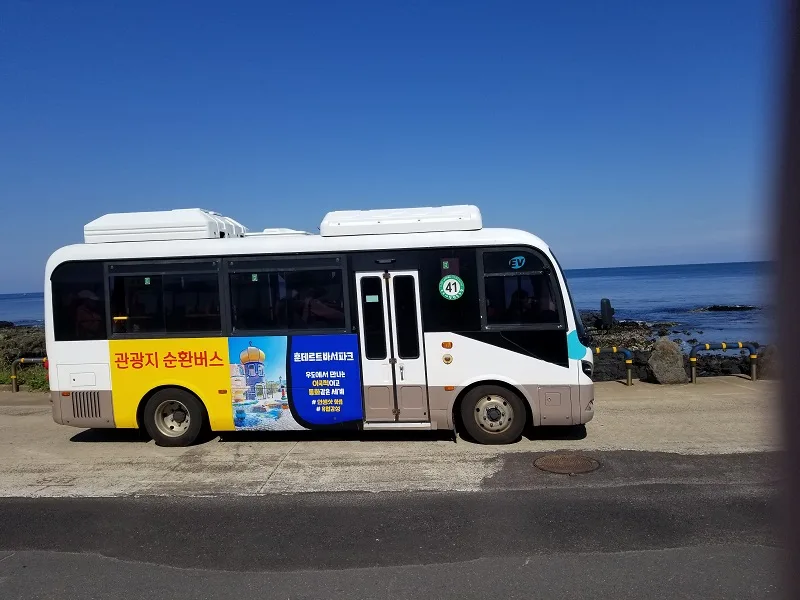 Things to Do On Udo Island
Tourists who love beaches and gardens will never run out of things to do on Udo Island. Nature lovers will love the slow and easy vibe offered to all visitors. Here are 11 places on Udo Island that I love to come back to during my trips here.
Udo Sanho Beach (Seobinbaeksa) (서빈박사)
Or "popcorn beach," as locals fondly call it. If you pick some of the 'sand' up, you'll be surprised to see a mix of shells and corals formed like the tasty treat. Not only is it known for its white shell beach, but it's also famous for the gradient of its beautiful sea. From bright emerald to deep sapphire, pictures cannot fully capture the beauty of this place.
Udo Botanical Garden (우도정원)
If you're sick of seeing peanuts all over the town (because Udo is nuts for this nut), you'll be pleased to know that Udo has a breathtaking view of vibrant pink muhly and lavender fields. If you come around fall, you'll surely love how it resembles an enormous mass of cotton candy under the light blue sky.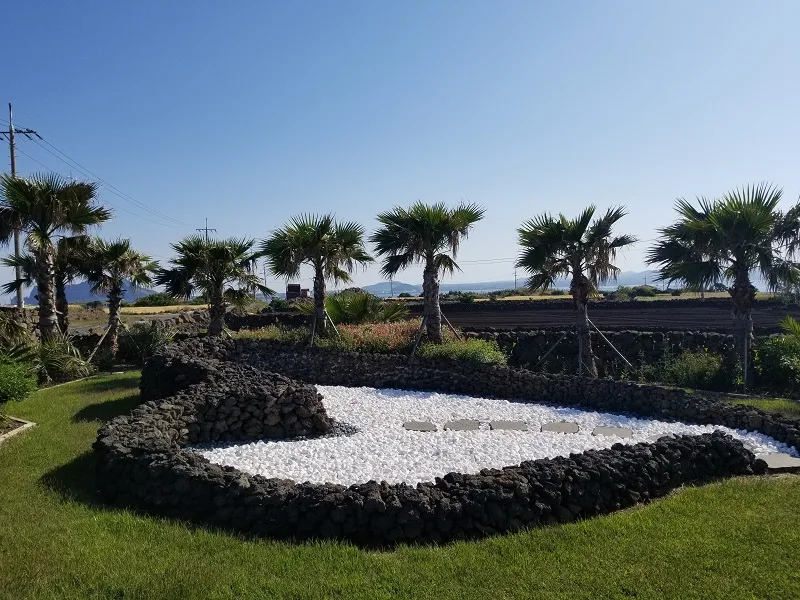 Dongangyeonggul (주간명월)
Head to the Geommeolle Beach (검멀레해변), a black-sand beach seen below Udobong Peak, and join the boat tour that takes you to the "whale's blowhole." This tour is only available when the tides are low, but you can still admire the view of the waves crashing against the cliffs.
Huhaeseokbyeok (후해석벽)
Early risers who want to see the majestic view of the sun should find time to visit this rock cliff next to Geommeolle Beach. Locals say a volcanic explosion that occurred 2 million years ago created these cliffs, and like the many other spectacular sites on Udo Island, it's a popular spot for selfies.
Mangru Light House (망루 등대)
This is the most-visited lighthouse on Udo due to its marble-white exterior. Tons of people love posing here because this place is super Instagrammable, and sometimes the locals seem to even park for your photos!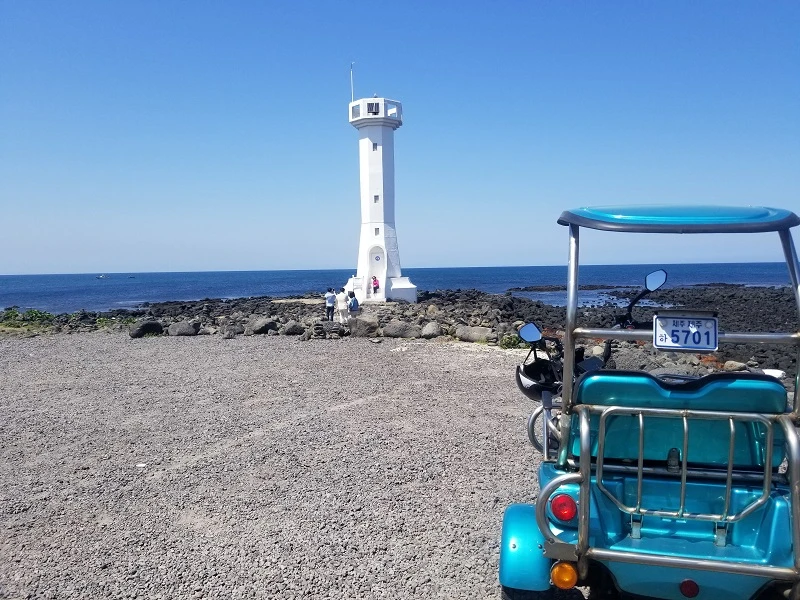 Juganmeyongweol (주간명월)
Did you know that you can see the moon in the late morning? This beautiful cave lets you watch the sunlight form a natural moon-like shape thanks to its intricately-shaped ceiling.
Changkom Rock (창꼼바위)
Speaking of Instagrammable places, this is another scenic spot consisting of a rock with a large hole in the middle. It might not sound like much at first, but with that as your frame and the lovely ocean as your backdrop, each picture will turn out stunning.
Jeonpomangdo (전포망도)
Jeonpomangdo is a viewpoint shows you the outline of the cow lying down from a certain angle. I had a hard time finding it, but after walking along the ridge, I could finally see the cow after which the island was famously named.
The rich green grass shrouding the cliffs and ridges emphasize the blue of the sea below, so this is another memorable spot for pictures.
Hamdeok Seoubong Beach (함덕 서우봉 산책로)
Climb just a little to witness the golden cosmos flower patch at the Seoubong Peak. This gorgeous view of the yellow garden is most delightful around October-November.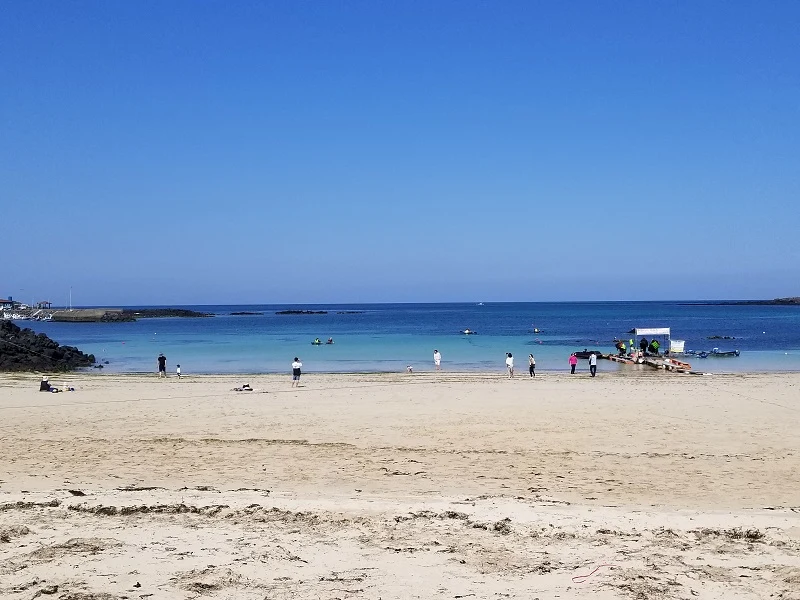 Rothem Garden Restaurant (로뎀가든)
If you feel like listening to a bit of history, come to the west side of Udo Island to try the Hallasan Mountain-shaped Fried Rice. The staff of Rothem Garden will tell you a short story about how Mt. Hallasan came to be as they formed the rice into the shape of a mountain.
This delicious delicacy is a mix of egg, meat, and cheese. Plus, if you feel like trying out Jeju Island's famous black pork, they serve it here along with various seafood.
Udobong Peak
One of the ways to see Jeju and Udo simultaneously is to climb the highest spot. If you can enter the Someori Oreum lighthouse, you'll see everything the light touches.
From here, you can also see the Seongsan Ilchubong, a volcano located on Jeju-do that looks pretty under the sunset. Visiting this peak is a brilliant way to cap the day and a perfect ending to your Udo Island itinerary.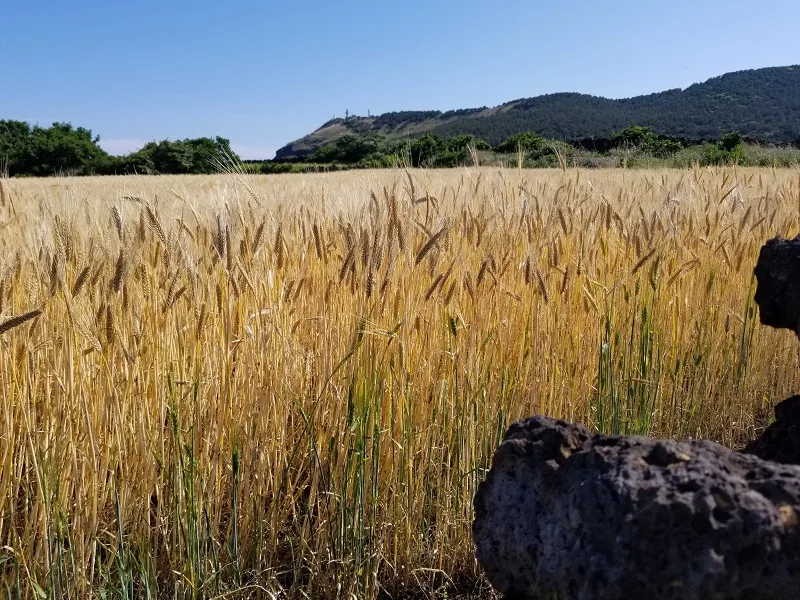 5 Best Cafes on Udo Island
My memories of Udo Island always seem to involve peanuts (usually in ice cream form). You can go anywhere on the island and find this treat in the nearest cafe. Almost all of the restaurants and coffee shops have a variation of it, many also with a peanut cafe latte on the menu. You can even go on a 'peanut ice cream pilgrimage' if you want! The following five cafés let you do that.
Café Blanc Rocher
This coffee shop has a nice outside deck with a marvelous view of Hagosudong Beach. The scenery from the café is picturesque, and you can enjoy the sea breeze with a cup of coffee and baked goods that utilize Udo peanuts.
Café Tolcani (카페 톨칸이)
Café Tolcani is a hidden café with a great view of the beach. You can try their peanut-shaped Hanrabong éclair or try various signature coffee blends listed on their menu.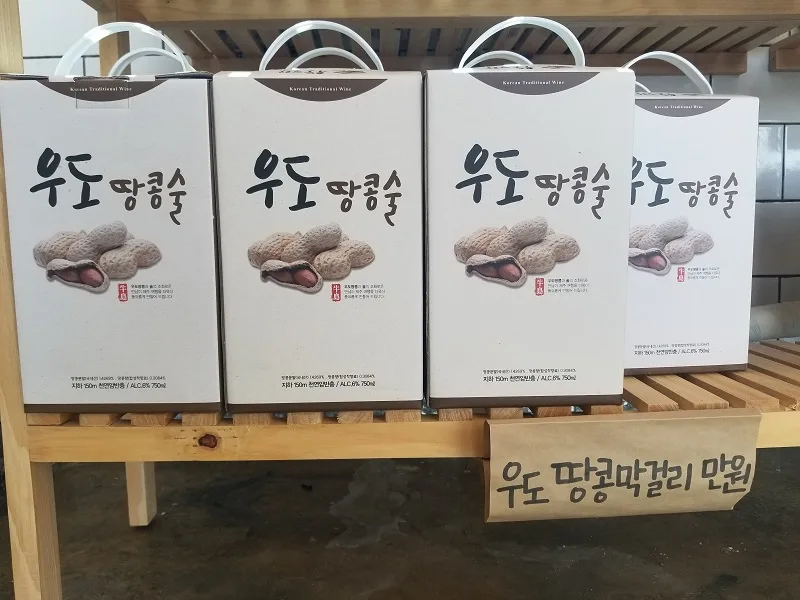 Dalgian Café (달그리안 카페)
Situated near the popular hotspot of the Udo area, this Industrial café lets you enjoy the view of the scenic cliffs above Geommolle Beach while sipping their house blend or eating the Udo-famous peanut ice cream.
Udo Marilyn Monroe (우도 마를린먼로)
This minimalist café is a tribute to the late actress Marilyn Monroe. Tourists enjoy a generous heap of sweet-tasting dishes despite being slightly pricey. For dessert, you can enjoy a cup of peanut ice cream with peanuts grown from their garden.
This bakery café is a favorite stop for bikers cycling along the Olle trail. Their rainbow black pork burger is a must! Their buns also come in rainbow colors!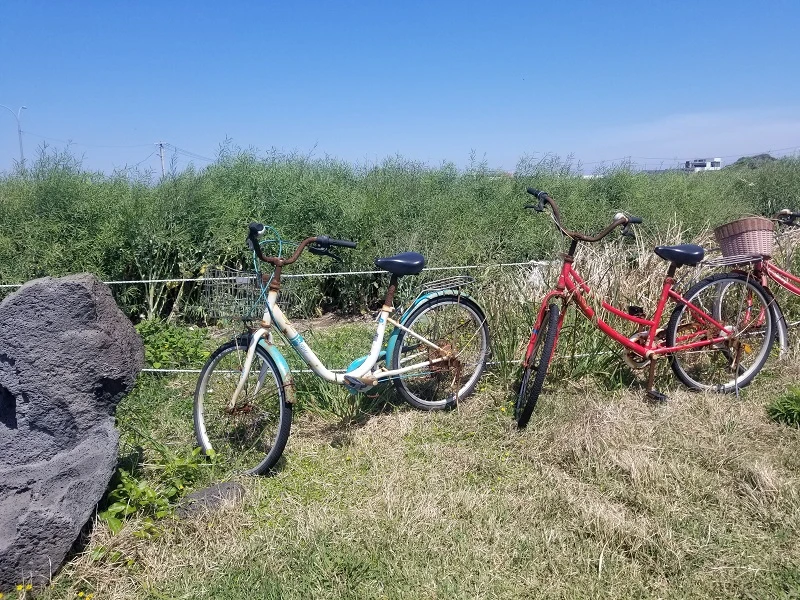 Where to Stay on Udo Island
One day is not enough to tour the entirety of Udo. That's why people look for where to stay on Udo Island.
우도돌담길민박 바깥채 (Udo Doldamgil B&B Outside House)
This charming little bed and breakfast offers the stuff you need for a one-day stay. Moreover, this tiny house is part of a delightful little village. Inside, you can tell that the staff put extra care into maintaining the cleanliness of the rooms.
They also have a small kitchen and an outdoor table, so if you're planning to cook for yourself or some friends, this is an excellent place to base yourself.
후해석벽 (Hoohae Sugbyug)
After a day full of walking, you deserve to have a comfortable stay in a clean, comfortable, and spacious room. This place has everything you need, including rows of restaurants and convenience stores nearby.
This pension is also just a few kilometers away from Seongsan Ilchulbong Peak, so you can just head out of your room during the wee hours of the morning to witness the sunset touch the volcano.
Overall, the island's vibe is ideal for solo travel. Not only is it easy to get around, but you don't really need an itinerary for Udo Island; just drive around and there's always something to do. Introverts would particularly love the slow and easy vibe on a sunny day. So if you're looking for this kind of comfort, book a ticket to Jeju and head to Udo. You'll definitely have a fun time.