Seoul is bursting at the seams with people and palaces (we've got 5) and places to eat. We must have at least one citizen from every country— sometimes we even send them to represent their embassies at trade shows. But when that trade show is for fine chocolate, well, you know you moved to the correct country.
The salon is a hectic place. It can be a very pleasant experience, though like most things in Korea, it was not quite what I had expected. I wasn't blown away; I'd been anticipating a bigger showing from Seoul's bean-to-bar chocolate scene, especially considering Korea's obsession with quality coffee. There are tons of instant coffee consumed here, of course, but most adults also frequent small cafes for a steaming cup o' quality joe. I had hoped the chocolate scene would be the same. Yet even at the chocolate festival, it took some seeking out.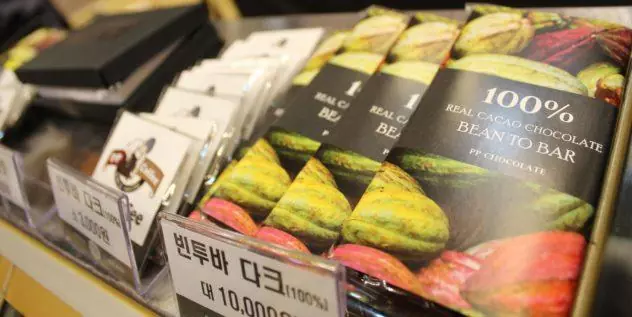 What to Expect at Seoul Salon du Chocolat
You read that correctly; the "chocolate" has no "e" at the end. This is because the Salon du Chocolat is a French transplant. Started in Paris in the early 1990's, the Salon has quickly spread around the world, now boasting festivals of a similar nature throughout Japan and in my very own Seoul.
This year's Seoul Salon was held from January 18th-21st, and boy was it packed. Compared to previous years' event, held in the very same exhibition hall, this may as well have been run by a different company, one with a better handle on the Korean chocolate scene. But it wasn't. Festival management isn't the thing that changed.
The simple truth is that the bean to bar and fine chocolate scene in Korea has hit its growth spurt. The old kit kats-from-Japan standard is gone, and when consumers seek fine chocolate, they now have a bevy of homegrown options. While the majority of 2017's festival was green coffee & cacao and various large machinery (with a few chocolates and local chocolatiers sprinkled in), the focus of this year was craft chocolate. Consumers had options beyond the couple of makers who had been at it for awhile. There were even wine samples, cacao pod-shaped containers, food-themed pins, and milk jams.
In the Korean chocolate world, still admittedly quite new, this show sets the tone for the rest of the year. It introduces consumers to new products right on time for Valentine's day, and plenty of chocolate businesses took advantage of that. There were chocolate bars, caramelized nuts and candied nibs, and a whole lotta cookies. If last year was whatever they could cobble together from across Korea, this year was the community coming together to build a real customer base. People took last year's lessons and machines and raw cacao beans, and they created something memorable. A few people in particular have really stuck out from the crowd.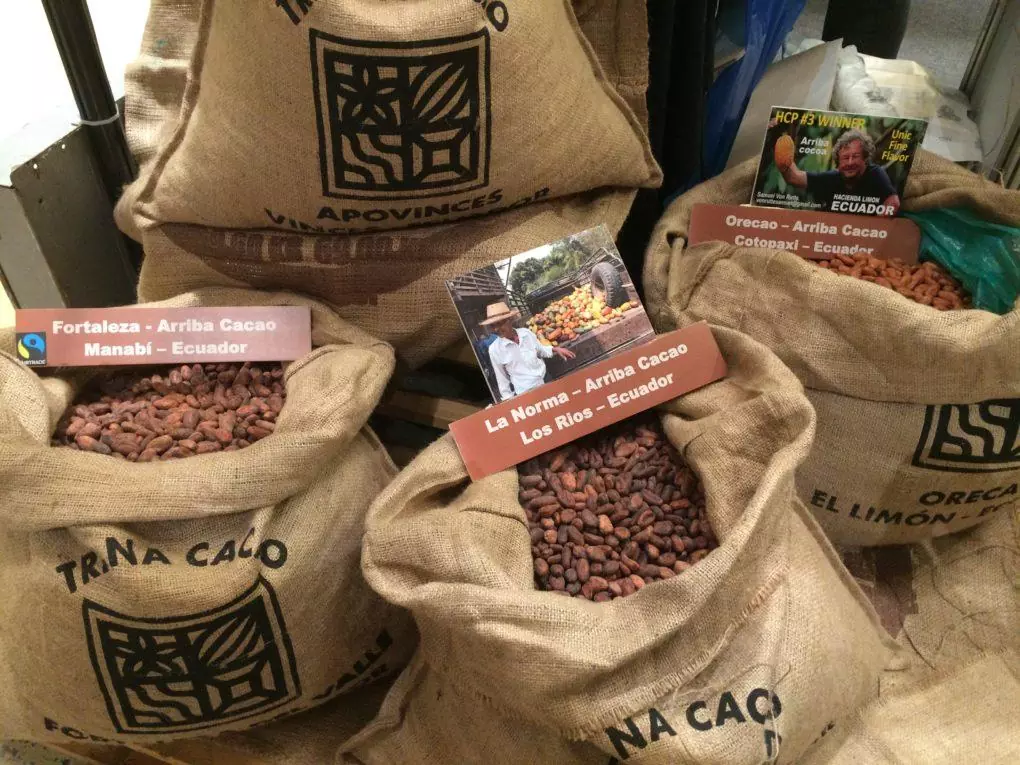 Who To Expect
As of last count, South Korea's bean-to-bar chocolate makers count around a dozen around the country, though most of them are within an hour of Seoul. But one man in particular is known as the father of Korea's fine chocolate scene, and he lives nowhere near the Korean capitol. The man is Chang Yong Kim (김창용), a Korean transplant now living in Malaysia. Most people here call him 창용 선생님 (Chang Yong seonsaengnim), said really fast, as if it were just one word. It means "Chang Yong teacher," and it's a respectful way for them to acknowledge his contributions.
He's taught dozens of Koreans how to make and appreciate chocolate, as well as supplied them with beans from his own cacao farm in Tawau, Malaysia. Although not selling anything at the Salon, Chang Yong was in attendance along with many of his students. Some of them are coffee roasters or importers, others are chocolatiers, while many are chocolate makers or importers.
One of these chocolate-making diciples is Emily Paek (백한빈), the owner and founder of Public Chocolatory in Chuncheon. She discovered the craft chocolate world with the help of Chang Yong, and after two years of chocolate study in New Zealand, in late 2016 she opened her own tiny chocolate factory. Nowadays, she uses beans supplied by P.CHOKKO and Chocodongi, two other micro-batch makers in the Seoul area. In many cases, Korean chocolate makers themselves are now importing the cacao, unlike in Europe or North America, where they go through a local distributor.
More Korean craft makers at the show include: Cacao Dada, Batzen, and Cacao Family Jeju. Vietnam-based Marou also made a showing, in addition to a Ghanaian woman selling chocolate on behalf of her embassy. It's hard to say what the 2023 show will look like after two long years of pandemic, but the event is expected to go on.
Practical Information
General Admission: ₩10000 per day, though the price is less for kids and free if you pre-register online way ahead of time. It's an extra ₩6000 to do one of the chocolate events, held every hour or so.
Event Location: CoEx Mall's Exhibition Hall D
Next Salon Dates: January, 2023.
Are you surprised to learn of Korea's blossoming craft chocolate scene? Please leave a comment with any questions, concerns, or complements.