In South Korea, night time is when people come out to play— it's the other half of the country's notorious "work hard, play hard" philosophy. Bright, colorful lights illuminate the streets, especially on the weekends, as people saunter in their best outfits to dance the night away or explore a nearby night market.
Seoul at night transforms into a bright, glittery mall of a city that screams 'nightlife.' The best nighttime experiences in Seoul include award-winning dance clubs, unique all-night cafes with panoramic city views, and a night market that stays open until well into the next morning.
South Korea's capital is also a popular vacation destination for dance music fans, with hundreds of clubs and bars, mostly in the Gangnam and Hongdae districts. The city boasts vibrant shopping districts that transform into cultural spaces throughout the year, with fashion shows, dance performances, and live concerts.
Read on to discover things you need to know about Seoul at night.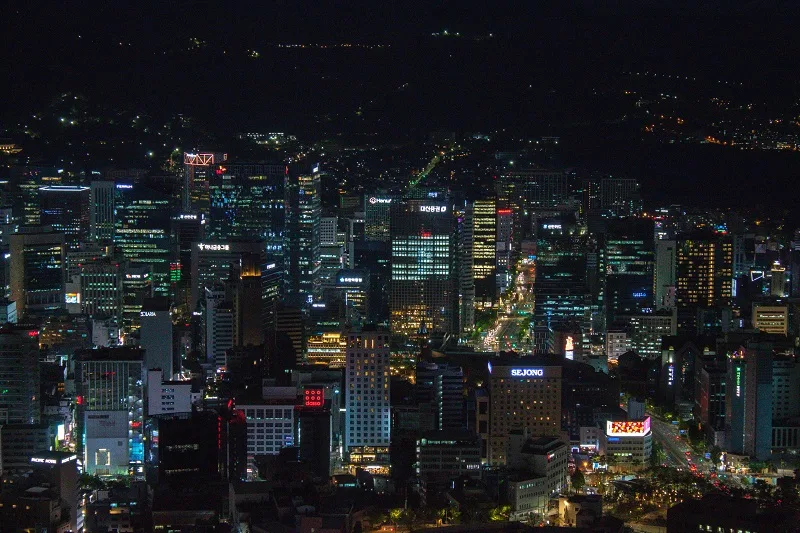 Most Popular Things To Do in Seoul at Night
What do locals do in Seoul at night for fun? Plenty of things, really. You can go clubbing in Gangnam, hit the noraebang with your friends, or watch talented performers busk in the streets. Below are seven things you can do for fun in Seoul at night.
Clubbing
Located in the heart of Gangnam, Club Octagon is one of the city's most exclusive nightclubs you can find in Seoul at night. If you visit the New Hilltop Hotel, you'll find this club bustling with people.
You can ogle at the state-of-the-art sound and lighting equipment, as well as luxurious-looking private lounges, lively dance floors, and even a swimming pool. Their state-of-the-art sound system blasts electro dance and deep, tech house tunes played by exceptional DJs from around the world.
This is where the cool Seoulites go, since this place is the best chance for you to see your favorite celebrities and trendsetters partying. Big names like SHINEE have graced this club's dance floor, and the best part?
You can see their faces projected onto the large LED screen on one side. You'll definitely know that you're in the same room, breathing the same air as they have.
People usually spend between ₩10,000 and ₩30,000 to go clubbing here, and it's generally pretty packed. Still, you should definitely splurge on special cocktails like the Red Octagon and Pink Octagon, and I promise you, it'll be worth it.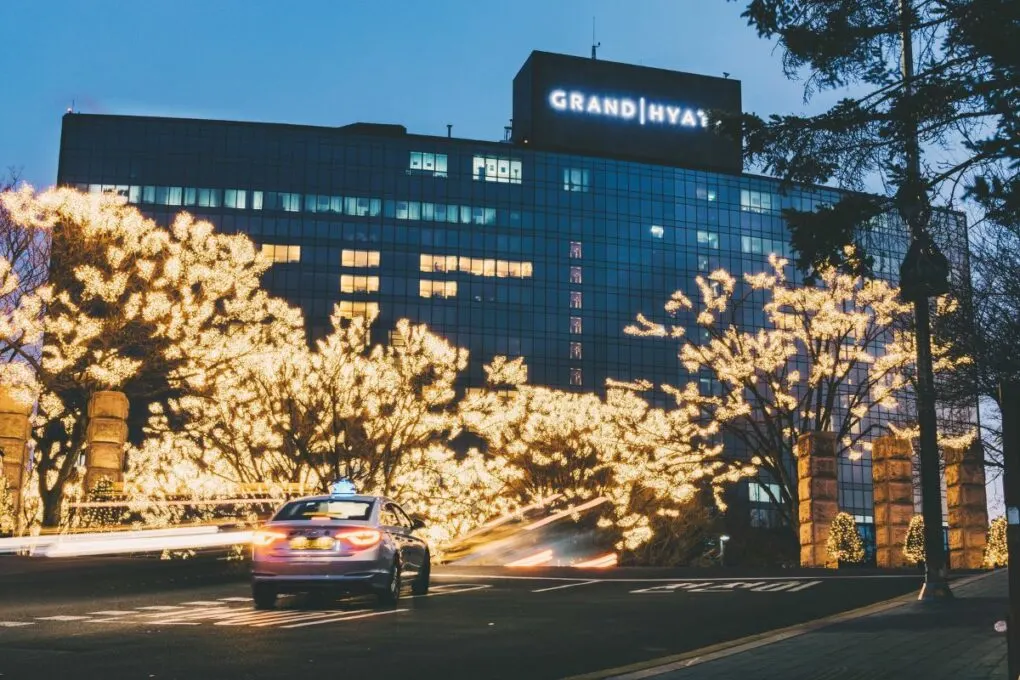 Bar hopping
If you're not happy staying in just one club, you can opt to join a bar or club hopping party! SEOUL PUB CRAWL tour takes you to the best spots in Hongdae, Itaewon, and Gangnam. You can get tickets if you visit their site, and you can choose from the list which tour you would like to take.
Included in their package is the comfort of skipping the line and free access to three bars and one club. Being part of the tour also allows you to enjoy a free shot in every location, plus discounts and professional party photos.
This means that you'll have VIP-level pictures of yourself enjoying the night away, and every picture will capture you genuinely enjoying Seoul nightlife.
Noraebang
Not really much of a dancer, so you'd rather sing the night away instead? If you find yourself in the heart of Hongdae, look for Luxury Su Noraebang. This is not your ordinary karaoke room. Like the name suggests, the whole place definitely looks luxurious thanks to its spacious interior and professionally trained staff.
Large chairs are placed regularly for big groups to rest on after a fun night of partying and singing (in multiple languages!). Big fans of K-Dramas will also get a treat stepping inside, because this noraebang has been featured in several shows.
Some of these include True Beauty (여신강림), Because This is My First Life (이번 생은 처음이라), and Hospital Playlist (슬기로운 의사생활). Moreover, you can enjoy an unlimited serving of popcorn, ice cream, and beverages for just ₩1000!
Sometimes they even serve ban chan, depending on the branch you chose (there are five branches within Hongdae, each with a different flavor of its own).
For those worried about judgement, passersby can't hear you because the rooms are soundproof. So go ahead, sing your heart out! You can even have your exciting or heart-wrenching rendition of your favorite song recorded and saved to your flash drive or emailed to you. How cool is that?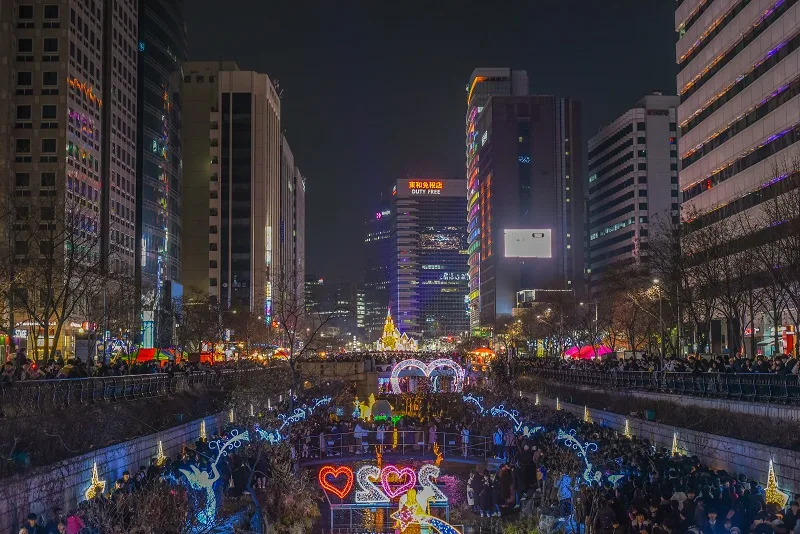 Catch the Night Parade
Visiting Seoul isn't complete without a trip to Korea's version of Disneyland. There's always something in store for you at Lotte World, whether you're alone, with friends, or if you simply wish to go for a stroll.
With a large theme park that boasts indoor and outdoor attractions, Lotte World is a breathtaking destination if you want to see a different kind of Seoul at night. In addition to housing the sixth tallest building in the world, Lotte World also has an aquarium, a folk museum, and a minimart! If you're lucky, you might get to see outdoor events that display the creativity of local and international artists.
Thirty minutes before the clock strikes 9 each evening, keep your eyes peeled as magnificent floats, dancers, and entertainers of the Lotte Cast get introduced to the public. They're there only to dazzle you and your friends with magical performances that are sure to leave you stunned.
Spectacular light shows and glow-in-the-dark features work together to create an ethereal fantasy vibe.
Stay the night at a Jjimjilbang
Jjimjilbang, Korean saunas or old-fashioned bathhouses in Seoul, let you unwind in traditionally decorated sauna chambers. People who do not want to splurge on an expensive hotel may opt to just sleep in these 24-hour places, with a typical price range of ₩6,000 to ₩8,000 (but limited space for baggage).
Expect little, since this is just budget accommodation. The sleeping room is just a large room with a single mat. If you need pillows, there are small, squishy blocks stocked in a box outside. As for blankets, you don't need them since saunas have ondol, a traditional floor heating system exclusive to Koreans.
Furthermore, these spaces boast amenities like hot tubs, snack bars, and swimming pools, with long opening hours. Some even have arcades and karaoke rooms. Perks like these make staying in these places worth it, and will definitely redefine your idea of what a sauna is like.
Shop at the Dongdaemun Night Market
In Dongdaemun Night Market there are tons of affordable things to buy; from clothing to skincare, you'll never run out of things you'll quickly think you need. People who love to go on shopping sprees will come alive here, and will definitely come home with tons of pongtu (bags) holding whatever their hands could grab & their wallets could afford.
Sometimes, if you're lucky, you might see buskers perform at night, showcasing their incredible skill and talent, as well as Korea's up-and-coming models walking in mini-fashion shows.
Visit the Han River
Seoul Color Park becomes a vibrant destination at night, and the spectacular view of the Han River seems to shimmer even more from this location. From this area you can enjoy a calming walk as you follow the rows of lights leading you to an incredible view of the bridges arching over the river.
Plus, this area is also known to serve the best street food! I had a chicken skewer and hotteok the first time I came here, and just these two really did fill me up as I watched the twinkling lights.
You can even rent a mat from the entrance and rest on the grassy areas of the park, along with other people who also thought of watching the night sky with their friends or significant others. It's a wonderful way to cap your day if you're not really into noraebang or shopping.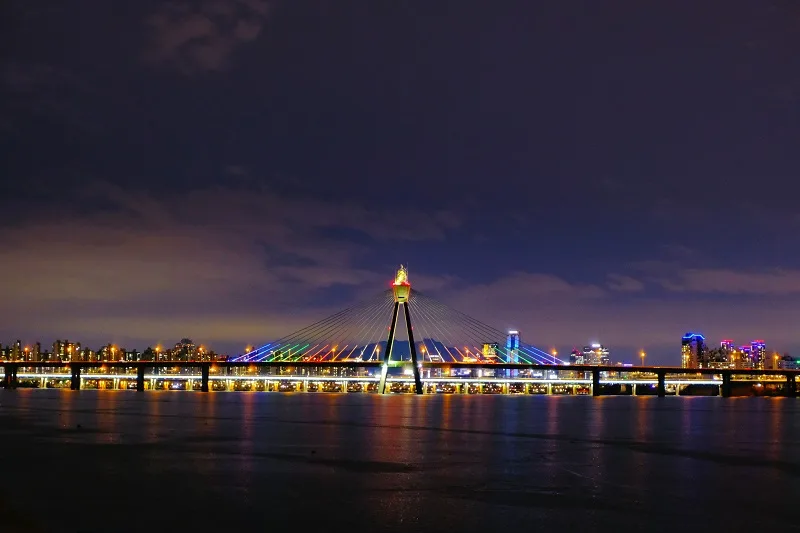 Seoul Night View Spots
They say that the night looks beautiful in Seoul. Here are five places that provide the best views of Seoul at night.
Bugak Skyway
People who still want to hang out with their friends late into the night can go chill in the Bugak Skyway. Aside from seeing the Han River and the Nam Mountain, they can also rest in an octagonal pavilion adorned with lights, or walk along a twisting route that displays rows of trees that showcase the current season, making it an ideal place to hang out in during spring or fall.
Namsan Tower
On top of the 'Nam' Mountain lies Namsan Tower, a breathtaking skyscraper that lets you see downtown Seoul's epic skyline. At an astounding height of 237 meters, this tower was built to connect Seoul to local and international TV and radio channels.
Now transformed into a popular tourist destination, this place also has a digital observatory which offers a 360-degree view of Seoul and beyond. Too see 'beyond,' Namsan Tower has a high-powered telescope that can be used to look at various points of interest.
Each window panel in the tower shows which major world city you are facing, and tourists love looking for their home country's capitals there. Another cool feature is the Namsan Cable Car, which carries provides people with an epic night view as they slowly move up to the tower.
Surprisingly, for what seemed to be an acrophobe's nightmare, I was not scared aboard it at all. In fact, I remember being too busy identifying the places we went to below. For a more interesting experience in Seoul at night, people can also dress in their best fine-dining garb as they enjoy a meal at the rotating restaurant.
It's actually located on the highest point of Namsan Tower! Furthermore, since Korea is big on couples culture, the open-air terrace on the first floor has an area where couples can attach padlocks and handwritten notes to commemorate their anniversaries.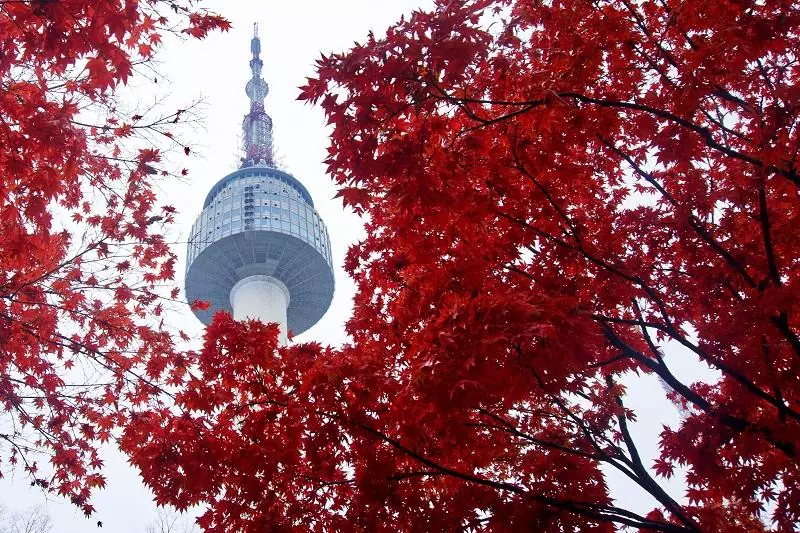 Seoullo 7017
At night, Seoullo 7017 becomes a vast sight to behold. As the dark night sky deepens, the park's lights and the neighboring buildings produce awe-inspiring sights.
Since this place is very near Seoul Station, headlights from passing cars create streaks that display the aesthetics that nighttime city photographers are typically gunning for.
Moreover, those with the skill to play the piano can serenade people using the public piano somewhere located somewhere within, which further reinforces the romantic vibe the park is aiming to achieve.
Seoul Sky, Lotte World Tower
On the 117th floor of the Lotte World Tower lies an observatory that lets you see a beautiful panoramic view of the Han River and Seoul at night. Just a floor above also lies the amazing Sky Deck, which has a transparent glass floor that might just awaken the inner acrophobic in you.
Naksan Park
At night, the soft moonlight and the lanterns on the fortress walls of this place work together to create a solemn atmosphere, making this park a peaceful hideaway for the introverts among us to enjoy. Couples tend to love how they can just freely walk together here, without getting interrupted by the noise of Seoul nightlife.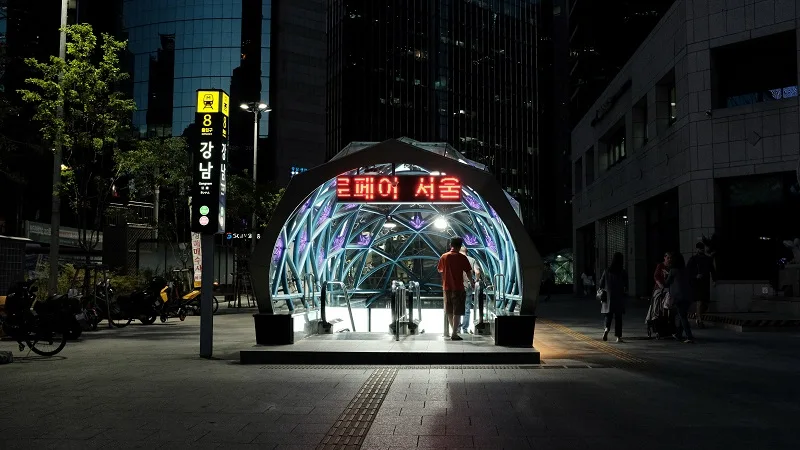 What It's Like in Seoul at Night
Seoul nightlife can get pretty wild, and that usually involves people trashing the streets (they have a serious littering problem here). Some people even get wasted to the point that they do unsavory things in public spaces, like the subway or convenience stores.
Crowding is also a serious problem, and people eating in food stalls along major roads block sidewalks sometimes. It can be hard to believe this after the wee hours of the morning, because volunteers sweep the streets around 5am every day, removing evidence of hard partying and drinking.
This is a little, but thoughtful, act of stewardship most often done by the elderly. Despite these observations, Seoul still is a wonderful place to be in at night, because some daytime locations come alive, transforming the area into an entirely new place.
Locations like Cheongyecheon River are a pleasant location for a stroll during the day, but when the lights come up at night, it turns into a romantic hotspot. It almost transports you all the way to the futuristic glow of Dongdaemun Design Plaza, another spot that looks fascinating during the day, but turns brighter and more attractive at night.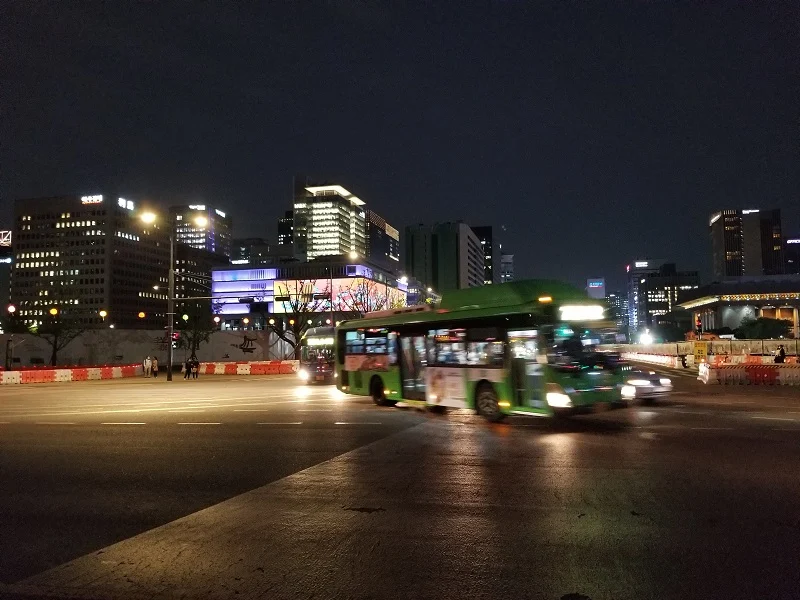 Nightlife in Seoul
Koreans instantly get attracted to anything dynamic or popular, and every club in Seoul screams this definition! That's why the fun never stops! Just when you thought that the party was over, a Korean friend will invite you to jump from one club to another.
Bar hopping is trendy nowadays, but many Koreans still go to cafes and restaurants well past 10pm. For anju, or "food goes with liquor," fried chicken is one of the most popular foods people turn to while drinking beer, and samgyeopsal places are bustling with patrons enjoying soju.
Take note that the Seoul Metro is only open until midnight, but since the pandemic has changed a lot of policies and regulations, it might be open, but trains will no longer run past 10pm. You might have to wait until 5:30am for the trains to resume running for the next day.
If stuck in this situation, vending machines are present and public restrooms can help you freshen up until the train comes. Korea's wired community also lets you get connected to the internet for free while waiting. Still, if you don't feel like staying in the subway, you can choose to stay in motels or jjimijilbangs for a cheaper alternative.
There's also a free option: urban green spaces, or green paths, provide trails that can help you walk off the sojuYou can also rest on any of the benches, giving you a great view of the growing light as the sun begins to rise.
Note: Google Maps does not work well in Korea, so I highly recommend that you install Naver Maps or Kakao Maps to find the nearest station. The majority of subway entrances are covered by staircases near the sidewalk, along with a yellow train logo.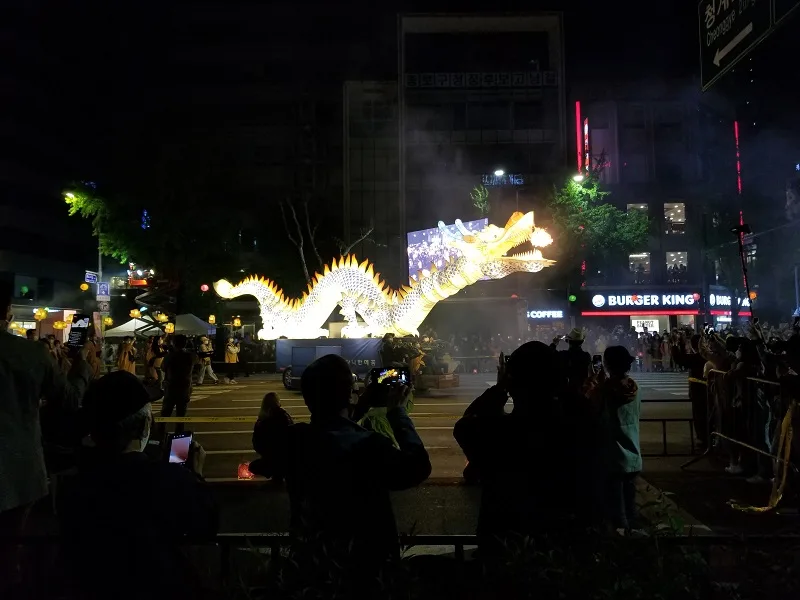 Drinking Culture in Korea
Wherever you go in Korea, it's quite normal to see locals pairing soju (rice liquor) or maekju (beer) with their meals. Apparently, alcohol consumption is higher here than in other countries, and it's quite evident in Korean movies.
In reality, it's hard to find gatherings that do not involve drinking, and some people can take offense if you reject their invitation to, because to them, this is an important way to bond and get to know each other. You also get to eat lots of food while drinking.
Popular anju typically involves a lot of spice, but if your stomach can handle it, you'll notice that these are food that's good for sharing. Dak bal (chicken feet), for example, is a spicy-yet-savory treat that'll leave a lasting burn in your mouth if you're not used to it.
Perhaps if you're lucky, your Korean friends may opt for dried squid, which comes in flavors other than spicy (like plain or butter-flavored). Telling them that you do not drink is equivalent to "I don't want to spend time with you" and may even affect your social standing (whether personal or professional) with them.
Anju is always ordered and meant to be shared with others, because the foods on anju menus are usually served in large portions that take quite a while to finish,in order to keep the hearty conversation going.
If you plan to stay in Korea longer than a year, you'll likely be attending plenty of group events, and I guarantee there will almost always be drinking. Add to that the fact that Koreans often drink to the point their bodies give up, expect to see some of your colleagues be dragged to cabs or subway stations, bodies slumped against their seats.
Seoul at night is a vast array of dazzling sights, activities, and even wonderful places to shop or just stroll in. Just like during the day, the night time view of Seoul can be dazzling– the only difference is that it's twice as lively and noticeably darker out. Experiencing Seoul at night will, for sure, leave you with memories that will last a lifetime.