In the world of alcohol, there's a growing trend for home bartenders to experiment with unique and exciting flavors. One popular spirit that's making the rounds at the moment is soju, a distilled alcohol from Korea, most aptly compared to vodka.
In fact, soju has been the most-sold liquor in the world as recently as 2021. There's no better time to explore the versatility of mixed drinks with soju, so get ready to shake things up with these unique & delicious soju cocktails you can make at home.
Each listing includes which ingredients are called for (soju is only listed if it calls for a flavored soju), so you know immediately whether you can enjoy that soju cocktail recipe.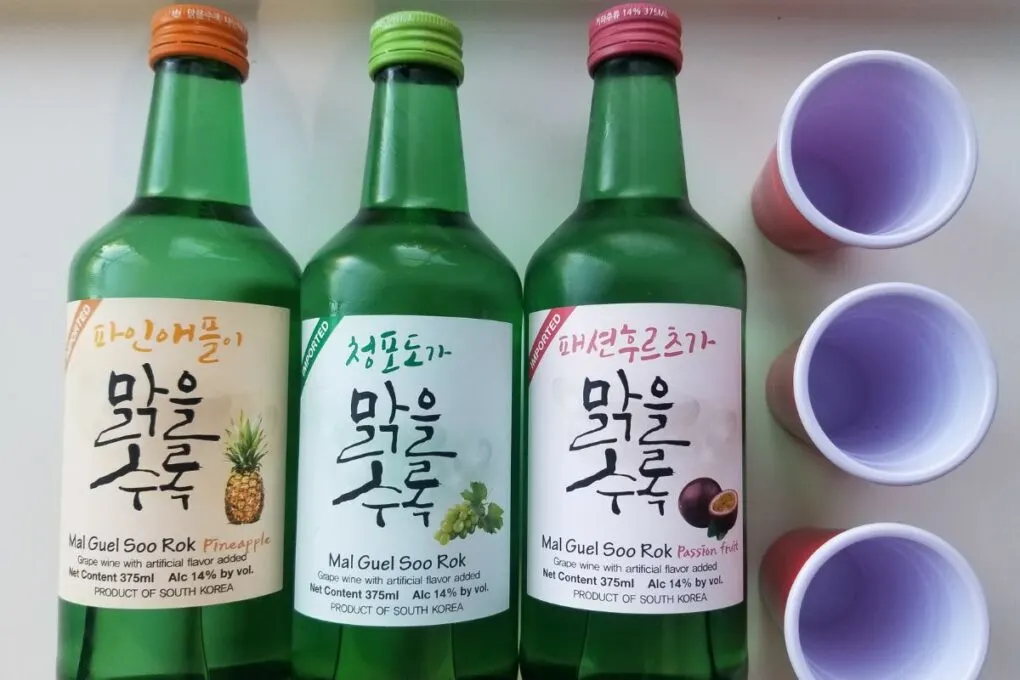 Essential Soju Cocktail Ingredients
Before diving into the list of soju cocktails below, it's essential to make sure you have a few pantry essentials on hand. Most mixed drinks made with soju require a combination of fresh fruits, sodas, syrups, and a couple other common mixers.
A wide variety of soju flavors are also available, so unless stated otherwise, assume that all the soju cocktails below call for plain, regular soju. But if you do opt for a flavored soju, consider trying them as variations of the soju cocktail recipes covered below.
If presentation is important to you, make sure to pick up some fresh garnishes, like mint leaves or lemon wedges, to allow you to elevate the look and taste of your soju cocktails. It's also a good idea to have a shaker, a muddler, and some glasses in various sizes, to better serve various types of drinks.
In Korea there's certain drinking etiquette, but don't worry about it unless you're drinking with Koreans.
How to Make Mixed Drinks With Soju
When it comes to mixing soju cocktails, a few helpful hints can elevate your homemade creations. First, always use fresh ingredients for the best flavor, such as fruits, herbs, and juices. Experiment with different soju brands, as they can vary in taste, alcohol content, and smoothness, though internationally options can be limited.
It's a good idea to serve your soju cocktails chilled, so make sure to add plenty of ice when mixing, storing, or serving your beverages so that they don't immediately melt the ice upon serving. Be aware of the drink's higher alcohol content when using it as a mixer, and adjust the proportions if necessary.
As mentioned, garnishes can also add to the presentation and enhance the overall flavor profile, especially if the components are vert fragrant or flavorful, like fresh strawberries or rosemary.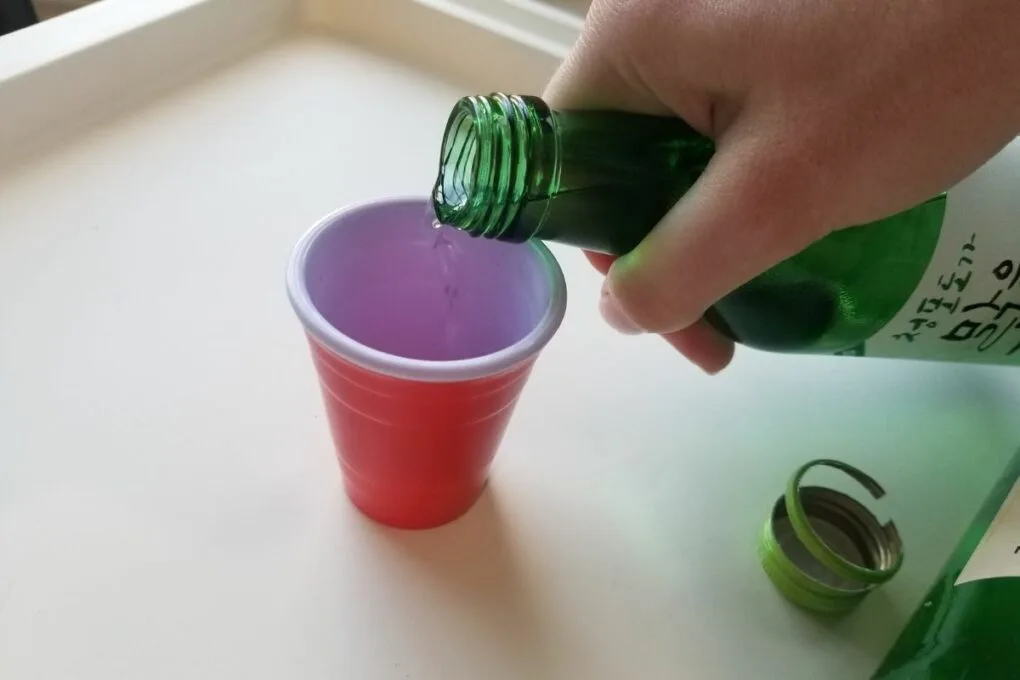 Fruity Soju Cocktail Recipes
Soju Lemongrass Pomegranate Cocktail
Ingredients: soju, fresh lemongrass, pomegranate syrup, and lime juice
Since this involves a homemade lemongrass simple syrup, there's a bit of planning needed to make this soju drink, but the end result is totally worth it. Combine a dash of pomegranate juice and some fresh limes and you'll have yourself a dazzling, ruby-colored cocktail.
SoCal Cooler
Ingredients: fresh ginger, honey, fresh mint, lime juice, tonic water
A thirst-quenching sparkling soju drink, this herbaceous blend of soju, botanicals, and seltzer is great no matter what substitutions you may need to make. I've enjoyed swapping out the lime for lemon juice and the plain soju for a flavored twist.
Soju Berry Twist
Ingredients: soda water, fresh berries (blueberries, strawberries, raspberries, etc.)
Upgrade your soju experience with a combination of fragrant berries, such as strawberries or raspberries, and a splash of soda water. Flavored types of soju have a lower alcohol content, so the addition of a complementary or balancing flavored soju alongside the berries would make this perfect for sipping on a sunny afternoon.
No official recipe— yet!
Spicy Pineapple Soju
Ingredients: fresh pineapple, lemon-lime soda, pineapple juice
Combine soju with pineapple juice and a gochugaru-infused rim for a sparkling, tropical delight that hits me as a twist on a pineapple margarita.
Mango Melona Soju Cocktail
Ingredients: lemon-lime soda, mango soju, Melona ice cream bar
This unusual-sounding combination strikes me as an incredibly Korean flavor combo for summertime. Not only is this the short window of time in Korea during which ripe Philippine mangoes are available, but it's also high time for Korean melons, which are beloved. So this fruity soju cocktail is delightfully refreshing, perfect for summer.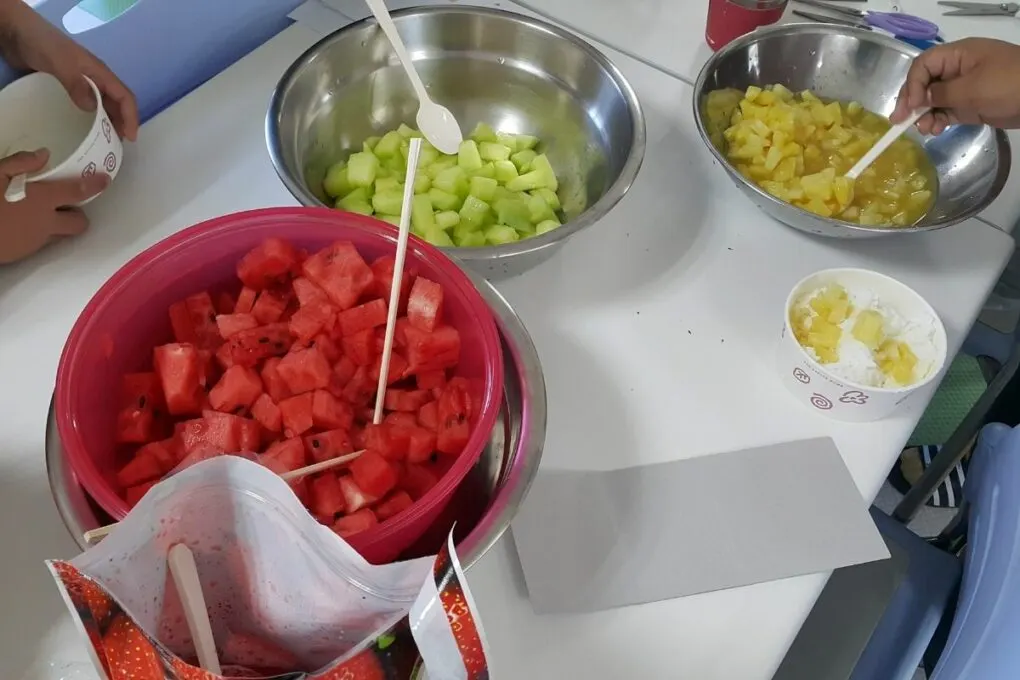 Summer Cocktails Made With Soju
Subak Soju (Watermelon Soju)
Ingredients: fresh watermelon (plus ice & soju)
This is the perfect summer cocktail with watermelon and soju, and not much more. It's an easy, refreshing 3-ingredient punch which makes it super easy to prepare ahead of time and make in a large batch for summer get-togethers & barbeques.
Soju Lychee Sangria
Ingredients: lychee juice, lemon-lime soda
Combine soju with lychee (or lychee beverage) and a splash of lemon-lime soda for a tantalizing and lighter fruity soju drink. I find beverages like this are perfect to cut the heat when enjoying spicier dishes, like my creamy gochujang pasta.
Asian Pear Mojito
Ingredients: fresh mint, limes, Asian pear, simple syrup, and tonic water
Upgrade a classic mojito by using soju and a crisp fall pear for unique and autumnal flavors, balancing out the usual bite and acidity of your typical mojito.
Strawberry Soju Cocktail
Ingredients: fresh strawberries, strawberry calpico, sparkling water or sprite
This fruity and creamy drink combines strawberries, a sparkling of your choosing, and a more unusual ingredient: Korean yogurt. It's sweet and tangy, ideally made with those tiny fresh strawberries you can only get for a month or two out of the year (but we won't tell if you use frozen ones!).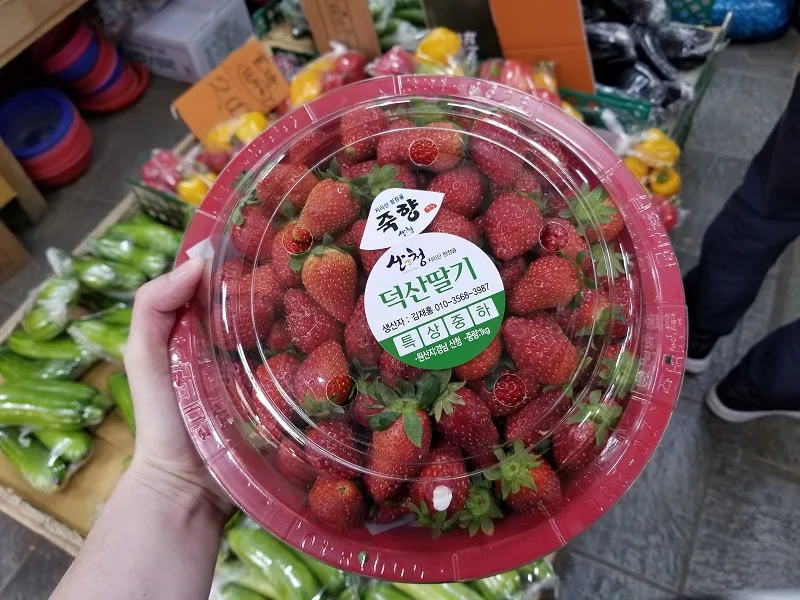 Classic Cocktails With Soju
Sour Seoul
Ingredients: simply syrup, lemon juice (& load of ice)
A cool, citrusy spin on the classic lemonade (or a whiskey sour). Simply mix soju with freshly-squeezed lemon juice and simple syrup for a zesty concoction with a surprisingly strong kick, orange garnish optional.
Seoul Mule
Ingredients: fresh ginger, yuzu juice, ginger beer
Check out this Korean take on the classic Moscow mule. It still has the strong, sweet undertone of the usual ginger beer, but with a twist of citrus— Seoul style
Soju Mojito
Ingredients: lime, fresh mint, coconut sugar, carbonated water
Give your mojito an Asian twist by using soju instead of rum, and keep it classier & healthier with a crunch of coconut sugar and some freshly-muddled mint leaves.
Soju Grapefruit Radler
Ingredients:
Similar to a typical Grapefruit Radler, this variation calls for soju in place of the beer, with a combination of grapefruit juice, lemon juice, simple syrup, and carbonated water topping off a somewhat less bubbly beverage.
No official recipe— yet!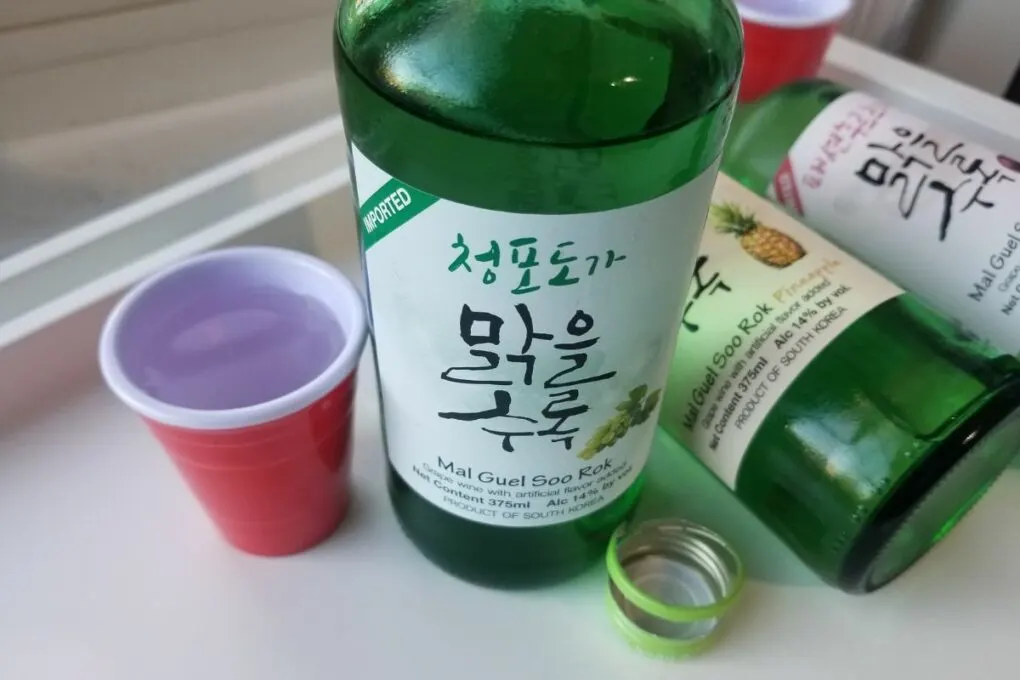 Korean Screwdriver
Ingredients: orange juice
The simple swap of soju for the classic vodka brings a lower alcohol content and a much softer bite from the beverage. I loved this combo because I can always find a quality orange juice and a cheap bottle of plain soju at the CU in Korea.
I could always count on my own ratio, 3:1 orange juice to soju, and how quickly or slowly I wanted to drink it. Try a flavored soju for a weaker drink and a whole different flavor combo.
Soju Ginger Shandy
Ingredients:
This warming drink mixes soju, ginger beer, and a hint of lemon. It's a perfect accompaniment for cool autumn evenings. Explore more ginger-based beverages with these 11 Soju Recipes.
Get the recipe.
Soju Caipirinha
Ingredients: lime, sugar
A Korean take on the Brazilian classic, this Korean caipirinha combines soju, whole fresh lime, and sugar for a simple soju cocktail great at any time of day.
Cucumber Boy ('Oi Boy')
Ingredients: cucumber, lemon juice, ginger liqueur
Fresh cucumber slices, ginger liqueur, and just a squeeze of lemon create a light and crisp concoction, perfect for summer evenings. Add a splash of soda water for extra effervescence, or serve with ice for more longevity.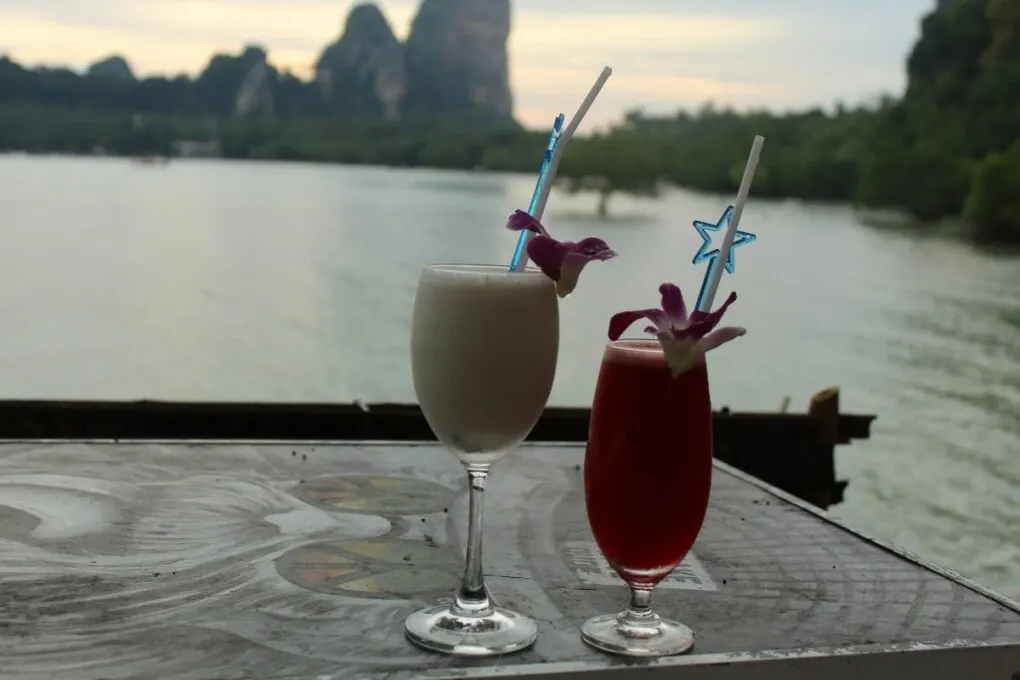 Korean Soju Cocktails (from Korea)
Cojinganmek
Ingredients: cola, beer
A fizzy and thirst-quenching mix with a kick, this strange-sounding cocktail is just the nickname for a popular Korean combination: cola, soju, and beer. The beer forms the base for the cocktail, with just a shot each of the soju and cola added atop the beer.
Which korean beer brand you use is dealer's choice, but Hiite is a decent pick, if you're in Korea. This is a popular beverage of choice when playing Korean drinking games.
Somaek (Korean Soju and Beer Cocktail)
Ingredients: beer
Somaek, an amalgamation of soju and maekju (beer), is a very popular Korean soju drink, also known Stateside as a soju bomb. Like a cojinganmek, the base of this drink is beer (any cheap beer will do), with a whole shot of soju poured on top; try a flavored soju to really mix it up.
Soju Yakult Cocktail
Ingredients: Korean yogurt drink, lemon-lime soda or electrolyte drink
This popular drink mixes soju, spite, Yakult— a probiotic yogurt drink from Korea— with ice for a creamy and smooth concoction that I swear tastes better than it sounds. The combo is actually very popular in Korea, where convenience store cocktails are the signature beverage of almost any college party.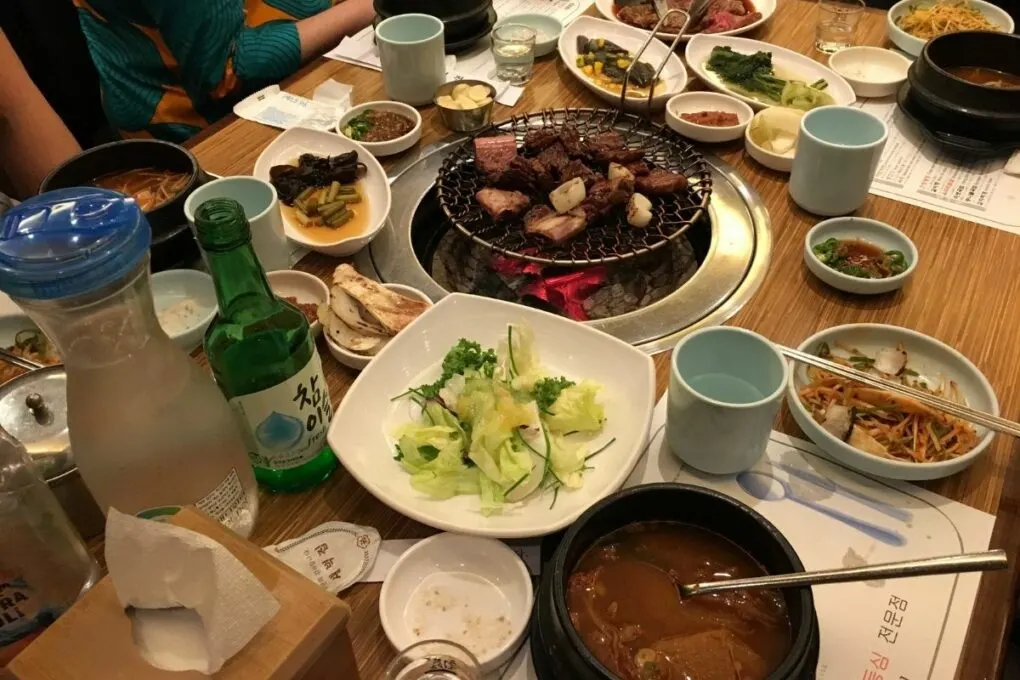 Caffeinated Soju Cocktail Recipes
Soju Iced Latte
Ingredients: latte of choice (canned or homemade)
A soju iced latte cocktail is a mixed drink made with soju and a iced latte, the latter of which can be whatever you prefer, even something you buy from a local coffee shop. For a somewhat more Korean-style drink, you can even use instant coffee mix.
The cocktail is typically made by mixing soju with the latte and adding other ingredients such as sugar syrup, vanilla extract, or chocolate syrup to enhance the flavor and make a sweeter drink. The result is a refreshing and slightly sweet cocktail that's perfect for a hot summer day or as an after-dinner drink.
For a sweeter beverage, simply add more sugar to the coffee before mixing in the soju.
Korean Iced Green Tea
Ingredients: lemon, green tea syrup (sugar + green tea bags)
Refreshing and earthy, this surprising combination combines soju with green tea, a popular tea in Korea. The main ingredients are soju, lemon, and a green tea syrup, but for a more toddy-like beverage, try making a lavender or vanilla syrup and making the base with pure, strong green tea.
Squid Game Dalgona Cocktail
Ingredients: espresso, cream, honeycomb syrup
Try combining soju, freshly-brewed espresso, heavy cream, and a hefty pour of honeycomb syrup (a nod to Korean dalgona) for a sophisticated after-dinner drink. A slightly lower ABV version of the original, this indulgent drink is just over-the-top enough to deserve a place at your Squid Game season premiere party.