After watching your favorite K-pop idols on tiktok and K-dramas on Netflix, now you're craving Korean food. We all know how hard it can be for fans of good Korean fare to find that specific red pepper powder flavor.
Luckily for you, we've found the perfect gochugaru substitutes! But first, let me tell you a little about why Korean hot peppers are so unique.
Gochugaru is dried, deseeded, and ground chili powder or flakes. It is widely used in making kimchi and adds spice to various dishes. Here are some of the best substitutes for gochugaru that are readily available in your pantry.
Korean hot peppers are a staple of the Korean diet. They are often eaten as a side dish like kimchi or as part of a spicy rice dish called bibimbap, and you can also use them in soups and stews. Koreans also love to eat them raw as snacks or with their alcoholic beverages.
They are spicy, but not overly so, and they've been used in Korean food for centuries.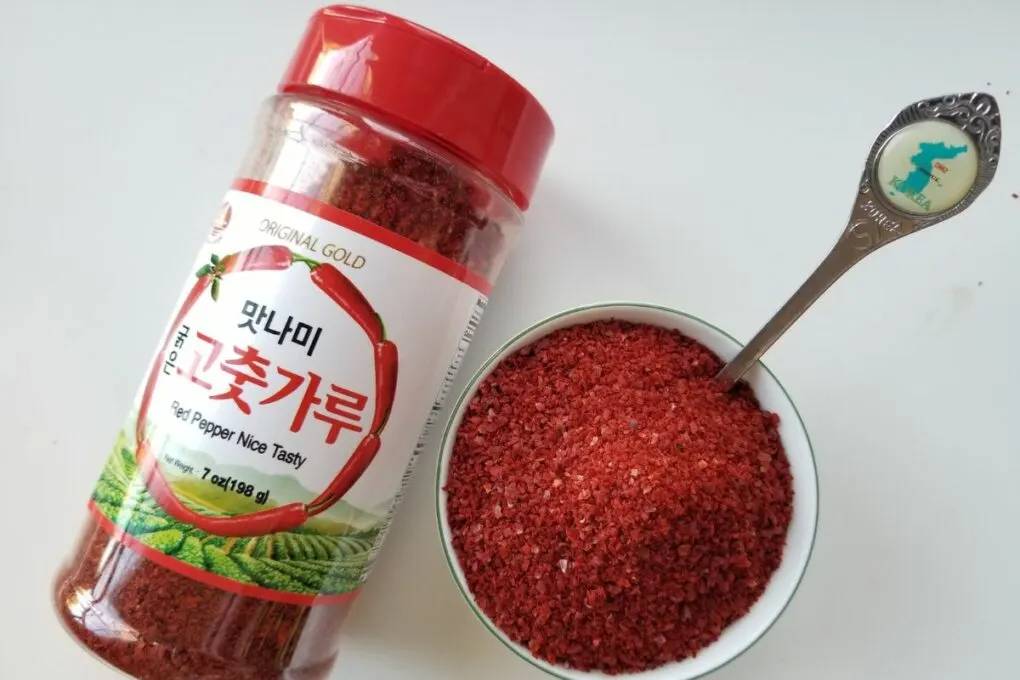 What Makes Korean Hot Peppers Unique?
Korean hot peppers are a fantastic addition to any dish because they are spicy yet have a flavorful taste of sweetness. You can use them in many ways, from adding them to your favorite dish to adding them as a condiment for your next meal.
While there are machine-dried gochugaru in the market that are more affordable, the finest gochugaru is called taekyung or simply gochu (chili), sundried to perfection. Red Korean chilis deseeded, membranes removed, and bathed under the sun.
This old-school process brings out that uniform, vibrant red color, and a subtle smoky flavor with a fruity hint that's unique to gochugaru. As for the texture, gochugaru goes from fine to flaky, similar to how gochujang goes from levels 1 to 5.
Gochujang (Korean fermented chili paste) and gochugaru (Korean chili powder) are the most popular condiments in the Korean pantry that use these hot peppers as the base.
Not only are Korean hot peppers used as spices, but Koreans have been using them for centuries in traditional medicine to relieve pain, reduce inflammation, improve digestion and increase circulation.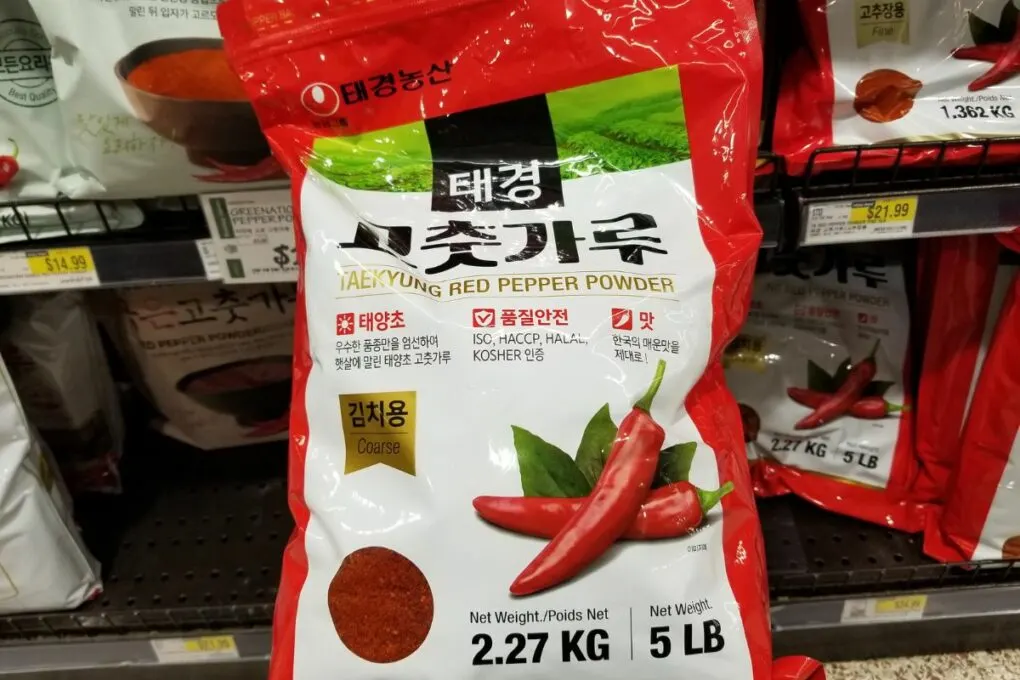 Gochugaru Heat Level: Introducing Scoville
Now, let's talk about the heat level. The Scoville Scale is a tool used to measure the heat level of peppers. Though we all think that Korean hot peppers are very spicy, they're not necessarily as hot as we think, and have a sweet & tangy flavor.
Growing in the Korean climate with just enough water is the reason for its mild and distinct flavor. There are three main Korean hot peppers:
Putgochu (Korean Green Pepper): 1,500 SHU
This pepper has a mild spiciness and is slightly bitter to taste, perfect to use as a dip for vegetables like carrots, cucumber, and celery.
Honggochu (Korean Red Pepper): 1,500 SHU
This hot red pepper is potguchu when ripened— it's commonly used in making gochujang and gochugaru, stews, soup, and garnishes.
Cheongyang chili pepper: 4,000 – 12,000 SHU
Considered the spiciest among all Korean hot peppers, this is just a baby compared to ghost peppers! Koreans add this type of pepper to make gochujang and gochugaru spicier than usual.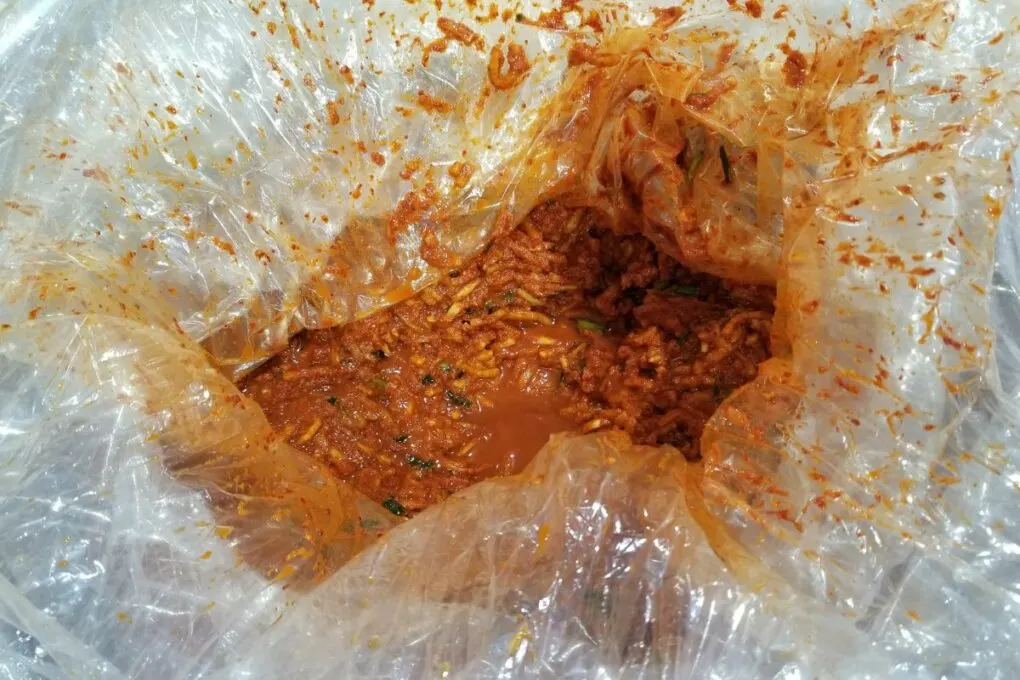 5 Best Gochugaru Substitutes
Although the distinct taste of gochugaru– smoky, sweet, and mildly fruity– is challenging to replace, there are several gochugaru alternatives you might already have in your pantry or local grocery store.
Cayenne Pepper Flakes
Aiming for the same texture but want to have a higher level of heat? It's great if you have cayenne pepper in flakes. Although cayenne is on the neutral side and doesn't have the same sweetness and level of smokiness as gochugaru, it's a decent alternative if you're on the spicier side.
But if you have no other options and want to reduce the heat factor, you can give it a quick soak in warm water. Cayenne pepper is more refined in texture and a lot spicier than gochugaru, roughly 3x spicier, so take this under consideration.
Ratio: Start by adding 1/2 to 3/4 teaspoon of cayenne pepper to replace every tablespoon of gochugaru.
Hot Paprika Powder
If you are looking for a similar substitute for gochugaru, paprika is the best choice you have for mild heat. While paprika won't give the same eye-catching red color as gochugaru gives to kimchi and other dishes, it will add a sweet hint and peppery taste to the dish without burning your tongue.
With heat levels ranging from 250 to 1,000 SHU, it's perfect for those with lower tolerance to spicy food.
Ratio: If paprika is the only option you have, use it as a 1:1 replacement for gochugaru.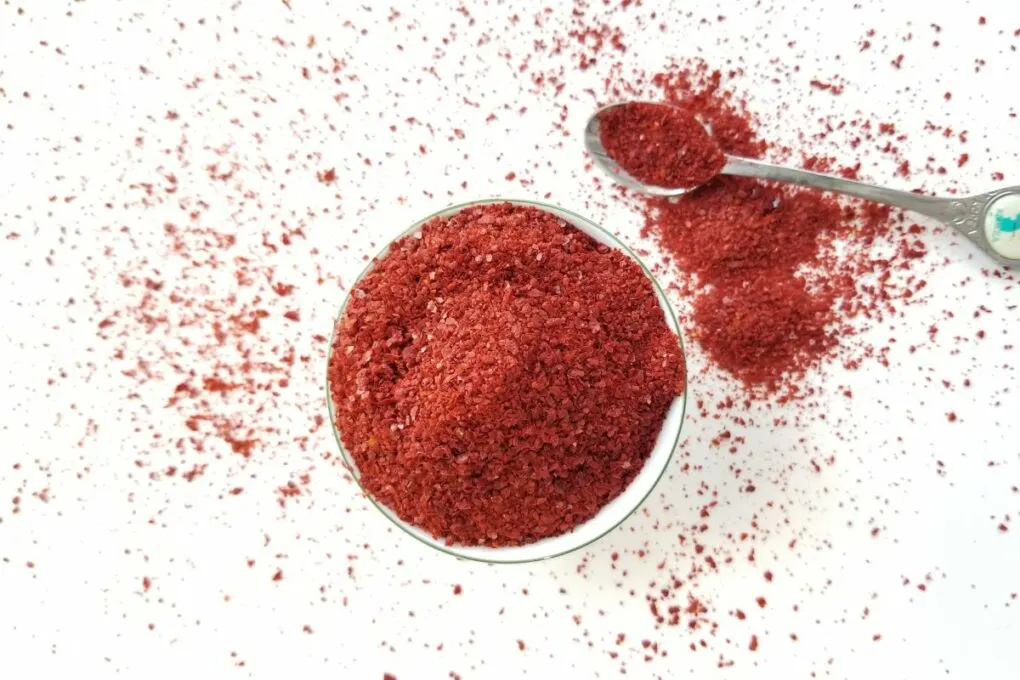 Gochujang
Traditionally, replacing gochugaru with gochujang when making kimchi or other traditional dishes is not a thing. However, if it's the only choice you have, you can give it a shot. Gochujang contains gochugaru powder, glutinous rice powder, onion, and garlic–the same essential ingredients you need to make kimchi paste.
Ratio: Take note that gochujang is spicier than gochugaru, so try using half as much as the called-for amount of gochugaru.
Chipotle Powder
Chipotle powder is one of the top choices for gochugaru substitutes. Chipotle powder made from drying and smoking jalapeño peppers, which will give your dish a strong kick. It has a brownish color, very different from gochugaru, but it's a similar level of heat.
Ratio: Start by adding a tablespoon of chipotle powder to replace every tablespoon of gochugaru.
Red Pepper Flakes
Red pepper flakes are the most common spice available in your pantry. Though it has a different texture compared to gochugaru, it does give your dish the spiciness it needs. However, red pepper flakes have a similar heat level to chipotle, since they're made from the same peppers, so use caution.
Ratio: Start by adding 3/4 to 1 teaspoon of crushed red pepper to replace every tablespoon of gochugaru.