South Korea is a land of mountains, palaces, and busy streets, and this 3 to 7 day Seoul itinerary will put you right in the middle of it all. With the city's futuristic architecture and state-of-the-art technological advancements, people sometimes get culture shock when they see how integrated they are into more traditional lifestyles.
Everywhere you go, there's always an event happening or a festival on, and there are plenty of surprises in store – especially if you visit any of the Seoul hotspots detailed below. But while Korea is truly a magical place, it's far from what we see in the K-Dramas.
Fans often come here expecting to meet a dashing chaebol randomly in the streets (which is highly unlikely), and are disappointed when they're not hit on in the nightclub. Dramas and idols are just a small fraction of Korean culture.
To truly experience it for yourself, you'll have to immerse yourself in Seoul for 3 days or more, before heading further south. That way you'll get to try everything Korea has to offer; from delicious food to astounding historical landmarks.
So if you're figuring what to put in your Seoul itinerary, let us help you plan how many days in Seoul you should spend, and what to do and where to go during your South Korea vacation. Use the 'Jump To' box below to go to a specific section.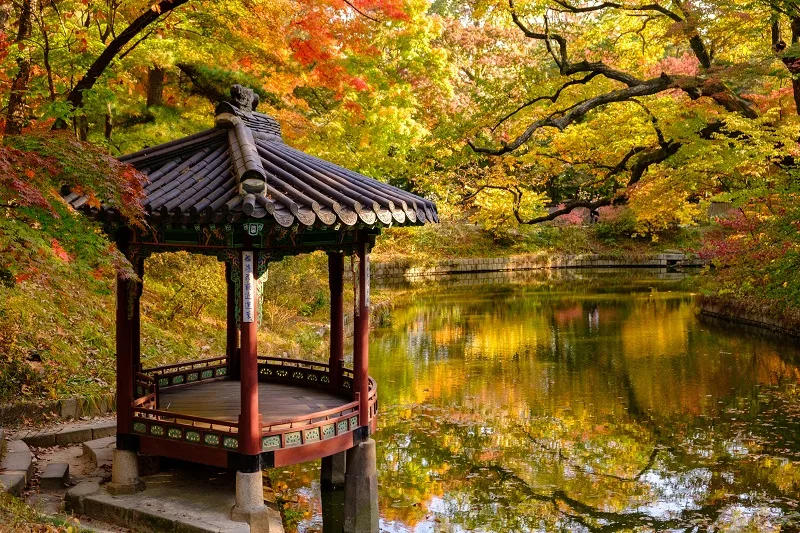 How to Maximize Your Seoul Experience
How many days should I spend in Seoul? While most guides will tell you that three days in Seoul is enough, we recommend that you stay in Seoul for a week.
But for those with tight budgets, we can help maximize your Seoul itinerary for as many days as you have, and thanks to the advanced metro system in Seoul, you'll jump from one place to another without issue.
That being said, Seoul at night is a treat for the eyes, and most of the attractions in Seoul occur when the sun begins to set. Banpo Bridge, for example, has an incredible fountain show and the title of the World's Longest LED-light display.
Around the same time each evening, stalls are set up where people enjoy delicious foods while waiting for fireworks to decorate the sky. The best part is, there's a way to do all of these things in Seoul for free.
Simply purchase a Discover Seoul pass before your trip, and you can get into most of these attractions (once each) without worrying too much about your budget. There are three kinds of passes you can choose from (24 hours, 48 hours, and 72 hours), and even if you run out of hours, you can still use it to avail of discounts in any of the partner tourist attractions.
Other sites that provide discounts are kkday, Trazy and Klook.
Unfortunately, each attraction's opening hours may change due to public holidays or unforeseen events. So if you follow this Seoul itinerary, please develop a habit of checking attractions' schedules first if you don't want to wait hours for a show that has already been cancelled.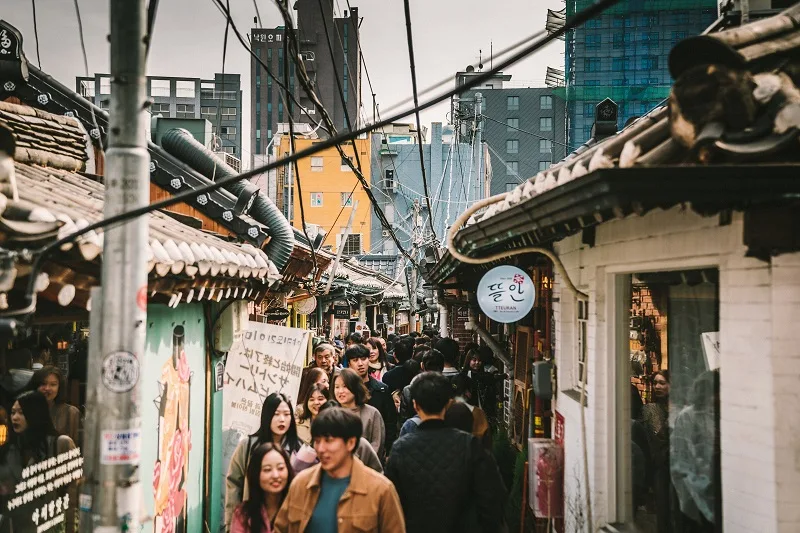 FAQ About Seoul
What is the cost of a vacation in Seoul for a week?
For a solo traveler, a vacation in Seoul may cost between ₩1,000,000-2,000,000 ($800-1,600USD). This takes into account 3 meals a day, a public transport card, and a week in a hotel, which can all vary widely in price. The rest of your money will go to experiences and souvenirs.
When is the best time to visit South Korea?
The best time to visit Korea is from May to June and September to October, since this is the best time to see the cherry blossom trees bloom or watch the fall colors in the mountains. Moreover, the weather at this time is generally pleasant for locals and foreigners alike, making walking around more pleasant than in summer or winter.
How many days in Seoul is enough?
Three days should be sufficient for a first trip to Korea, especially if you have a Discover Seoul pass, though one week is ideal. The pass enables you to visit key locations once for free, and best of all, get discounts on other destinations and experiences.
What should I pack for Seoul?
Here are the essentials to pack for Seoul: passport, credit cards, and travel medical insurance, as well as shorts, a sun hat, and tops with sleeves. Moreover, certain cellphones do not work in Korea, so you need to check if your phone is not region-locked or that it is equipped to intercept the networks provided in Korea, and possibly rent a phone for your trip.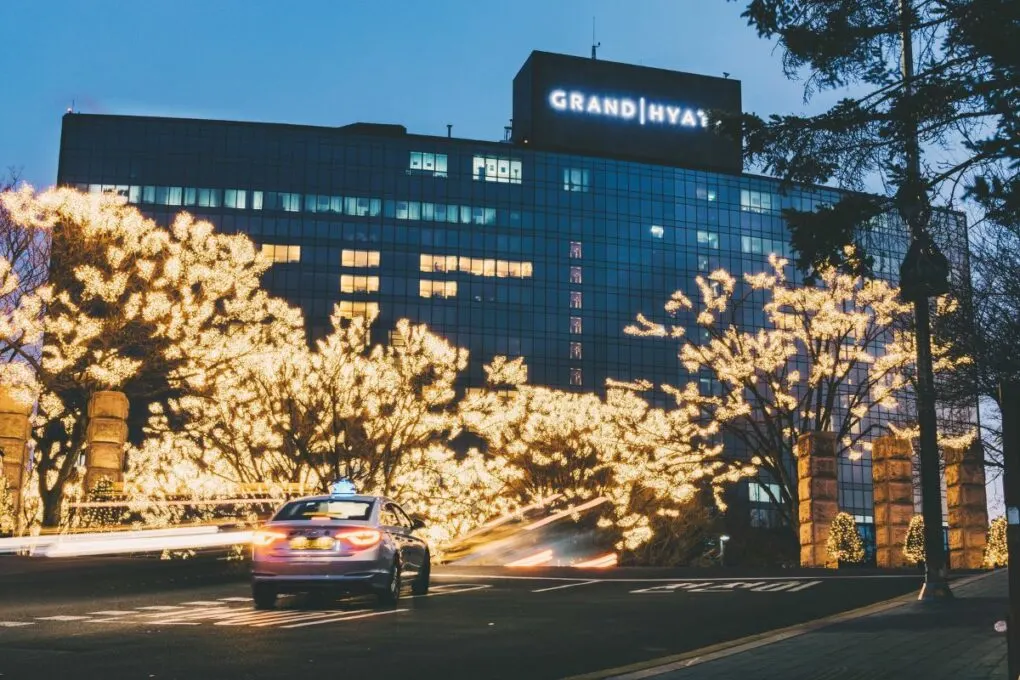 Where to Stay in Seoul
Seoul is known for having culturally diverse neighborhoods, full of history, good food, and memorable experiences. There are several fantastic neighborhoods I'd recommend staying in when you visit Seoul.
There's always something that will pique your interest, but you have to make sure that the neighborhood matches your preferences – since you might choose to add to your Seoul itinerary by experiencing the bustling Seoul nightlife.
Yongsan
Specifically in Ichon-dong, this is probably the most convenient place to look for accommodation, especially if you want something quick and cheap. This is also a convenient location if you want to visit the most popular areas in Seoul for free, like the National Museum of Korea, Yongsan Family Park, and Ichon Han River Park.
Hongdae
Creatives and digital natives love coming to this hub because this neighborhood is panned towards the younger crowd. If you're reminiscing about your college days, this is the neighborhood in Seoul for you.
Cafés regularly host language exchange parties, coffee and pub crawls, and art appreciation guilds. Sometimes buskers hold small concerts in the streets, from late afternoon into the wee hours of night.
Gangnam
Rub elbows with the rich and famous by staying in this Seoul neighborhood. With large-scale suites with spectacular views of the Seoul night sky, this area boasts popular attractions for those with luxurious tastes.
Apgujeong-dong and Garuso-gil, for example, hold multiple high-end luxury chains with clothes made by internationally renowned designers, and worn by the famous K-Celebrities we know and love (like Lisa of BLACKPINK and V of BTS).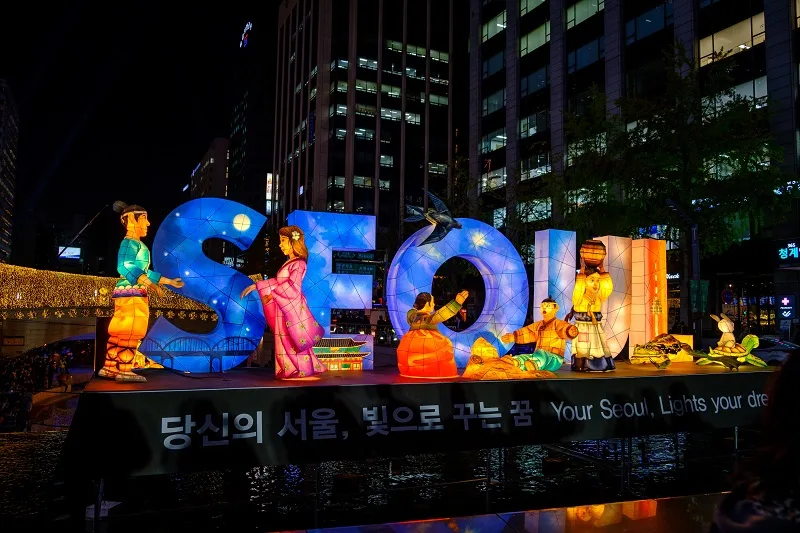 Seoul Itinerary 3 Days
This is the city where tradition meets modernity, and you deserve to experience both sides during your 3 days in Seoul. This itinerary covers the basics and the must-sees of the city if you have limited time, with an optional extension to 7 days below.
Seoul Itinerary Day 1: Embracing Korea's Traditional Side
Note: If your first day falls on a Monday or a Tuesday, you'll want to move this day's schedule to a later date— most of the palaces are closed on both those days.
Did you know that entry to any of the five Grand Palaces in Seoul is free when dressed in a hanbok? Be sure to reserve a full day's use online ahead of time to avoid the stress of long lines on the day of. The best thing about reserving online is that it also comes with a hefty discount.
Try checking the massive selection provided by the Hanboknam Gyeongbokgung Store, which actually has a Korean hairstyling service too!
Stop 1: Gyeongbokgung Palace
Time: 9:30AM
Address: 161, Sajik-ro, Jongno-gu, Seoul
Fee: Adults: ₩3,000, Children: ₩1,500; Groups have a discount, with ₩2,400 for Adults and ₩1,200 for children; It is free if you come wearing a hanbok.
The best way to start your day is to arrive at Gyeongbokgung Palace 30 minutes before it opens. That way you get to see the Opening Ceremony of the Palace Gates, and the procession that takes place as the guards shift their duties.
As you enter, the first thing you should do is fall in line to see Geunjeongjeon Hall. It's quite a bit of a walk, and you'll initially pass by the pumgyeseok (the markers court officials used to indicate where they should stand if the King calls for a meeting) before reaching the steps.
However, the view of the majestic ancient Korean architecture and the people wearing hanboks will make you feel like you have time-traveled all the way back to the Joseon Dynasty. As soon as you get to the red throne, you only have a few minutes to admire its splendor, so make sure to bring your camera with you.
If you're able to join an English-language tour, your guide will certainly point out the parts of the palace that were heavily influenced by Chinese architecture, a fact quite revealing of the times.
Other notable parts of the palace are the Gyeonghoeru Pavillion, or what used to be the setting for lavish official banquets, and the beautiful Hyangwonjeong, a small temple-like structure on top of an artificial island on Hyangwonji Lake.
There are plenty of things to do at Gyeongbokgung, but there's a special tea ceremony that lets you drink the tea that delighted the King and Queen back then, and I'd highly recommend it. You'll feel like royalty after just one sip.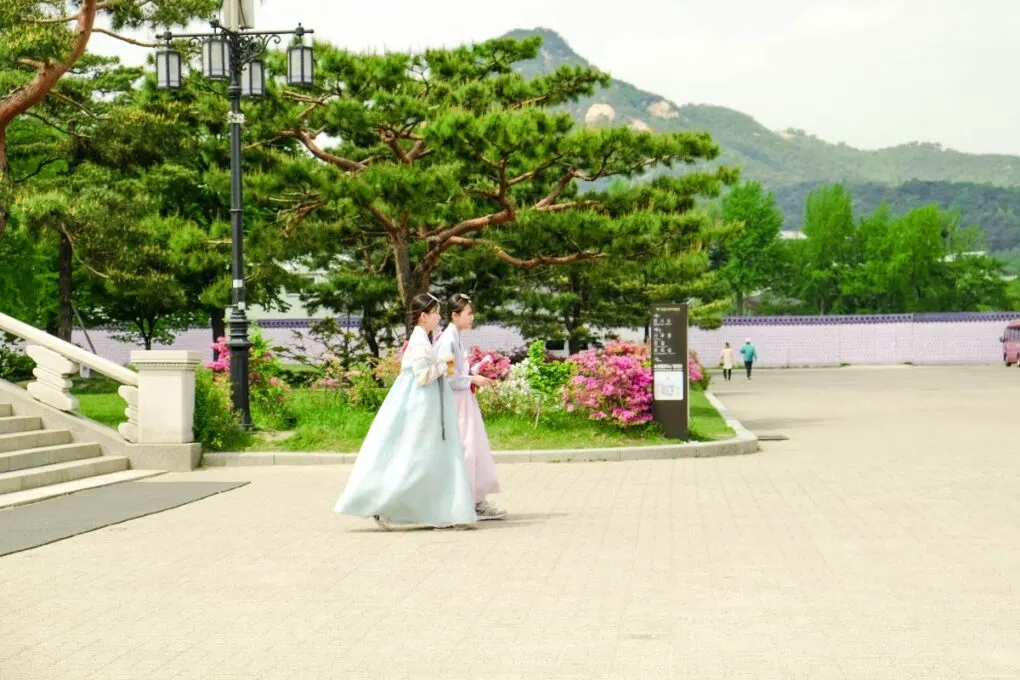 Stop 2: Hwangsaengga Kalguksu
Time: 12PM
Address: 78, Bukchon-ro 5-gil, Jongno-gu, Seoul 03053 South Korea
Prices: ₩₩-₩₩₩
Notorious for being the "best noodle and dumpling shop" near Gyeongbukgung Palace, expect long lines of people dying to have a taste. Since these dishes don't take long to cook, people don't have to wait long to try some of their most famous offerings, like the cold soybean soup or the rich ox bone noodles.
Stop 3: National Palace Museum of Korea
Time: 2:00 PM
Address: 12 Hyoja-ro, Jongno-gu, Seoul
Nearest Metro Stop: Gyeongbokgung Station (Line 3, Exit 5)
Fee: Free
Once you've enjoyed your meal, head back to the steps leading to the museum and walk further on in. This facility has everything you need if you wish to know more about Korea's glorious and often difficult past.
Fourteen of Korea's 'National Treasures,' including recovered pieces from the Joseon Dynasty and the Korean Empire, are housed in this free museum. Periodically they even host events to educate the people who come, usually involving activities like calligraphy, tea ceremonies, and even Korean traditional dance lessons.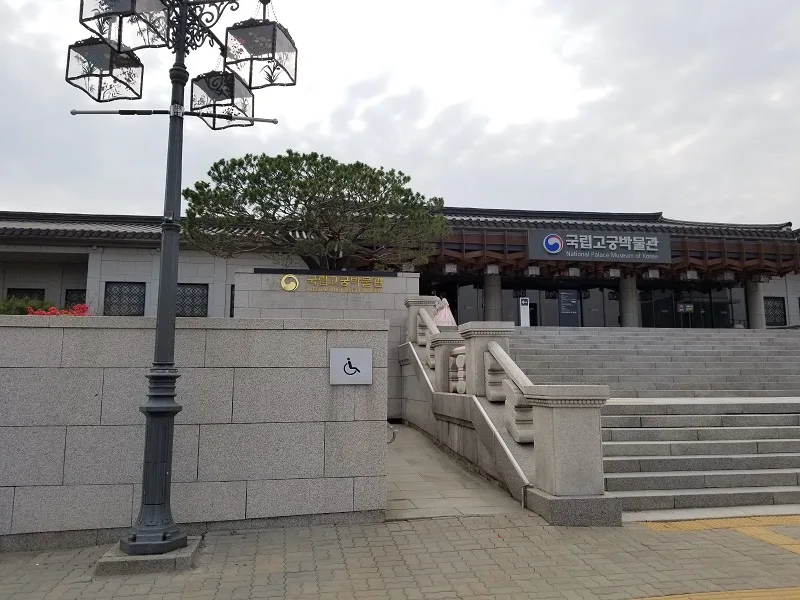 Stop 4: Gwanghwamun Square
Time: 4:00PM
Address: 161, Sajik-ro, Jongno-gu, Seoul
Fee: Adults: ₩3,000, Children: ₩1,500; Groups have a discount, with ₩2,400 for Adults and ₩1,200 for children.
This wide park is actually a huge commemoration site for the military strategist that led Koreans to victory during the Japanese invasion, Admiral Yi Sun-sin. His statue stands proudly next to the water fountain which entertains local kids every summer, and may be even more famous than the statue!
But this installation actually has a meaningful story behind it, because the water jets shoot exactly 18 meters high, with 300 smaller jets to symbolize the battles the Admiral fought on sea.
Meters away from the great admiral's statue, an intimidating gold statue of Sejong the Great watches over you, perfect for taking selfies and startling visitors.
Stop 5: Cheonggyecheon Stream and Cheonggye Plaza
Time: 5:00PM
Address: 530 Cheonggyecheon-ro, Seongdong-gu, Seoul
Fee: Free
Just a 10-minute walk from Gwanghwamun Square is a long man-made stream that doubles as a public recreation space. I recommend coming here in the late afternoon because the sunset view is legendary; you can rest your weary feet in the stream as you wait for the night to come.
By then, the lights will turn on, illuminating the traditional lanterns above and the long strip that makes the stream sparkle below. This makes for a beautiful sight, most especially if you look at it from above.
If your trip hits around summer, the sunset may come around 8PM, and the wait can get quite hot & sweaty. So if you have plans to really see the sunset, swing by Cafe imA, a coffee shop next to the Ilmin Art Museum. Visitors rave about their Hamburg Steak (₩13,500), but you can also try their desserts and waffles (₩6,500-₩8,000).
There's also Dal.Komm Coffee on the other side of the stream, near the starting point. Most of their coffee, juice, and tea selection ranges from ₩4,100 to ₩6,100, but their Real Strawberry Lemonade (₩5,300) is the best drink to beat the summer heat.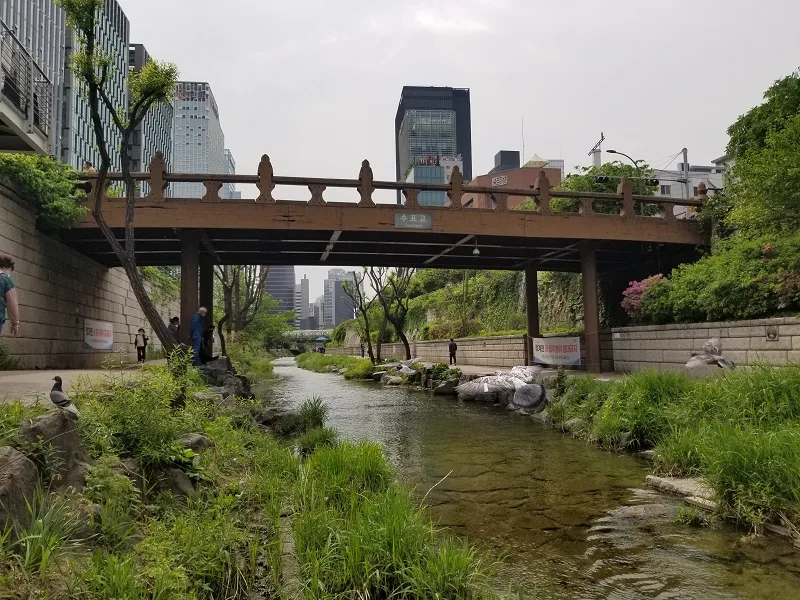 Stop 6: Deoksugung Palace
Time: 7:00PM
Address: 99 Sejong-daero, Jung-gu, Seoul
Fee: Adults: ₩1,000, Children: ₩500; Groups have a discount, with ₩800 for Adults and ₩400 for children; It is free if you come wearing a hanbok.
Cap off your first day by visiting Deoksugung, or the small palace that used to be the residence of Korea's Royal Family. Unlike the other Five Grand Palaces, this one has the Seokjojeon, a building that features a more prominent modern & western style that King Gojong would use to enthrall the diplomats who came to visit Korea.
It's also a beautiful sight at night, and if you arrive before 7:30 PM, you should sign up for "Seokjojeon at Night." This is an evening tour program that lets you stroll and observe Deoksugung's highlights, enjoy tea at the terrace, and watch a musical performance at the reception area (where the King used to meet with important figures in history).
Seoul Itinerary Day 2: Feel Young Again in Hongdae
Stop 1: Thanks Nature Cafe
Time: 8:30 AM
Address: 29 World cup buk-ro 4-gil, Seogyo-dong, Mapo-gu, Seoul
Fee: ₩₩-₩₩₩
For breakfast, there's a famous cafe nearby that lets you make friends with two massively fluffy and docile sheep. You can mingle with them in the playpen while waiting for your breakfast, or watch from afar if you're just there for the pics.
They have a wide selection of coffee, smoothies, and breakfast waffles; you have to try the latter, as they only use seasonal fresh fruits on the waffles. Unfortunately, breakfast in Korea is always enjoyed at home, so not many spots are open super early.
An alternate nearby recommendation for vegans or vegetarians is Salad Brothers, a fantastic salad bar that lets you put as much dressing as you want. Their Cobb Salad is a crowd favorite because it packs quite a punch, even though the portions are small. Plus, the food is just as photogenic as their menu.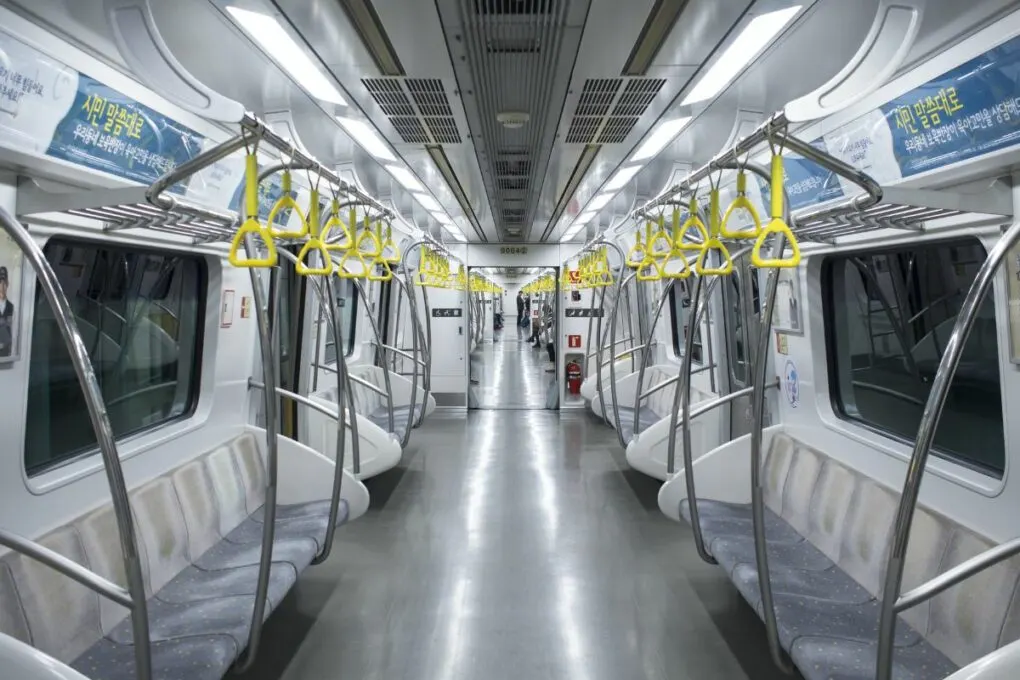 Stop 2: Coconut Box – formerly known as the Trick Eye Museum
Time: 10:00 AM
Address: 20 Hongik-ro 3-gil, Mapo-gu, Seoul
Fee: ₩23,000
I was sad to learn that they closed the Trick Eye Museum in Seoul; I had many fond memories there. Still, the replacement attraction of Coconut Box is a worthy visit— they reinvented the entire place into a Southeast Asian beach, with sand on the floor and wooden huts you can sit in.
You can pretend that you're vacationing in a tropical island garden, but the real highlight of the visit is the "metaverse play" in one of their bungalows. Getting there at 10am, shortly after they open, will guarantee you'll have the chance to enter & interact in one of the most famous paintings in the entire world: Vincent van Gogh's Starry Night.
Stop 3: Abiko Curry
Time: 12PM
Address: 25, Hongik-ro, Mapo-gu Hotel Seokyo Annex B106, Seoul
Fee: ₩-₩₩
If you're craving a good Japanese curry, Abiko Curry lets you enjoy variations of this dish at a reasonable price. Sure it's a little cramped, but if you don't mind that, I swear their tonkatsu is to die for, and Koreans basically consider it a local dish at this point. Set meals are also good for sharing, and the servers are kind to foreigners.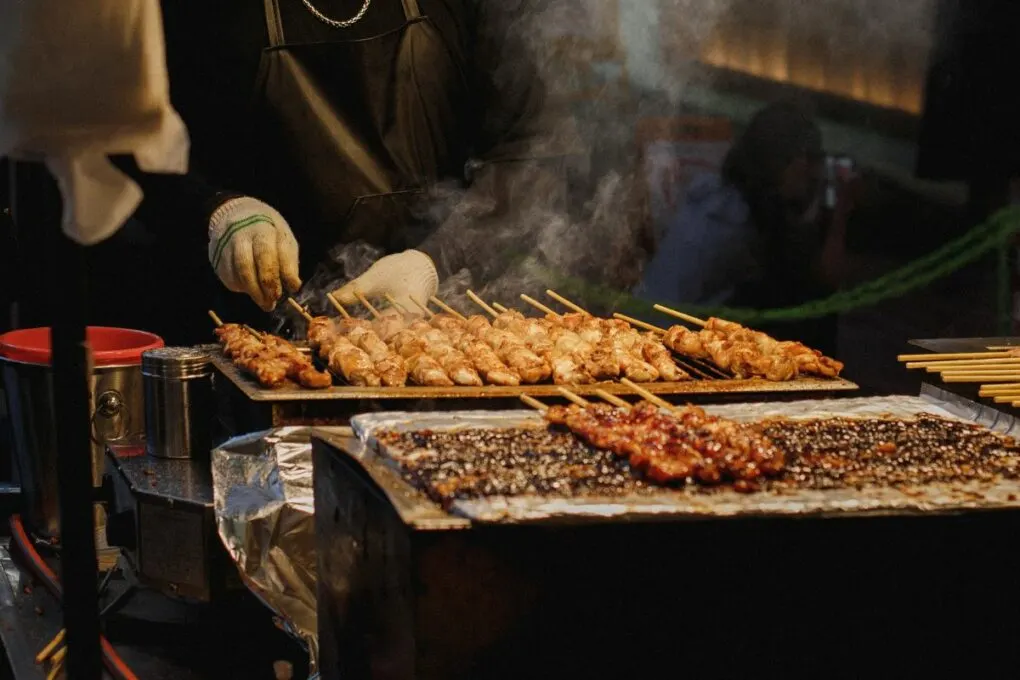 Stop 4: Caface Seoul
Time: 2:00 PM
Address: 20 Hongik-ro 3-gil, Seogyo-dong, Mapo-gu, Seoul
Fee: ₩-₩₩
Near Abiko Curry stands Caface Seoul. This popular spot is one of those 'only in Korea' kind of things, that lets you have your face printed as latte art. This is also the perfect way to commemorate your day in Hongdae, and then bring your masterpiece on a stroll around the neighborhood.
Just give them any of the selfies you took earlier, hand over ₩2700, and you can have a "face latte." I know you're too pretty to drink, but their coffee definitely tastes better warm – so drink it while it's hot!
Stop 5: Hongdae Shopping Street
Time: 3:00 PM
Address: 365-8 Seogyo-dong, Mapo-gu, Seoul
Fee: ₩-₩₩
In any trip, it is important to have a bit of time to do some quick retail therapy. In Hongdae, where the hip, young, and fashionable gather, most of the clothes for sale are aimed at the younger crowd.
But it's amazing how much branded stuff has heavy discounts here, albeit mostly 'free size' (generically large or stretchy clothes), and there are a lot of '2 items for $8' offers.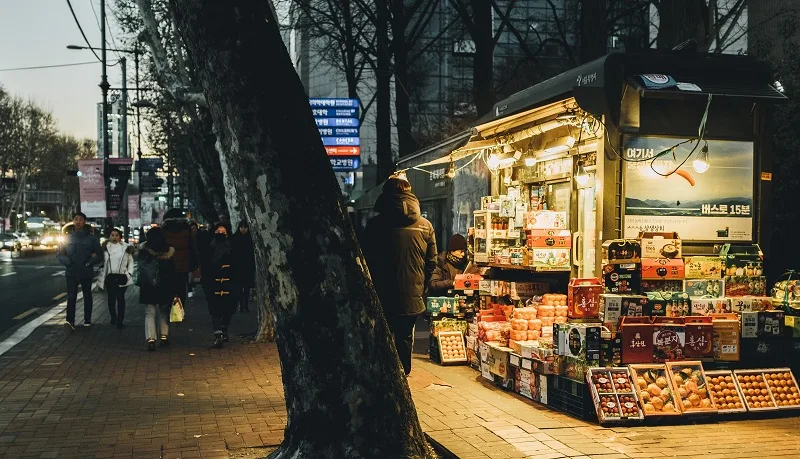 Stop 6: Mapogalmaegi
Time: 7:00 PM
Address: 14 Hongik-ro 5an-gil, Mapo-gu, Seoul
Fee: ₩₩-₩₩₩
Expect lots of young women in here, because this restaurant is located close to Ehwa Women's University. I'm a meat-lover, so I can't let you vacation in Seoul without eating in at least one typical barbecue-type restaurant.
All Korean BBQ spots are best enjoyed with a group of people due to the layout, but most places will accept a single person unless they're packed. Aside from meat, this spot offers soju or beer, and you can try a variety of delicious banchan to go with your meats of choice.
Another option is the Analog Garden, a charming coffee house that serves delicious salads. Though most of their dishes have meat and egg in it, a there's a vegan-friendly option called the "Falafel Wrap" worth ₩7,500.
If that is too small for you, get the "Falafel Plate" instead for ₩11,000. But what people actually come for is a homemade fake-meat set meal (soy-based), that's said to go well with their roasted coffee.
Stop 7: Come back to Hongdae Shopping Street
Time: 9:00 PM
Address: 365-8 Seogyo-dong, Mapo-gu, Seoul
Fee: ₩₩-₩₩₩
Come back here after dinner, because this is when the buskers come to perform. Around the performance areas are food stalls packed with delicious Korean foods for a couple bucks each; if you couldn't or didn't want to eat KBBQ for dinner, you can find something here.
The beauty about this place is that you can stay out late and still spot people roaming around, browsing and entering restaurants and bars. This is why most shops close past midnight here.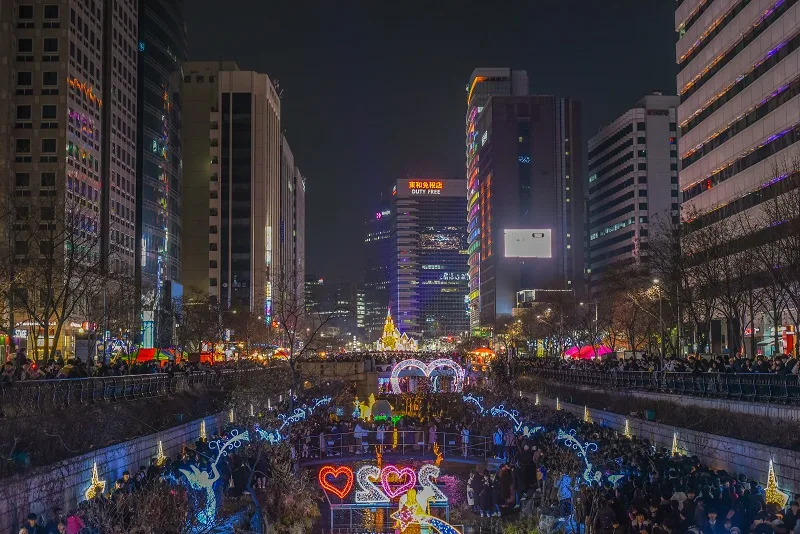 Seoul Itinerary Day 3: See Iconic Locations in Seoul
Stop 1: K-Pop Square
Time: 10:30 AM
Address: Right outside Samseong Station, Exit 5
Fee: Free
K-Pop Square is a large public area in Samseong, featuring a massive LED-screen that promotes show-stopping performances from the past. This is an ode to K-Pop, which is responsible for a large portion of the country's tourism, and why Korea is so well known across the world.
Fans will also be happy to know that somewhere in the area is a wall that lets them hold hands with their favorite idols. Also known as the "K-Pop Handprint Wall," big stars like BTS, Shinee, and even EXO are among the artists featured here.
Stop 2: Statue of Gangnam Style
Time: 10:45 AM
Address: 524 Bongeunsa-ro, Gangnam-gu, Seoul
Fee: Free
At first I just thought this was a strange gold installation of two hands shielding you from the sun, but when I finally got close to it, I knew immediately who it was: Psy oppa!
Though this 'Gentleman' has been relatively quiet since his 2012 hit, the song Gangnam Style remains in the Youtube hall of fame as one of the fastest to hit a billion views. If you know how to dance Gangnam Style, this is the perfect location for you to shoot a dance cover of the video.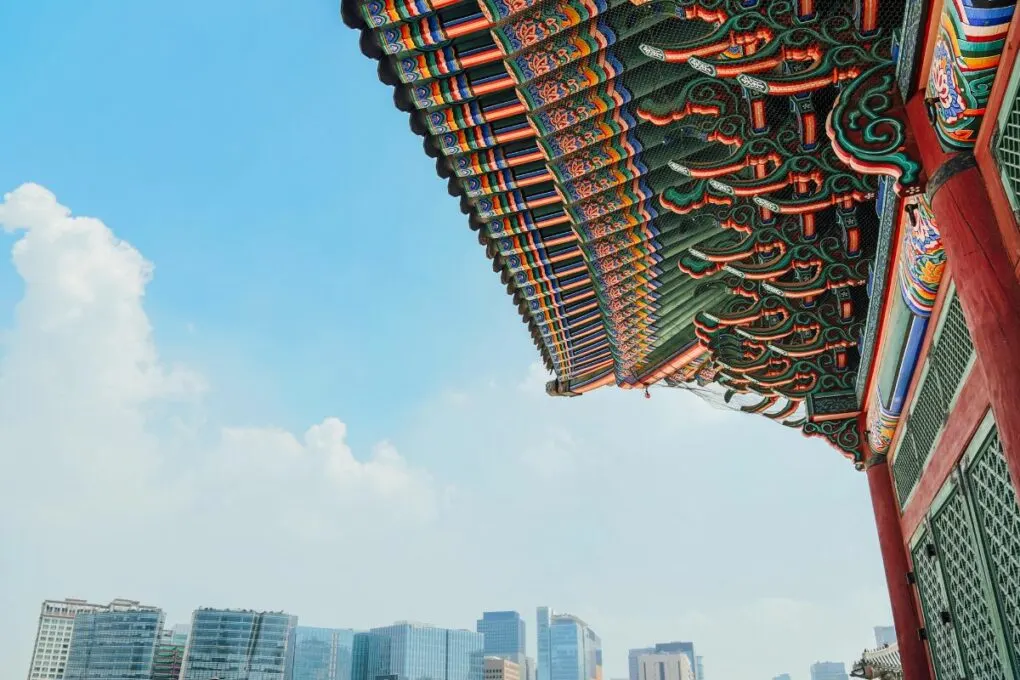 Stop 3: Bongeunsa Seoraewon (봉은사 서래원)
Time: 12PM
Address: 531 Bongeunsa-ro, Samseong-dong, Gangnam-gu, Seoul
Fee: ₩-₩₩
Imagine enjoying a warm meal inside a small Korean temple, without ever leaving Seoul. Bongeunsa Seoraewon lets you have that experience in the heart of the city, and the noodle prices are affordable too; most especially the sets.
After your meal, you can just walk outside and visit Bongeunsa Temple directly. What's cool about this place is that it also has options for vegans (ask for their Bongeun Tofu).
Stop 4: COEX Starfield Library
Time: 1:30 PM
Address: 513 Yeongdong-daero, Gangnam-gu, Seoul
Fee: Free
This is by far the most famous library in Seoul. It's a real operating library, located inside the largest underground shopping mall in all of Asia: CoEx Starfield. Book lovers will cry at the sight of tens of thousands of books filling the 13-meter shelves.
Visitors also come to watch famous authors do book signing events, and famous poets visit to motivate young children to write.
The downside about this place is only that it is always crowded and noisy – it's hard to appreciate the rare book you found if there are couples chatting on either side of you. But did I mention that this space is free? This is why people often try to sneak out the books, which I discourage you from trying.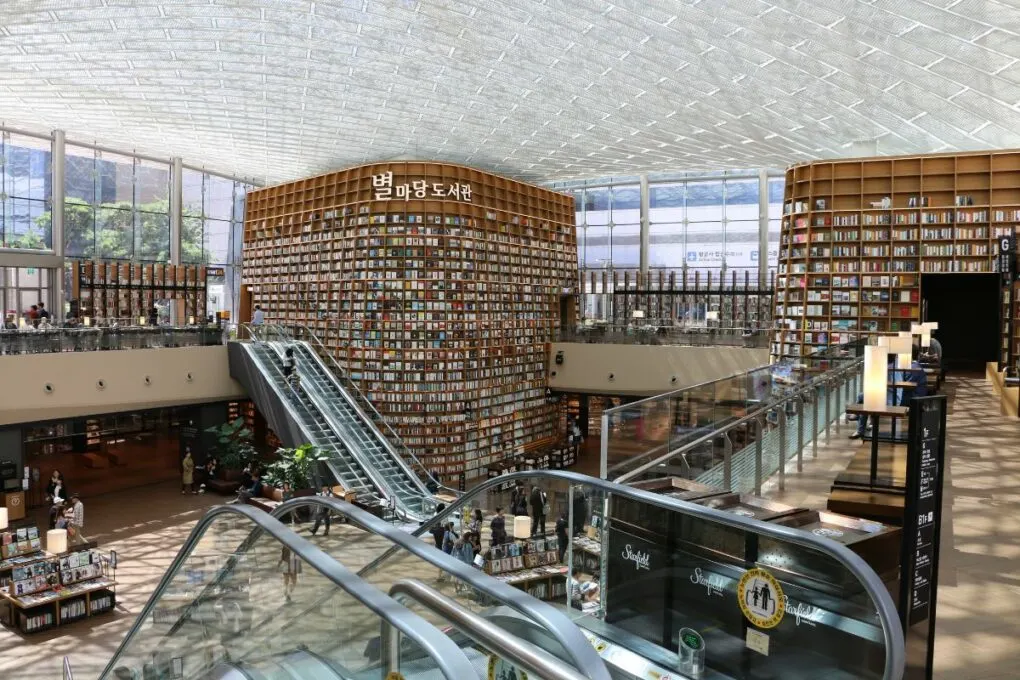 Stop 5: COEX Aquarium
Time: 5:00 PM
Address: 513 Yeongdong-daero, Gangnam-gu, 서울특별시
Fee: Adults: ₩28,000; Children: ₩24,000; Senior Citizens: ₩20,000
CoEx Aquarium in Seoul is for those who want to see marine life up close, with more than a hundred display tanks and over 40,000 sea creatures in various themed zones. Shark lovers will be thrilled to know that this is the aquarium that houses the highest number of sharks in Korea.
Touch pools also let you feel the fish (like the manta ray), allowing you to have a healing experience with nature in a safe setting.
Stop 6: Gosoo Dalgalbi Gangnam
Time: 7:30 PM
Address: 20, Teheran-ro 5-gil, Gangnam-gu, Seoul
Fee: Adults: ₩-₩₩
For dinner, you should definitely try the tastiest dakgalbi in Seoul. This is a famous Korean dish not common internationally, but very popular domestically. The dish consists of loads of chopped cabbage with tender bits of chicken rib meat, stir-fried in a thick, spicy sauce (that tastes so much better with cheese, in my opinion!).
What's so wonderful about this place is that their special, the 치즈모듬사리 (Cheese Modeumsari), is a party plate full of cheesy rice cake and glass noodles that is perfect for sharing.
For a fun vegan option, come to Veg Green, a delicious vegan buffet that has a homey vibe – the staff will still smile at you, even if you come late at night for dinner. At just ₩12,000 per person, it's full of options for those who enjoy large mixed salads, including fruits and jam in a cozy ambiance.
Stop 7: GSM Terrace
Time: 9:00 PM
Address: 327-45 Seogyo-dong, Mapo-gu, Seoul
Fee: Adults: ₩10,000 for unlimited drinks
Friends are important, and meeting fun people from diverse, cultural backgrounds may also make your stay in Korea a fulfilling one. Sure, it's an activity for international people, but you may spot some Koreans who are seeking places to practice their English.
Additionally, you can play all sorts of games with them if you run out of things to talk about. Everything comes easy and natural here, and all people are welcome to join in the fun.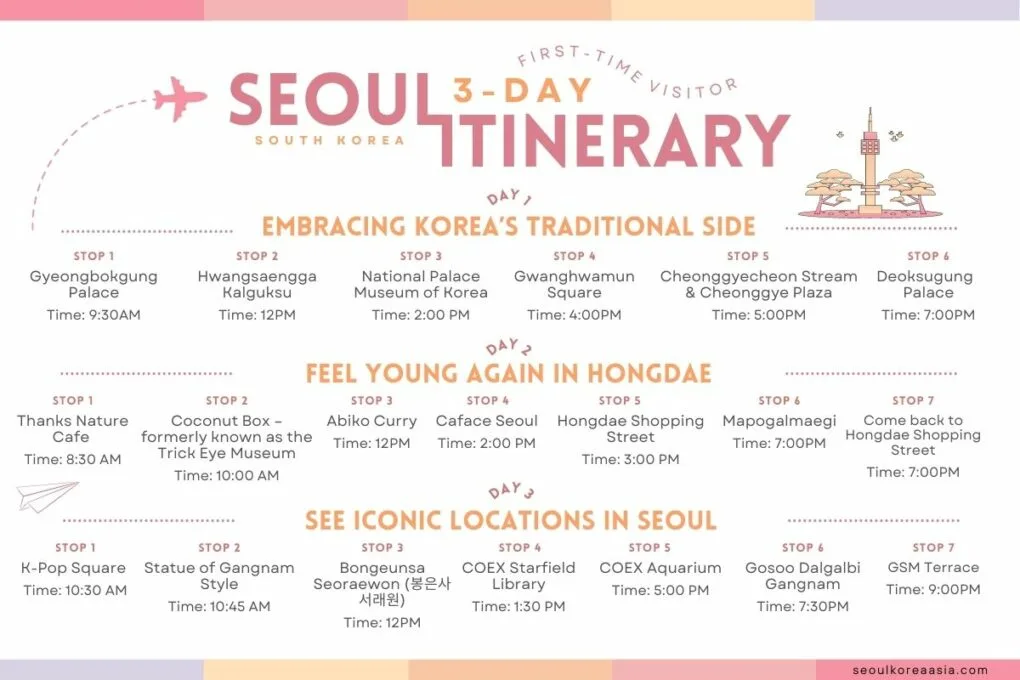 Seoul Itinerary 7 Days
If you find that 3 days in Seoul is not enough, you're not alone. Most visitors spend 5-7 days in Seoul to get a taste of the culture, nightlife, and food in Korea.
The suggestions below are ideal for people who are looking for other things to visit on their Seoul vacation, since the first three days have pretty much hit all the popular places. A good alternative to Everland is Lotte World.
Seoul Itinerary Day 4: Everland Theme Park
Everland is a popular theme park in Seoul, perfect for people who just want to have a magical day with their date, family, or friends. With over 40 attractions scattered across five different themed areas, it might take an entire day or two to exhaust all of the attractions.
What I love about this place is that it always has festivals and seasonal events to entertain guests of all ages.
Operating Hours: 10:00 AM to 9:00 PM
Address: 199 Everland-ro, Pogog-eup, Cheoin-gu, Yongin-si, Gyeonggi-do
Fee: Adults: ₩54,000 to ₩64,000; Children: ₩43,000 to ₩51,000; If you want to skip the line, you can buy the tickets ahead of time. There's also a fun option of wearing a Korean school uniform, which you can rent online or on-site.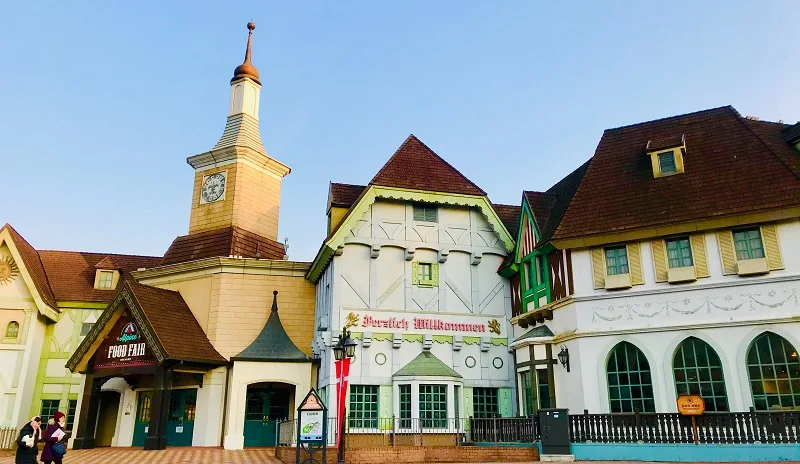 Stop 1: Global Fair
Time: 10:30 AM
If you've always wanted to travel to far-flung destinations, this fair lets you see the world all at once. Historical structures, both existing and ancient, line one area of this zone – and here you can see various architecture from different points in time, instantly turning you into a time traveler.
Stop 2: Live Hologram Adventure (Global Fair)
Time: 11:00 AM
Never been to a K-Pop concert before? That's okay, because the Live Hologram Adventure lets you experience a 30-minute snippet of a K-Pop concert in high definition.
If you also decide to take pictures and videos, it'd look so realistic that you can trick your friends into thinking that you actually went to a BIGBANG concert.
Stop 3: Snack Buster for Lunch
Time: 12PM
When you're in a theme park, you need a lot of grub to keep your energy levels high. Unlike other theme parks with food in small, reduced servings, Snack Buster has generous servings of high-quality Korean foods sold at an affordable price.
I highly recommend their Korean fried chicken with french fries and tteokbokki, because it'll come in a plate that's big enough to share with your family or friends.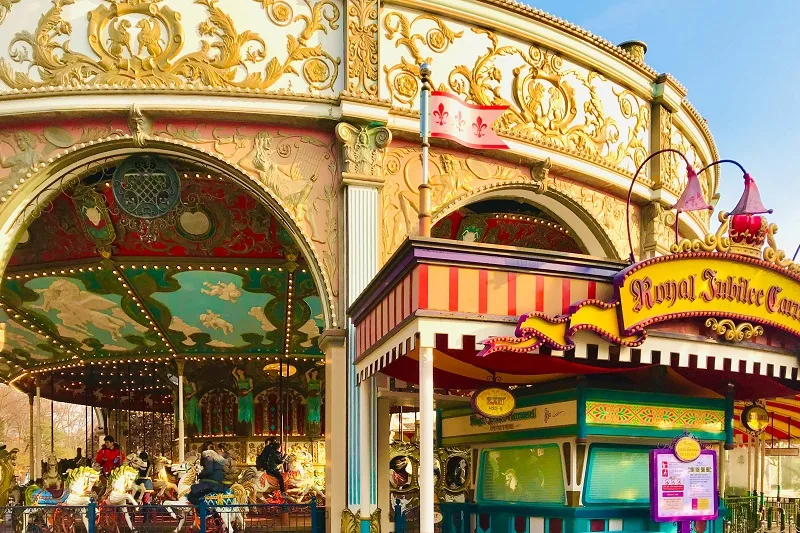 Stop 4: Carnival Square (European Adventure)
Time: 2:30 PM
Around this time you should join the people gathering by the Carnival Square, because this is when you get to witness a spectacular event only seen in Everland.
Here they'll launch flowery floats with vivacious dancers and mascots, all inviting you to come join their party. Imagine being in Rio de Janeiro, but when you leave, you're back in Korea.
Stop 5: Panda World (Zootopia)
Time: 3:15 PM
Need I say more? Pandas are such gentle creatures, and imagine entering a world full of these adorable bears. Everland's Zootopia should be in your Seoul itinerary for this very reason. If you don't like pandas and prefer a different animal, then next to this enclosure is the Friendly Monkey Valley.
Stop 6: Lost Valley (Zootopia)
Time: 5:00 PM
Enjoy zipping through a safari, riding a tram that crosses difficult terrain dotted with real animals. To enjoy this experience, then join the queue at the Lost Valley, where you'll find your ride crossing the stream.
The trip will take you into landscaped enclosures full of large animals including elephants, giraffes, camels, and rhinos. And then, if there's still time, your guide will let you hand-feed these animals, giving you a chance to interact with them up close.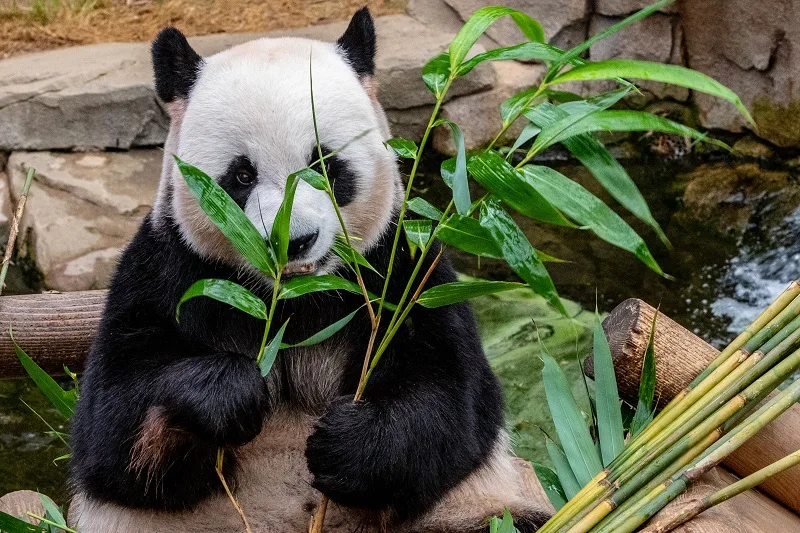 Step 7: Thunder Falls (Magic Land)
Time: 6:00 PM
Speaking of getting wet, there's a fun flume ride in Everland that features backward drops and steep falls. It's such a thrill to be on this ride, and the danger can be so exhilarating! But if you need more adrenaline rush, see if you can queue for the T-Express (aka. Everland's Scariest Ride).
Step 8: Robot VR and Gyro VR (American Adventure)
Time: 7:00 PM
Have you ever fantasized about channeling your inner Han Solo? These rides let you pilot a futuristic spaceship and navigate the stars. Sci-fi fans love this ride because the effects feel so real— the ride itself even follows the joystick you're controlling!
Step 9: Four Seasons Garden & Rose Garden
Time: 8:00 PM
When the sun sets, this is the best area to end your day in Everland. There's always a light show with fireworks around this time, and a variety of performances that go along with it.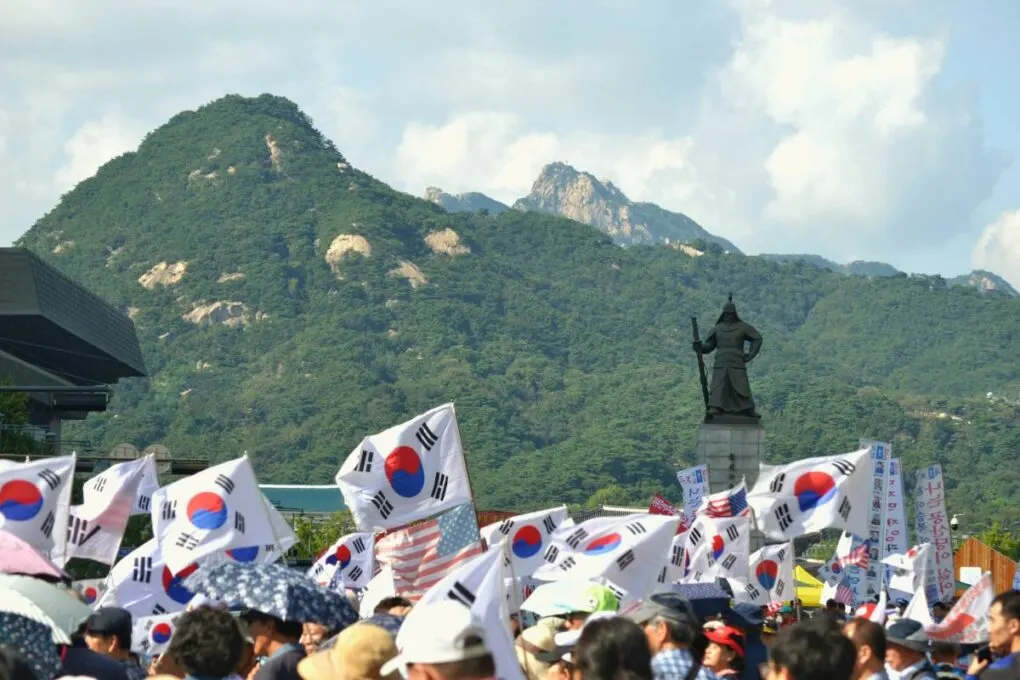 Seoul Itinerary Day 5: Feel the National Pride
As a tourist, one of the best ways to experience Korea is to visit the location where they played host to countries from all over the world. Coming here, you'll see the effort Korea puts forth in promoting peace and harmony, as well as soak in the welcoming spirit. Plus, Olympic Park is 100% free to visit!
Stop 1: World Peace Gate
Time: 9:30 AM
Address: 424 Olympic-ro, Songpa-gu, Seoul
Fee: Free
The World Peace Gate is a marvelous winged structure that reveals a beautiful painting of a phoenix, tiger, turtle, and a dragon if you stand beneath it. This is called "A Painting of Four Spirits," signifying the desire of Korea to be friends with everybody in the world.
As you stand underneath, it's like a gate that genuinely welcomes you to enter and experience Korea. I've always thought it was a beautiful place to stand and reflect on your experiences in the country.
Stop 2: Olympic Museum
Time: 10:00 AM
Address: 424 Olympic-ro, Songpa-gu, Seoul
Fee: Free
Learn more about the athletes that represented Korea in the past Olympic Games! Documentation about Korea's best athletes, their training process, and even their histories are comprehensively explained here. Also, thanks to this museum, you'll get to closely observe the gear used in the recent 2018 Winter Olympic Games in PyeongChang.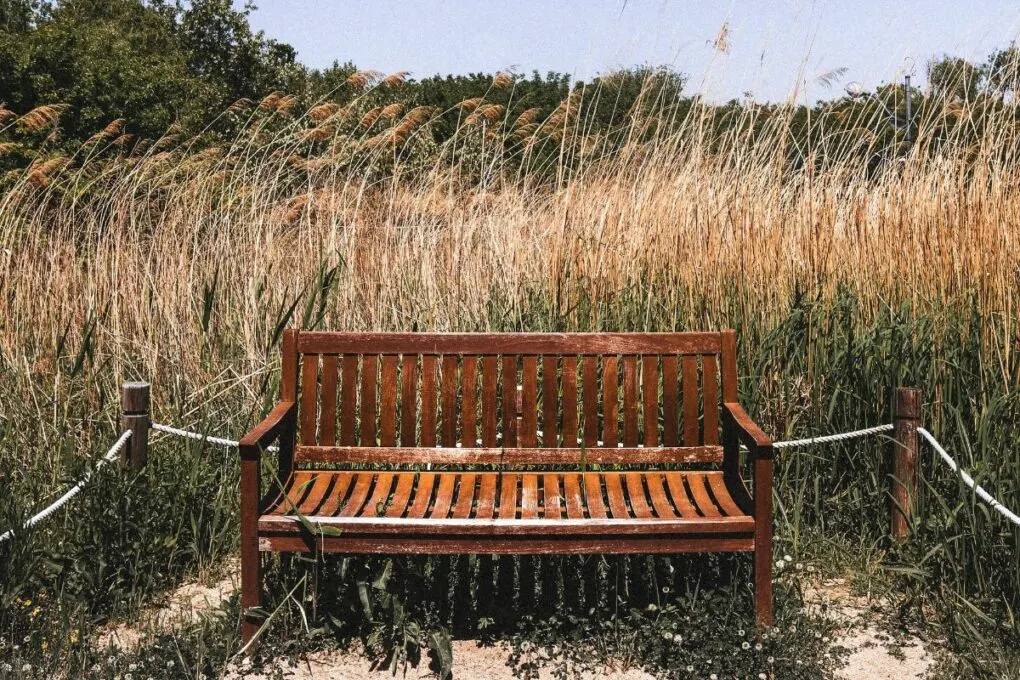 Stop 3: Olympic Park's Peace Square
Time: 12PM
Address: 326, Olympic-ro, Songpa-gu, Seoul
Fee: Free
If you time your visit around the last week of September to the first week of October this year, there will be a grand festival called the Hanseong Baekje Cultural Festival in the Olympic Park's Peace Square.
Coming here lets you experience the rich Hanseong era in Korea, featuring food tastings, tea ceremonies, parades and performances, and even a demonstration of a hawk-aided hunting!
Moreover, the reason why they're holding it here is because the Mongchontoseong Fortress area is known to be a remnant of the Baekje capital. Hopefully you'll get to see this festival in person, because it truly is a fascinating way to learn more about Korea's fascinating past.
Stop 4: Bukchon Hanok Village
Time: 4:00 PM
Address: 37, Gyedong-gil, Jongno-gu, Seoul
Fee: ₩₩-₩₩₩
Perhaps one of the oldest villages in Seoul, this area dates back all the way to the Joseon Dynasty. Also called the "northern village," this is also where two significant Seoul landmarks, Cheonggyecheon Stream and Jongno, are located.
What's admirable about this area is that people hold traditional events here, giving curious tourists an opportunity to get to know the Joseon dynasty even better. Fun activities such as hanbok wearing, etiquette demonstration, and even tea ceremonies are hosted by the people here, and all of these usually occur in the afternoon.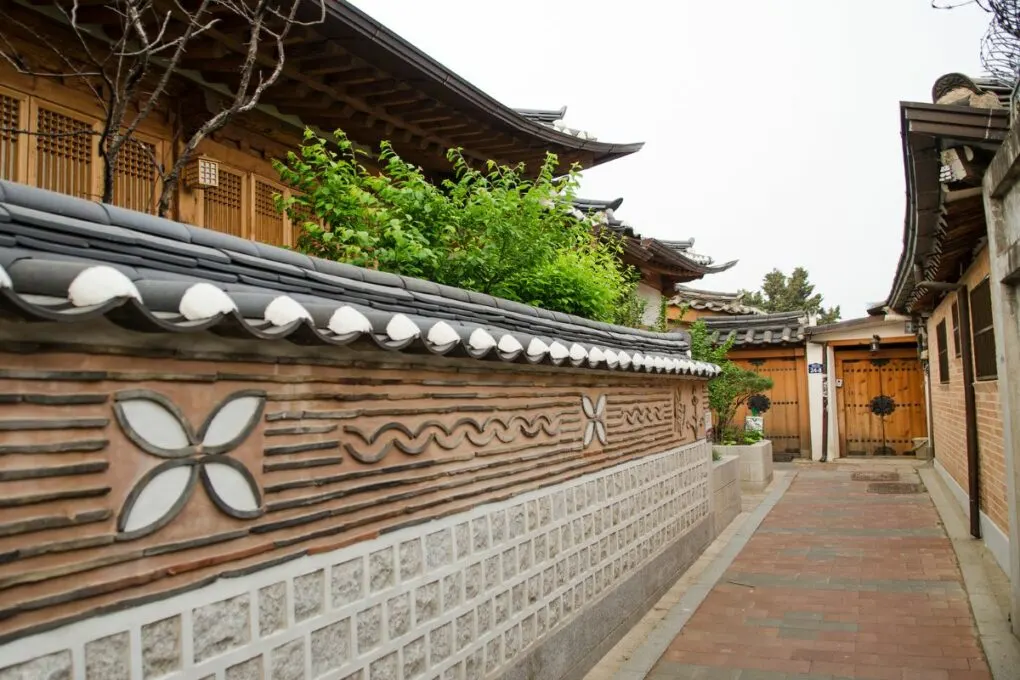 Stop 5: Insadong Street
Time: 6:00 PM
Address: Insadong, Jongro-gu, Seoul
Fee: ₩₩-₩₩₩
One of the popular destinations in Korea, Insadong Street has a long array of lively stalls and shops to give you something to look at everywhere.This is also the best place to grab a quick snack, because they serve a variety of Korean foods you should make it a point to try.
If you're interested in trying something new and enjoy green tea, track down O'Sulloc Tea House and order their matcha cake. Since this is one of your last days in Seoul, I'd be remiss if I didn't mention that Insadong is one of the best places to buy souvenirs for your family and friends!
Stop 6: Noryangjin Fish Market
Time: 9:00 PM
Address: 674 Nodeul-ro, Dongjak-gu, Seoul
Fee: ₩₩-₩₩₩
I know that capping your day in a fish market is unusual, but after you swing by Insadong Street, head to the Jonggak Station and ride the subway to Noryangjin, because this is where people can eat the freshest seafood in Seoul.
You can even try the unique dishes they serve, most especially try delicacies that you definitely haven't before – like the penis fish. You should come try the small octobps, king crab, and hwe (sliced raw fish) here, for example.
Don't be shy if you can't speak a lick of Korean because the people are so used to seeing foreigners that they have devised a way to make things easier and enjoyable for you.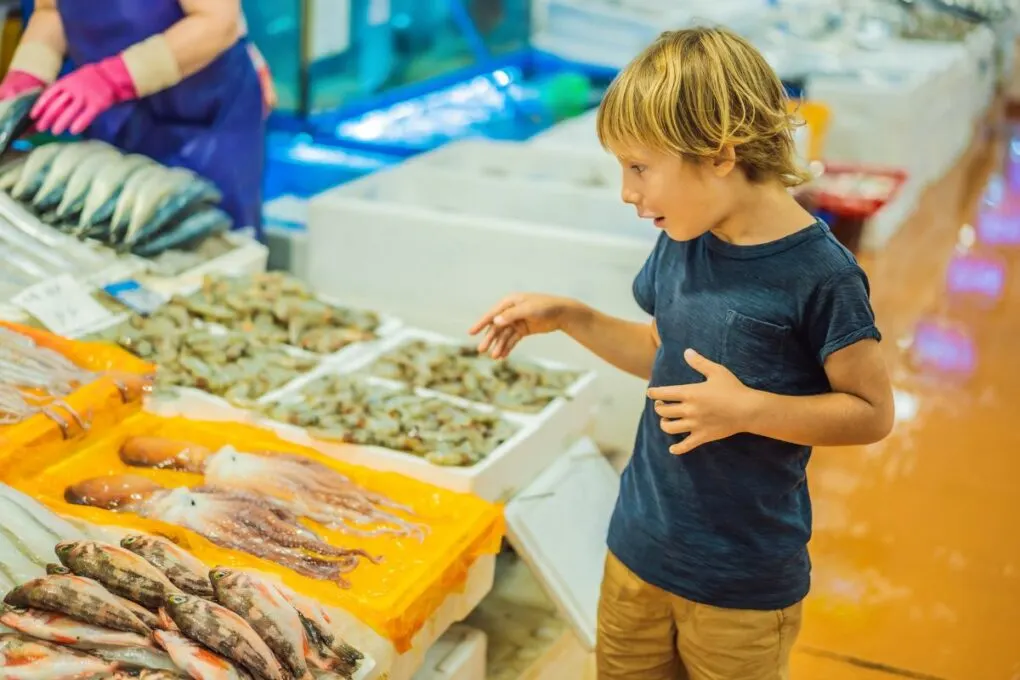 Seoul Itinerary Day 6: See Korea's Highest Point
Stop 1: Namsan Park
Time: 10:30 AM
Address: 231, Samil-daero, Jung-gu, Seoul
Fee: Free
This public park is a nature-friendly rest area smack in the middle of the city. It has clear walking trails leading to Namsan Seoul tower, but I'd encourage you to take your time appreciating this quiet, vast expanse, because it has more facilities than your average park.
Aside from seeing gardens and free physical activity facilities, there's also a library, a botanical garden, a memorial hall, and a culture center.
Stop 2: Mok Myeong San Bang
Time: 12PM
Address: 71 Toegye-ro 20-gil, Namsandong 2-ga, Jung-gu 1F, Hannam Building, Seoul 04629 South Korea
Fee: ₩₩-₩₩₩
People might have a hard time locating this place, but keep your eyes peeled for a hanok within Namsan Park. Mok Myeong San Bang is a vegetarian-friendly, healthy, traditional lunch restaurant that serves authentic Korean cuisine.
In fact, they pride themselves as chefs who never use artificial seasoning. I highly recommend their bibimbap, which is known to be the best in Seoul, but you should explore dishes like the crispy cheesy pancake and the yukhoe (raw beef).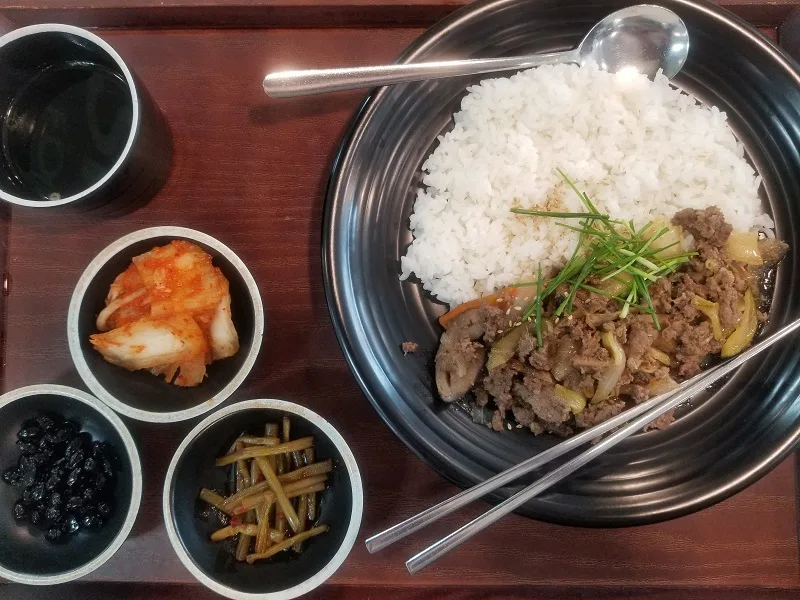 Stop 3: Namsangol Hanok Village
Time: 2:00 PM
Address: 28 Toegye-ro 34-gil, Jung-gu, Seoul
Fee: Free
After a savory lunch, walk to Namsangol Hanok Village on the north side of Namsan Mountain. Here you get to see homes that were restored to their original form to give tourists a sense of how people in the Joseon dynasty used to live.
Sometimes you may chance upon demonstrations that show people how to play a traditional board game (yunnori) or fold a traditional paper called hanji. Sometimes there's also a fun segment on how traditional herbal medicines are made and used.
Stop 4: N Seoul Tower
Time: 4:30 PM
Address: 105, Namsangongwon-gil, Yongsan-gu, Seoul
Fee: (Observatory) Adults: ₩11,000; Children: ₩9,000
Also known as the second highest tower in Seoul, Namsan Tower's Observation Deck provides an unobstructed view of the whole city. There's also a powerful telescope available for use that lets you have a high quality LCD view of wherever you're pointing it at.
Aside from museums and exhibitions, what people really come here for is attaching their own lock to Love Lock Bridge. This is the infamous site in Seoul where couples fasten a lock to symbolize their everlasting love— hence why there's an area full of locks, and a booth that lets you customize your own to add to the bridge.
Stop 5: Lotte World Tower
Time: 7:00 PM
Address: 300, Olympic-ro, Songpa-gu, Seoul
Fee: Adults: ₩27,000; Children: ₩24,000; Fast Pass for all ages: ₩50,000
After seeing the second highest point, go to the tallest building in the entirety of Korea! Lotte World Tower, just 55 minutes away from Namsangol Hanok Village. Sleek and slender with a gentle curved design, you can end your evening in a fantastically fast elevator, taking you directly to the highest point in Korea.
The ride also allows you to take great photos, because you get to see the entire city transition to night time as you arrive. Inside you can also test your courage as you walk through the highest indoor glass floor, giving you perspective of how high up in the sky you are (and how teeny every person looks from above).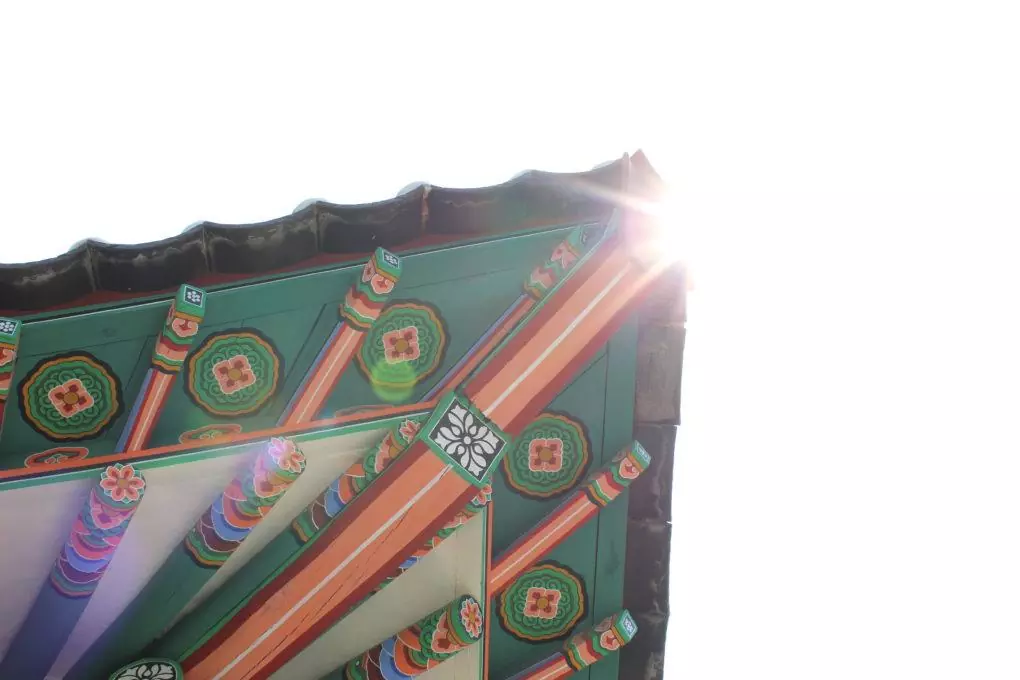 Seoul Itinerary Day 7: Enjoy the Night at Dongdaemun
Stop 1: Dongdaemun Seonggwak Park
Time: 4:00 PM
Address: right outside Dongdaemun Station Exit 1
Fee: Free
If you feel like doing a bit of walking in the afternoon, this little tourist trap has an uphill road that takes you to a nice park. It's not as pretty as the other ones, but it has everything you need, and it's very conveniently located for a chill afternoon out.
Since it is a little bit elevated, you get to have a clear view of Dongdaemun, which lets you see the fusion of traditional and modern elements scattered around the city. Moreover, this is where the beautiful Heunginmun gate is located, perfect for pictures on your last day in Seoul.
Stop 2: Heunginjimun (Dongdaemun Gate)
Time: 6:00 PM
Address: 288 Jong-ro, Jongno-gu, Seoul
Fee: Free
Don't skip this gate before you leave. This is an ancient monument which used to stretch longer, as it used to be a fortress with three other gates. All four gates apparently have a meaning attached to their name, and Heunginjimun is loosely translated as "benevolence, with good energy."
There's also a semi-circular ongsung inside, which is a pagoda-like traditional structure that makes it stand out compared to the existing gates in Seoul. Plus, the reason we're coming to see it at 6pm is because it lights up beautifully against the backdrop of cars.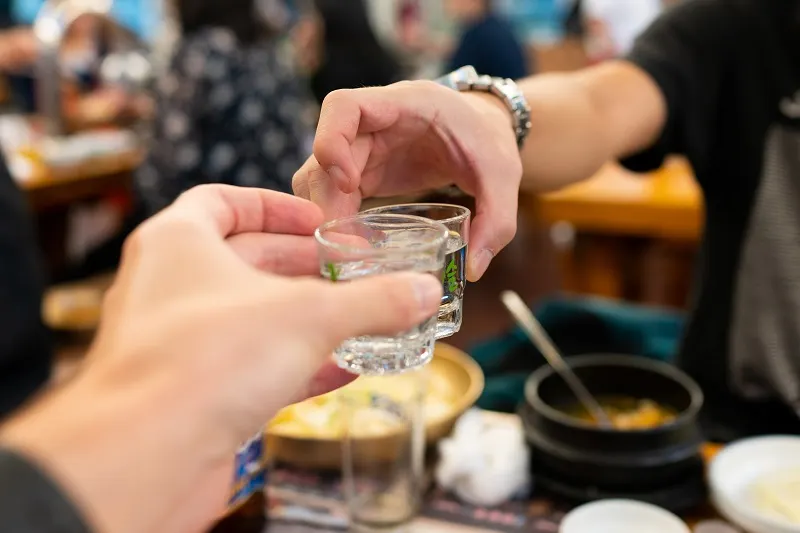 Stop 3: Bulgwangsikdang (부광식당)
Time: 6:30 PM
Address: 207-26 Sungin-dong, Jongno-gu, Seoul
Fee: ₩-₩₩
Not many are comfortable in crowded places, but for this one, most will surely make an exception. If you feel like eating a proper home-cooked meal for dinner, this is the best option in Seoul. Since this is more frequented by the elderly and locals, most of the meals are made to appeal to their taste.
But who knows, you might find your favorite Korean meal here! Plus, the owners are kind and friendly, making it a less intimidating place for foreigners to try. Vegans might want to swing by Vegan is Hip (비건이즈힙), a wide sandwich and waffle bar that offers choices that range from sweet potato, tofu salad, fruits, and vegetables.
Their waffles are super delicious, even if they are made with rice flour and plant-based cream, a combination that most non-vegans find challenging to like. If you choose to come here, try their apple jam whipped cream waffle, and you won't regret it.
Stop 4: Dongdaemun Design Plaza
Time: 7:30 PM
Address: 43 Eulji-ro 45-gil, Sindang-dong, Jung-gu, Seoul
Fee: Free
See that majestic neon embryo thing? That's Dongdaemun Design Plaza. This huge building is absolutely worth seeing at night, since it glows brightly and makes for a good aerial photo. There are lots of free things to do inside since this also doubles as a museum and an exhibition center.
Speaking of which, there's a large LED screen that allows you to relax your eyes with soothing colors that dance along to therapeutic music. Take your time strolling around inside. There are plenty of fun things you can do, like browse inside for things to buy or check out the books on the shelves.
You can even play on the funny chairs that let you spin without falling! There are also rest areas that let you charge your phones while you sip the coffee from the food carts outside. If you're a K-Pop fan and you like artists from SM Entertainment, you'll be happy to know that SM Town is inside.
Stop 5: Dongdaemun Night Market
Time: 10:30 PM
Address: 43 Eulji-ro 45-gil, Sindang-dong, Jung-gu, Seoul
Fee: ₩-₩₩
The reason you should come here late in the day is to experience one of the best night markets in Seoul. Known as a fashion destination throughout Seoul, plenty of people frequent Dongdaemun Night Market to shop, play, and eat. The best part? Most of the stalls are open until as late as 5am!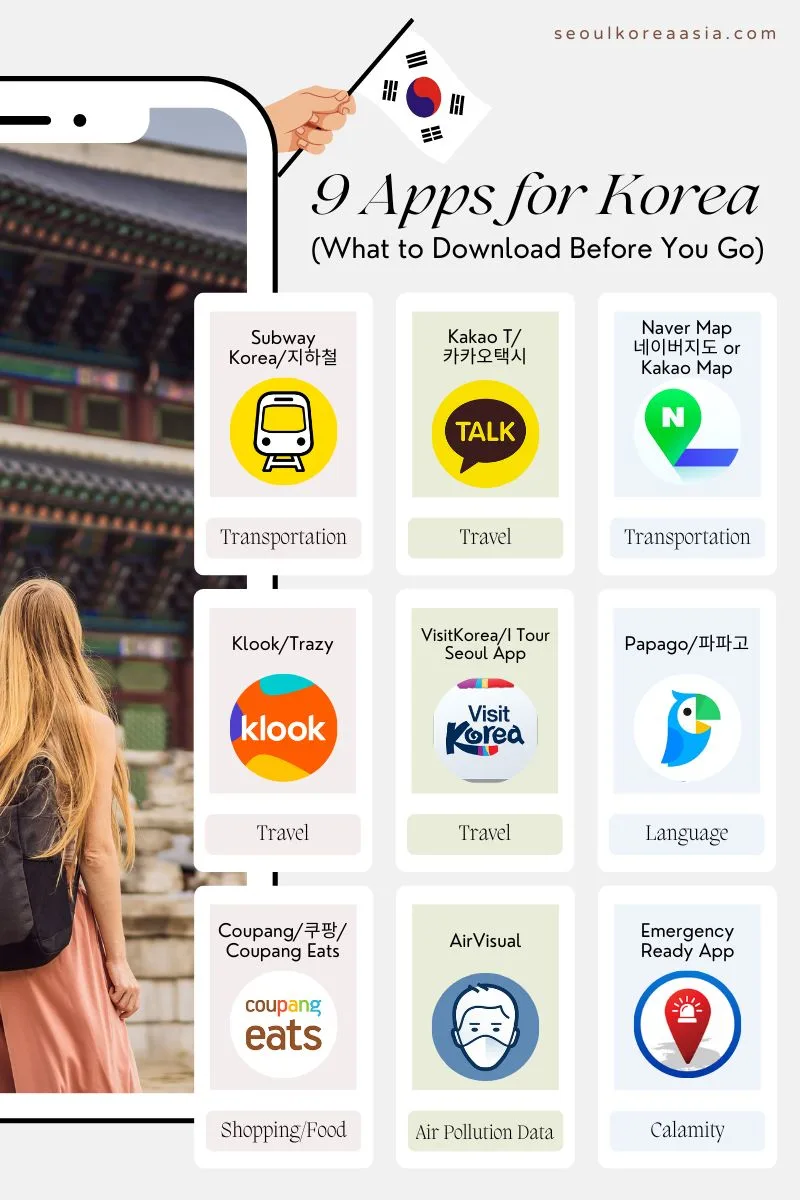 Tips for Visiting Seoul
So you're finally coming to Korea. Your bags are packed and your ticket is ready. Congratulations! But before you leave, here are helpful tips for visiting Korea that you might want to read before you arrive.
Learn some key phrases in Hangul – or download Papago
While most of the buildings and public spaces in Seoul provide English translations for foreigners, it is rarely enough to travel without learning a few key phrases. Trust me, you'll want to know what to say if you need to know where the nearest station is or the cost of something.
If you cannot cram these many Korean phrases into your memory, I can relate, and I recommend that you have the Papago translation app ready to assist you just in case.
Learn basic etiquette
Of course people don't expect you to bow everywhere, but you should show them respect. One way to do this is, when you are giving or receiving things, you use both of your hands. As a foreigner, never call strangers 'ahjussi' or 'ahjumma' if you happen to talk to them, and most of all, learn how to respectfully address people in Korea.
You can connect to the internet almost everywhere in Korea, but get a sim card or wifi egg just to be safe
Don't assume that everywhere you go, the Internet will always be with you; most Koreans have cell phones with unlimited data now, so wifi is ironically harder to access. One of the hacks I've used to be able to connect while on the go is to find a metro station and connect to the free Wi-Fi in there.
But in cases where a station is quite far from you, and you need to use apps like KakaoMaps to sort out your route, it's best to have a Korean sim card handy.
Bring a power bank!
You never know when you'll run out of battery, and Korea is a big city. Even though cafes let people stay for a long time, you may happen to come on days when most are either closed or crowded, so you can't count on that.
Sometimes you can visit a convenience store and ask if they have ports to charge your phone, but if you don't want a dead battery to ruin your trip, take a power bank with you (or buy one when you arrive).
Don't rely on Google Maps
I cannot stress this enough! Google Maps doesn't work in Korea, and what's worse is that what they tell you is rarely accurate. Instead, download Kakao-brand apps when possible. Even though KakaoMaps is made primarily for Koreans in Korea, it is foreigner-friendly and even has an English version.
Ride public transportation instead of taxis
Taxis are expensive, but Seoul is even more expensive. Also known as the 7th most expensive capital in the world, most of the fun things to do require you to shell out more money than you might want to.
So to save on your vacation to Seoul, when you can, choose to ride the subway or the bus. Both systems are very clean, extensive, and reliable.
Carry your own trash
Bring your trash back home with you. Unlike other cities where you can freely throw garbage in any bin, Seoul has very few public trash cans and a very specific system for sorting their waste.
In South Korea, there's actually a national Zero Waste Policy which has resulted in 5 different types of trash and recyclables, each of which warrant a separate type of bin (I got a stern talking-to a few times over the years for using the wrong types of bags to toss my various types of trash).
I know this has been quite the Seoul travel guide, but that's just proof that there's plenty of things to do in Seoul. So whether you're in Seoul for a week or just three days, I hope this Seoul itinerary can help you make the most of your trip.