When I was in kindergarten, I wanted to be a singer and a circus performer. I had never been to the circus, but I knew that it looked fun. Floating through my mind were images of colorful costumes, striking face makeup, and exotic animals dominating a massive stage. But I found the Cambodian circus to be a whole other animal; pardon the pun.
At the Phare Ponleu Selpak in Battambang and at its sibling, Phare, in Siem Reap, you'll see superhuman feats of mind & body. There are fire dances, magic tricks, and aerial stunts à la Olympic gymnastics. But should you see the Cambodian circus in Siem Reap or Battambang? What will you get from a visit to either? Below we'll answer all your questions about visiting the circus in Cambodia.
Note that the cost of a tuktuk to the circus in Battambang or Siem Reap should only cost $2USD each way.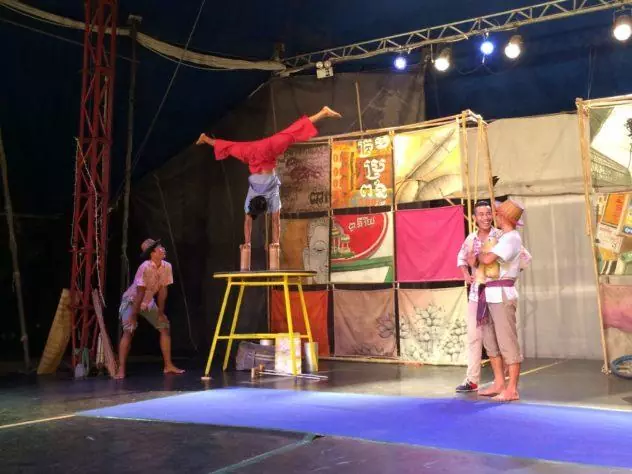 Background on Cambodian Circus Culture
A 6-person circus troupe, made up of teenagers training to be professional acrobats, performs for a crowd of tourists and locals 3-7 times a week on the outskirts of Battambang, Cambodia. The larger performances of the Phare is one of the most popular things to do in Siem Reap, just five hours from the training school.
In both locations, however, it's not the same small group performing each time; there are several distinct stories told in rotation every ten days. The Phare is actually a non-profit school started in 1994. They educate over a thousand students daily and provide general education as well as training in theatre, dance, animation, music, graphic design, and acrobatics.
The school traces its beginning back to 1990, when a French volunteer began teaching art classes at a refugee camp near the Thai border. You can tour the grounds of the school's campus for just $5, or $3 if you buy a circus ticket, to learn more about its early years.
We chose to tour the school's campus on our second trip to Battambang, and it was a great look into what kids of facilities they're able to offer local children. School was out for the summer when we went, but there were still kids hanging out on campus and taking afternoon lessons.
Our tour guide was actually a student at the school, but only after he graduated from university and wanted to study his passion (sketching) with more depth. He spoke great English and had no problem understanding any of our questions.
When you purchase student-made souvenirs from the campus store or take a tour, all of that money goes directly to supporting the school and its various programs. I'll admit that the gift shops are expensive, but they're directly supporting either the school or the artist themselves, and often both.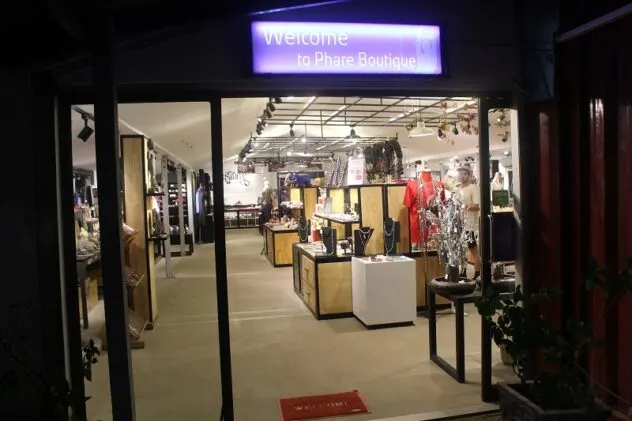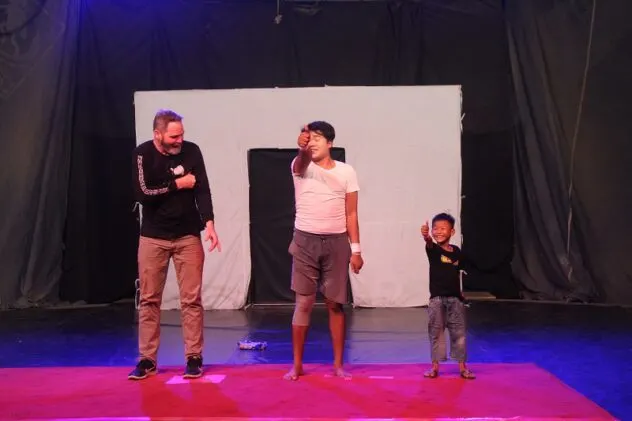 The idea of the school is to revive traditional Cambodian arts, much of which was lost when the Khmer Rouge brutally murdered millions of their own people. But at the same time, they're able to sustainably train the next generation of modern artists.
During the genocide from 1975 to 1979, almost all of the country's artists and intellectuals were killed by the communist government. It makes this training all the more necessary and relevant in the face of otherwise permanent loss of local tradition & culture.
Now artists are being trained and given a general education in the same place, something that's common in more developed countries. Imagine going to a circus school, all the way from kindergarten on up to high school! It sounds out there, and it absolutely is.
Battambang is one of the largest cities in the Kingdom of Cambodia, though it's much more spread-out than capital Phnom Penh or tourist-oriented Siem Reap. The circus' campus is a few kilometers from downtown, and many performers in circuses (circii?) throughout Cambodia spent their youth here.
Every few months there's a huge performance downtown, put on by the school as a way for the kids premiere their upcoming new show.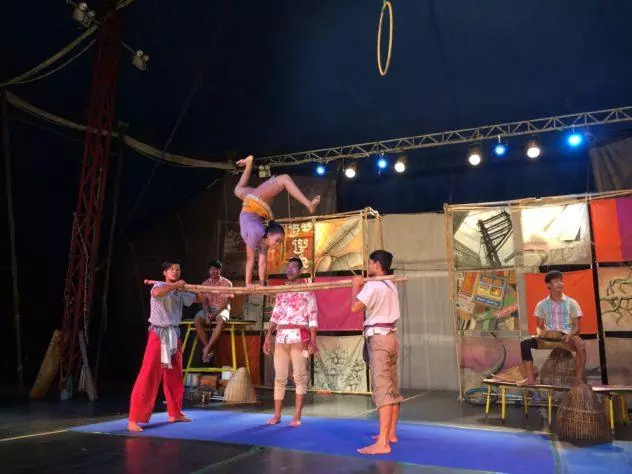 Why See the Circus in Cambodia?
Before arriving, not many people have heard much about Cambodia beyond the legendary temples of Angkor Wat, myself included. Honestly, you might even picture the rest of Cambodia as a jungle, which is a blatantly false but quite common misconception. There is jungle, but I'd say there's more rice patty than rain forest.
The circus is a way to have a different experience as well as learn about the local culture without a guide or a guidebook in hand. You'll see uniquely Cambodian arts and themes and problems and humor, and most importantly, points of pride.
These kids are professional, smiling throughout the show, even when you see that they've sweat all the way through their outfits. It takes hard work to do what they do, and they're excited to show it off to you.
Cambodians want you to witness such aspects of their country which are not easy to understand through a textbook or even simple pictures, and which honestly might be lost if not for the monetary support and genuine interest of spectators. It's a good cause, and a good time!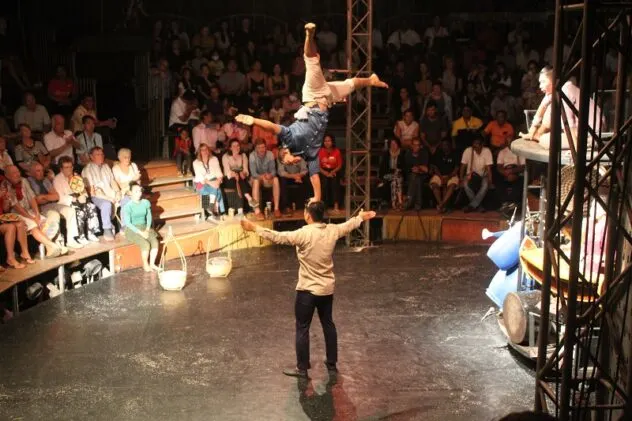 Their good reputation is spreading so quickly that a professional Cambodian circus troupe just recently toured around the world. All of the performers in Phare Ponleu Selpak are students who have been training for years to be in these shows, and each performance also utilizes the talents of fellow student artists studying traditional local dance and music styles.
I can't remember the last time I smiled throughout a performance of anything. Though if you can't make it down to Battambang, performers trained at the school there are also sent to Siem Reap to perform in the circus there. It is a similar but more professional & straightforward experience.
"Same same but different," as the Cambodians say. So go see the elaborate temples of Cambodia in the mornings, and save your evenings for exploring local culture. But don't just take my word; allow me to me set the stage.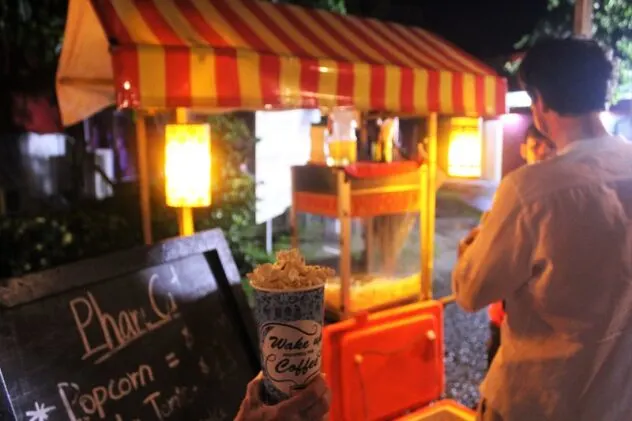 Phare Ponleu Selpak in Battambang
Arrive a half hour or more early to grab a great seat, not behind the pillars! The performance will start on-time, and include a short introduction and a traditional Cambodian Apsara dance beforehand. Apsara is such an ancient style of dance that the majority of the humans depicted in reliefs etched throughout the temples of the Angkor Wat complex are actually Apsara dancers.
The musicians playing the show's entire soundtrack were featured on the side of the stage. Deservedly, they got their own house-shaking round of applause at then end. Each hour and a half circus performance can be quite different depending on the plot of the tale they tell.
The story arc we experienced the first time we went was called "Phumstyle." It follows a young man coming back to his hometown after living in the big city for awhile (plus a little cutesy romance on the side). Even though all of the dialogue was in Khmer, there wasn't much of it. And what was there seemed to be more like jokes for the locals, as every quip and screeched line of dialogue generated laughs.
Communication was done largely through exaggerated body language and facial expressions, as well as a whole lot of gestures and good use of props. There was even fire dancing and a four-person juggling routine. We went for an amateur circus performance, but our expectations were happily exceeded by the group of obviously very dedicated young people.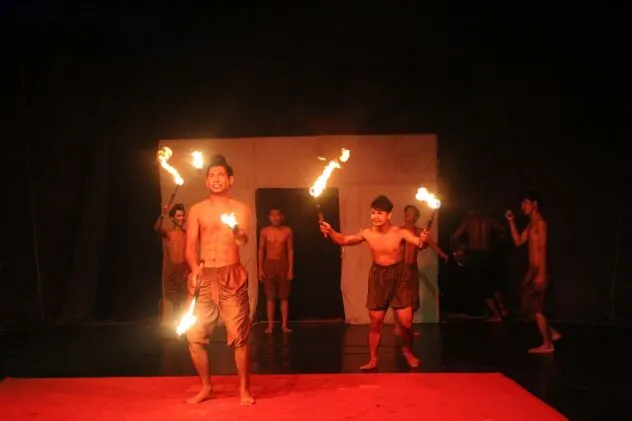 Every single one of those kids knew how to work a crowd and was trained to keep you focused. Their accuracy and skill level was astounding, though their costumes were not the most intricate nor their props the most useful.
Personally, seeing a teenager balance on his hands atop wooden planks and cylinders atop a tall table was not what I expected. But everything kept me on the edge of my seat and I sure left impressed, (after both shows two years apart, mind you).
They didn't freak out over messing up in front of a big crowd; they just laughed it off together and moved on. As my friend so succinctly put it, "you can tell that they're students, because when they mess up a trick they just do it again until it's right."
One of the guys did his back flip four times in a row, with encouraging friends spotting him from below. They support each other the whole time. It's just a whole bunch of teenagers doing a whole bunch of really cool tricks.
And that's what's so great about it— you believe the magic. If you ever make it to Battambang, Cambodia, a trip to Phare Ponleu Selpak is not to be missed.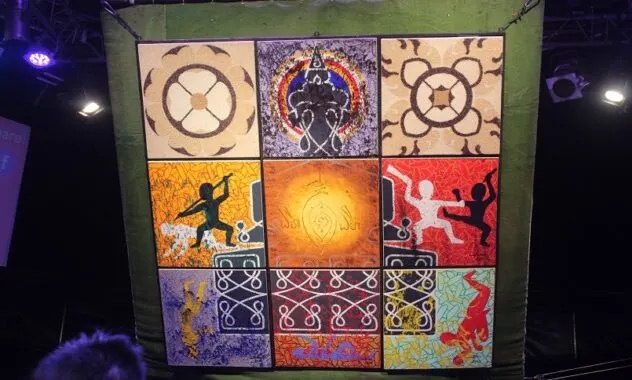 Phare, The Cambodian Circus in Siem Reap
The schedule for the Siem Reap circus is much the same as at the circus school in Battambang. They'll hand you a fan as they take your ticket, and walking up the stairs you'll enter the stage area to be directed to a seat (try to get there when it opens so that you can get a seat as close to the entrance as possible).
When we went, the show was called White Gold. It centered upon rice as a representation of material wealth, as well as a centerpiece of Cambodian culture in its own right. Nobody is allowed in after the show starts, which is when the announcer gives a quick overview of the night's performance, right around 8pm (but maybe a bit later).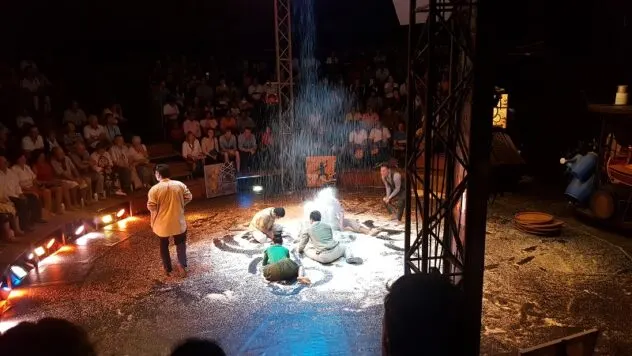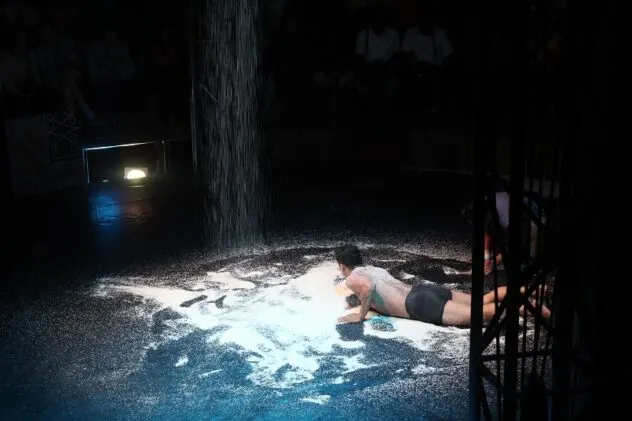 Various acrobatics and subtle moves feature into the story line, with random English phrases thrown in. Some of the things made my stomach clench. Traditonal Khmer dances also play a large role in group movements, especially on the part of the female performer.
After the show, the performers will all come back onstage to take pictures with audience members and answer any questions you have about the program. Or about how in the world they do all that stuff; up to you. Just remember that they may or may not speak any English.
The circus school in Battambang is named Ponleu Selpak, which means "pride in the arts." While the school itself embodies this in every way, the mere existence of the Phare in Siem Reap is also proof of concept. It's proof that we can all have pride in Cambodian Arts, and enjoy a damn good show, too. Plus, the popcorn is delicious, and only $1; it's the little things.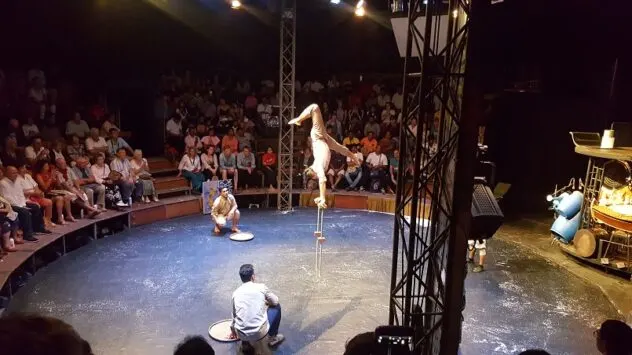 What are your first memories of the circus? Anywhere near as cool as this?