Spending 7 days in Taiwan is perfect for seeing the country's varied landscapes, sampling local dishes, and getting a handle on the island's complex history. While most people start & end their visit in Taipei, I'd actually recommend getting off the beaten path and skipping Taipei entirely. If I hadn't planned my first Taiwan itinerary for outside Taipei, I'm not sure I'd have fallen so hard for the country.
If you have a shorter trip, it may be ideal to spend just a few days in Taipei to get a taste of the local culture. Taipei is a dynamic, multicultural city, but it reminds me a bit of Seoul in how it sucks you in. You could spend a week in Taipei, alone, and still not get a full picture of Taiwan. For me, the mountains and beaches and indigenous culture call my name. Not to mention the craft chocolate!
There's so much to explore if you can spend a whole a week in Taiwan. So let's get to planning your perfect Taiwan itinerary, for 7 days or even a little more.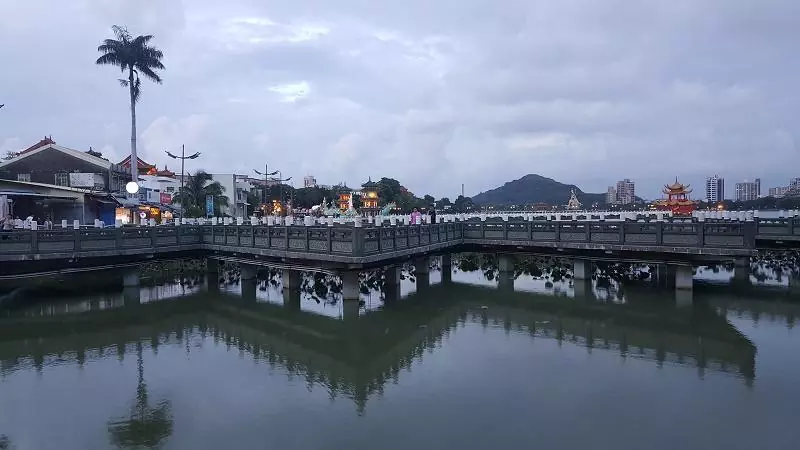 Taiwan Itinerary: 7 Days Overview
I've traveled up the length of Taiwan's built-up western coast, both by car in 2017 and then by bus & train in 2019. While I'd recommend a rental car, if you have just a week in Taiwan (without a car), I'd recommend seeing three different areas in the center and south of the country. All of them are accessible by public transportation, and geared towards foodie & family-friendly activities. My favorite way to learn about a place is through its regional dishes and its agricultural industry, so if you're a fellow foodie then this is the Taiwan itinerary for you.
•Day 1-2: Kaohsiung City
•Days 3-5: Nantou County
•Days 6-7: Taichung City
Even if you have to fly into Taipei, you can easily hop on an inexpensive flight or train down to Taichung or Kaohsiung, to start traveling the coast in either direction. Note that this 7 day Taiwan itinerary also writes off your arrival on Saturday and departure on Sunday (assuming you used 5 vacation days + 2 full weekends). This gives you a full 7 days to absorb and fall in love with Taiwan as much as I and so many others before me have. But if you find yourself with extra time on either end, there are plenty of things to do in Taichung and Kaohsiung, so I've included a couple of day trip options from each locale.
There's so much to do in both cities that if you're not much of a nature lover, you could easily take a day from Nantou and add it elsewhere. I went back to Taiwan for the purpose of recording the chocolate and cacao culture there, the same reason I went in 2017. And in talking to local chocolate & cacao folks, I've gotten some invaluable advice on traveling, eating, and otherwise planning the perfect week in Taiwan. For those driving a rental car, I've included some further-out alternatives you may want to head to in central Taiwan, especially if you visit during high season.
Had I known more about Taiwan when I was deciding where to move after university, I may have ended up learning Mandarin & Taiwanese rather than Korean.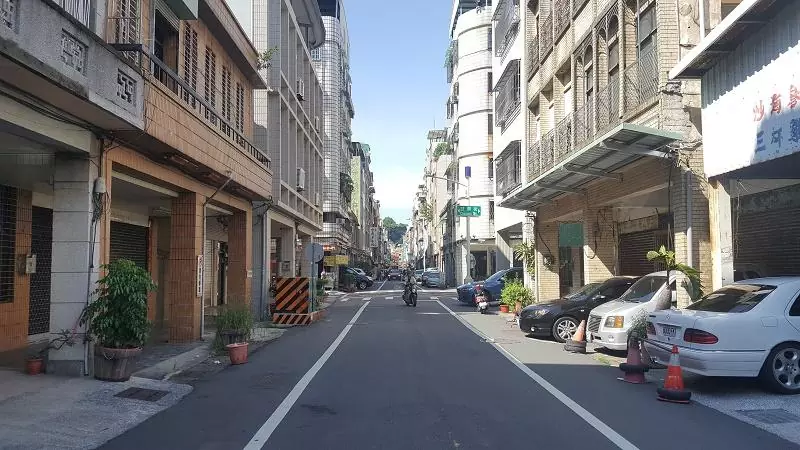 Taiwan Itinerary: Practical Information
On Taiwan they speak Mandarin Chinese, Taiwanese (actually a language from southern China), and various indigenous languages (notably Hakka in the south). The currency is the New Taiwanese Dollar (NT$), and it's easiest to exchange American Dollars, Philippine Piso, Japanese Yen, Hong Kong Dollars, and Chinese Yuan. Taiwan offers visa-free entry for 14-60 days to visitors from over 60 countries, including Hong Kong, Singapore, Canada, the US, and the Philippines (through 2020). Check here if your country is one of those which doesn't require a visa application.
Since Taiwan is a tropical country, the best time to visit is outside of the summer, from October to May, though winter can get quite cold in the north and dip below freezing up in the mountains. The southern cities of Kaohsiung and Kenting stay hot year-round, though it may be a little too cool to swim in January and February (and too hot in July & August).
April to June is the best time to visit for fruit seasons in the south, as mangoes, passion fruit, and pineapple start to ripen. Be careful of traveling during Harvest Festival in the fall and Lunar New Year in the winter (exact dates change each year), as most locals will have time off work and it will be more expensive to get around the country. If you're visiting during one of those two peak seasons, I highly recommend renting a car.
Helpful Apps: Google Translate (download Chinese offline before you arrive), BusTracker Taichung.
Must Pack: sunglasses, hat, hand fan, rain jacket, hand sanitizer, bug spray, and light jacket if you plan to visit the mountainous regions of the east coast (even in the summer it gets chilly at night).
Must Bring Back: pineapple cakes, Taiwan-made chocolate, and black tea from Nantou or oolong tea from Hualien.
Must Try: soup dumplings (xiao long bao), shaved ice (baobing), milk tea (lai cha), and braised beef noodle soup.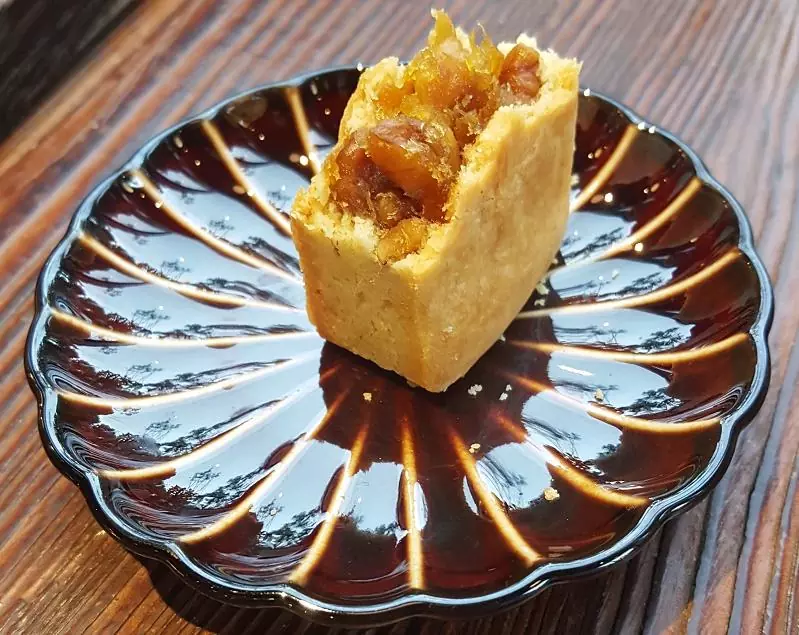 Kaohsiung Itinerary: 2 Days
As soon as you arrive at Kaohsiung Airport, withdraw or exchange money in the arrival terminal (I'd recommend at least 5000NT to start), then buy a sim card with unlimited data. A 10-day card will be 500NT and it will have the ability to call. This will be your lifeline, and it was my smartest purchase of my latest trip. Plus, they accept cards, so no need to waste any dollars quite yet! Next go buy an Easy Card or an iPass from the convenience store in the arrival area; this shop only takes cash. Either of these transportation cards will allow you to use buses and trains across the country.
Once you're well-equipped, follow the signs for the MRT and take the train into the city. Be sure to add a couple hundred NTD to your card before departing. Most guest houses will be 10 to 20 minutes away, and the MRT is open from 5am to midnight, so no matter what time you arrive you should be fine. If not, there's always Uber. All Koahsiung MRT stations have a letter and number assigned to them, so keep those in mind! Fares are 11-40NT per ride.
Once you arrive at your guest house, drop off your stuff and settle in if it's the evening, asking at the front desk for a nearby dinner recommendation. Or if it's morning (as it was when I arrived), then leave your bags and start the itinerary as every island getaway should begin: on the beach.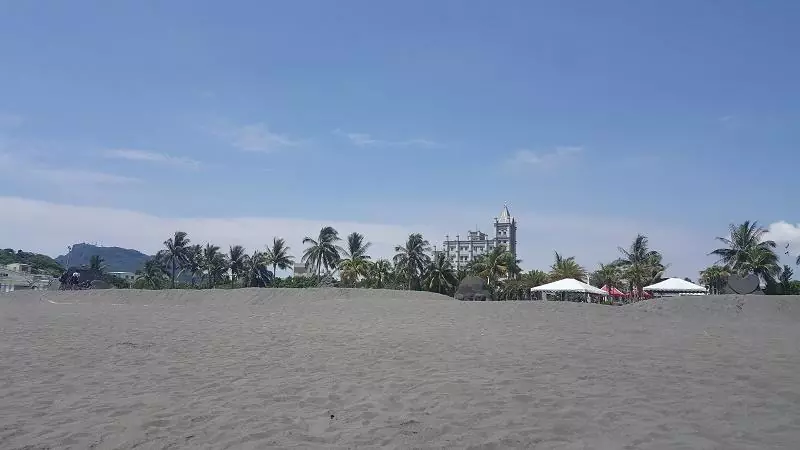 9am // Cijin Island. Take the MRT to orange line station Sizihwan (O5) and walk about 6 minutes to Gushan Ferry Station. It's 30NT per adult to take the ferry each way, and the ride is about 5 minutes. Once you're on Cijin, there are a half dozen things you could do. If you'd like to take a covered or regular bike around the the island, you'll see many for rent as soon as you arrive. But if you're like me, you'll walk a few minutes over to the gorgeous black sand beach and lay back & relax for a bit before diving into the sights.
You won't see anyone lounging around here in their bathing suits (except possibly some Western tourists), as you can't get very far out in the water before a lifeguard comes over to stop you. Most people came for some pictures and then left, but it's a gorgeous beach, even in the height of summer. If you're also like me, you won't last half an hour before sweating like a pig and needing respite & some street food! From the beach, walk a few minutes over to Cihou Fort for the first of several beautiful views of the bay.
Kaohsiung Lighthouse is another few minutes away. By now you're back near the ferry station and could probably handle a rest in a cafe, or at least a snack. If you'd like to bike down the length of the island, this is a good time to do so. From the ferry area, it's about 20 minutes walking down to & along the beach, or a 5 minute bike ride to Rainbow Church for some pictures. Your last goal is to continue down the beach to Cijin Windmill Park for more beautiful sea views.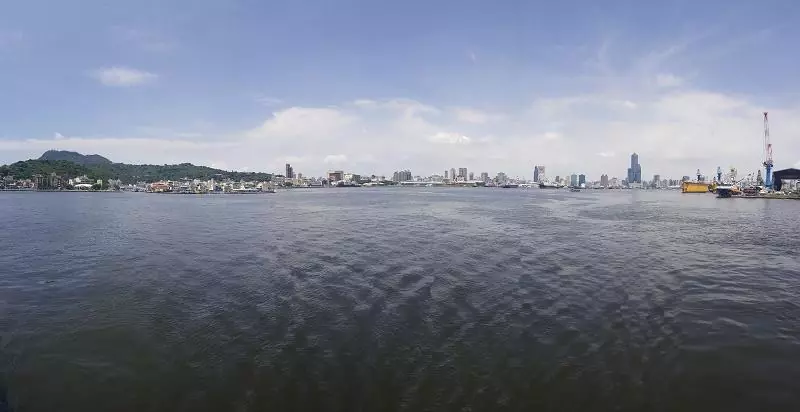 1pm // Lunch in a Cafe. At the hottest time of day, find shelter from the sun by ducking into a cafe on your way back to the ferry terminal. If it's wintertime you may be fine, but the sun is very brutal in high summer. Many Taiwanese cafes offer some snacks in addition to drinks, but if the weather's cool enough you may be able to settle into any open-air restaurant with fans on. Since Kaohsiung is a port city, the seafood is tops. If you partake of seafood (I don't), then this is the time to look for oyster pancakes, fried fish, and shrimp dumplings (as recommended by my local friend).
2pm // Taiwan Sugar Museum. Catch the ferry back to the mainland and and take the MRT over and up to Ciaotou Sugar Refinery Station (R22A). The 30-minute ride will be perfect for cooling off and exploring what you'd like to see in the old sugar-producing region. Taiwan used to produce tons of sugar, especially during Japanese rule, and have since shifted to more high- value crops. This museum is built inside an old sugar-processing factory, and built up around it are a number of activities and eateries.
The Sugar Museum is great if you have kids and can visit on the weekends (when all the shops are open), and/or if you're interested in the important role sugar cane has played in Taiwan's development (as I am). But even if you aren't, the area is largely shaded and features lots of games, and during the weekdays there's still a fair amount to do. If you don't choose to rest instead, I'd spend about 2 hours here. Note that the bao shop near the metro has okay bao, but the cafes are real price gaugers (without much quality). If you reach the elementary school, you've gone too far in one direction.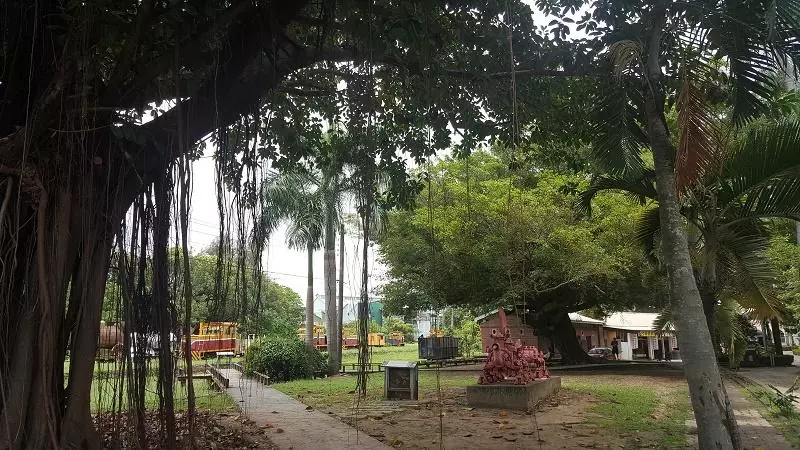 5pm // Sunset at Lotus Lake. Cool off again on the train as you head down to Lotus Lake for sunset. Get off at Ecological District (R15) and walk 20 minutes to the lake, or get off at World Games (R17) and walk a couple of minutes to catch either the 6/205/219A bus to the Lotus Lake Tourist Center (where the pagodas are). Keep an eye on your GPS, either way. Before I actually visited I was really skeptical about Lotus Lake, but it turned out to be one of my favorite places in Kaohsiung. It's truly mystical at night, with all the lights and incense swirling into your nostrils.
A couple I met at the airport told me about a swimming pool near Lotus Lake, but I didn't investigate any further. Instead I walked around the famous Tiger and Dragon Pagoda, a bit further down the lake, and then around the structures across from the large the Buddhist temple. They say that running into and then out of the pagodas will reverse your fortune, but mine's pretty good at the moment, so take a chance only if you'd like (and if you arrive before the area is roped off at 6pm).
While the temple from the main pagoda is beautiful, with 4 stories and completely lit up at night, just remember to respect the many people praying and not take any pictures until you're outside of the building. It's a big no-no to take any pictures of the Buddha or monks, especially. If you arrive a bit earlier, walk north up to the Confucius Temple, the largest of its kind in Taiwan. Don't forget the bug repellent, either.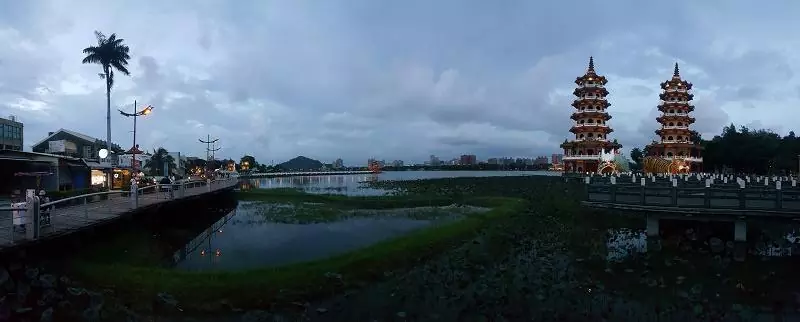 7pm // Ruifeng Night Market. once you've had your fill of exploring the lake (or the sun's fully set), go visit Ruifeng night market for dinner and festivities. I also visited Laohe night market since it was across form my accommodation, but I was fully unimpressed. It had a lot of intestines and fried food on sticks and seafood, and fruits. No bao at all, and just generally not a lot of options. On the other hand, Ruifeng is built like a maze in rectangular formation and busier than a hive of bees.
I saw very few other foreigners, and saw a huge variety of offerings, much outweighing the couple of blocks of intestines at Laohe. There were also games like darts and fortune telling, clothes and souvenirs, and a number of drink stalls. Grabbing a late dinner after sunset is the perfect way to get the full effect of this huge market, and have the largest variety of food options. Depending on your tolerance for noise and interest in shopping and playing games, you could spend anywhere from one to three hours here to round out your night.
On another note, lots of people sing the praises of Love River, but it didn't impress me much, and I wouldn't recommend it if you only have 2 days in Kaohsiung. But if you are interested in it, catch bus 248 to get straight to the center of the river, where you can take a little boat ride around one of the sections. I'd recommend doing this around sunset on day 2 in Kaohsiung, if you're interested.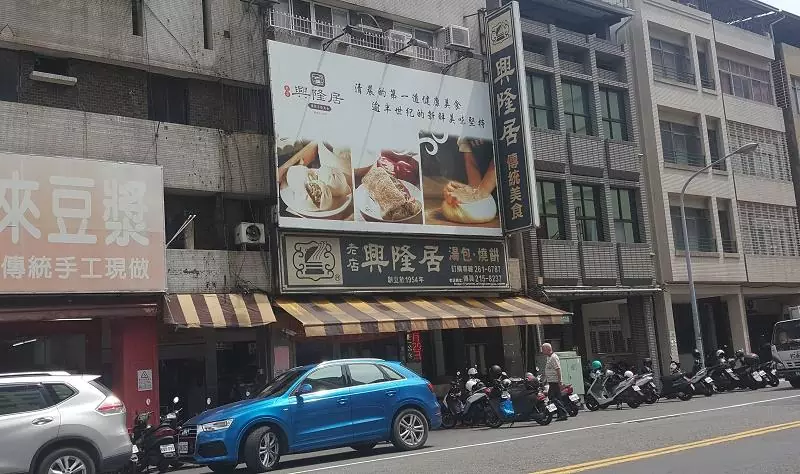 ---
9am // Breakfast at Xing Long Ju. My local friend recommended that I try this breakfast spot shortly after I arrived in the city, and a week or so later I realized that it's a famous breakfast spot in Kaohsiung. And that the menu is only in Mandarin. I took my tray and tongs and just grabbed anything that looked good (and it all was); most things are pork-based, but I somehow acquired a sticky rice-wrapped fish roll, as well. If you can find a seat, you can use the vinegar and soy sauce they keep on each table. My filling breakfast and milk tea was less than 80NT total.
10am // Pier-2 Art Center. After breakfast, you can take the MRT one stop over to Pier-2 Art Center for pictures, art installations, and milk tea before lunch. Pier-2 is a former warehouse district-turned-art collective, and people come for the selfies but stay for the handicrafts. While the area is much smaller than I imagined, it has lots of spots for photos across the grounds as well as a working train cutting through the area.
There are several air conditioned spaces (one is a ticketed art gallery, but all else are for shops), and clearly a lot of love for local artisans. Though if you're not in it for great Instagram pics and shopping, head elsewhere. When you decide you need a beverage break, the shop next to the bookstore in the largest building serves delicious waffles and a mean cheese milk tea (奶蓋茶, nai gai cha; way better than it sounds, and I highly recommend one made with black tea).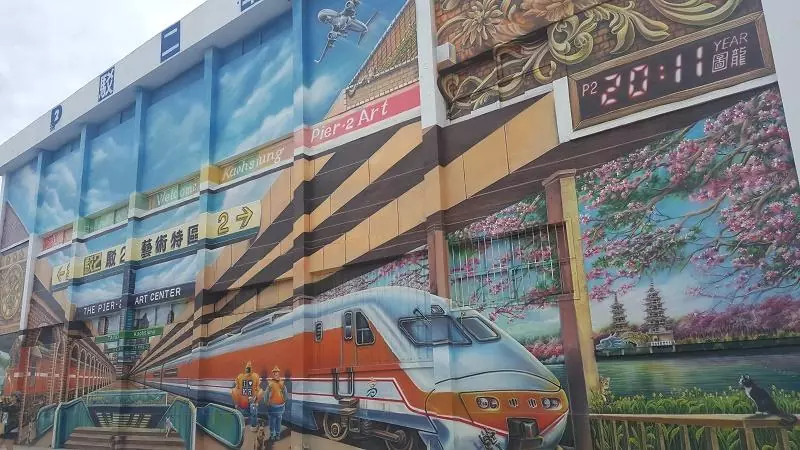 12pm // Visit Fo Guang Shan Monastery. One of the most elaborate and impressive religious centers in the country, Fo Guang Shan is admittedly a bit of a trek outside of Kaohsiung. It's the largest Buddhist monastery in Taiwan, and its lengthy path towards the Buddha has become quite famous. The complex is known for being quite modern, and the organization is one of the largest charities in the country. Donations are very welcome.
I didn't have time to visit this spot on either of my trips to Taiwan (I needed to visit chocolate shops and cacao farms, after all!), but it's at the top of my list for my next visit. To get there, take the MRT to Zouying Station and catch bus 8501. Alternatively, look for the 8010/11 bus from Kaohsiung Main Station. Remember to always be respectful of those who are worshipping, and refrain from taking pictures of monks or other visitors, and to dress a bit more convervatively than you might at home.
7pm // 85 Sky Tower. Overlook Kaohsiung at night by heading to the top of the city's tallest building. The hotel reminds me quite a bit of Lotte Tower in Seoul, and while it's most popular to visit during the day, it'd be a mistake to write of the beautiful city views it offers at night. But if you're exhausted and have time in the morning, overlooking the city can certainly wait!
If you find yourself with an extra full day in Kaohsiung, you can start the day at 85 Sky Tower and then set off on a day trip. Two quite nice day trips are to the nearby cities of Tainan or Kenting. Tainan is about 45 minutes away via train, and it's known for its classical architecture & long history as the former Taiwanese capital. Kenting, on the other hand, is best known for its stunning national park, beaches, cacao farms, and sea-adjacent night market, but it's about two hours each way by bus (and totally worth it).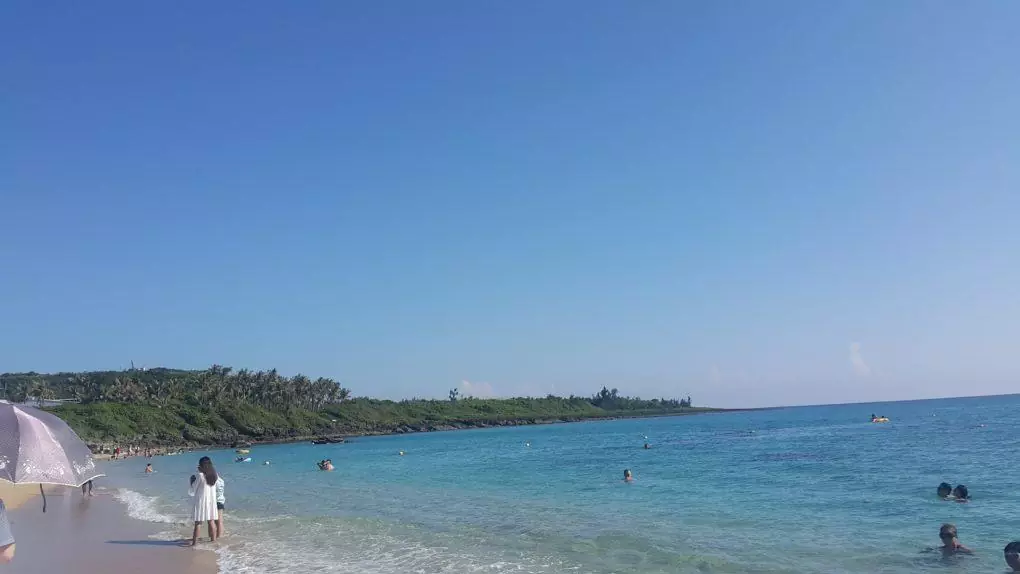 Where to Stay in Kaohsiung
Since Kaohsiung has such a great metro system, it's important to pick a guesthouse close to a metro station, ideally the red line. For summertime visits, book as far in advance as you can, since it's high time for domestic AND international tourism. All of the Kaohsiung guesthouses below are centrally located near a red line station, offer good service, and are a great value for the money. On my last trip I followed the Kaohsiung itinerary above while staying at Ahiruyah Guesthouse (see below).
Luxury: Hotel Dua
This 4-star hotel is one of the best value hotels in Kaohsiung. It's located one minute from Formosa Station, and offers a spacious stay in a modern hotel, continental breakfast included. The highlights of the rooms themselves are the fluffy beds, well-furnished suites, and luxurious bathrooms. Don't miss an evening cocktail on the rooftop bar, especially as the sun sets over the ocean and the rest of the city. Prices for a standard double start at just $95USD a night.
See the Latest Prices // Read Reviews.
Mid-Range: Kindness Hotel (Kaohsiung Main Station)
A traditional hotel at less than half the price, Kindness Hotel has become a well-reputed chain with numerous locations across the city. Every stay includes free breakfast and dinner, as well as access to light snacks and drinks throughout the day. Bicycle rental and access to laundry facilities is available upon request. The staff is very helpful, and the in-suite bathrooms & comfortable beds are hard to beat. The best part is that it's just across from Kaohsiung Main Station. Prices start at $50USD for a double room.
See the Latest Prices // Read Reviews.
Budget Choice: Ahiruyah Guesthouse
Just a block from Formosa Boulevard Station, and mere meters from the entrance to Liouhe Night Market, Ahiruyah is an absolute gem. There are separate male and female dorms spread across multiple floors, large lounging and kitchen areas, and on-site laundry facilities. The beds are on the softer side, each equipped with universal outlets & a lamp, as well as a thick privacy curtain. The bathrooms are clean and spacious, and towels are available for free at the front desk, where staff is happy to answer any of your questions about Kaohsiung and Taiwan. Prices start around $17USD for a dorm bed.
See the Latest Prices // Read Reviews.
Check prices & reviews for hotels in Kaohsiung.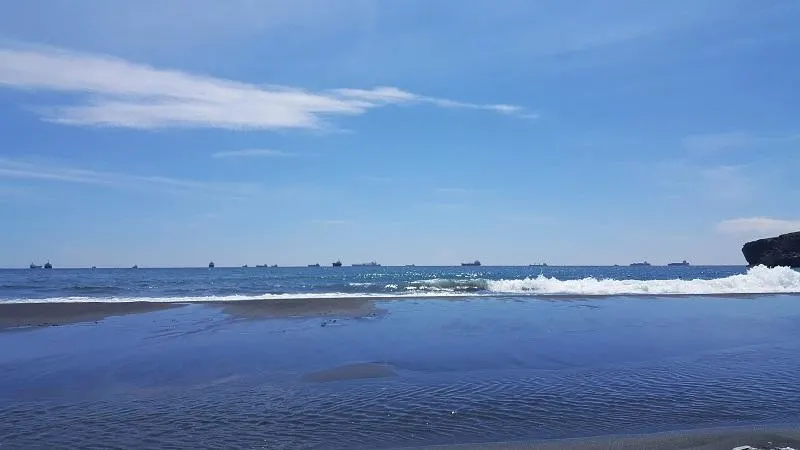 Getting from Kaohsiung to Nantou
After Kaohsiung your next stop is Puli, the main town in Nantou County. To get from Kaohsiung to Puli, take the MRT to the HSR (High Speed Rail) Station, take the HSR train to Taichung, and grab the bus to Puli. You can check the schedule for HSR trains between the 2 cities, and book a seat ahead of time for a discount. I somehow managed to board a local train that took 2.5 hours, but the HSR takes less than an hour and is absolutely worth the slightly pricier ticket (unless you looooove sitting with all your luggage). Be sure to check at the counter that you're actually boarding the HSR, and double check once you receive your ticket.
Arriving at Taichung HSR Station, cross the tracks to go to Taichung Bus Terminal. Be sure to go to the final stairs, past platforms pointing to buses C, B, and A, because the only stairs you want are at the very end. Once you enter the bus terminal, walk in a bit further and take a right to go over to the sign for Puli buses. You want to take bus 6899 to Puli, and don't let anyone tell you any different. Push the button under the pull cord when they're nearing your stop; the trip takes just under an hour.
And for goodness sake, KEEP YOUR TICKET to give to the driver as you get off (you can also tap your iPass or Easy Card to pay). He'll check your ticket and wave you on, but if you don't give it to him when you get off, you have to pay again (as I did). Getting from Kaohsiung to Puli City took me about 5 hours, but if you book a fast ticket in advance then you could cut it down to 3. Google Maps is not to be trusted for exact times; consider double checking everything with each hotel you stay at, so that if you want to leave a bit earlier or later, they can get exact times for you by searching in Madarin.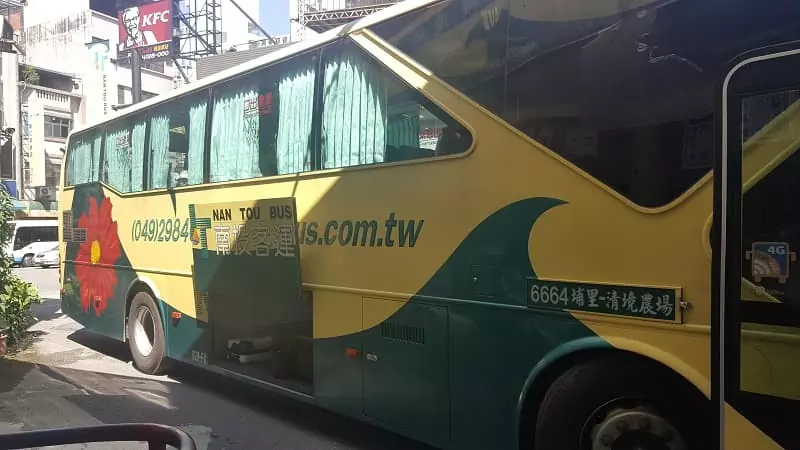 Nantou Itinerary: 2 Days
Nantou is located right in the center of Taiwan, so its climate is relatively temperate (though the sun is quite harsh). You can see the cloud of pollution hanging over the cities as you drive up to them, but Nantou is a completely different experience. The region's become famous for its strong aboriginal culture and abundance of tea plantations, and is a popular weekend trip from all over the country.
The best time to visit Nantou is during the week, as accommodation & activities book up quite quickly on Saturdays and Sundays. If you happen to be local, you may be able to rent a scooter to get you around to the spots near Sun Moon Lake, and it was highly recommended to me.
1pm // Puli Winery. After you arrive, drop off your bags and head to Puli Winery, a wine museum and whiskey distillery in the center of town. On the bottom floor you can sample the different liquor and local snacks, while upstairs you can read all about the facilities' history in their museum. Outside there are vendors selling a number of street foods and ice cream, as well as fresh sugar cane juice. The liquor itself is quite affordable; I recommend grabbing a bottle of the litchi liqueur.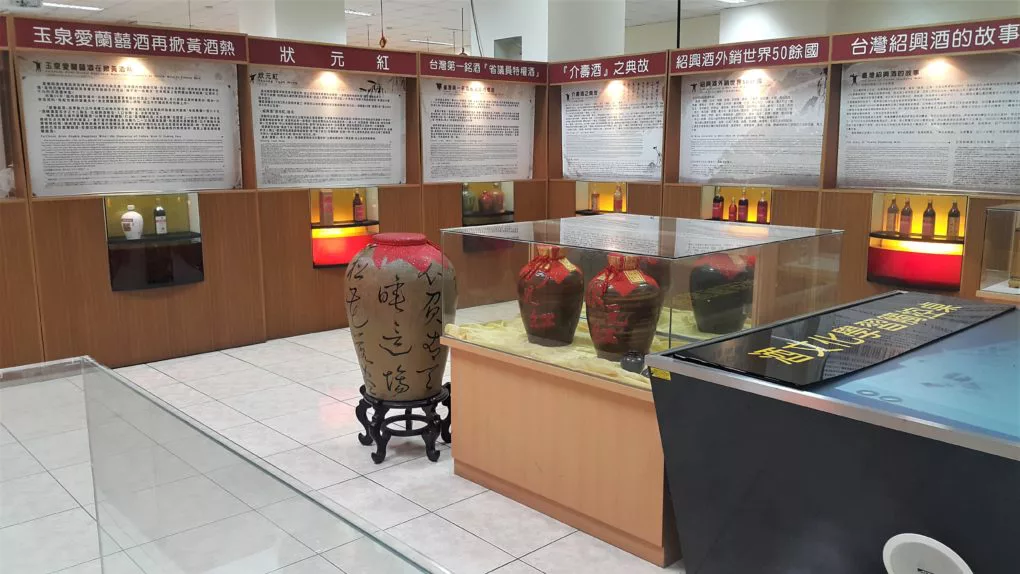 3pm // Feeling 18 Gelato Break. Walk 20 minutes down to Feeling 18 for gelato and tea or coffee. This is by far the best gelato I had in all of Taiwan (and I tried over a dozen), and while the chocolate is stupendous, it won't last long in your bag. I recommend trying the Maleku Sea Salt and the Thai Iced Tea, though truly everything is good & well-made. To the side of the cafe there are cute photo-ops, if you happen to be visiting with kids.
4:30pm // Cona's Chocolate Castle. If you happen to linger a little long at Feeling 18, no worries. This spot is just a 15-minute bus ride away. Cona Castle is a chocolate complex built in 2018 and dedicated to educating the local public about how chocolate is made; entrance costs 200NT and includes a 50NT coupon. While they make very minimal chocolate on-site, they do show each step of the chocolate making process in their interactive chocolate game, the playing of which entitles you to a free chocolate.
The 3-floor complex is definitely geared more towards kids, with dress-up gear on the first floor, a DIY chocolate class on the second floor, and photo-ops throughout. But I thought it was a cute way to get kids interacting with their food. Be warned, the products are pricier compared to other local options, and I actually can't recommend buying any of their chocolate (considering you just went to Feeling 18), but it's worth a taste for free.
Taumi Eco-Village is a lovely park to visit afterwards, especially for the fireflies often spotted around dusk. Bring bug repellent and catch the bus back up towards Puli Station about 20-25 minutes after it's said to have left Sun Moon Lake. Grab dinner at the bao or Thai places marked on the map, and bring a translation app since none of the proprietors speak English.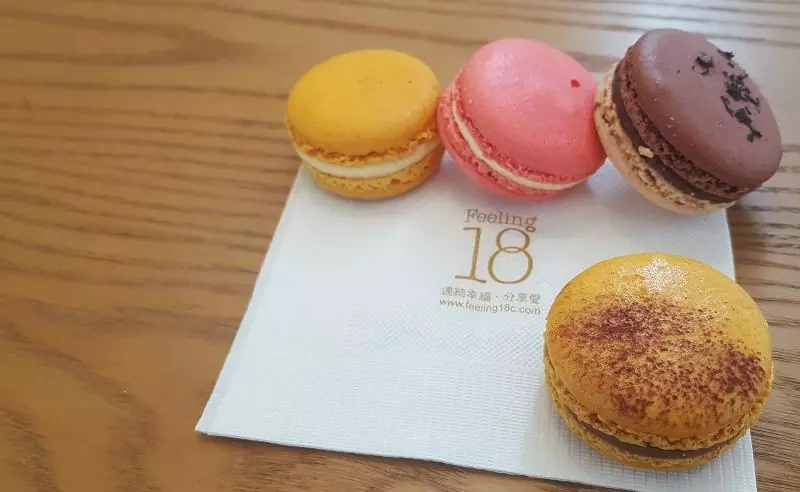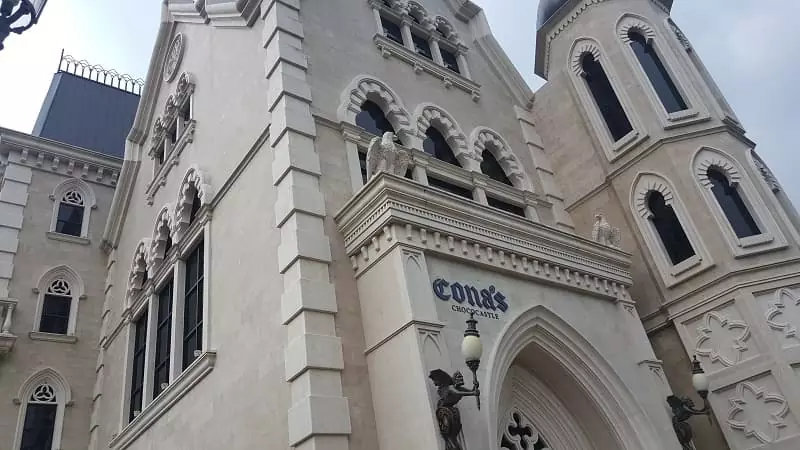 ---
8am // Qingling Farm & Swiss Garden. Day 2 of the Nantou itinerary is absolutely stuffed! Before heading over to the bus up to the farm, pick up some bao or other quick snack from one of the restaurants along the main road, and eat on the way. It's a little over an hour from Puli to Qingjing Farm, also written Cingjing Farm, so depending on which bus you take you'll arrive around 9:30 or 10am. Pay the 160NT or 200NT entrance fee, and head on in. During the summertime you'll be charged the more expensive price even on a weekday.
This farm is famous in Taiwan for being an oasis of fresh air & sheep poop. Or at least, that was my impression. But if you're lucky enough to visit on a sunny day, as I was, prepare yourself for breathtaking views and a lot of walking. The hilly farm was established decades ago by a local who was taken aback by how European and non-tropical the area felt. Now it's an ode to the beauty of mountainous Taiwan, and a working sheep farm. There are live sheep shearings every day at 10am and 3pm, and plenty of sheep's milk-based snacks at the convenience stores on-site.
Heading down to the Swiss Garden is about a 10-minute walk along the highway (stick close to the sides). You'll encounter a large complex of outdoor restaurants before arriving there; it's a decent place to get a cheap & delicious lunch (but choose carefully). About 5 minutes past the food area is the entrance to the Swiss Garden, a small but beautiful flower garden and cafe, with a chocolate shop attached. There is another entrance fee, so I'd only recommend a visit if it's in the springtime when all the flowers are in bloom and you'd like to rest at the cafe.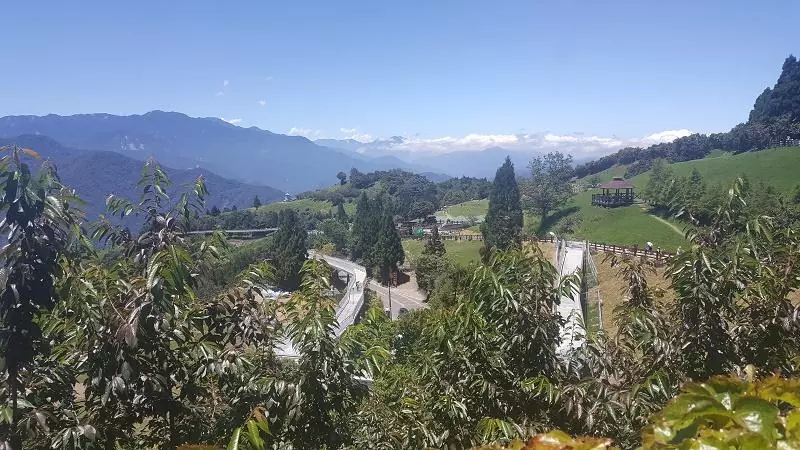 1pm // Vanilla Knight Chocolatier. The only commercial vanilla farm in Taiwan, this cafe is worth a stop if you love good pastries, chocolates, and ice cream. It's about an hour from Cingjing Farm on the way back to Puli, and you can arrange a tour of the vanilla farm ahead of time by contacting their Facebook page. They use their vanilla in almost all of their products, including the delicious vanilla ice cream and vanilla pudding.
Ask the shop assistant on duty where the bus stop is, about a block away, and when exactly the bus is scheduled to come (they can check much faster in Mandarin). Alternatively, walk the 40 minutes back into town to the bust station. From Puli Station head down to Hohocha.
3pm // Hohocha. This is the largest black tea tourist farm in the area, and is wonderful for tasting teas, exploring a working tea farm, and buying souvenirs. On my last trip to Taiwan, I visited Assam Tea Farm just down the road, and was unimpressed with the small Chinese-only shop & lack of cafe, though the area itself was beautiful. So this time I went with a local friend's suggestion of this recently-built tea farm and was delighted on my visit. It's up to you whether you explore the tea farm or the building first, but I immediately wanted to check out the views from inside.
So first go up to the third floor for a complementary tea egg and cup of Assam tea, and then walk down to the second floor to check out the gift shop. They have a partial glass floor to look down at the tea processing area, and just outside is a mini deli & ice cream shop (the Assam Tea and Canteloupe flavors are delicious). From there you can easily walk over to the stairs to head up to the top of the tea trellises. Note that you can buy gifts inside the building using a credit card, but outside is cash only.
5pm // Sun Moon Lake at Sunset. Since the tea farm closes at 5pm, head out around then to catch the bus all the way down to Sun Moon Lake, another 12 minutes or so. The lake itself is gorgeous, but people really come in the evenings to take a boat ride at sunset, watching the colors reflecting off the water slowly change. If you have time, head to the zip line beforehand. Stop in at a nearby cafe, if there's time.
Be sure to wear bug spray and catch one of the last buses back (9pm)! If you're not ridiculously exhausted, stop by a restaurant for take-out on your way home. Bao or sticky rice rolls are perfect for that.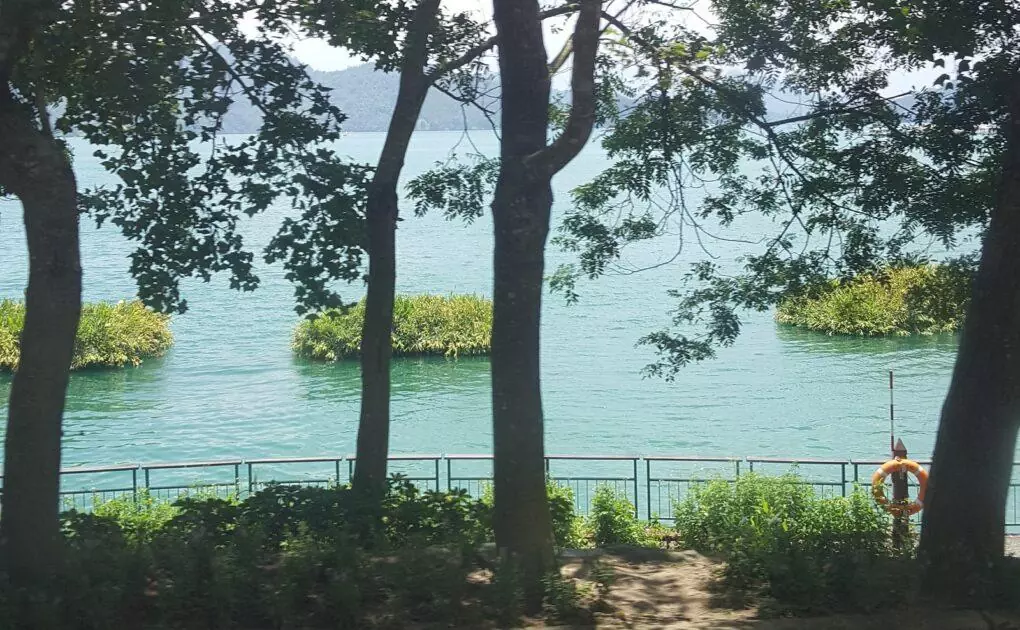 Where to Stay in Nantou
The county is quite large, but the most central place to stay in Nantou is in Puli, where there's a bus terminal and several regular bus routes. Buses direct from Taichung or Taipei will drop you off in Puli. If you press the stop button early, you can get off a bit before you arrive in the city, but if you're traveling without a car, you need to be within walking distance of the main terminal. Both the Puli accommodations below are near the bus terminal, have attentive & helpful staff, and comfortable beds. On my last trip I followed the Nantou itinerary above while staying at Here Hostel Puli (see below).
Budget: Puli Town B&B
A mere 10 minute-walk from the bus terminal, Puli Town B&B is the choice for visitors looking to enjoy Nantou on a budget. The staff speaks great English and is happy to help with any questions you have about Nantou or Taiwan & tours outside of town. Guests rave about the extensive breakfast buffet, included in the price, and the sense of privacy afforded by the wall dividers in the dorms. Plus, they offer free towels and toiletries. Prices for a single dorm room with shared bathroom start at just $16USD a night.
See the Latest Prices // Read Reviews.
Backpacker: Here Hostel Puli
I had an exceptional stay here. For the first night I was the only guest in the hostel, and James showed me all the tours and day trips available from Puli, and where to catch the bus and get a delicious meal. The hostel was easy to find, the bed was very comfortable, and the guesthouse itself is clean. Having chargers and a lamp in the pod itself was great, since I had a top bunk (my only complaint is that they don't provide towels). Downstairs is the shared living room & kitchen, where you can watch movies on a projector while you have dinner after a long day of exploring. Prices for a dorm bed start at $17USD a night.
See the Latest Prices // Read Reviews.
Check prices & reviews for hotels in Puli.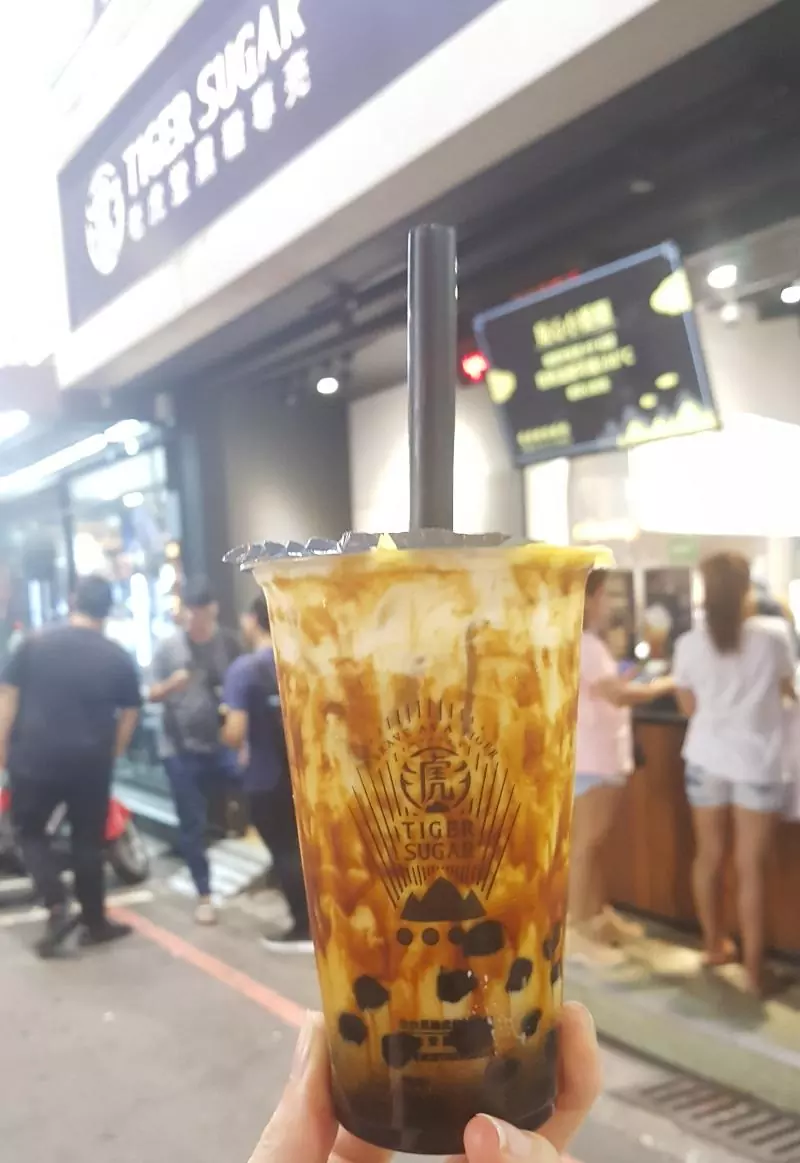 Getting from Nantou to Taichung
If you fell in love with Feeling 18 like I did, they open at 10am for picking up chocolates and a cup of gelato to go. Before you leave wifi or while you're on the bus, download the BusTracker Taichung app. Buses from Puli to Taichung run every 20 to 60 minutes, with more buses earlier in the morning and in the evening.
I'd recommend you head out around 9am so that you have plenty of time to do all of the activities on the Taichung itinerary below. There are 2 places you can catch the bus to Taichung, but the easiest to grab is the one from Puli Station. Again, the journey from Puli to Taichung Station takes about an hour and costs 94NT or 140NT depending on the bus company; you can use your iPass or Easy Card to pay directly.
When you arrive in Taichung, use the BusTracker app to find directions to your accomodation, and then use the Routes function to see exactly when your bus will arrive. Fun fact: buses in Taichung are free when you travel fewer than 10km in one trip, though you need your transportation card to avail of this. Also make sure you're looking at the schedule going the correct direction when using the bus app. To call over a bus, hold out your Easy Card in a fully extended arm, like calling a taxi in NYC.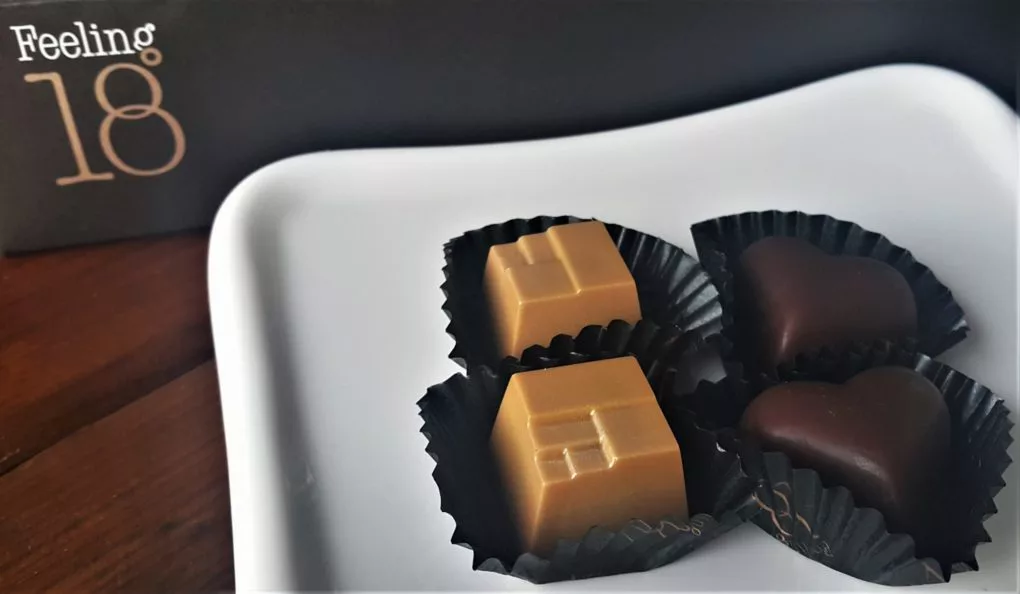 Taichung Itinerary: 3 Days
1pm // Lunch & Boba Lesson at Chun Shui Tang. By now most people know that bubble tea was invented in Taiwan, but what they need to know is that it was invented right here! While this famous tea shop is always rather busy, don't let that scare you away from ordering a few plates to share. To place an order, go to the main entrance on the first floor and grab a menu, drop your stuff at your table and choose your dishes/drinks, and then go back down to the cashier and pay for the class & dinner at once. Food will come out quickly.
If the cashier is confused when you mention the workshop, simply show an email (or your certificate, if you're eating after class) and indicate how many people were in your class. Make sure to arrive on time for the lesson and bring cash, as the restaurant doesn't accept cards. I've been very pleased with the high quality of the food at all the Chun Shui Tang locations I've visited, and this one is no different. I managed to down three plates by myself!
After lunch, make your way up to the third floor for a 3pm lesson in milk tea and bubble tea making, which will finish around 4 or 4:30pm. The class is ordered only in Mandarin, but your instructor will use lots of body language and make sure you understand everything before proceeding. If you're lucky, another student will be able to help with translation! To make a reservation, email elsa.lin@icetea.com.tw with an inquiry about either the 10am, 3pm, or 5pm class. For 3+ participants the course costs 480NT per person, and it's only offered on weekdays.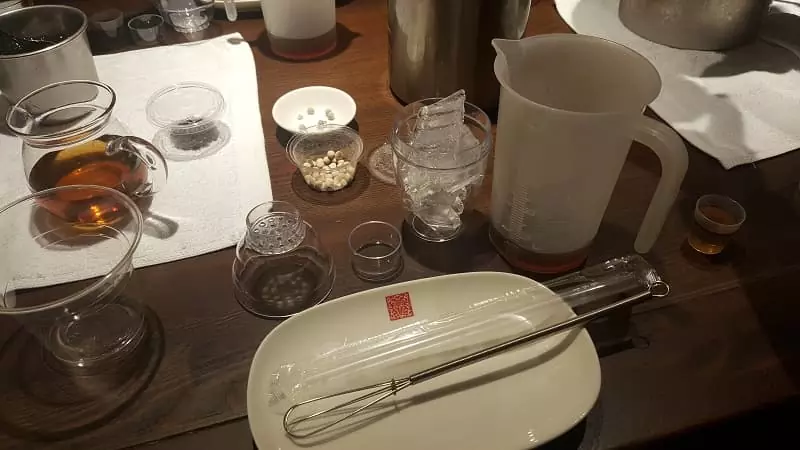 5pm // K'in Cacao. Just a block from Chun Shui Tang is this bean to bar chocolate shop, which uses cacao from the Ivory Coast to craft chocolate bars in urban Taiwan. The sisters who founded the shop grew up in francophone Africa, and share their childhood in every choice they've made for the shop. Check out the gorgeous African art, sample some chocolates, and maybe start a conversation. Support local, yeah?
6pm // Feng Chia Night Market. Annoyingly not that easy to get to via public transportation, take some time on the bus to rest because you're about to feel a little overwhelmed. Feng Chia (Feng Jia), night market is massive. Since it's incredibly crowded & slow-moving on the weekends and still busy on weekdays, a Thursday night is the perfect time to explore all of its nooks & crannies. If you like carnival games and every street food you could imagine (and some you probably couldn't), then this is 100% the evening activity for you.
The market has any number of famous foods and drinks, so walk around a bit before deciding. While people seem to be a fan of the glutinous sweet potato balls, I found them quite dry, and more enjoyed the sandwich and dumplings I found off one of the side streets. On a related note, Feng Chia is home to Tiger Sugar, the famous black sugar boba brand. I happily paid 50NT for an original when I happened upon the stall, and can say that the hype was worth it.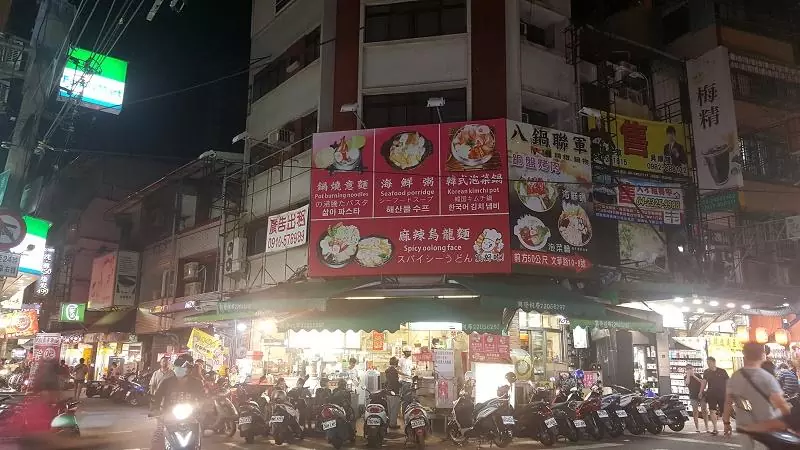 ---
8am // Rainbow Village. This colorful addition to urban Taichung has become one of the main attractions in the city. The small collection of painted houses was established many years ago by one man, a veteran soldier who refused to leave his home, and painted it in protest. He's now affectionately known as Grandpa, and has been known to show up at the area's canteen to sign copies of his art.
The actual area of the space is quite small, but densely-packed with artwork. It really is gorgeous, and the somewhat dank surroundings provide quite a clear picture of what would have become of the building otherwise. Just next to the main piece of art is a sandy area for kids, so don't expect to happen upon just the photographers of the bunch. Rainbow Village is very family-friendly. People come from all over the country to see it, even as far as Taipei, so coming early in the morning on a week day is your best bet for a clear picture.
Expect to spend an hour or two here, if you grab a milk tea and a tea egg, but bring your own toilet paper. If you're not much of a morning person (like me), coming in the evening about an hour before sunset is a good alternative, though the cafe will likely be closed. Come any later, and you won't be able to take any pictures! Plus the buses start running less often after about 6pm.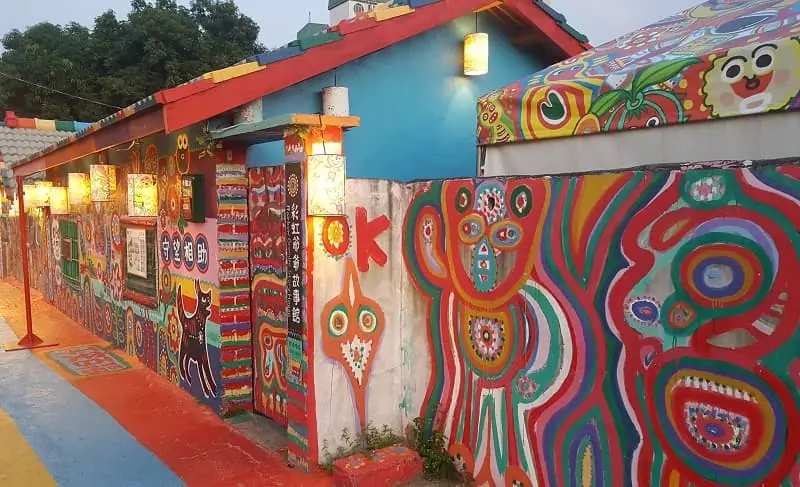 10am // Lunch at Din Tai Fung. The famous Taiwanese restaurant chain! Every time I'm in the same area as a Din Tai Fung I have to eat there, especially in Taiwan. I've seen the prices at their locations outside of Taiwan, and they're not pretty. The shop specializes in small plates, with their most famous dish being xiao long bao (soup dumplings; my favorite).
This location is on level B1 of the mall. I highly recommend trying the soup dumplings and the cold string beans with pork, as well as some sweet potato greens, if you can manage it. The line for this place is always very long, so getting there right when it opens at 11am on a weekday is your best bet for getting seated. They don't like to seat parties of 1, and if they're really busy, they may even refuse.
Pro Tip: if you're solo or just really hungry (and don't mind doing so), the restaurant offers take out. And there's rarely a line to order, plus your food comes out very quickly. Going at 11:30am on a Friday got me my order in 18 minutes, and it was just as good as the other times I've eaten there in Taipei and Hong Kong. You can also go use the bathroom and wander the floor while you wait, maybe grabbing some milk tea or watching through the glass as they make the dumpling wrappers.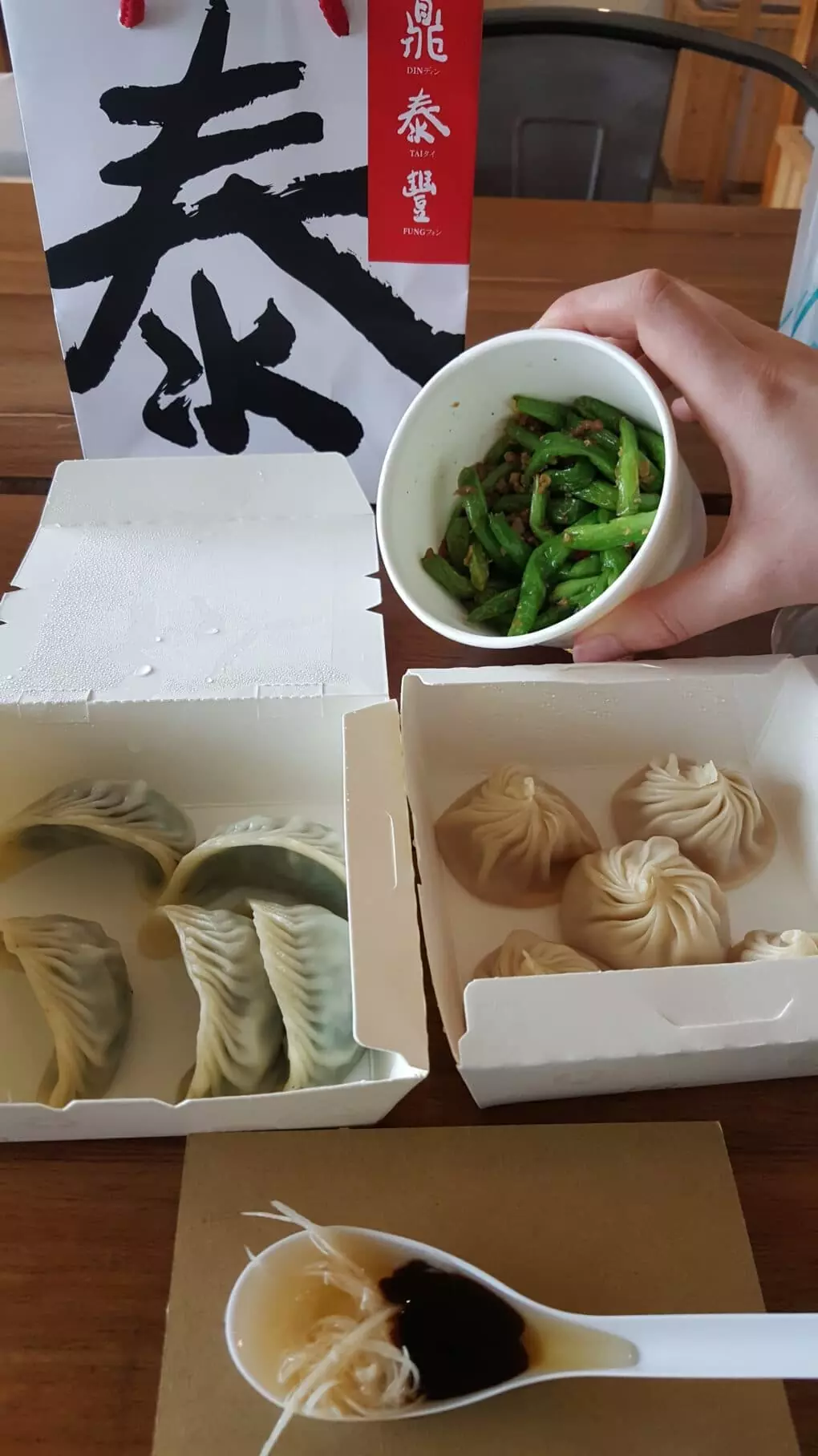 1pm // National Taiwan Museum of Fine Arts. This attraction is a local favorite for a reason. The Museum of Fine Arts has dozens of outdoor statues and installations places across the grounds; it feels like an adult-sized playground. The inside is even more impressive, with works of art which challenge your perception and impress even the most skeptical of us. Plan to spend a few hours here.
4pm // ShenJi 368 New Village. From the Museum, head over to this converted compound (are you sensing a theme here?) now dedicated to supporting young artists. This place is part market and part mall, with small restaurants and cafes in the mix. It's a great spot to wander for an hour or so, sipping on some iced tea or a cup of gelato, though if you're in the market for some jewelery or other handicrafts, you could likely spend much longer.
Since you're headed home soon, this will either be a long shopping trip or a short afternoon stroll; it depends on your luggage space & interests. Most of the food spots open around noon and close between 6-8pm, so walk a bit first and then grab an early dinner in or around the market. There are some very quirky spots, too, so be sure to stop and take some photos, and maybe even try on an animal mask (yes, it's an option). This is a great spot for buying souvenirs which actually support local artisans.
---
10am // Taichung Cultural Heritage Park. Since it's Saturday, the park will be packed with families, giving off happy weekend vibes (and probably sneaking into your photos). Nonetheless, similar to Pier-2 in Kaohsiung, the Cultural Heritage Park features exhibition halls with art from modern designers and artists, as well as handicrafts made by locals. Perfect for pictures and a milk tea break!
12pm // Wufeng Lin Family Garden. On the last day of the Taichung itinerary, it seemed fit to venture a bit further out of the city. On the trip south, get off at the historic Lin Family Garden, owned by a large local family and divided into 2 parts. You can tour the grounds with a guide, and witness truly classic architecture, preserved and in some cases restored (see below) to its ancient glory. Look at bus 107 on your BusTracker app for times.
3pm // 921 Earthquake Museum. 20 years ago, an earthquake devastated much of Taichung City, and thius middle school happened to have been built right on the fault line. In memory of the thousands of lives lost and the horrors that can happen when people aren't prepared, they've turned the grounds into a museum. It's truly a moving place, and I'd highly enourage a visit on your last day. After the museum closes at 5pm, walk a few hundred meters over to Chomeet a bean to bar chocolate shop which is open until 6 on the weekends (and closed on weekdays).
Note that it takes about 2 hours to the airport from downtown Taichung via bus, so if you have a very late or very early flight like I did, download Uber. My airport ride cost about 500NT at 7am on a Sunday.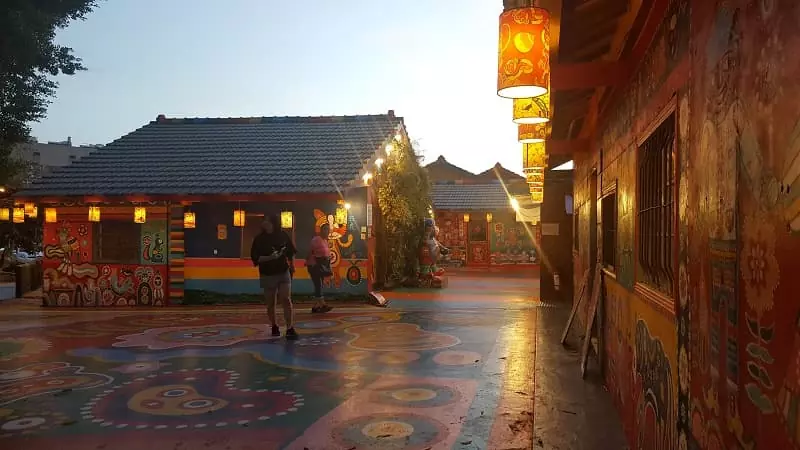 Where to Stay in Taichung
I just can't get over the fact that Taichung's buses are free for trips under 10km (which will be almost all of yours if you're following my Taichung itinerary). So while I recommend staying within walking distance of as many points of interest as possible, that's not always possible. Not everyone wants to stay in a hostel, as I often do. So here are three recommended places to stay in Taichung, each ideal for a different type of traveler. While Taichung is a large city, it's very easily navigable and has something for everyone. On my last trip I followed the Taichung itinerary above while staying at Stray Birds Hostel (see below).
Luxury: Hung's Mansion
Although classified as a Business Hotel, Hung's is more like a modern, lowkey tourist hotel with a business center. The main area is very large in all of the suites, without even considering the spacious private bathrooms. A breakfast buffet, free parking, and use of the hotel gym is available for all guests. This is the ideal accommodation for travelers with young children or those who plan to spend a fair amount of time in their room, either for business or rest. Prices for the classic double rooms start at $100USD per night.
See the Latest Prices // Read Reviews.
Mid-Range: Explore Hotel
A short walk to the massive Feng Jia Night Market, Explore Hotel is a 5-star experience (literally) at 2-star prices (actually). With a modern design and large private suites, it's the perfect place to rest your mind & body after a long day of exploring Taichung. The hotel also has free parking if you decide to rent a car, and if you don't then the staff is happy to help you map out your stops via Taichung's free public bus system. The massive buffet breakfast is free for all guests, ideal for preparing you for a day of exploring. Prices for a private double room start at only $45USD a night (yes, seriously).
See the Latest Prices // Read Reviews.
Budget: Stray Birds Hostel
This hostel is located ideally for following the Taichung itinerary above; I was thrilled with everything about my stay at Stray Birds. There's an elevator to take you between your room and the large lounge and cafe, which has ample seating, a large kitchen for guests to use, and a variety of snacks & drinks for sale. The rooms themselves are very clean and well laid-out, with towels on the beds, and hair dryers and toiletries for use in the bathrooms on each floor. The staff was incredibly helpful with my many questions about the city and bus system, and how to order street foods. Prices for a dorm bed with shared bathroom start at just $16USD a night (I was the only person in my room during my whole stay).
See the Latest Prices // Read Reviews.
Check prices & reviews for hotels in Taichung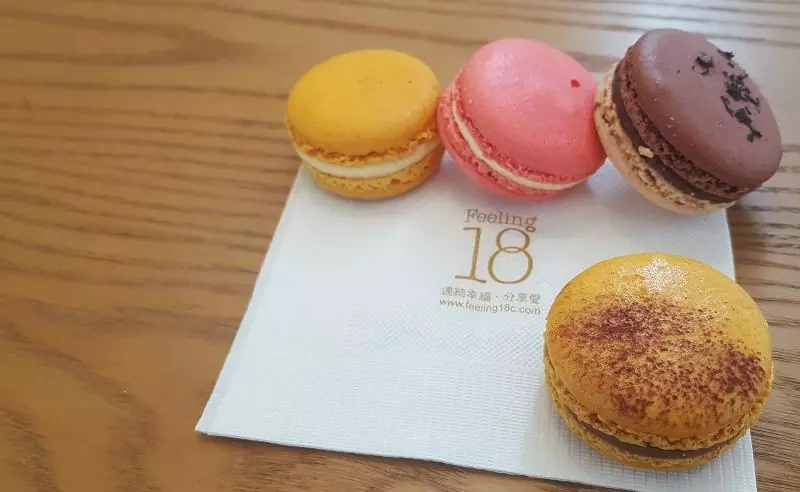 What To Do In Taichung: Extras
If you find yourself with an extra day or half day in Taichung, here are some day trip options for you to look into. They're not included on the Taichung itinerary above, because they're either more difficult or lenthy to get to via public transportation, or very expensive. First up are the Gaomei Wetlands, a gorgeous area northwest of Taichung, where you could easily pass a whole day exploring portside nature.
Next up is the infamous Lavender Cottage, started by two local Taichung women looking to get out of the big city. Unfortunately there aren't really any buses that go there, so I'd recommend it only if you're driving and visiting during the peak season for lavender (November to April) or salvia (June to August).
Finally we have Zhongshe Flower Market. Although technically located inside Taichung proper, this attraction is way north and only recommended if you can visit on the afternoon on a weekday & eat a meal there. Visitors seem to enjoy it, but personally I've had my fill of flowers for the year.
15 Things to Know Before You Visit Taiwan
There are strong connections between Japan and Taiwan, so you'll see a fair number of similarities between the two countries, and you may even be able to get by a fair amount by speaking Japanese. But it is a connection forged through much conflict as Japan invaded and controlled the country for decades.
On a related note, China claims Taiwan as a territory, widely disputed by the Taiwanese people (especially the hundreds of thousands of indigenous peoples), and a great topic to open with if you want to learn a little Taiwanese history from locals (and hear some people rail on China).
Dress more conservatively, even in summertime, trying especially to cover the shoulders and collarbones.
Taiwan is a tropical country, and even though the northern cities can get very cool in the wintertime, weather rarely drops below 10C/50F degrees, and normally hovers closer to 24C/75F degrees in spring and fall (27C/80F in the south).
If you visit in the summertime (June to September), try to start your day earlier and spend part of the afternoons inside, as the evenings bring less intensity from the sun and afternoons are when places tend to be less busy due to working people (during the week).
Taiwan is a very safe place to travel, but still stay vigilant with your things, especially at the crowded night markets.
Be very exacting with where you look for the bus stop. Most of them are hidden amongst the other signs along busy roads, and you need to put your hand out while holding your Easy Card out to call them over, like hailing a taxi.
The buses are easy to use and run on time; just remember to scan your iPass or EasyPass BOTH when you get on and when you leave (even outside of the cities). Be aware that Google Maps is also nearly useless outside of the cities, so make sure to double check routes & times with someone who can search in Mandarin, maybe from your hotel.
If you can rent a car, visiting Taiwan outside of Taipei just got ten times easier. In my first visit, I came with a friend who was able to rent a car and drive the whole time, but on my second trip I came alone and relied only upon public transportation. It was doable, but not ideal. My local friends were baffled as to how I managed to see so much, but I assure you, it can be done. Just remember to pack your camera for pictures from the train, and your e-reader for when everything starts to look the same.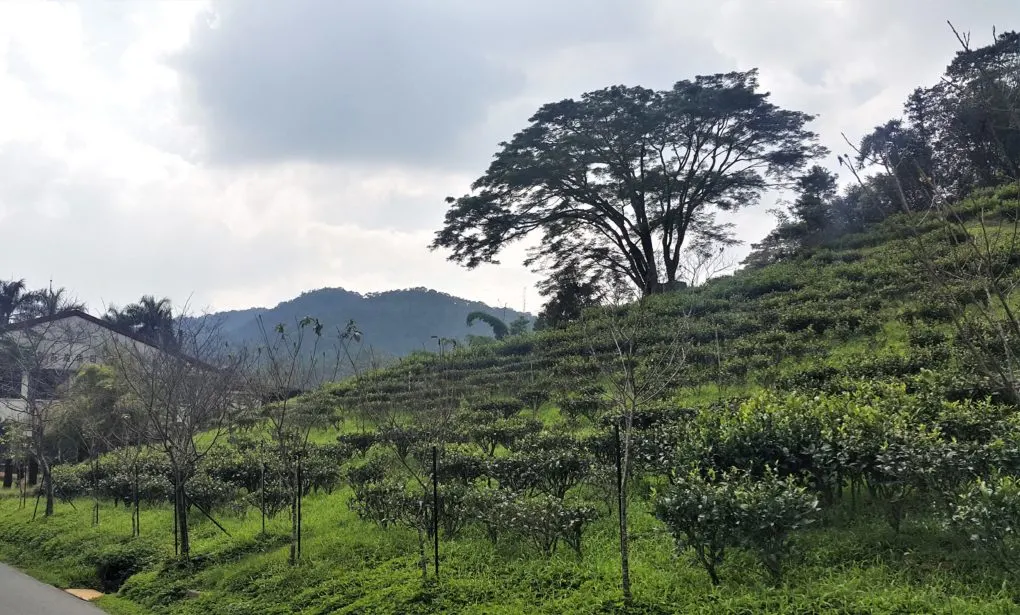 Unlike other parts of Southeast Asia, I'd recommend booking hotels in advance, especially if you're only spending a week in Taiwan, and ESPECIALLY if you're visiting in July or August (like I did the second time around).
The ice cream truck noise? It's probably a garbage truck.
Generally Taiwanese people use napkins rather than toilet paper, and they come in packs that look like flabby tissue boxes.
Street food in Taiwan is a way of life, and often the cheapest way to eat. Across the country, I had plenty of full meals for under $3USD just by grabbing noodles or dumplings from a street vendor.
Breakfast is also a big thing here (unlike in Japan and Korea), so it won't be a problem to find a quick place to grab a bite to eat, even if you're leaving early in the morning. Many local breakfast places open at 5am.
Finally, don't be like me and spend your first few hours after landing with no money and a locked credit card! Always sort out pin numbers and account types before landing, and keep at least $100USD emergency money for situations like mine. And a backup card from a different bank, if you can manage it!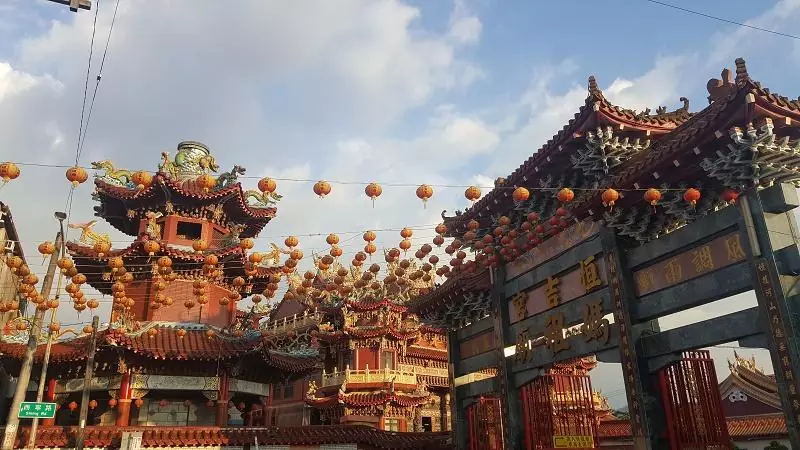 Budget for 7 Days in Taiwan
7 Days Taiwan Budget: 10,000NT (₱16,800/$320USD)
1600: Transportation (Easy Card spending + train tickets + Uber)
4600: Accommodation (8 nights)
950: Activities (bubble tea class, entrance fees, Sun Moon Lake boat, etc.)
1700: Food (street food, restaurants, bottled drinks)
500: Milk Teas (from the convenience store, night markets, and cafes)
650: Miscellaneous (sunglasses, sim card, money exchanging)
I don't travel in luxury, but I'm also not dumpster diving; I travel with a moderate budget and stay in inexpensive guesthouses, eating street food and dining in local restaurants. Sometimes I splurge, like when I had Kobe beef in Kobe, Japan. But usually I try to walk around when weather permits, see the region's most famous sites, and do as many food-related activities as possible. Overall, traveling alone I spent just under $40USD (₱2000) a day during my week in Taiwan, including accommodation.
I've included the cost of all the activities from the 7 day Taiwan itinerary in this budget. Taiwan is overall very backpacker friendly, and great for solo travelers. Accommodation is also quite affordable and comfortable; I've recommended the exact same hostels I've stayed in above, something I can't always do. I've found that if you book ahead, you can find plenty of options for upscale hostels around $20USD (₱1000) a night or less.
$1USD = ~30NT
₱100 = ~60NT
$1SGD = ~22NT
RM1 = ~7.5NT
Note that this is only a rough budget for 7 days, 8 nights in Taiwan, so if you stay an extra night add another 600NT, and another 500NT for a train up to Taipei. If you're not in love with milk tea, also feel free to strike that line from your budget. Remember to always budget a little more than you expect to need, as you never know what kinds of situations may arise abroad. Above I budgeted about $45USD per day, which I'd recommend allocating for cushion (even if you don't end up using it).
Taiwan Itinerary Map
Activities from the Taiwan itinerary are in blue, transportation hubs are in dark blue, and day trip options are in purple.