It's taken awhile to finish worrying about Cambodia. Scattered across the country are monks and temples and farms and Killing Caves and further details of a tragic past that's hard to comprehend no matter how many times you hear about it. A visit to the Angkor temples has become a hallmark of the modern "bucket list," yet we rarely stay long enough to expand our Siem Reap itinerary beyond the temples (despite how easy it now is to get a Cambodia visa on arrival).
Sunrise at Angkor Wat took our breath away every time. But so did the Killing Fields, the Genocide Museum, and an ancient mountaintop with a sacred temple; there were bats flying out at sunset, striking circus tricks, and refreshing poolside cocktails. I'd highly encourage you to ditch the group tours (if you have the time), and check out Temple Town on your own.
You can even visit Angkor Wat from Bangkok if you've got limited time in Southeast Asia.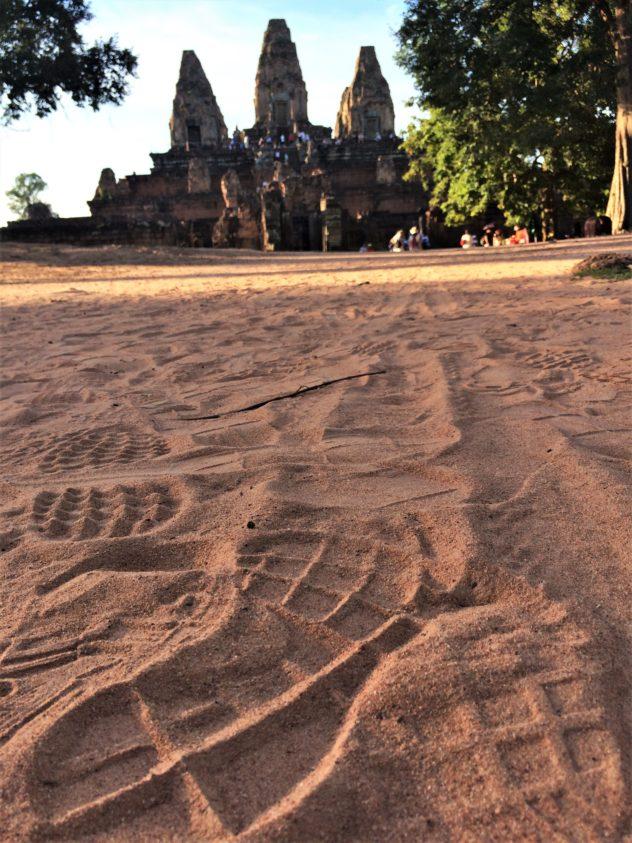 Before you go, check out this guide for some insight into photographing Angkor Wat.
Siem Reap Itinerary Overview
Even with limited time, we saw that across the country Cambodian people are kind and polite. This is the real land of smiles; no shade to Thailand. But I have to confess that I love nature. I always have. So even though I was loving Battambang & Phnom Penh, and exploring Cambodia off the beaten path, what I was really looking forward to was exploring Siem Reap for 3 days. This city built up around Angkor Wat.
Siem Reap came to be largely because of tourism, which helped rebuild the country following the devastating genocide that ripped it apart in the 1970's. The genocide even caused the loss of most of the recipes in Cambodia, which have no been pieced together and spread back across the country in recent years. In Siem Reap, you'll find many of the same dishes as there are in other tourist sites in the country, so don't miss the delicious fish amok and other coconut-based curries.
There were inhabitants in Siem Reap before, of course, as the major temple complex has always been an important religious site for the Cambodian people. But Siem Reap was not the bustling city of today until tourism & restoration of the temples became a priority in the country.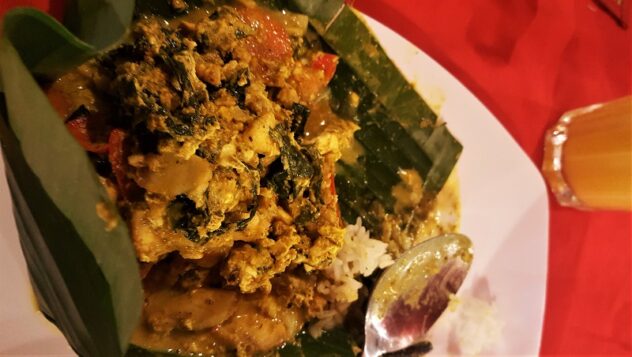 Here's how to spend three days in Siem Reap:
Day 1: Angkor Complex
Day 2: Cooking class, chocolate maker, acrobatic circus
Day 3: Countryside tour, market day, cocktail making class
Note that if you arrive early enough the night before, you can buy your Angkor Wat ticket for the next day & hire a tuk tuk to take you to watch sunset for free (starting after 5pm); just remember to take your ticket with you. You can also book a group tour to see Angkor Wat, and switch around any day of this Siem Reap itinerary. If you run into fully-booked activities or a change of plans, no need to worry. Remember that the best time to visit Siem Reap is just after rainy season, from October to November, when crowds and heat are at their lowest.
Click here to read reviews & see prices for accommodation in Siem Reap.
Siem Reap Itinerary: Arrival Checklist
Our first time in Cambodia, we only had three days in Siem Reap for the temples and temple town, so we went hard. After arriving on our first afternoon, we headed straight for the official ticketing booths. You have to buy your Angkor Wat ticket in person or online (with an uploaded photo meeting the requirements), though you can choose the start date of your pass when you buy it.
That first trip we spent all 3 days exploring Angkore Wat, and by the end of day 2 I was worn out. I'd recommend one sunset + one full day in the Angkor Complex. It's up to you whether or not you want to see Sunrise at Angkor Wat, but no matter what I'd recommend starting quite early to beat the heat.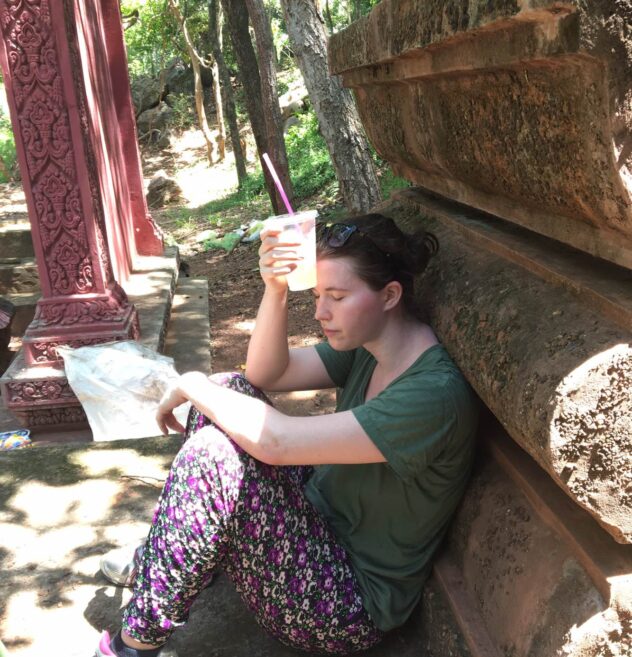 Book your flights or buses to/from Siem Reap
Decide on accommodation in Siem Reap
Pack everything you need to visit Cambodia (sunscreen, sunglasses, a refillable water bottle, hat, rain jacket, bug repellent, lightweight clothing to cover your knees & shoulders, etc.)
Buy your sim card in town or at the airport, and download the Grab app to make getting around 10x easier
Optional: book your Angkor Wat ticket
Optional: book other activities in advance; see below for details
In case you arrive early and want to spend your first evening watching sunset, here's how to do it. Only three of the hundreds of temples are open for sunset— Phnom Bakheng, Pre Rup, and Angkor Wat itself— which starts at 5:30pm and ends at 7pm. Our choice was Pre Rup, as sunset at Phnom Bakheng is notoriously crowded and only 300 visitors are allowed to climb to the top. Ask at your hotel about hiring a tuktuk to your chosen temple, or better yet, use Grab and get there a bit early to ensure you can enter right at 5pm.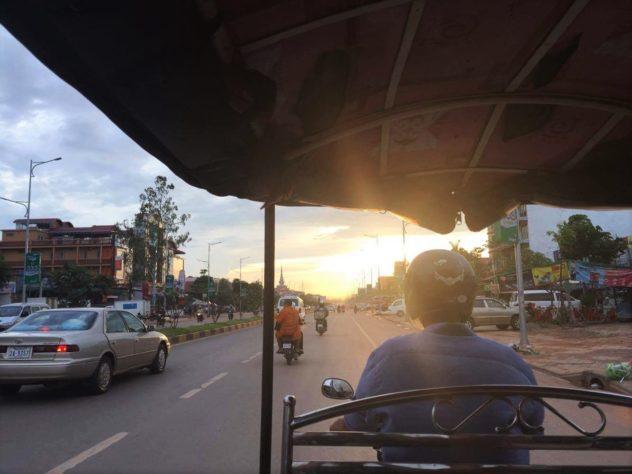 "It's so beautiful here!" became my catch phrase in Siem Reap. It all started long before sunset, even while simply wandering the streets of the town. Ancient structures are all around, while the religious sites are dominated by green, everywhere. Sunlight streams through immense foliage that almost seems to be taking over.
Centuries-old trees have pushed apart stones that grown men would have bawled in the face of. The Angkor Complex is truly stunning, but it's more enjoyable with a guide. If you decide to hire a guide after your first taste of the temples, inquire at your hotel immediately so they can help you find someone for the next day. Emphasize to them that a driver & guide all-in-one is ideal.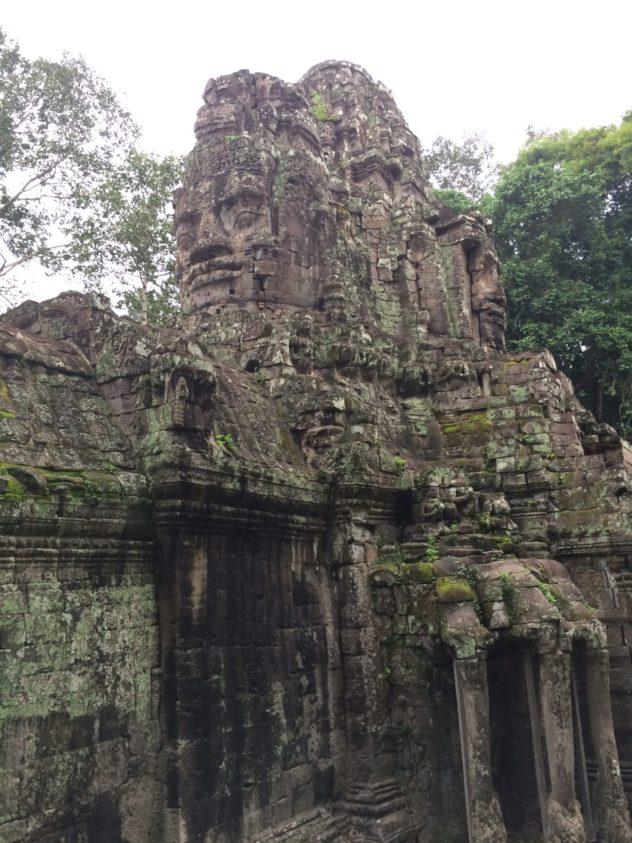 Siem Reap Itinerary: Day 1
Today is for temples! There are tons of organized tours you can take to see Angkor Wat, but we decided to DIY it all. For our trip we researched a mix of off-the-beaten-path and more "typical" temples. All of them are beautiful and come with their own back stories, and their own crowds.
You can pick which mix you'd like to have on your trip to Siem Reap, but beware that some temples will be almost unwalkable during high season, due to a convergence of tour buses. We've actually done each of these days, and in rainy season no less, so even when the roads are less than ideal, they're doable. If a driver tells you otherwise, avoid them at all costs.
You can easily hire a guide/driver who speaks your language just by inquiring at your hotel, but give them at least an evening's notice. Some hotels have a fleet of drivers they work with, while smaller accommodation will have just one or two trusted options for you to decide on. Just beware that the roads are bumpy and you may want to hire a car if you can't handle all the dust.
DIY Angkor Wat Itinerary Options
Day 0: Visit Pre Rup for sunset (doesn't count as part of your ticket if you enter after 5pm.
-The Main Sites:
Angkor Wat (for sunrise, and then head back to the tuk tuk)
Bayon in Angkor Thom (you'll have it all to yourself just after the sun rises)
Preah Khan
Ta Prohm
Angkor Wat (all evening again to explore inside, if you have the stamina, as this is when it's the least crowded)
-Off The Beaten Path:
-(Less) Popular Main Temples:
Angkor Wat (thorough exploration)
Phnom Bakheng
Banteay Kdei
Click here to read reviews & see prices for accommodation in Siem Reap.
Siem Reap Itinerary: Day 2
Start day 2 with a cooking class, learning more about the murky history of Khmer cuisine. I've taken two cooking classes in Siem Reap, and I liked the one from Beyond Unique Escapes the most. All cooking classes will take you on a market visit for the morning class, so take the opportunity to ask about reasonable prices for anything you're interested in buying the next day.
Some classes will also take you to visit a local family or garden, so keep an eye out for those. Classes will take you over some of the most common ingredients used in Khmer food, and then teach you how to treat each ingredient to extract the optimal flavor. You'll most likely make an appetizer, main dish, and dessert, though some places also have you make a soup or salad.
Either way, don't forget to tip your teacher, as they're also an employee working for a salary.
Check reviews of Siem Reap cooking classes here.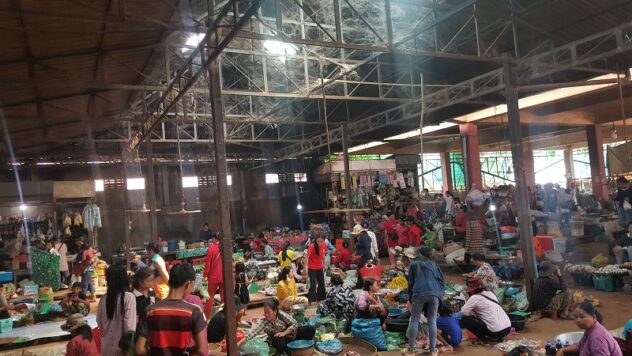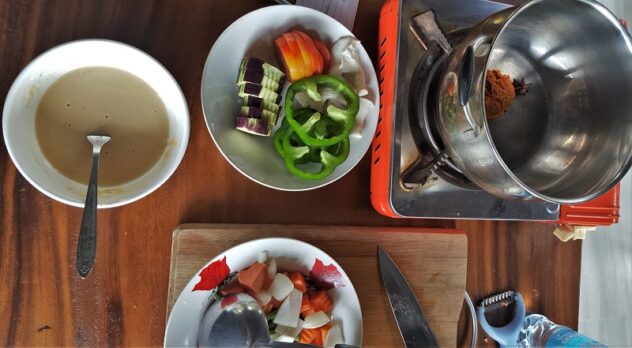 Cambodian chocolate isn't well known because it's incredibly new, but Siem Reap is actually home to the country's first and only bean to bar chocolate maker. Wat Chocolate uses cacao from Cambodia's first cacao farms in the east to craft several flavors of dark chocolate bars. The company uses only Cambodian ingredients to produce a unique local product that you can currently only get in Siem Reap! Check out their Facebook page for info on where you can grab some bars after your cooking class.
After another rest, it's time to grab dinner near your hotel (or maybe just a snack), and head to the circus. The Cambodian circus is an acrobatic experience made possible by the circus school in the city of Battambang. Performers spend many years training there during or after their regular studies, and they do some very impressive tricks along a theme which changes every ten days. All profits go towards keeping the show running and keeping the school in Battambang open year round.
The shows start at 8pm every night, and often sell out in advance during high and shoulder seasons. I recommend arriving at 6:30pm or 7pm to get popcorn & beer or shop at the gift shop before claiming your seat. During high season from November to March, there are thrice weekly additional performances at 5pm. But don't just take my word for it; you can read thousands of reviews of Phare online.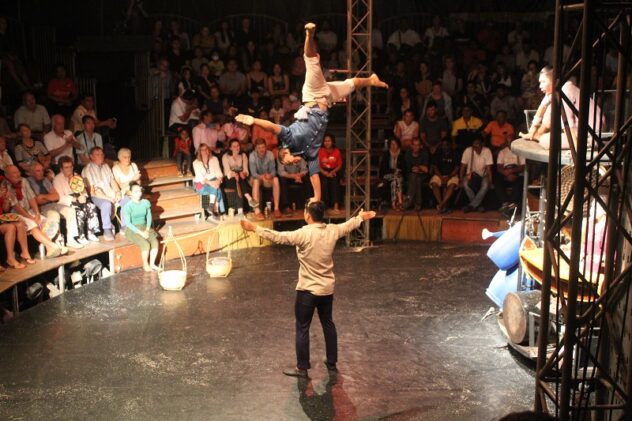 Siem Reap Itinerary: Day 3
Going off the beaten track in Siem Reap means taking a tour of the countryside. On this tour you'll bike around the area outside of Siem Reap and away from Angkor Archaeological Park. You'll see local farmland and markets, ride past villages, and slowly make your way to the lake outside of town.
At the lake you'll have the chance to see one of the traditional local villages, floating above the lake (unless there's been a drought recently). After having lunch, your next stop is a local school. There you can meet some of the kids and the principal and get a feel for how the country's education system is still recovering after the genocide.
Tip: bring some little candies or pencils/erasers for the kids, if you can remember, as it's a sweet way to introduce them to foreigners & entice them to practice some English. You can read reviews of & book this tour on Trip Advisor.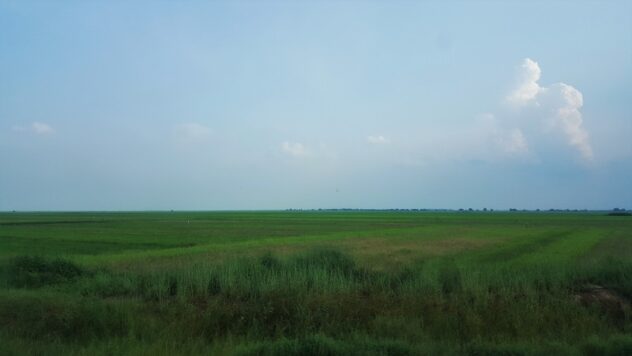 Once you've cooled off, if you're still interested in buying souvenirs, it's time to visit a market. Les Artisans d'Angkor or the Old Market are my two favorites in Siem Reap, though your hotel may have other suggestions. My first trip to Cambodia I bought way too many souvenirs from the Old Market, and had a lot of fun buying paintings from young artists in a couple of smaller, more informal markets.
If you decide to do the countryside tour above, you may want to move your shopping to after the cooking class on Day 2. The cocktail making class at Asana is the last thing on your Siem Reap itinerary. This was one of my highlights on our trip, as the many small tasks our teach had us do slowly forced all the students in the small class to come together through jokes & lots of mistakes. You'll make 3 cocktails each, with the last one being a creation of your choosing (I recommend the one with fresh green peppercorns).
If you leave tonight on a flight or overnight bus, skip the cocktail making class. But if you arrive the night before and want something unusual do do after sunset, feel free to move it to there. Either way, you won't regret it.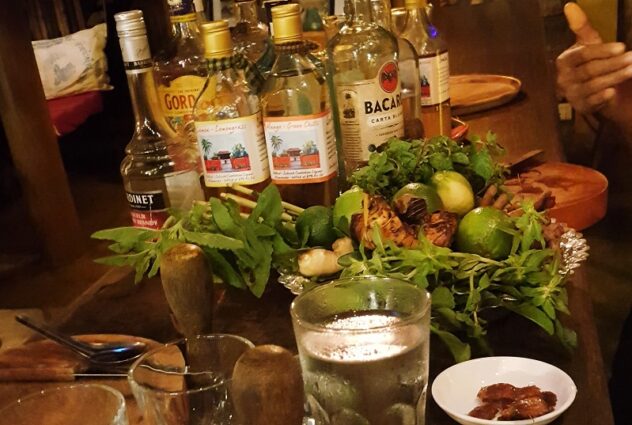 Keep Angkor Wat Beautiful
Our tuk tuk driver saw a guy leave his backpack behind while biking towards Angkor Wat, and proceeded to turn his tuk tuk around twice to go return it to him. Thoughout the country, we met almost exclusively kind and honest Cambodians.
Arrive with an open mind. This is not the mean streets of LA or Boston, either, so don't worry about people constantly trying to rob you or rip you off. Though do expect people to be trying to earn a living however they can. Pay what you think is a fair price for something rather than the fair price, be it a shirt, a tuk tuk, or a coconut.
With neighboring Thailand & Vietnam's reputations in mind, I also feel obliged to warn you that just as in any other country where they are not legal, don't go to Cambodia looking for drugs or prostitutes or any other illegal activities. This is a country still recovering from war, and I honestly think they're thriving considering how recently they were suffering. But there's definitely still a long way to go.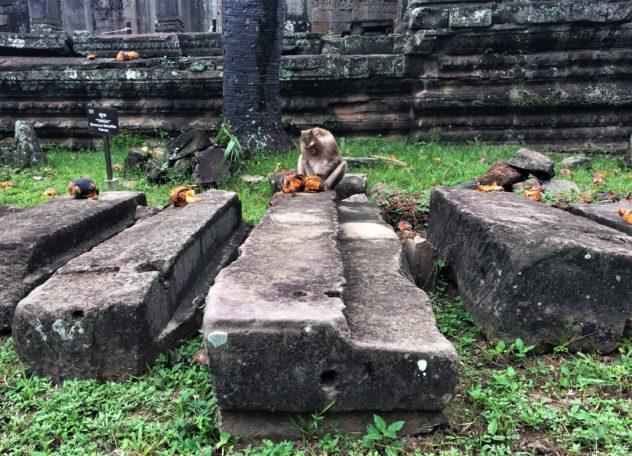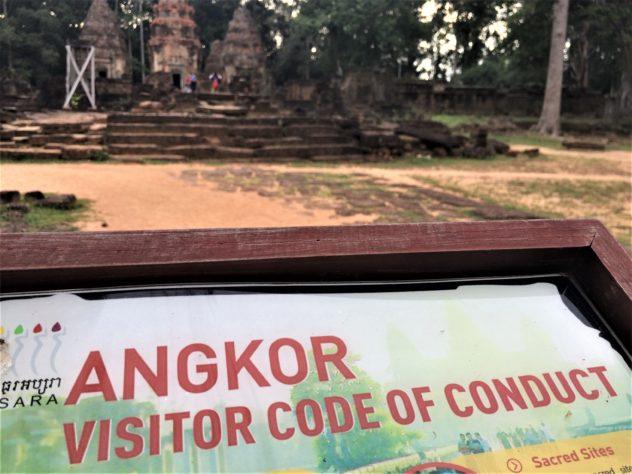 As a tourist, you're allowed to visit to support the economy, so help where you can. But don't give money to beggars of any age or buy stuff from children. I know it is hard to watch people suffering, but the Cambodian people can help themselves, and they are. Hundreds of charities and nonprofit organizations have popped up over the last few decades, and your money is best spent supporting them rather than occupying children who should be in school. Note that school in Cambodia is on summer break from August to November.
Many local artists draw inspiration from the temples; I saw several young men creating and selling watercolor paintings along the roads leading to the sacred sites, and I bought a couple. Others sold drawings or painted-in rubbings of some of the reliefs depicted inside the temples. So if you're looking for art to bring back, buy some that you just watched someone make!
Many people also sell souvenirs inside the grounds of the more popular temples. Categorize these as active religious sites, and always be respectful of the sacred space, as it was built and continues to be used for religious purposes. Avoid making financial transactions or taking pictures of people praying, though it's probably fine to take pictures of the offerings after the people have left them. It does create quite the legacy.
Enjoy your experience in the jungle, but remember to keep the space as clean as when you arrived. Respect closing times, and leave before the street lamps in the jungle have to light your way back. I already look forward to my third visit to the Land of Smiles, though I'll be sure to explore more of the southern coast and see Cambodia for a month instead of another ten short days.
Click here to read reviews & see prices for accommodation in Siem Reap.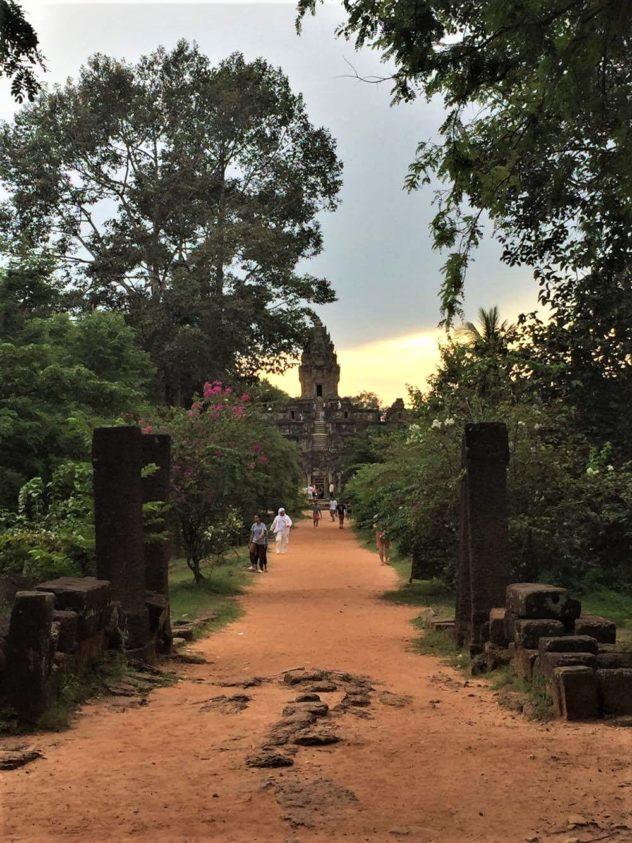 Have you ever been to Angkor Wat or another spectacular religious site? How was your experience following this Siem Reap itinerary? Leave a comment below with your best advice!